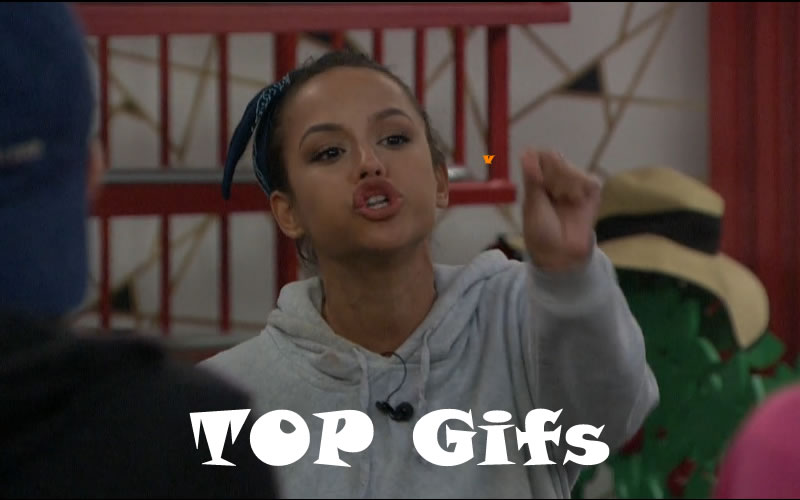 Every week we go through our list of Gifs and pick the juiciest 10 for your viewing pleasure. Let us know which one is your favorite in the comments below.
Typically Gifs always go to our Twitter accounts (@BigBspoilers) and most times they make their way to our facebook.
This was a drama HEAVY week with multiple blow ups on Monday. Our Gif library benefited greatly 🙂
Jason showing us Ole's ball size
Finally a shot of the airplanes that fascinate Jason and Kevin so much
Epic Jessica taking on the entire house
Raven getting heated with Jessica talking about Cody's d1ck size
Matt and Raven flour fight in the shower
Cody gets Vaseline wiped on his door
Matt shows us a Summary of his game
I went way over 10 with this one..
His [Ole] balls weigh 5lbs a piece. he's kicked me a thousand times.. kicked me, bit me, hooked me https://t.co/TKL46AIDix #BB19 pic.twitter.com/BekbRMnKhe

— OnlineBigBrother.com (@bigbspoilers) August 2, 2017
Feeds have calmed down a bit today.. #BB19 @DawgsBigBrother pic.twitter.com/CotmAJiaQ8

— OnlineBigBrother.com (@bigbspoilers) August 2, 2017
Kevin – "That mother f*er is flying.. It's already going 350" #BB19 @DawgsBigBrother pic.twitter.com/UPPZaoobXG

— OnlineBigBrother.com (@bigbspoilers) August 1, 2017
In case you missed it Jessica took on the house.. #BB19 https://t.co/CALdpSlTx5 pic.twitter.com/SZkXt8MtyU

— OnlineBigBrother.com (@bigbspoilers) August 1, 2017
terminal #BB19 pic.twitter.com/I3Zsh03ISW

— OnlineBigBrother.com (@bigbspoilers) August 1, 2017
this was funny… back when it was just Josh.. #BB19 @DawgsBigBrother pic.twitter.com/w6PMSUPwQD

— OnlineBigBrother.com (@bigbspoilers) August 1, 2017
Cody – "Ohhhhhhh.. Ohhhhhh.. "
Jessica – never do that again #BB19 @DawgsBigBrother pic.twitter.com/p86HtTp30a

— OnlineBigBrother.com (@bigbspoilers) July 31, 2017
Matt – things got out of hand… #BB19 @DawgsBigBrother pic.twitter.com/o0YHVawjNL

— OnlineBigBrother.com (@bigbspoilers) July 31, 2017
ohh hi Jessica #BB19 @DawgsBigBrother pic.twitter.com/Vf1z4wGRKU

— OnlineBigBrother.com (@bigbspoilers) July 31, 2017
Kevin – I'll just hit you where your nose is, your eyes will be watering, you'll be looking for your mom #BB19 @DawgsBigBrother pic.twitter.com/aRh6hK3CvV

— OnlineBigBrother.com (@bigbspoilers) July 31, 2017
Alex's Vaseline prank. Cody wipes it on Josh's bed. @bigbspoilers #BB19 pic.twitter.com/VU17ifZY8T

— Dawg (@DawgsBigBrother) July 30, 2017
Summary of Matt's Game #BB19 @DawgsBigBrother pic.twitter.com/W5DQDsysdB

— OnlineBigBrother.com (@bigbspoilers) July 29, 2017
Jason impersonating Cody #BB19 @DawgsBigBrother pic.twitter.com/YOl8E3HvKC

— OnlineBigBrother.com (@bigbspoilers) July 29, 2017
Houseguests have been up all night – BB Storm Watch https://t.co/DdypabKKfC #BB19 @DawgsBigBrother pic.twitter.com/lJzaapWDus

— OnlineBigBrother.com (@bigbspoilers) July 29, 2017