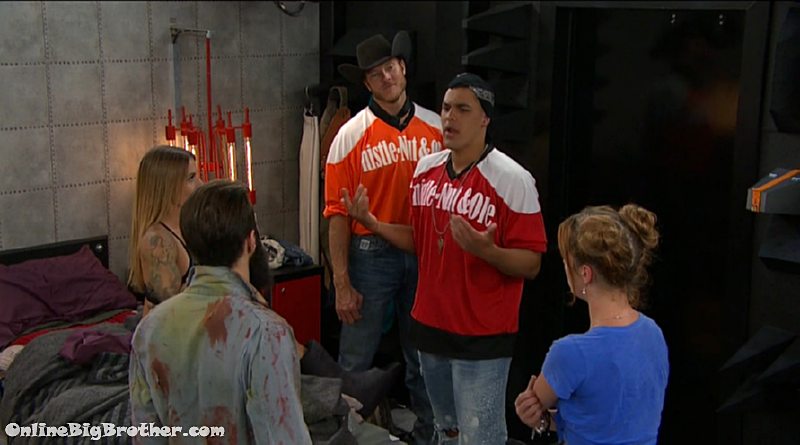 7:05pm Paul and his slaves (Minions) busting their nuts over winning HOH.
Feed subscription lets you go back and re-watch everything we post here CBS All Access Live Feeds with a FREE 7 DAY trial.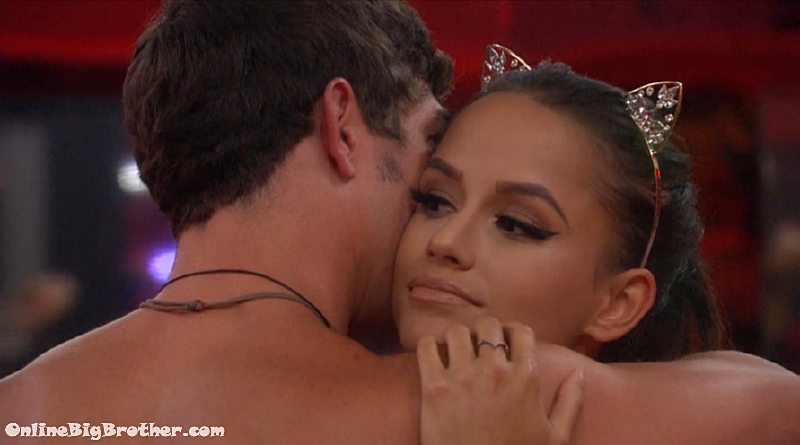 7:00pm Cody and Jessica sad because they're lost and have to win 2 competitions to survive.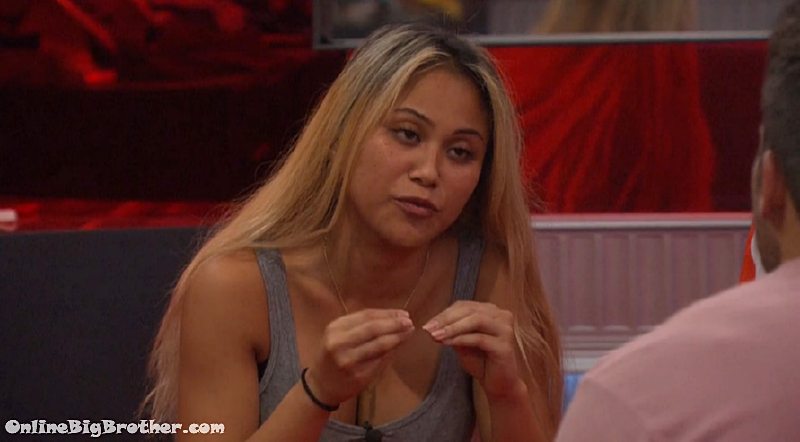 7:19pm Mark and Alex
Alex – now there's time to pick a side.. what side are you one..
Mark – your side..
Alex – prove it
Mark – how..
they meet up with Josh
Mark to Alex – yo think I wanted Cody and Jessica to win
Alex – YES
Alex – multiple people saying you want me out..
Alex – when you're hanging out with me it makes me very nervous
Alex freaking out.. bringing up stuff from the week Christmas was on the block..
Josh – I don't think you guys have to do this.. just chill out..
Alex – you are always talking to Jess and Cody..
Mark apologizes that he didn't "take her Back" with the cat ears.
Alex says he's a flip flopper and that is why he has a problem
Jason walks by tells them they should go play chess..
(alex keeps on him for awhile. I stopped listening.. )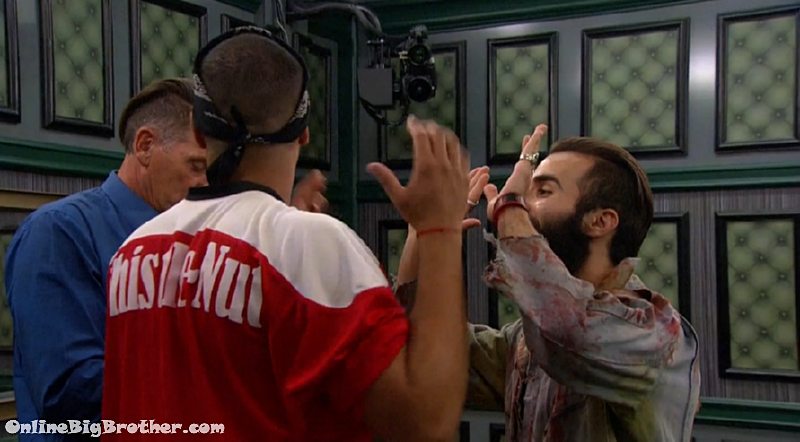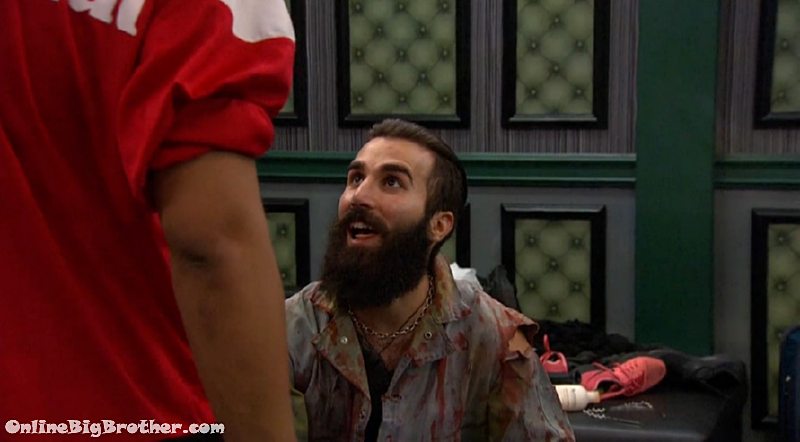 7:17pm Josh, Paul and kevin
Paul says mark and Elena are shitting their pants.. They high five..
Josh – they're shitting there pants..
Paul tells him what he's going to do..
Paul – "we're all playing in the safety competition"
Paul – we're putting Cody and Jessica up"
Paul – we send Jessica out
Josh and Paul fist pump..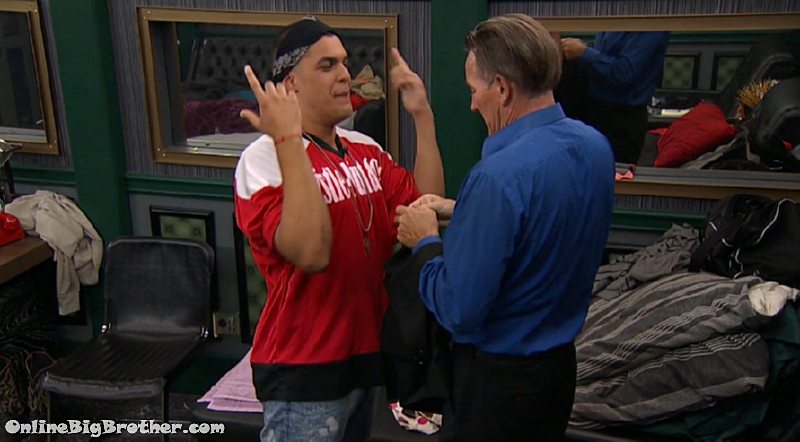 Josh tells Kevin he can play in the "safety competition" if he wants but he's safe either way.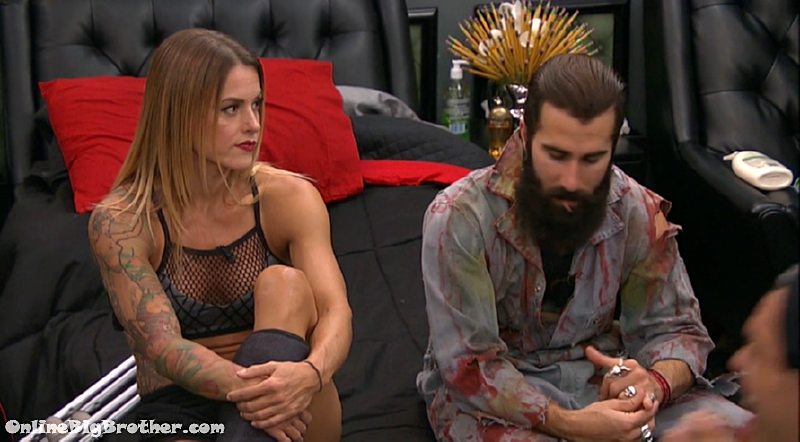 Goddamn Christmas .. ( i take back all things i said 😉 )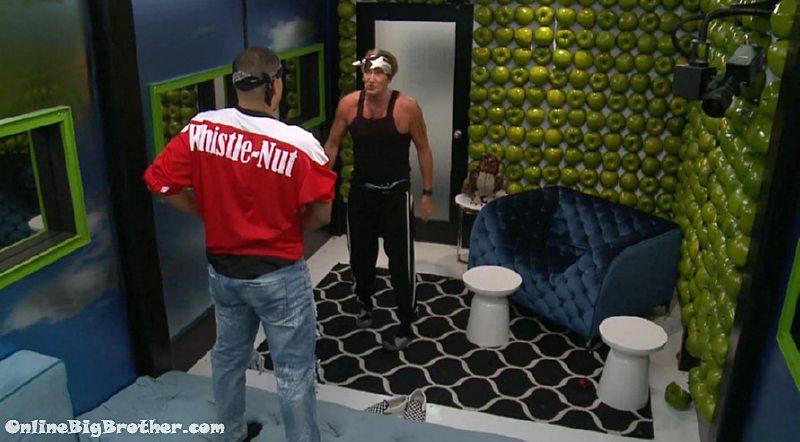 7:54pm APSR Kevin and Josh
Josh – Meat balls
Kevin Meat balls
Simon – Meat balls
Justin – Meat balls
Andrew – meatballs
Chris – Meatballs
Josh – Cody doesn't even look at me now..
Kevin – Jecisce. Cody, Matt, Raven , we're doown to 56 left..
Josh – next week you, Paul, Jason and Alex..
Kevin – that was the best thing that could have happened tonight.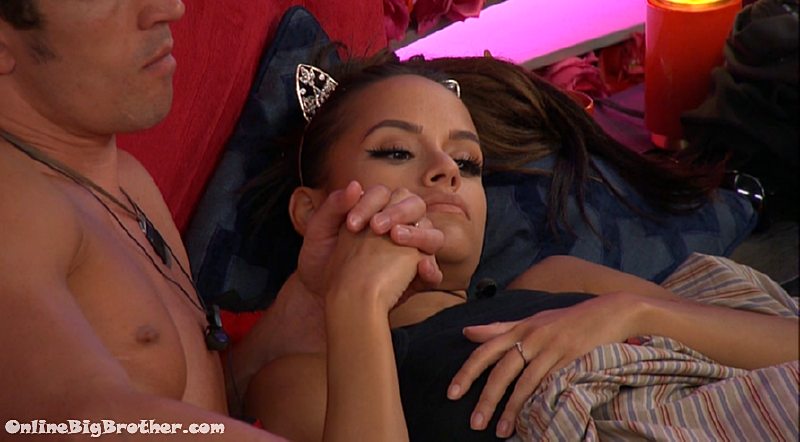 7:56pm Jessica pointing oujt how Pual basically runs this game and anybody that goes against him is evicted..
She mentions how everyone in the house is a follower.
Jessica – it's interesting to see the evicted of putting one vet into the house
Cody – a bunch of groupies.. he knows everything when it comes up.. you can't say that's not an advantage..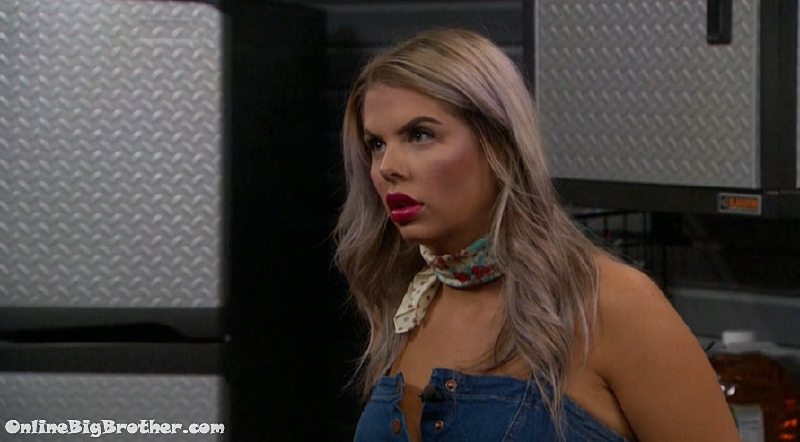 8:04pm Storage Room Josh and Elena
Josh – can you put something else on
Elena – what would you like me to put on
Josh – something else.. (did you pay to have her come up to your hotel room?)
Josh – My sweater .. or Mark's over sized sweater
Elena – would that make you feel a little more comfortable
Josh – yes
Elena says it's been brought to her attention that Alex is saying that Mark and Elena weren't celebrating Pauls' HOH
JOsh says he was really excited to get a letter from his mom.. He knows Mark was too and thinks Mark was upset because of that.
Elena – I have no idea I didn't notice
Elena says she's irritated that Alex came to him to imply she felt a certain way.

8:22pm Josh and Elena.. Josh is asking her why he voted against him over Ramses..
Elena says she thought the house was voting that way.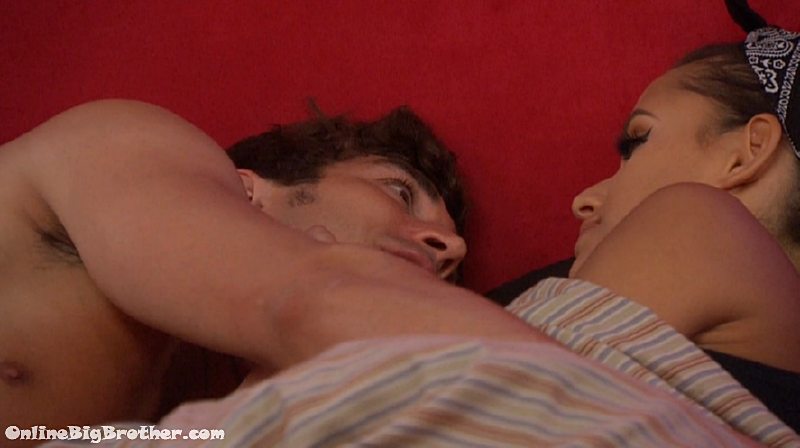 8:29pm Jessica says now that Paul won HOH she knows she'll be the target. Tells Cody she'll watch him on the live feeds every night at 9:30
Cody says if he wins the veto they'll all expect him to use it on her. What he'll tell them "We've been talking and there's no pathway to 500 thousand dollars for us.. none.. "
Cody – so we've decided that I will stay in the house and I am going to try and take out every single one of you f*er's that I can.. and I am going to stripe 500 thousand dollars from each one of yo that tormented her during this entire time here..
Cody – everyone of of them.. part of that f*ing circus is going to say f* .. maybe I'll look at MATT and RAven ..
Jess – burn the house down.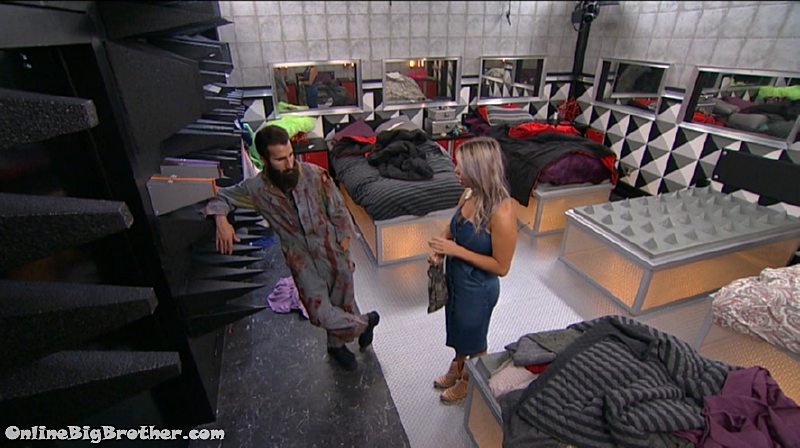 8:40pm Paul and Elena
Paul tells her both Jessica and Cody are going up and they are all going to fight for "that safety"

8:47pm Cody and Jessica
Jess – the only people I didn't want to win HOH is Alex, raven and Josh..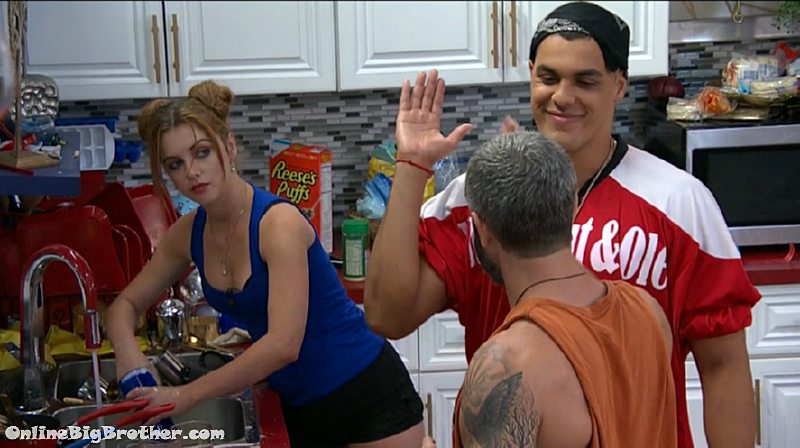 8:49pm Josh tells matt and raven that Jessica/Cody are going up but he wants Elena and mark to "shit their pants"
They high five Josh.. JOsh feels accepted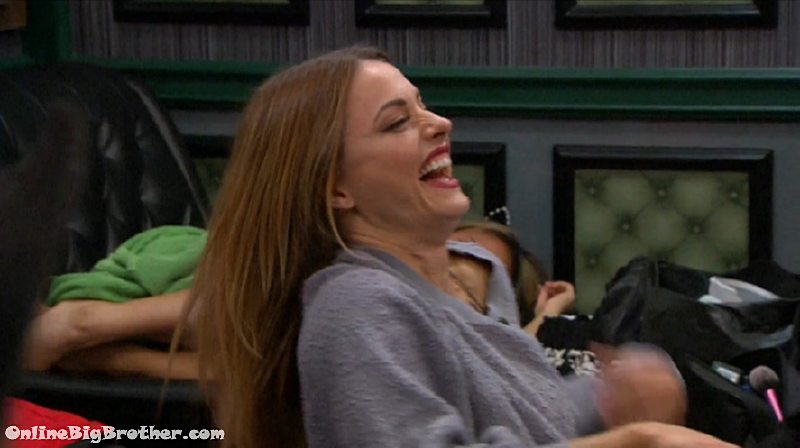 8:52pm Xmas – I really need my medicine…
If you plan on buying anything from Amazon. Use this link Amazon home
Doesn't cost you anything and we get a small cut.
Links to the ranking system
Rank your house guests here
For those of you that like Statistics here are some expanded reports.