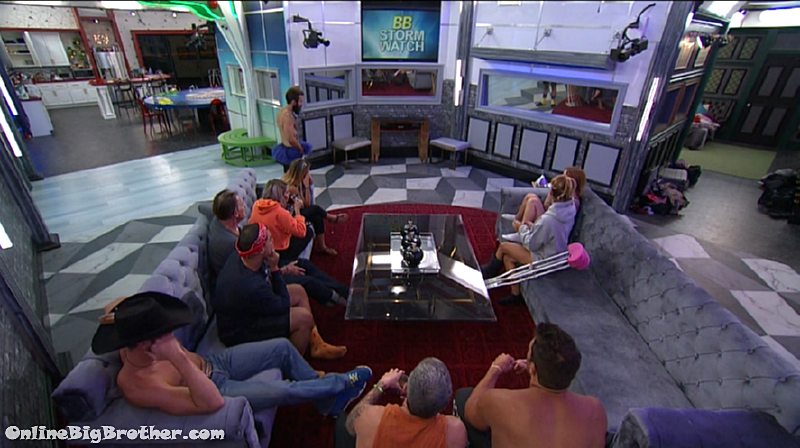 Feed subscription lets you go back and re-watch everything we post here CBS All Access Live Feeds with a FREE 7 DAY trial.

Throughout the night the players get Storm Updates. This will be for the POV competition later on Saturday. "stay tuned throughout the night for details" they are to remember details from the storm updates.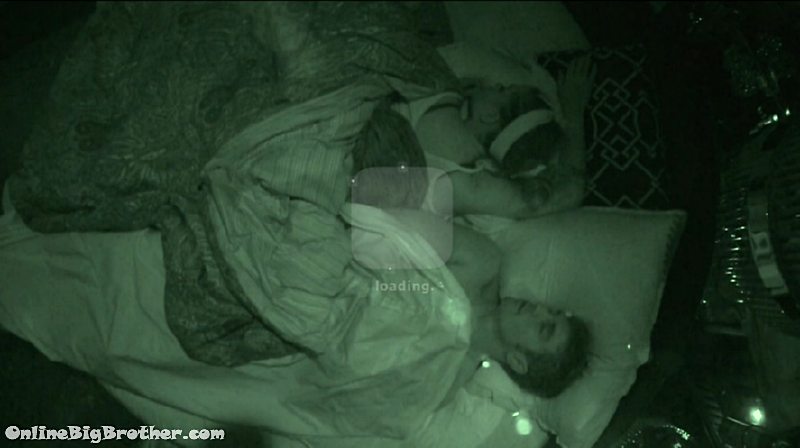 3:25am Jessica and Cody sleeping everyone studying.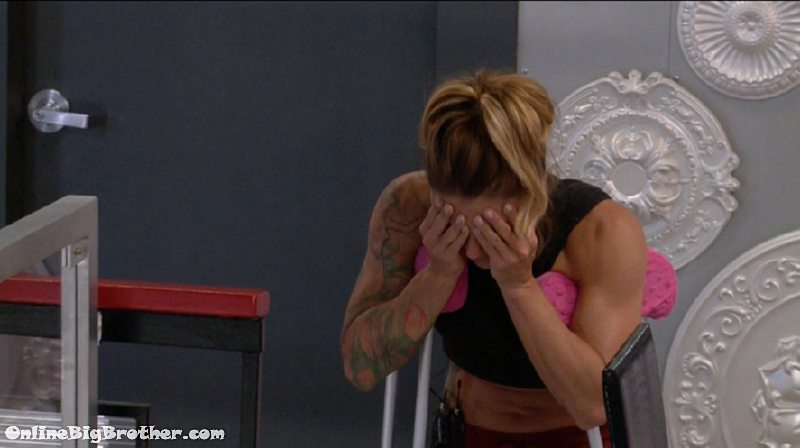 4:23am Christmas and Elena
Christmas – I hate f*ing memorization.. I f*ing hate it.. Dominic came in calm and quiet with scattered storms..
Xmas says she much older and never went to college so she's not use to these fast tips. "I hated High school"
xmas starts to tear up "it upsets me a little bit"
Xmas – I need a little bit of quiet because it just takes a second
Xmas- I didn't mean to snap at Kevin.. You cannot give it to me I need to work for it
Elena – you were just on Medicine and it's f*ing your brain
Xmas whimpers that her head is "So foggy"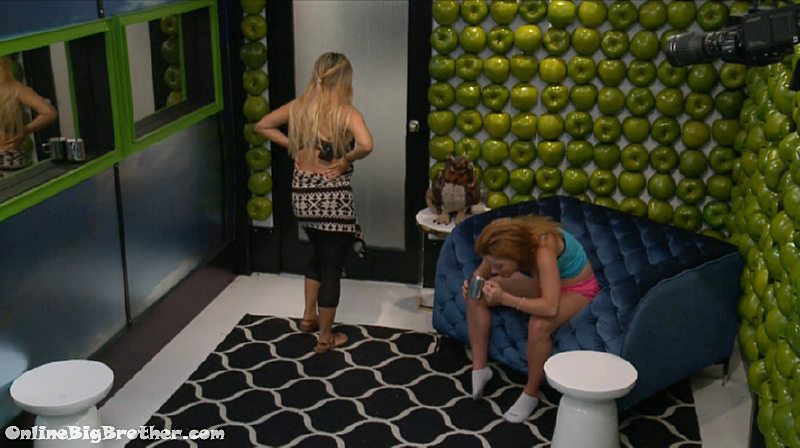 4:17am Alex and Raven.
Alex – we can hardly get away from her..
Raven – I love her to death but
Alex – we need to just take a break until it happens
Raven – I agree
Raven – I wanted to tell her Christmas you compete
Alex – This is why when everybody was arguing the Jillian .. this is why I wanted to keep her..
Alex – Christmas with a broken foot I don't know what you are going to be able to do and it's coming back up because you are super aggressive and it's rubbing us all the wrong way
Raven – we have other people we need to get out
Raven starts talking about final 8 knocking Christmas out
Alex – You, Matt, Me, Jason, Paul
Alex – 5..
Raven – I like that, that would be a really good final 5.
They add JOsh, Christmas and Kevin as the other 3 to make up their Final 8 and Final 5 .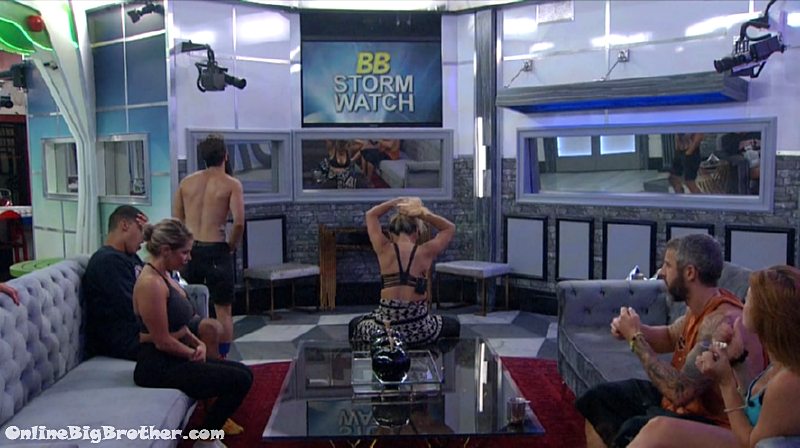 4:24am This is a BB Storm watch update
BB Meteorologist are stunned by the discovery of a hidden storm in the area. Computer models reveal that BB star Ramses was originally tucked away north of Hotter lake cosplaying as a dust devil.
Despite BB storm Ramses delivering lighting Meteorologist still insist that it's not lit
BB storm Ramses is a young storm with a barometric pressure of 30.01..
meteorologist are in awe of the fact that BB storm Ramses has not just 1 eye but 4 eyes. BB Storm Ramses sudden exit left many residents Stunned and befeuddled.
Stay tuned to the BB weather channel still your only choice for weather news.
5:34am For the last hour houseguests have been reviewing the storm watch.
Cody and Jessica are sleeping.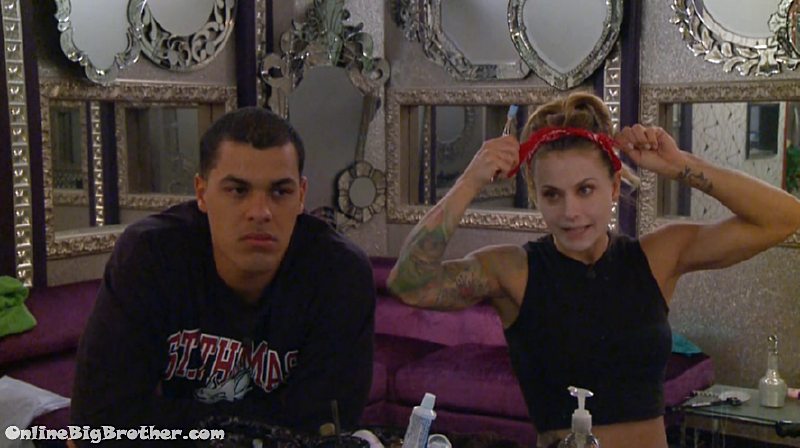 5:36am Josh and Christmas
Josh says it seems like he provoking Mark and Cody. "They told me not to do that.. it's more respectably if he walks out"
Josh about Mark – He came to me and apologized .. he said you made me crack .. you cracked me
Christmas – the other day he threw hot sauce in your face.. Not f*ing cool
Xmas says Marks apology was game, "he's got a good heart.. but he's also a Bully"
Josh says he's looking like a A$$hole and a douche because he's been f*ing with mark and he's not that type of person
Christmas – you're not a a$$hole and a douche if he throws hot sauce in your face and physically gets in your face, like touches you..
Josh – I lost it on Cody.. I really can't stand that sh1t
Xmas – you need to start separating game "pretty soon you'll be putting people up you don't want to put up.. you'll have to start looking at their game.. who has better game who has worse game.
Xmas – who is going to be easier to beat who is going to be harder top beat and you'll need to take out the people that are harder to beat
Xmas – that haven't had your back, that have lied to you and that will throw you under the bus first.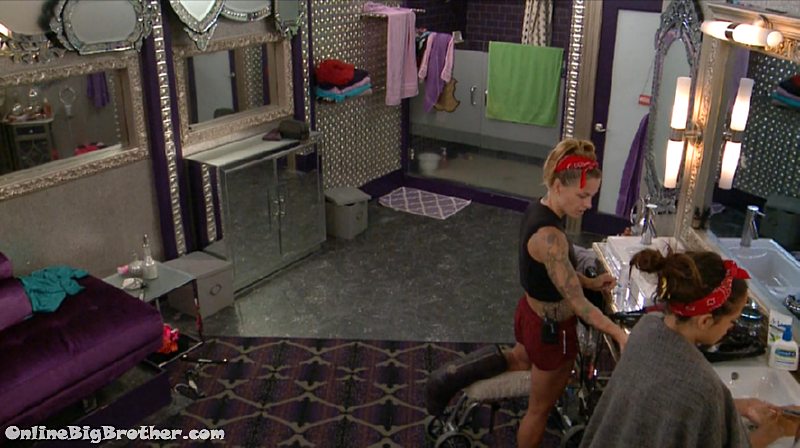 5:51am Christmas and Jessica
Christmas – Can I do anything for you …
Jessica silent
Christmas – you want to tell me to f* off..
Jessica silent
Christmas – Towel..
Jessica walks away..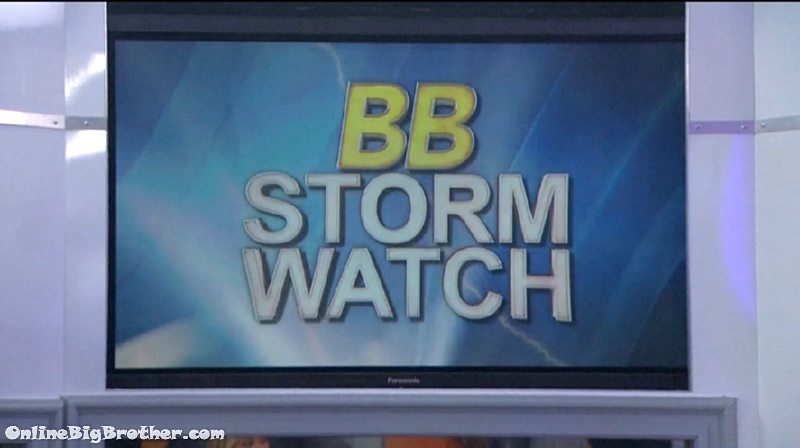 5:52am BB Storm update.. "Fast changing weather conditions are breaking out in the immediate BB area"
Kevin grumbles because it's his first night out of the have nots bed and he doesn't even get a chance to sleep in it.
Paul – I believe this should be the last one
Christmas – when do we get this thing started
Alex – probably 8
BB storm Ramses has created a trough causing a severe downpour of costumes and comic book. the downpour is expected to end within 24 hours
BB storm Ramses and strata cumulus cloud returning to it's low lying nature
Meanwhile BBstorm Dominique is dissipating.. The heavens parted and the aurora Borealis was briefly seen.
Meteorologist are saying BB storm Cameron is gone and completely forgotten
reports also say that BB storm Jillian has left the area and is headed back towards Las Vegas
We can now Confirm that BBstorm Dominique is travelling 24 miles per hour back towards teh nations capital stay tuned to the BB weather channel we're not going any where.
Houseguests have been up all night – BB Storm Watch https://t.co/DdypabKKfC #BB19 @DawgsBigBrother pic.twitter.com/lJzaapWDus

— OnlineBigBrother.com (@bigbspoilers) July 29, 2017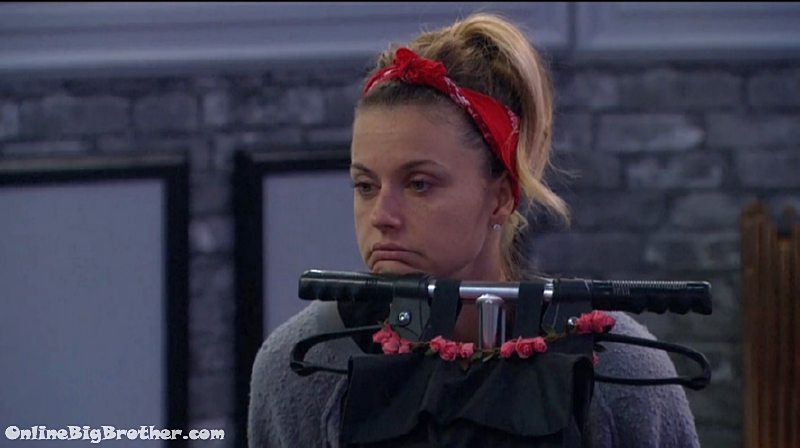 6:05am Christmas and Elena
Elena sounds like she really knows it
Christmas looks exhausted – "this is what Big Brother is all about"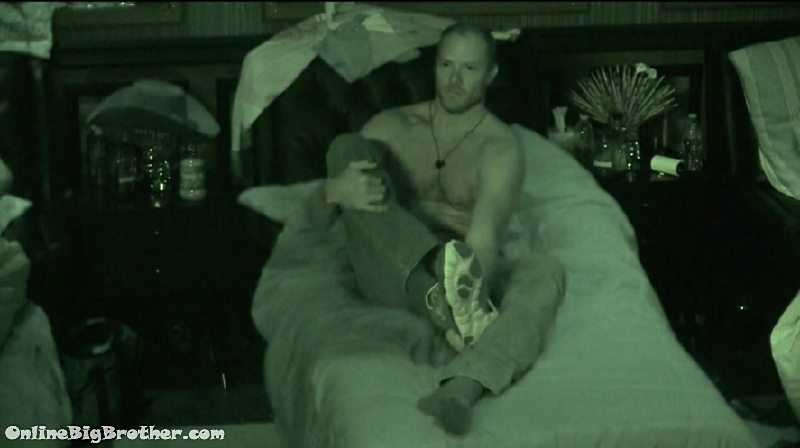 6:10am Jason and Kevin
Kevin says if he gets picked for veto he'll throw it to Jason.
Kevin – I'm telling you she said she ain't playing (Jessica)
Jason – I don't care
Kevin – what happens.. I don't understand whats happening..
Kevin – if she uses that thing (hex) do we start over
Jason – no.. if anything it'll just be a dud week..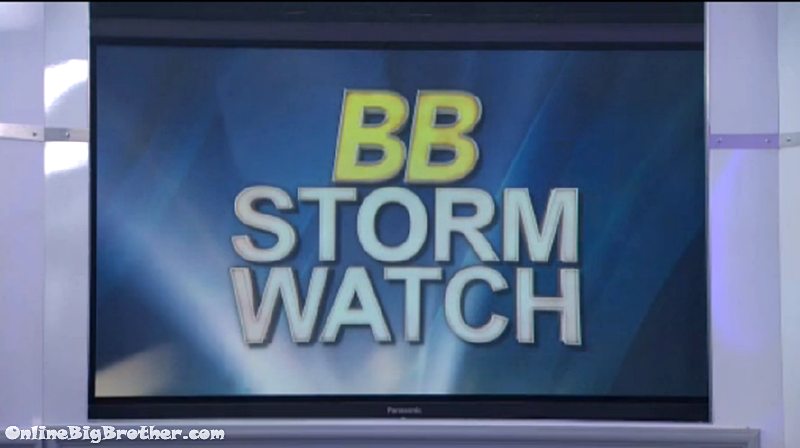 6:33am Another Storm watch
BB weather History centre reports records have been smashed by the odd weather phenomenon that struck the BB area
BB storm Jillian will go down having destroyed the most slop every in a 24 hours period
BB storm Ramses stayed under the dopler radar for the most consecutive hours
BB storm Dominique goes on record for the most collapses under atmospheric pressure and BB storm Cameron set the record for being the quickest weather event in history
The hydrometer Barely registered any water vapour content.. thanks for sticking with the BB weather channel.
7:36am everyone now sleeping
If you plan on buying anything from Amazon. Use this link Amazon home
Doesn't cost you anything and we get a small cut.
Links to the ranking system
Rank your house guests here
For those of you that like Statistics here are some expanded reports.