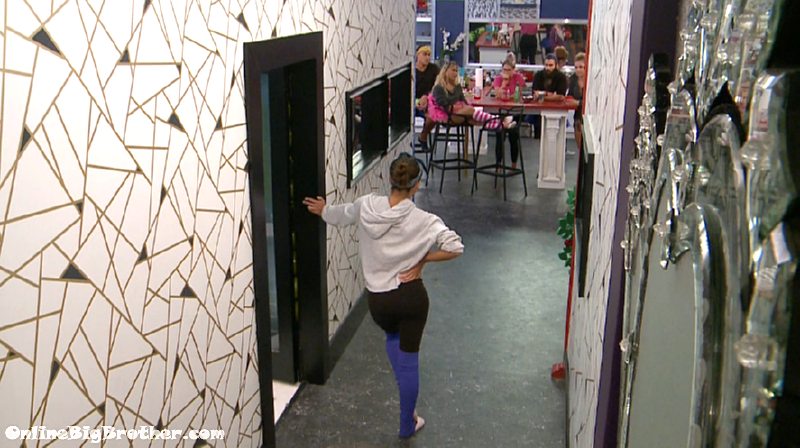 Alright people this was the a very insane 3 hours on the feeds. Get the feeds if you want to go back to watch. I went through what just happened twice.. enjoy..
Feed subscription lets you go back and re-watch everything we post here CBS All Access Live Feeds with a FREE 7 DAY trial.

5:03pm Jessica fighting with Alex..
Paul – Jess you want to come out and answer some questions.. Ohh you actually want to come out and play the game.
Alex – we saved you
Jess – how did you save me ..
Alex – everyone wanted you out
Jessica – Alex you nominated me.. How am I supposed to trust someone …
Alex – it was 10 to zero
Jess – because dom had a meltdown..
Alex – no no, I told you you were safe..
Jess – me being on the block is safe.. OK
Alex – everyone here wanted you to go home
Jess – it was 10 to zero
Alex – dom
Jess – Dom had a MELTDOWN and not I would have gone home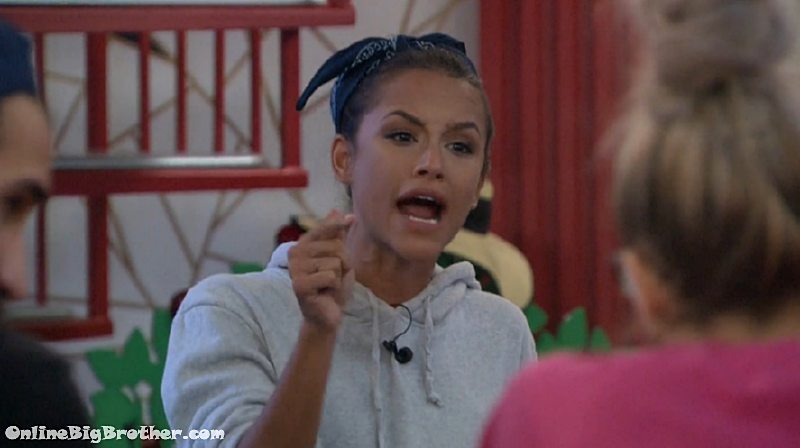 Jess – I don't owe you anything for putting me on the block..
Jess – you gambled my safety..
Paul jumps in and calls Jessica a liar..
Jess – how am I a liar..
Josh says Cody has a "Muscle" one
Paul – it's a Muzzle
Paul – Cody's too sacred to talk you have to talk for him..
Matt brings up that Cody wanted to keep Alex and Jason around so they can use Alex and jason to take out Raven and Jessica.. (week 1)
Jessica – is that a question.. It was week 1..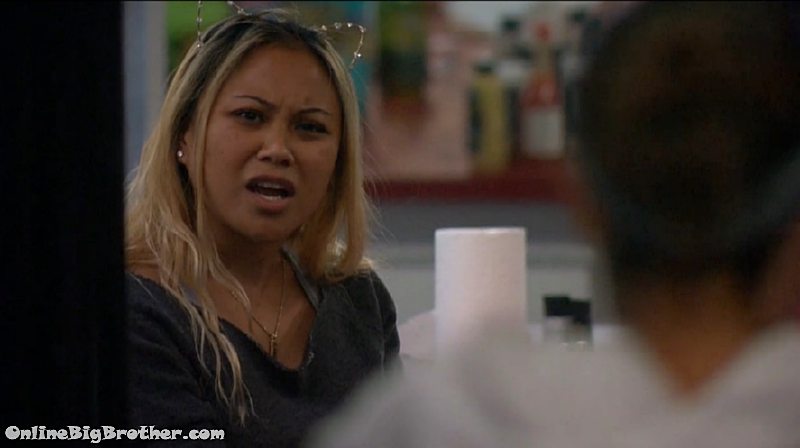 Alex jumps in asks Jessica who hide her ears..
Alex – did you not say that Raven hid them and dumped out my soda.
Jessica – I was on the block you think I was trusting anyone.. She just said every single person in this house wanted me out
Jessica – that includes you..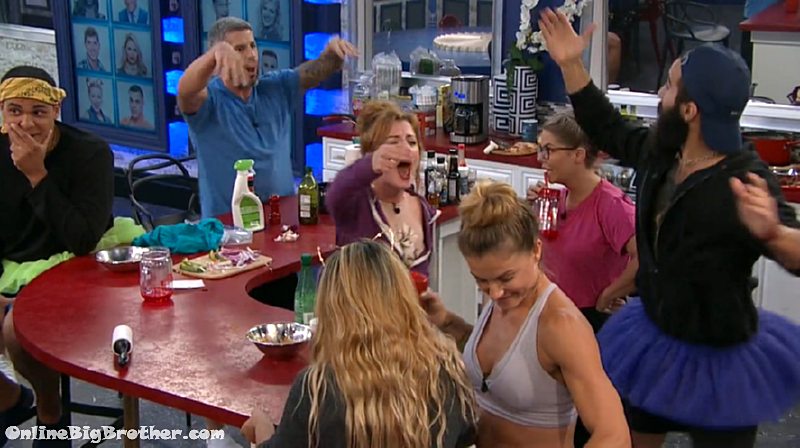 Raven – you LIE
Raven starts calling Jessica a b1tch..
Jessica yells back..
Raven – you like a$$holes so much because you like to talk out of yours..
Cody comes out and takes Jessica away to the Hammock..
Raven – You can't handle the heat get out of the mother f*ing kitchen..
Raven – you didn't throw me under the bus you threw me under the train..
Paul rallies them to run after Cody and Jessica to make sure they don't take a mental break but nobody follows..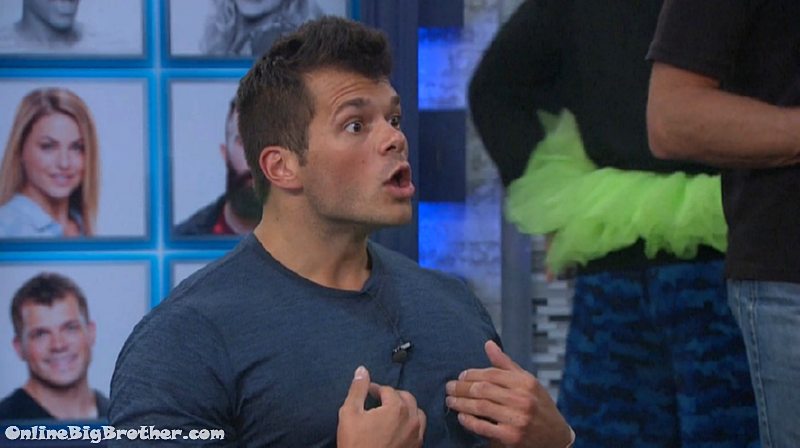 5:10pm Alex starts yelling at Mark saying he knew where the cat ears were hidden how did he know where they were.
Mark – cause I was looking for them..
Alex – don't pretend you didn't know
Mark – don't throw me into this Alex..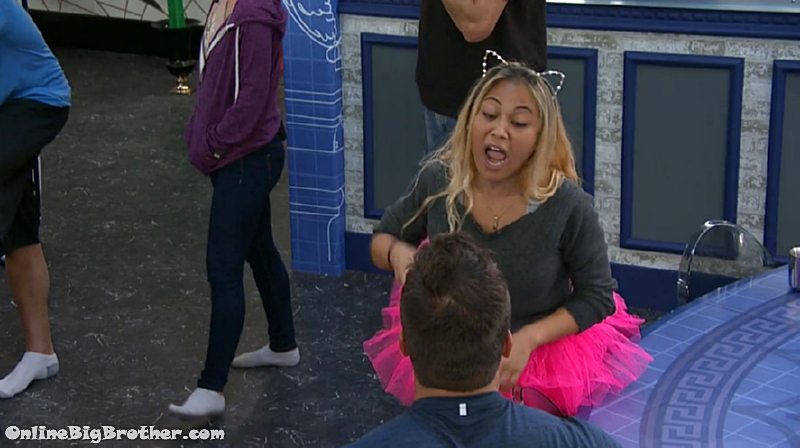 Alex – you're a liar..
Mark – wait you think I know about hiding them..
Alex says Mark told her he wanted to work with her that is why he wasn't put on the block over Dominique… Since she's won the HOH he hasn't talked to her.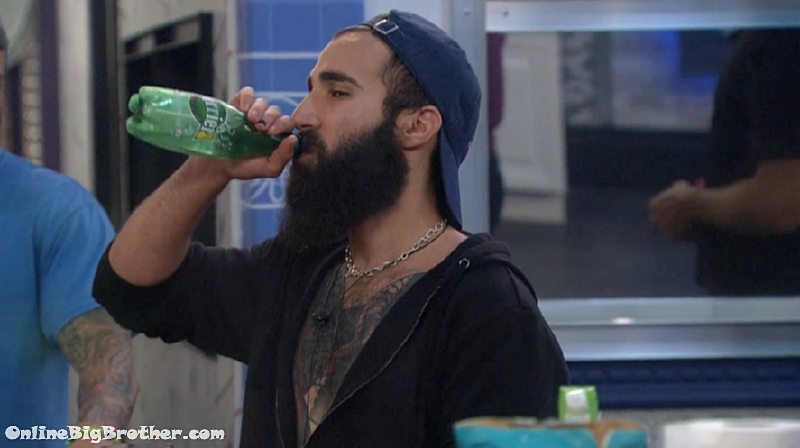 Paul says none of them are guaranteed safety now because of that piece of shi1t Cody and Jessica are the ones responsible.. (these people are really stupid if this argument actually works on them.)
Paul – I did what I did to keep you guys in Jury..
Paul tells them to all go outside and start barking because they are all his dogs. (sarcastically because that what cody says they are like to Paul)
Nobody follows Paul so he backs down..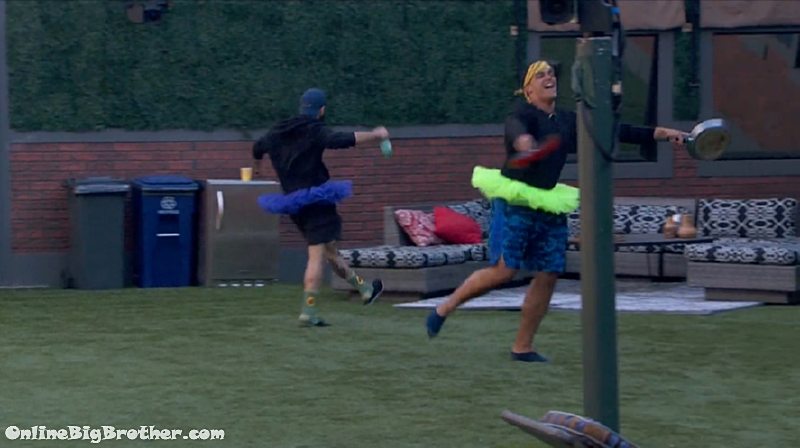 Paul and Josh being idiots dancing around singing their circus song. (this used to be funny)
this was funny… back when it was just Josh.. #BB19 @DawgsBigBrother pic.twitter.com/w6PMSUPwQD

— OnlineBigBrother.com (@bigbspoilers) August 1, 2017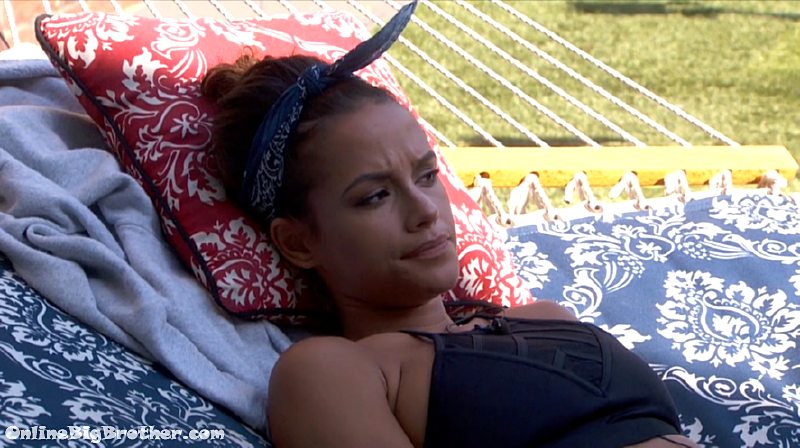 5:11pm Jessica and Cody
Jessica- god I hate being the centre of attention..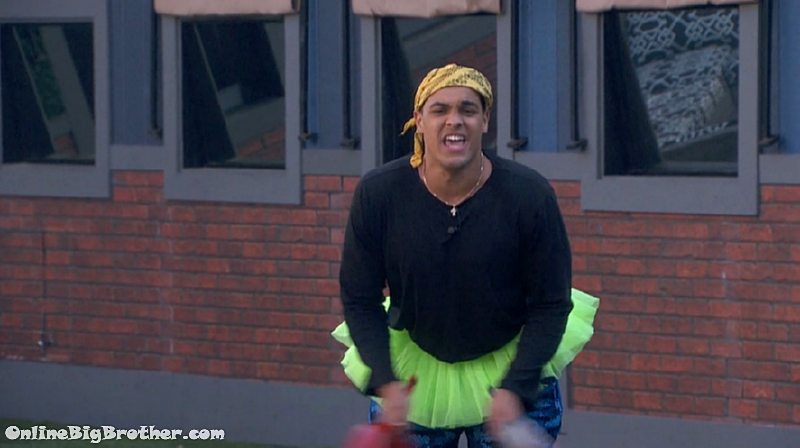 5:12pm Paul and Josh dancing around..
Josh – welcome to Big BRother
Alex – Liar
Josh – Cody is such a big man he uses words like disgusting..
Josh is screaming that Cody has little mad syndrome..
Raven screaming again.. "Woof woof woof"
Paul – you are all my dogs..
Paul screaming that Cody is chicken shit…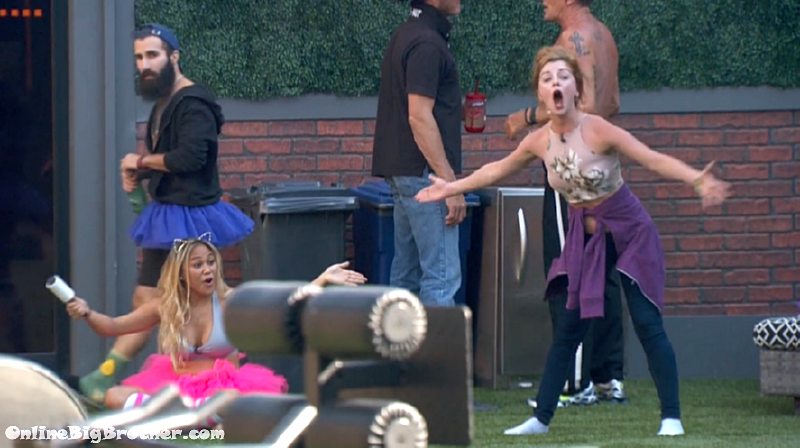 Raven screaming that Jessica threw her under the train..
Paul – all my dogs are barking
Raven – woof woof woof mother f*ing woof..
Alex – you're a disgrace to marines. (fuck serious Alex?)
Paul – I'm playing a psychological game and you guys are all my dogs..
Paul – the 2 people that run and hide are sitting on a hammock.
Raven claims that she's always had jessica's back
Raven and Alex go on about Jessica throwing raven under the bus when Alex was HOH.
Paul "All my dogs are barking"
Raven "Woof woof woof motherfucking woof!!"@bigbspoilers #bb19 1 WEEK FREE TRIAL https://t.co/iS7BSC5a8n pic.twitter.com/grotMvZ1dd

— Dawg (@DawgsBigBrother) August 1, 2017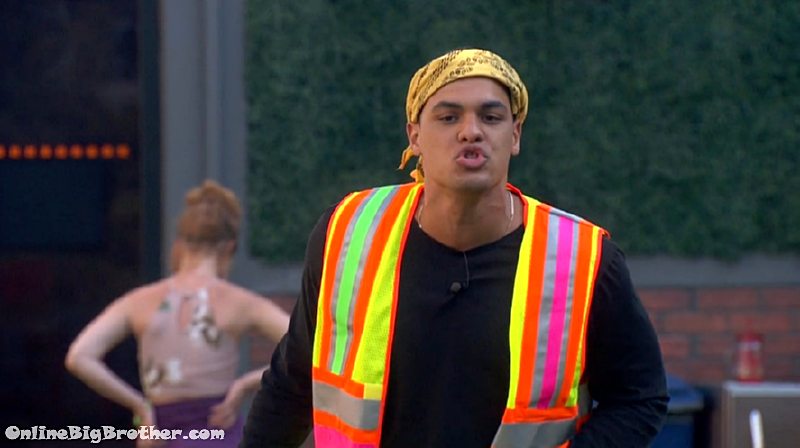 5:17pm
Josh says Cody's got no personality and it sucks
Josh – you're outfits sucks
Josh – everything about you sucks.. nobody likes you ..
Josh – you grown baby.. .
Paul – he's not a stand up guy he can't stand up to anything
Josh – you're girl has to fight your war for you and you can't say a word
Raven – he wanted me out of the game and to use Jason and Alex.. are you shitting me..
Paul keeps up calls Cody chicken shit for the hundredth time..
Paul saying that Jessica screwed them all over Jury to keep the "shitiest person" in the house out..
Paul called into the Diary room.. (thank god)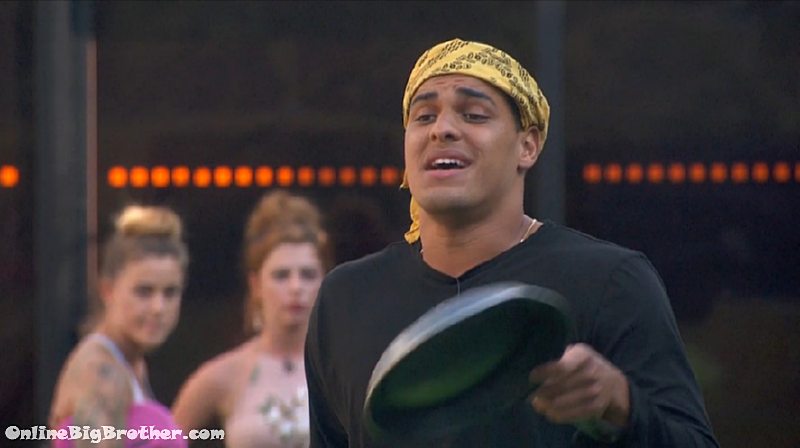 5:19pm Josh screaming but nobody else is once Paul goes..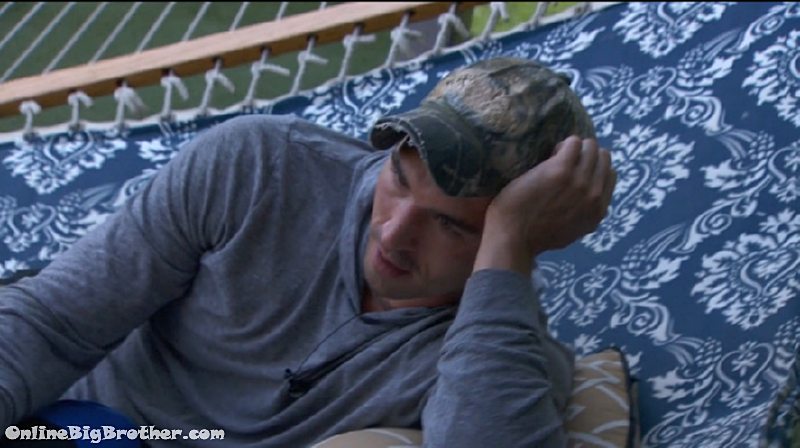 5:19pm Cody and Jessica Hammock
Cody – I'm excited for you to use the hex.. they're scared shitless.. they really want jury that bad.. they crave it that bad
Jessica – it's f*ing 8 thoudand dollars get a job ..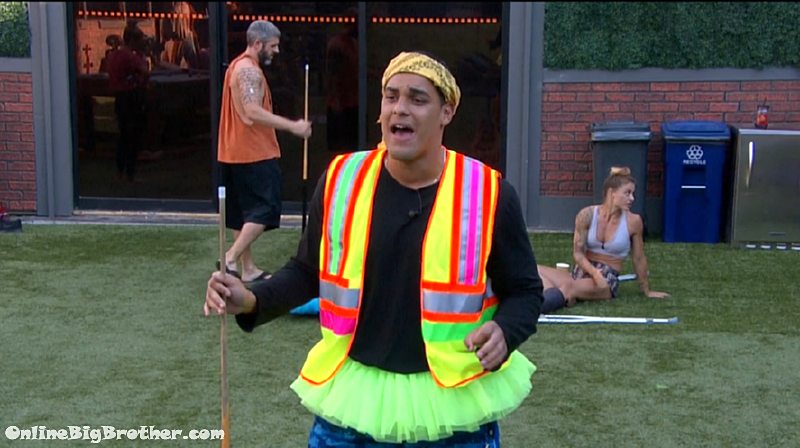 Josh keeps howling MEATBALL MEATBALL
Josh – a week of hell until you go home you big MEATBALL
Josh – I'm going to make your life a hell until you walk out those doors BUDDY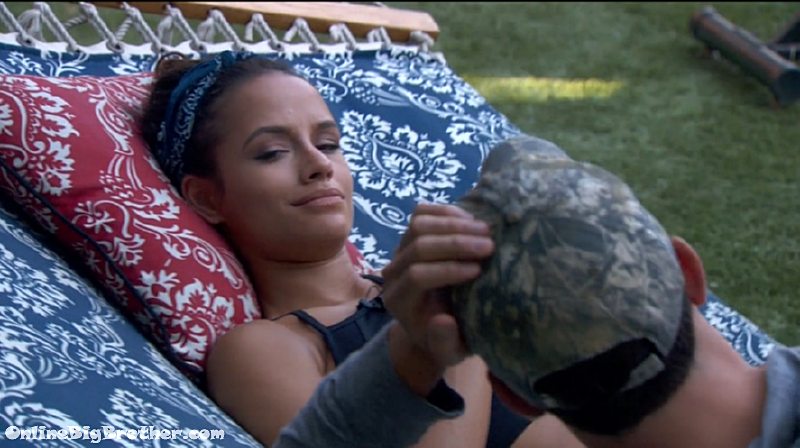 They get no reaction..
Jessica says when they go back to watch the first few weeks the person she use to talk shit about Alex and the other girls was Raven.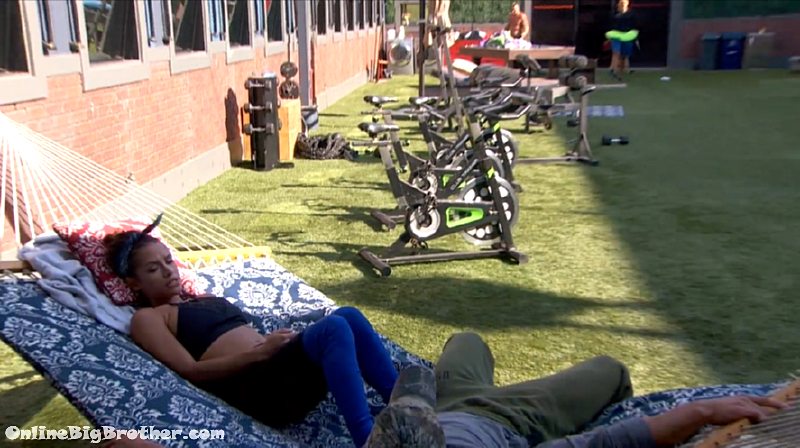 5:21pm Jessica telling Cody that this is the same thing Paul did with Dominique .. And she snapped.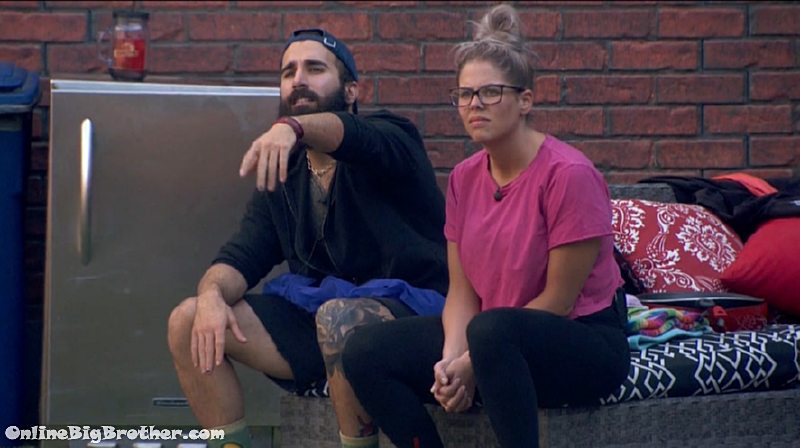 Paul comes back says he was told not to incite violence, "No talking about self exciting and no fighting words."
Paul now screaming that Jessica was the one that started all Dom's lies..
Paul – guys do I psychologically play you guys..
Alex – COdy is a LIAR..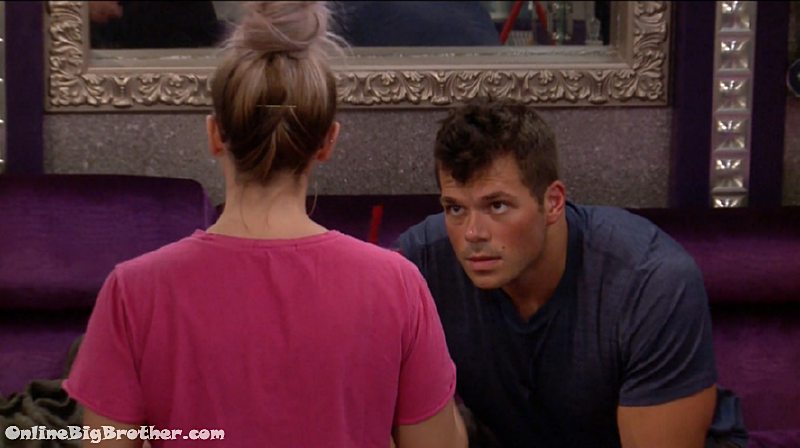 5:31pm Mark and Elena
Mark pointing out how pathetic everyone is now that they are in a group coming at him.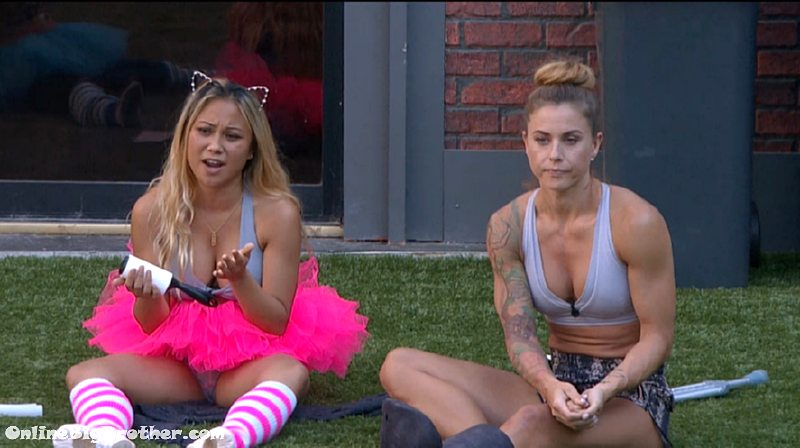 5:33pm
Josh pissed because at one point Cody called him disgusting.. you can hear him in the background yelling about it.
Alex calls Jessica insecure..
Paul tells Christmas to say something about Jessica not getting 10grand for Jury bot her boyfriend is.
Xmas – why is she not getting to Jury..
Paul declares Jessica target number one..
Xmas – that's a expensive date
Raven says his (cody) girlfriend dropped the american flag on the bathroom floor.. they should bring that up.
Xmas – it's on the bathroom floor the American flag
Xmas – Cody _ have a serious question .. I don't understand ..
feed cut..
when we're back ..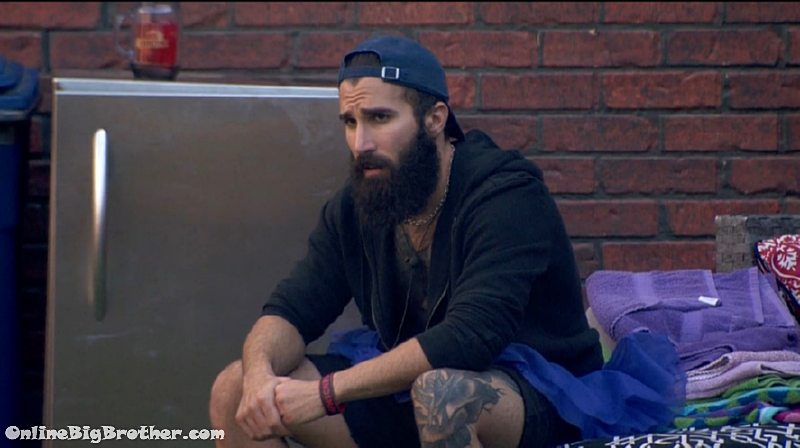 Alex – what kinda American marines leaves the flag on the floor like trash (not a fan of what these people are doing to Cody and Jessica and I'm not even American.. it's fucked up)
Alex – what would the marines say about that
Christmas – no..
Alex – I know other marines that would have something to say about that
xmas – I hope you are worth 500K dollars to Jessica, that's an expensive date.
Alex – I hope our price for freedom is worth that man (wtf )
Paul – I'll go ahead and pick the american flag off the bathroom floor where it doesn't belong (what bravery.. what sacrifice..)
raven – and hang it up where it belongs
Paul – And I did enlist in the military
Christmas – I just don't kow any marine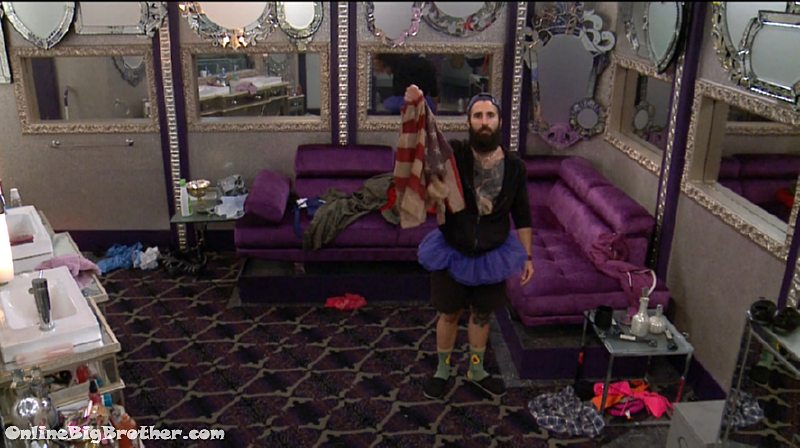 Paul goes into the bathroom .. at least i'm a proud American because this is how you treat the flag on the dirty bathroom floor what a shame..
Paul comes back.. don't worry I picked up the American flag
Alex – like a true American..
Paul – that's her item we're not allowed to touch it.. but I also don't like our country's flag to be disrespected.
xmas – true
raven – true
Paul – I got my stripes right here.. and I got an american eagle tattooed across my stomach..
xmas going on that Jessica has to tame Cody so he doesn't blow his lide..
Paul – that muzzle is on real tight..
Christmas – she's making sure he doesn't blow his f*ing lid.. He betrays he lies.. He talks shit..
Alex says Jessica doesn't want cody to talk because she'll get caught in another lie.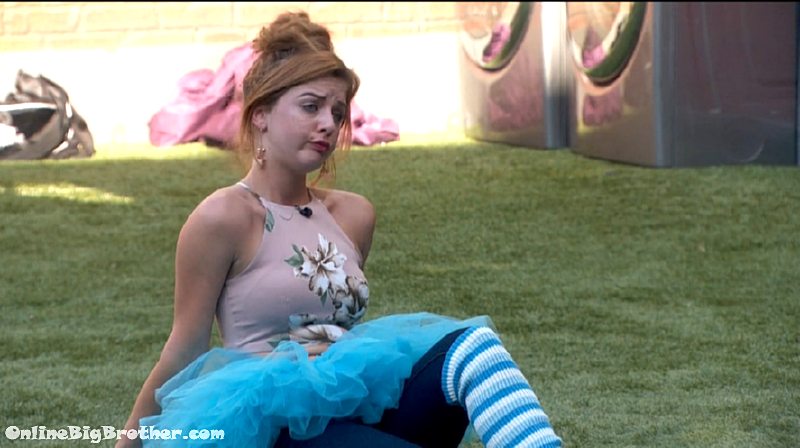 Raven kinda outta nowhere.. "I have 2 diseases and that's what I want to do with my life.. "
Raven calling Jessica out for shoving her fingers in people a$$holes. (this is true)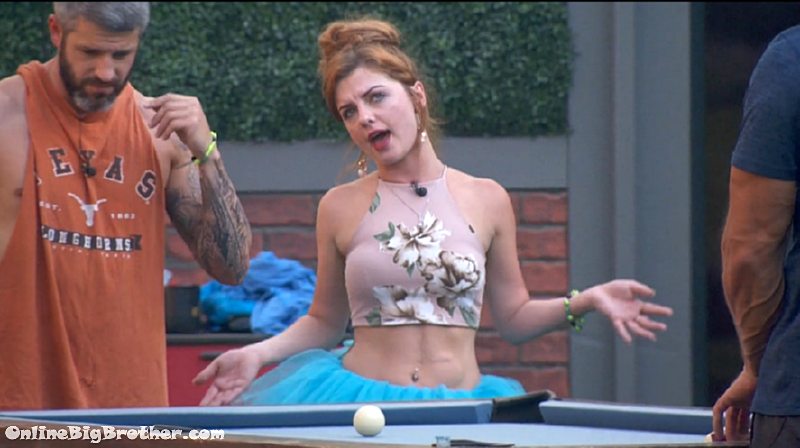 5:47pm Raven calling Jessica out for saying that she liked Cody because how how b1g his d1ck swung when wearing the silk underwear.
Raven – yeah you remember that don't cha…..
Jessica and Cody are laughing
Cody – thanks.. marines everywhere are hi fiving..
terminal #BB19 pic.twitter.com/I3Zsh03ISW

— OnlineBigBrother.com (@bigbspoilers) August 1, 2017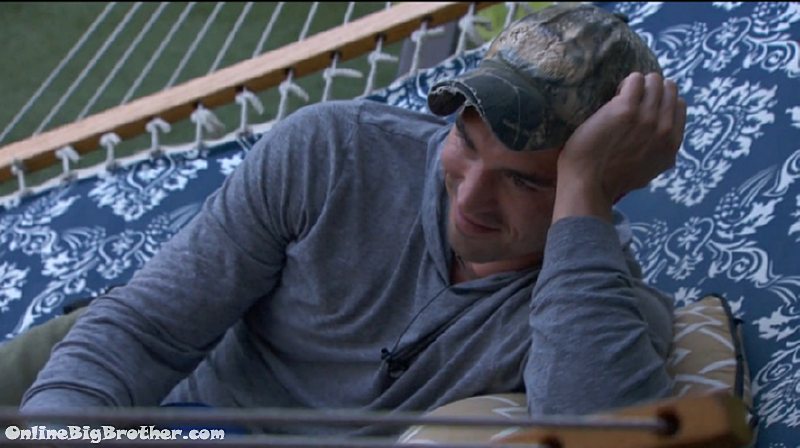 5:50pm Jessica and Cody Hammock (you can hear raven, Alex and Christmas berate Jessica in the distance)
Cody – I'll tell you what.. we got a pretty good fighting force just us two.. I like your odds..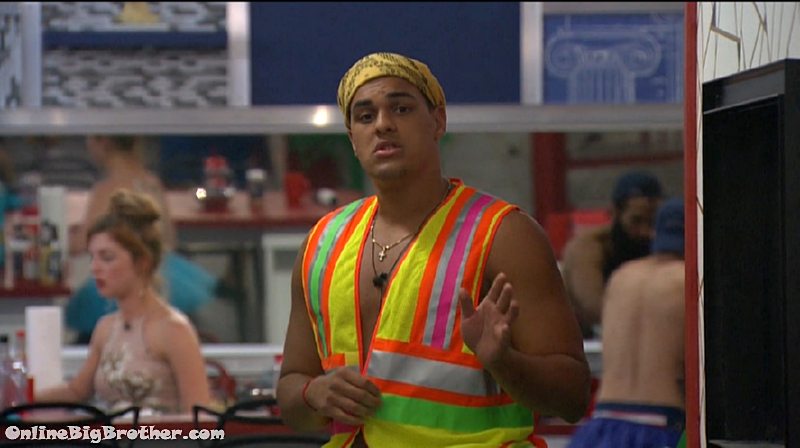 6:17pm Josh is accusing them of putting Vaseline on the bed.. "Don't touch my sh1t cause can get ugly quick"
Josh threatens the he will spray ketchup and mustard all over their beds.
Josh – don't put Vaseline on my bed cause you are going to clean it..
Jess – we did not do that..
Josh – alright..
(The Vaseline was from the prank they pulled on Cody by placing Vaseline on the door knob.. apparently some got on Josh's sheets.. .wouldn't have been the first time)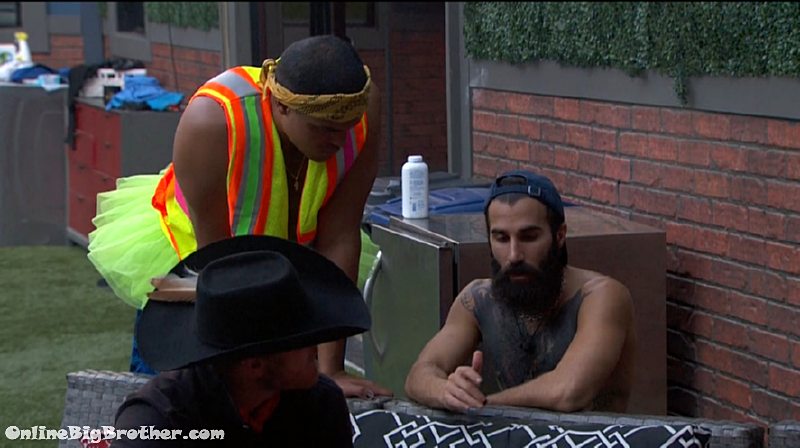 6:53pm Josh, Jason, Paul Kevin and Alex
Paul is telling them what they can and can't do.. (only Josh and maybe Alex will actually do anything. Jason and Kevin have stayed out of this. Jason even has expressed distaste for the ganging up)
Paul – we can keep taking jabs at him don't get me wrong..
Paul – no violence.. no telling them to quit, shit like that
Paul – and let's not f* with their personal sh1t.. Vaseline.. that's funny as sh1t
Josh laughs
Paul – pots and pans early in the morning..
Paul the decaf coffee is hilarious
Paul wants them try and get Jessica to not use the hex
Paul – lets not provoke a fight..
Josh – they told me to stop
Paul – whatever they told you is what they told you
Paul – we can continue.. no empathy.. no empathy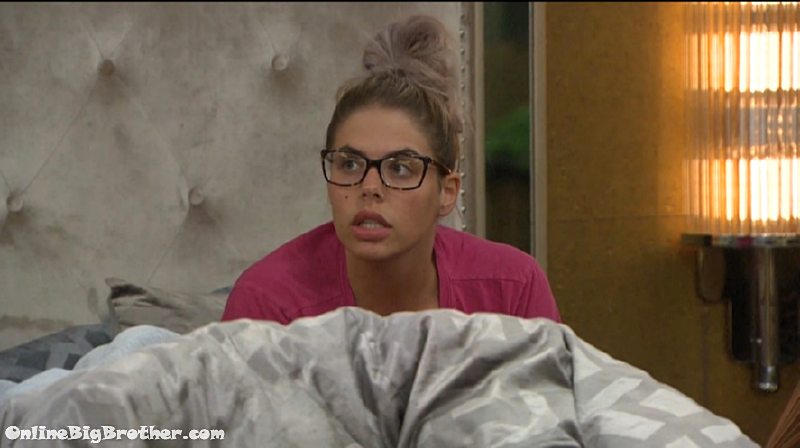 7:10pm Elena tells Paul she's putting Cody and Jessica up if she wins HOH.
Paul says he's doing the same.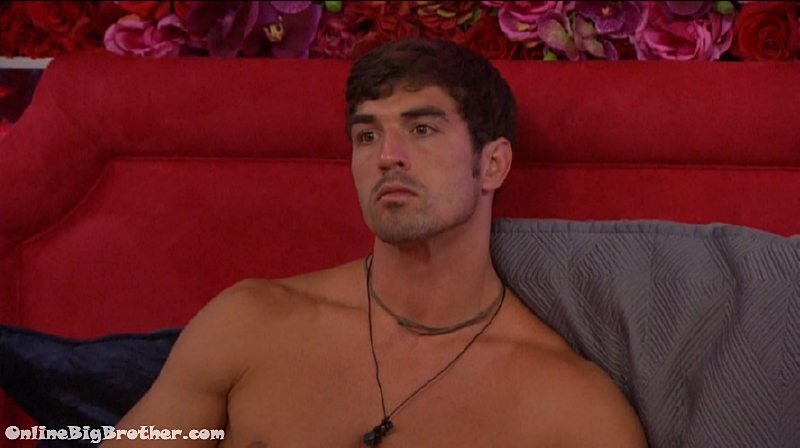 7:39pm Not even close to snapping..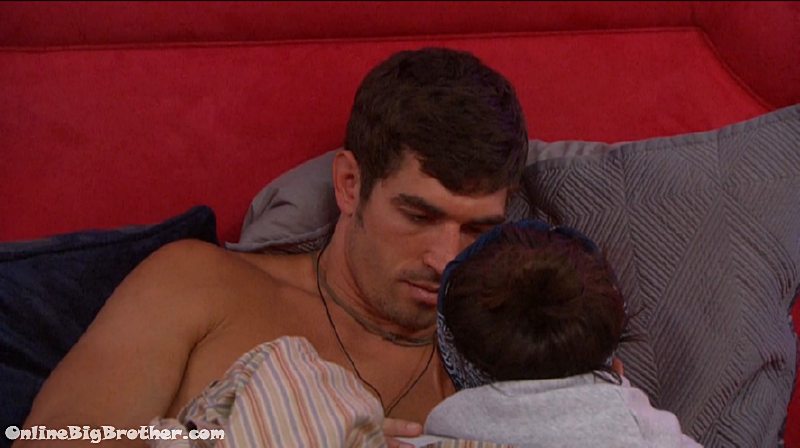 7:43pm Jessica and Cody
Jessica – I'm sorry.. I just couldn't take the whispers anymore…
Cody – that's OK, you exposed everyone on national television.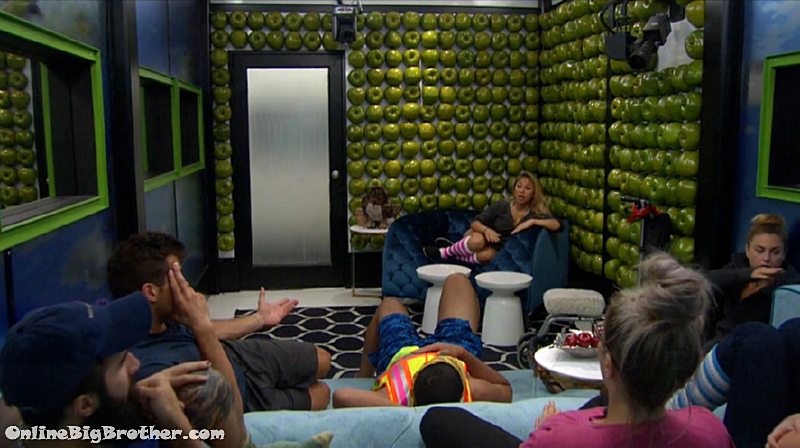 8:50pm Trying to figure out ways to get Jessica and Cody out becuase the regular mechanics of the game won't allow it this week.
If you plan on buying anything from Amazon. Use this link Amazon home
Doesn't cost you anything and we get a small cut.
Links to the ranking system
Rank your house guests here
For those of you that like Statistics here are some expanded reports.