It felt like this last week was a bit disappointing for a good chunk of fans. Many of us were expecting something different but for the few that stuck aroudn the feeds for the final 2 hours we were given a late game flip.
Natalie wins the Head of Household to much excitement, the plan was to put Corey and Nicole up. I'm not sure when the change happened but it was shortly after she got the HOH room. Leads me to think this was on her and James' much earlier they were just too preoccupied with Paulie for us to notice. James and Natalie convince each other that getting rid of Paul is best and to do that they have to put up Victor and Paul.
Friday morning rolls around and BIG F*****G MEECH wins the Care package and is CO-HOH. It seems like the fans thought Meech would go after Nicole and Corey or at least try but nope. Meech wants Nicole gone but it takes all of 30 seconds for Natalie to convince her otherwise. This begins Michelle and Natalie's week long non stop anti Paul stretch. He lied about fries!!!
When nominations rolls around Victor and Paul are nominated. Paul starts blowing sh1t up on Nicole and Corey and is able to get back in the good books with James, Natalie and Michelle. Natalie and Michelle cry they say they made a mistake. The houseguests are giving clues throughout the night for the upcoming Power of Veto.Victor, Michelle and Paul study all night together. Natalie and James help out a bit but after the studying is over they all seem to turn back against Paul. Nicole and Corey stay in the Tokyo room have s$x and sleep. Paul wins the POV. Paul uses the veto on himself and Michelle puts up Corey in his place.
Natalie tells Nicole and Corey that Victor will be going she slips and says that production "wants" her to work with them. Whenever Natalie starts to wavier about gettign Victor out James reassure her Nicole and Corey will never backstab them. Nicole's parents love James was once a reason he made. At one point Production makes Nicole and James tell the house they are not buying each other gifts if they win. Something they had agreed upon earlier in the season. (Other people have made similar deals on the feeds and weren't called out. So this might be pertaining to something caught off feeds. Either way Season goes full kraken)
Things get boring for the next 3 days.. Paul and Victor figured out JAmes, Michelle and natalie are not on their side anymore. They construct a plan to keep Vic. Paul hangs out with Corey for the days before Thursday instilling paranoia in James, Meech and Natalie. Victor goes to tell James and Natalie that he's putting up Paul and Nicole.
Paul and Victor attempt to save Vic is summed up in this two page post here…. It happened last night. At one point Victor had Natale and Michelle convinced they should keep him and take out Corey. Natalie tells James that Keeping Victor is best for her game but keeping COrey is best for his. James tells her not to worry he trusts Corey and Nicole 100% and they will no go after them. Natalie eats is all up.
Thursday morning Victor and Paul re work their plan. Victor is going to say that Paul told him Corey and Nicole are saying James is acting paranoid. Paul is going to blow up on Natalie, James and Michelle and hang out with Corey and Nicole as much as possible Over the course of 2 hours Paul attacks and they even stage a fake fight. James, Michelle and Natalie buy it and decide to vote out Corey. This post sums it all up here ——>>>  House flips Victor staying 
Spoiler Alert! Watch the HOH competition play out TONIGHT on the Big Brother Live Feeds at 10pm ET. Try 1 week free!
So apparently CBS is going to let us watch the HOH tonight on the live feeds and it'll be endurance. I'm thinking maybe last jury member to "Drop" stays in the game and last houseguests to "Drop" wins HOH. Could be the wall like in BB15 or a Slip n' slide. No idea.. It'll be fun to watch
Kraken Predictions
Corey is evicted by a vote of 2-1
Paulie comes back Paulie wins the HOH
Actual results
Zakiyah is happy that Paulie was evicted and no longer in the running to win the 500K. Da laughs that Paulie went out on Victor's HOH. Bridgette says that she has no respect for Paulie for the way he treats women. You're cocky with a giant ego. Da brings up why he didn't use the veto on Z. Z says I see where the b***H is and where the loser is! Z and Paulie start getting heated and Da and Bridgette leave the room. Z says I am not a dumb b***h do not try and play me. I didn't come here for a boy.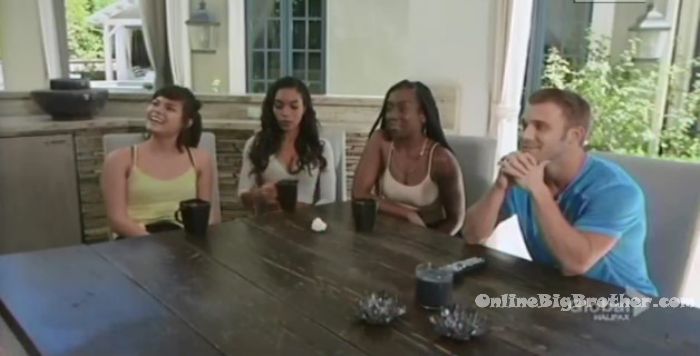 Paul votes to evict: Corey
James votes to evict: Victor
Nicole votes to evict: Victor
Evicted House Guest: Victor
Julie Chen tells Vic he has an unprecedented second, second chance to return to the house.
The jurors receive a card stating one of them has a shot to get back into the game.
Julie then tells the house guests that they'll all be competing in an epic endurance battle for HOH. You'll all be competing along side the jury members. The last juror standing re-enters the game.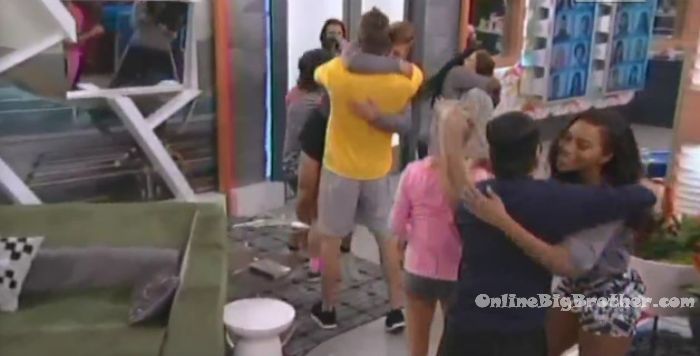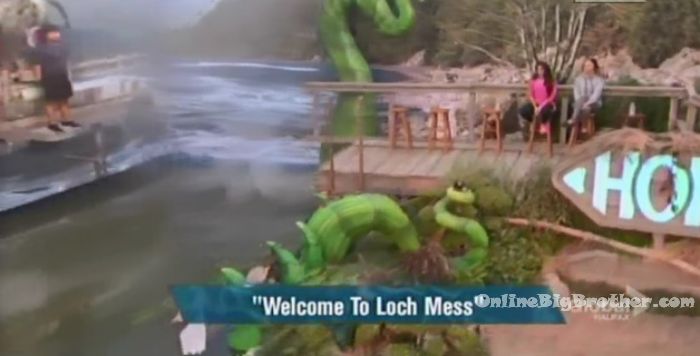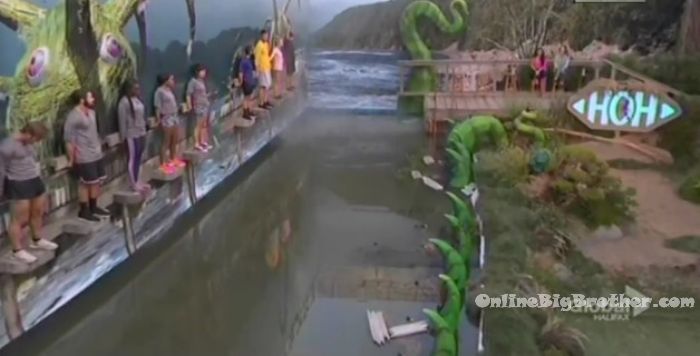 WATCH the ENDURANCE Competition play out on the live feeds!
Sign up for your 1 WEEK FREE trial
Meech and Natalie watching from the side lines.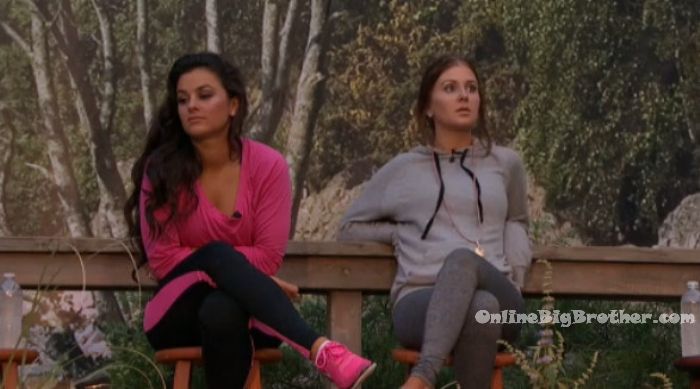 7:10pm Z and Da jump off and are no longer in the running to re-enter the house.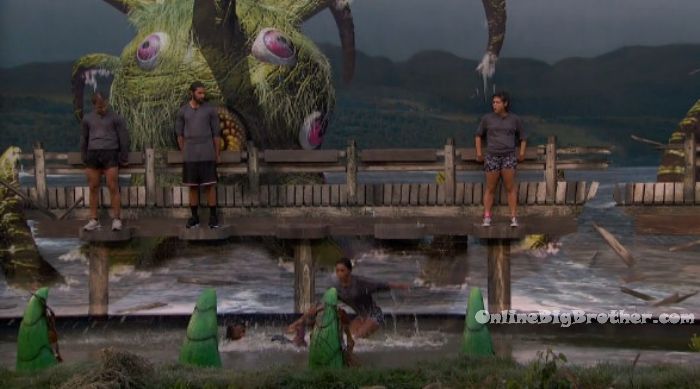 Paul asks can someone explain that friendship suicide that happened a moment ago? (Z and Da jumping off together) Was that planned? Bridgette says it wasn't planned. Soon after Corey falls off.
Nicole, Victor, Paulie, Bridgette, Paul, James and Corey are all still hanging on. James tells Nicole to hold on the big guys always fall first.
7:25pm Bridgette falls off.
Paulie falls off! VICTOR is back in the house. Vic "BACK IN THE F**kING HOUSE!! YAAAAAAAAA!!"
Returning Jury Member: Victor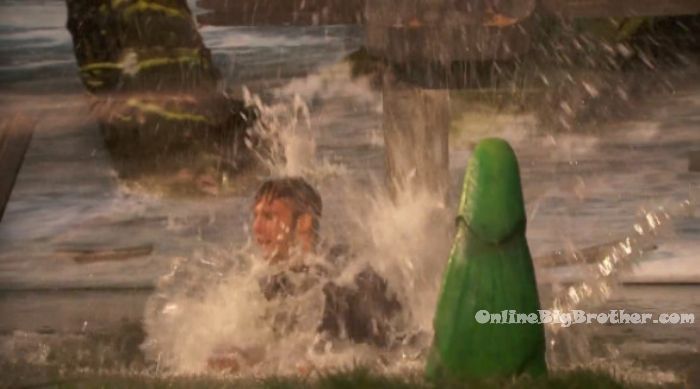 Vic then falls off.
7:50pm – 8:15pm Paul, Nicole and James are left on the wall. James says it looks like we're going to have a double eviction. Nat ask really? James says yeah we're a head a week now. Nat tells Vic that he missed a lot while he was gone.

8:30pm – 8:45pmPaul falls off. Nicole and James are the last ones standing.. Nicole says I just want a letter from my mom. You can even pick my noms. James wants his 4th endurance win. Nicole just wants to hear from her mom. Nicole asks if he is worried she will put him up? James says he's not worried about her putting him up. Nat didn't put you up and I voted to keep Corey. Nicole says exactly let me return the favour. She says basically you can have the title too. James says I can't have the title if I didn't win. James says he wants to be off slop and to add another win to his belt. Regardless of what happens I'm not putting you guys up. Nicole says same.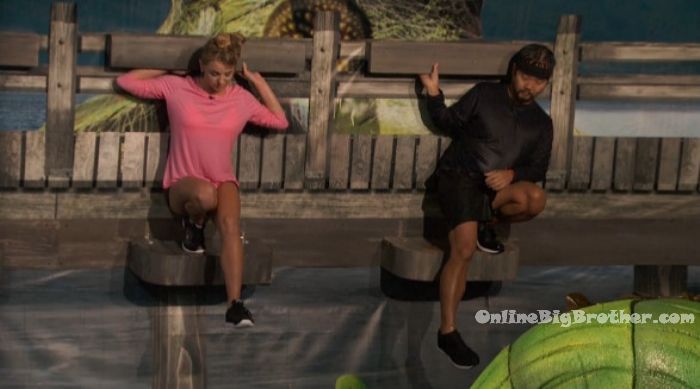 James jumps off to give it to Nicole.. NICOLE WINS HOH!!

HOH Winner: NICOLE
Donations support this site more than anything. If you dig our spoilers please find a way to support us. It's important. No I won't spend it all on Kraken.