POV Holder:
?
POV Competition
Aug 20th
POV Used
?
POV Ceremony
Aug 22th
HOH
Natalie, Meech
Next HOH
Aug 25th
Original Nomi1nations:
Victor AND Paul
After POV Nominations:
? AND ?
Have Nots
Victor and James
Watch the next week of the feeds for FREE – 1 week Trial!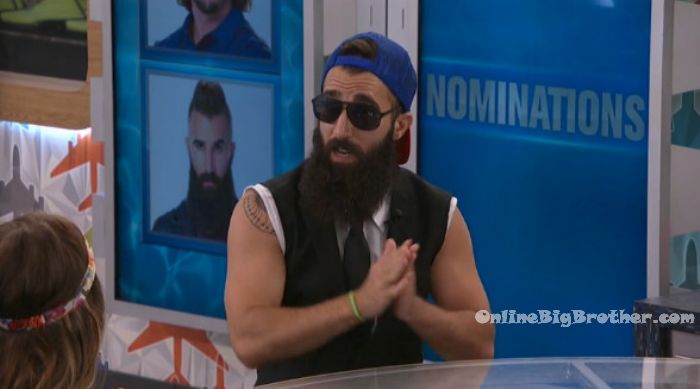 Natalie Nominated: Victor & Paul
7:25pm When the live feeds return – Vic and Paul in the London bedroom. Paul says they did what they wanted and painted the two targets. Never cared! Time to f**k sh*t up! Watch this! Paul starts to head out of the room and Vic tells him not to flip out. Paul goes to the kitchen and asks Paul what did I lie about Nat?! Right here in from of all these people what did I lie about? Nat says not right now while you're all heated. Paul says I'm not heated. I'm an atheist not a liar. I'm curious as to how I lied to Michelle. Nat sasy you swore that you didn't vote against my best friend in the house. You lied to her and me. Paul says you wouldn't lie to keep yourself in the game. yes I lied about it. I'm waiting for that one. Nat says you're dangerous in this game. James tells Paul to relax. Nat says she's going to leave the conversation. Michelle says you knew Da was going home. Paul says he didn't know she was going home. Nat tells Paul that she joked about her FTs (fake t!ts). Paul says did I not tell you FT's to your face. Nat says I don't remember. You and Paul joked about it to the whole house. Did you not feel bad for me because that makes me feel bad about myself as a woman. My heart was hurt with that. Paul says so you're using the same stuff with me that you used with Paulie. Paul says I apologized back then and I apologize now. Paul says the only reason I am upset right now is because I was called a manipulator and a liar. Paul says ya'll f**king s**k at this game! If you're going to call me a liar you better be able to back it up. There's a veto tomorrow and I'm going to win it.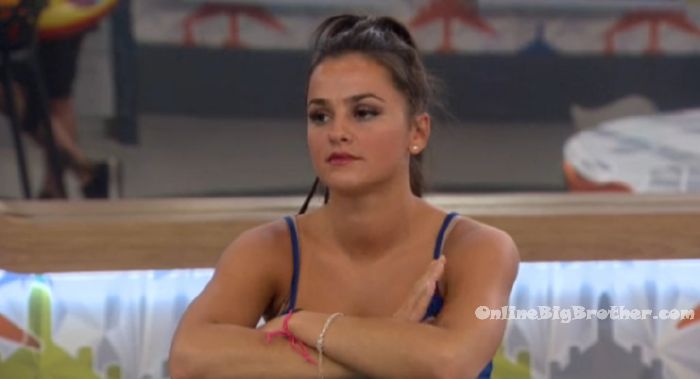 Corey & Nicole celebrate not being on the block@bigbspoilers #bb18 pic.twitter.com/tha7dpvHxO

— Dawg (@DawgsBigBrother) August 20, 2016
7:40pm – 8:10pm HOH room – Nat tells Michelle that this was a good move. She tells Michelle that Paul wants to make a final 4 deal and to take out Michelle at final 5. James says if he wins HOH next week he will go after Corey and Nicole. Nat says I kept Vic speech nice because I want America to know he's a nice guy. Paul joins them and asks when she decided to put him up. Nat says I made my mind up yesterday. Michelle says I made my mind up yesterday. Paulie told me a lot of stuff. Paul says if I lose the veto to Victor, I am gone. Paul says they got to your head. Which is why I told them down stairs that I'm leaving you alone. Paul asks why didn't you come talk to me about it. Nat says how could someone make this stuff up. Paul says you're going to listen to two people whispering in your ear instead of the one guy not. Paul asks tell me what they said so I can tell you yes or no. I want you to progress in this game. I would rather still see one of you win the game.Paul says You think I would bank on a 10% chance and team up with Paulie, Nicole and Corey?! Why would I shoot myself in the foot. Paul says I don't want the heat to be turned on my when it should be turned on them. I was never playing both sides. F**k Paulie if he came back! I never cared! If he did Vic and I would be screwed. What did I tell you Natalie .. don't f**k me! But its okay! If I get f**ked this week I blame them because they're the liars. Nat says well if this true maybe I f**ked up .. but there's a backdoor option. Vic cried and said we got f**ked. I told him pull this knife out of my out of my back. Paul says I'm not here to make you feel bad about your decision but if I go home just don't get f**ked by them. Nat says so Corey and Nicole are after James? Paul says they're after everybody… they're after the game! Michelle says I hope they don't vote Vic out. Paul says of course they will if he's against me.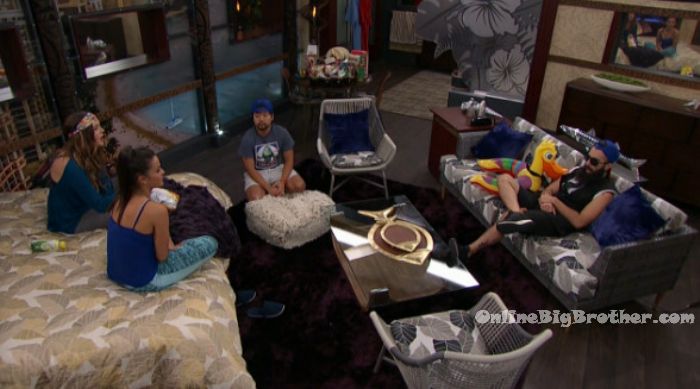 8:10pm – 8:30pm Nat says maybe I f**Ked this up. Paul says if I leave put Victor close to you and trust him because he's a good dude. Pull him in and take them (Corey & Nicole) out. These two are liars. Nat says literally self-evicting tomorrow. Nat start crying. Paul says I'm pots and panning those guys tomorrow. Michelle tells Nat to stop crying .. I'm the one that put Paul up. Nat says I just don't know who to trust .. I never should have won HOH. Nat says we can still backdoor. Paul says if I leave or not .. know that they lied to you. Nat asks what did they say about me. Paul says I will tell you if I get evicted as I walkout the door. Paul says as a friend to friend I will not say it because it has nothing to do with the game. Paul says its about you and James. Nat asks what about me using James. Paul says about you making your way to the top. Nat says sleeping my way to the top? Paul says essentially. Paul says these are the people you're working with. Nat says I feel so sick. Nat asks so Corey said I'm sleeping my way to the top. I don't even want to be in this game any more with people talking sh*t about me. Paul says you're jumping to 6th place next week. Who cares about anyone else. They're jealous! They're jealous they got beat by a girl. Nat says just kidding .. The plan is for you to go home Corey. Meech sasy I am not picking Corey or Nicole if I get house guest choice. I'm picking you James.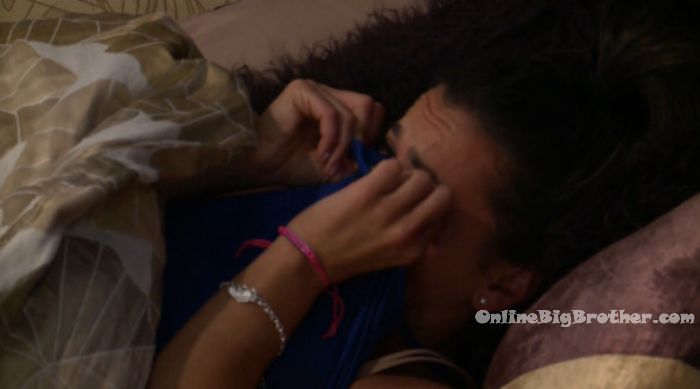 8:30pm Vic and Paul hug in the storage room – Paul says they're crying. They (Nicole & Corey) lied to them. They lied and said I was the one that said those things. I told them if I go home they (Nat, James, Meech) need to pull you in. Vic says in my mind I was upset with Michelle. If one of us go… she is stuck with 3 couples. If I get off or you get off .. Paul says they already said they want to backdoor Corey or Nicole. Vic says perfect.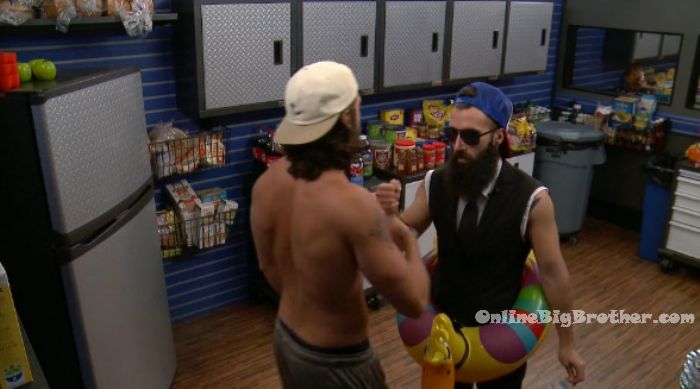 8:50pm HOH Room – Nicole, Corey, Nat and James. Nicole says I feel thankful. Corey says this is perfect. Nicole says the thing is I don't want to get in the middle of Paul arguing. I know several times he's lied but I just don't want to get in the middle of it.
London Bedroom. Michelle and Paul. Michelle tells Paul that Nat wants to backdoor. James is on board too. He said its our HOH. Paul says if ya'll want to keep me in another week I'm down. I get it they got to you. Michelle says James wants get everyone together. Paul says I'm going to call them out (Nicole & Corey). Michelle says good rattle their cages. Michelle says it scared me that they were able to turn us against each other. Paul says just know that Nicole &* Corey are full of sh*t. I'm going to call them out on it. Michelle says good, you should.
9pm – 9:10pm Havenot room – Nicole tells Michelle I do not want to call out Paul but I will if you want me to. He 100% knew that Da was going up. Nicole says if you ever hear anything about me just come talk to me because I know this week they're going to try and say things. I am definitely fine doing whatever you guys want. Michelle says okay, good chat.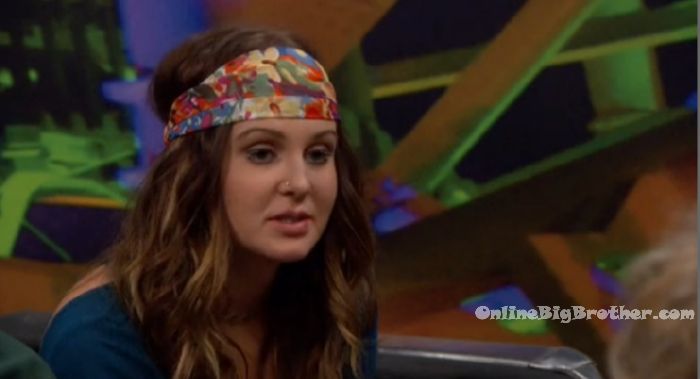 Show your support by making a donation.
"BB BRIBE"
WEEK 5 – August 21 to August 26th
The winner gets $5,000 to bribe one house guest. Bribes my influence voting, competitions, vetos or nominations. The bribe can only be given to one house guest, for one action, within the week leading up to the next eviction.
[polldaddy poll=9501597]
Usernames will have to be a bit more PG please. At the least censor them with @*(#^%_