POV Holder:
?
POV Competition
Aug 20th
POV Used

1

?
POV Ceremony
Aug 22th
HOH
Natalie
Next HOH
Aug 25th
Original Nomi1nations:
? AND ?
After POV Nominations:
? AND ?
Have Nots
?, ?, ?
Watch the next week of the feeds for FREE – 1 week Trial!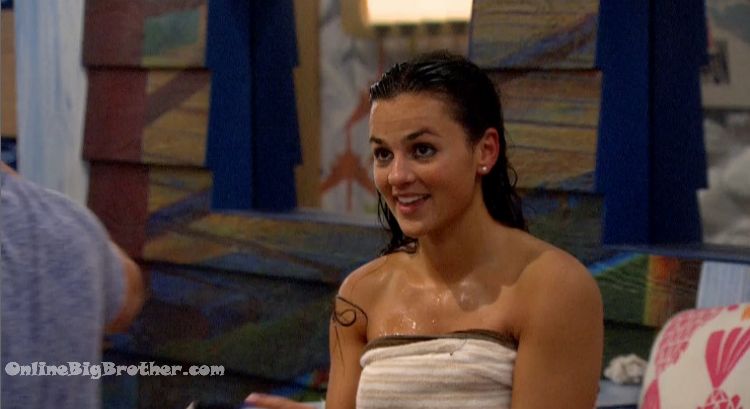 HOH Winner: Natalie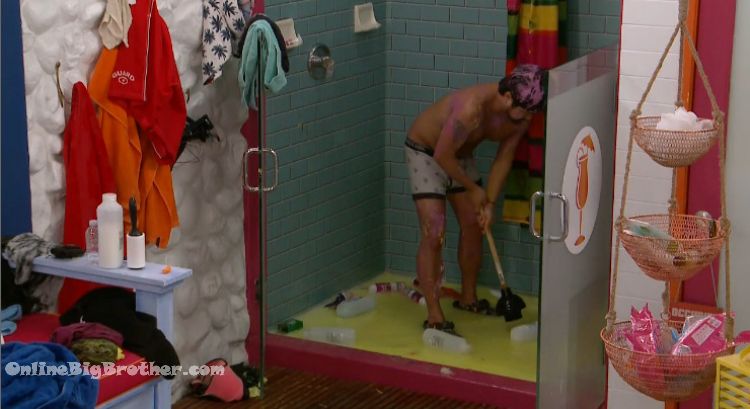 1:56am Feeds back after 6 hours down..
Shower is plugged #BB18 @DawgsBigBrother pic.twitter.com/OZAAy8y3pl

— OnlineBigBrother.com (@bigbspoilers) August 19, 2016

SHower is clogged
Natalie is saying "I can't believe I won that Competition"
Michelle – I suck at endurance comps.. You and james are known as the endurance couple
James- that's true..
Natalie – I don't think it's real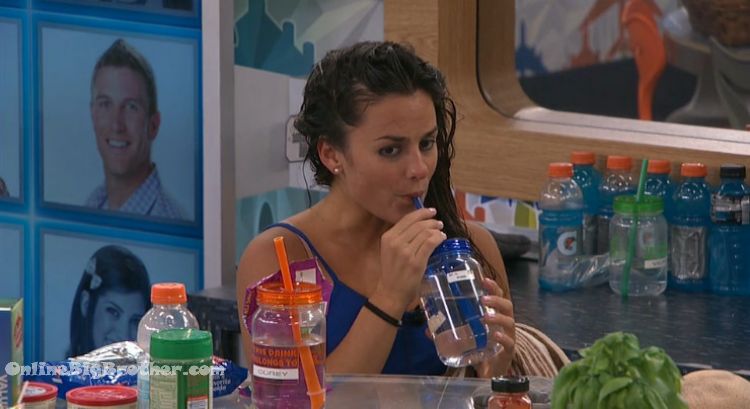 2:05am Natalie, Victor and PAul
Natalie – I got my first 4 in the honey.. i just kept finding them
Natalie – did people really not throw it
Victor – there's no way they could have thrown that
Victor and Paul point out that Nicole and Corey were gunning it they were definitely playing hard.
Victor tells her to brace herself there is about to be a lot of cht chat coming her way, "If I were you practice your speech up there.."
Natalie leaves.. Paul and Victor talk about Natalie maybe putting them up.
Victor – that would be stupid right
Paul – Who knows man..
Paul – we made it to 7 that's pretty crazy..
Michelle comes by briefly "I'm still trying to get off the glue"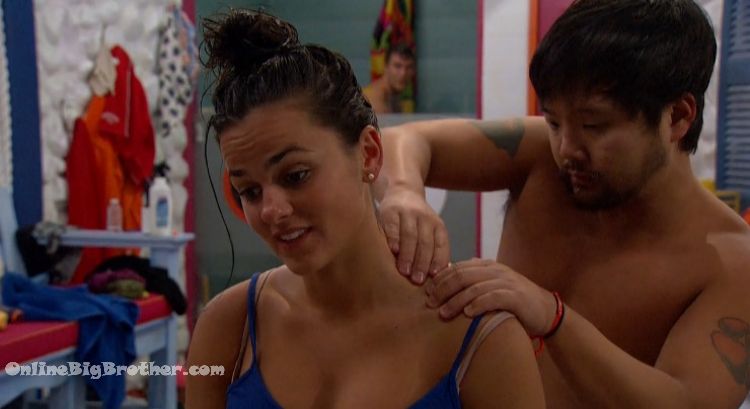 2:15pm James back to working Natalie's neck
2:23am kitchen, James, Victor and Paul chit chatting about the HOH. Sounds like it was close and a lot of people were really trying to win.
Michelle in the kitchen 'HOLY CRAP IT'S 2:20AM"
Paul "welcome to reality"
Michelle whispers that Nicole thinks Corey is goign to get a care package.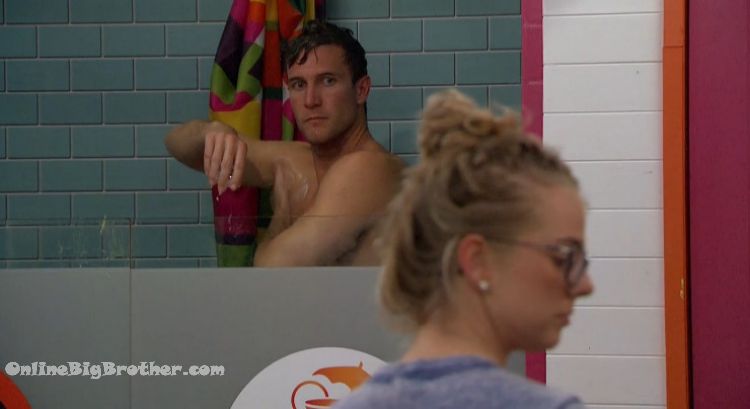 2:25am Bathroom Nicole and Corey
Nicole – I just want Tomorrow to be here.. I just want to know.. I was just tryign to beat Paul as long as he didn't win I would be safe to be hionest with you
Corey – that will be so messed up if she puts us up… why would she
Nicole – they are all goign to try and talk her into it.. there's 3 of them and 4 of us
Corey – we've never done anything to her
Nicole – I just hope you get the care package.. (lol)
Nicole – we just need to survive this week
Corey – depends on the care package it could be bad
Nic – if Paul gets it
Nic – I thought you had won for sure.. I thought James had it
Corey – James was at 2 I was at 8.. I was at 8 the entire time.. I spent 3 rounds trying to get that one off.. 8, 9 and 10
Nicole says she found "all five of mine in the gunk"
COrey says she should have looked in there.
Nicole – everything happens for a reason
Corey – we have to suck up to Natalie big time and keep our a$$es off the block
Nicole – we can't make it look obviousssssssss.. She already promised meeeeeeeee
Corey – what about me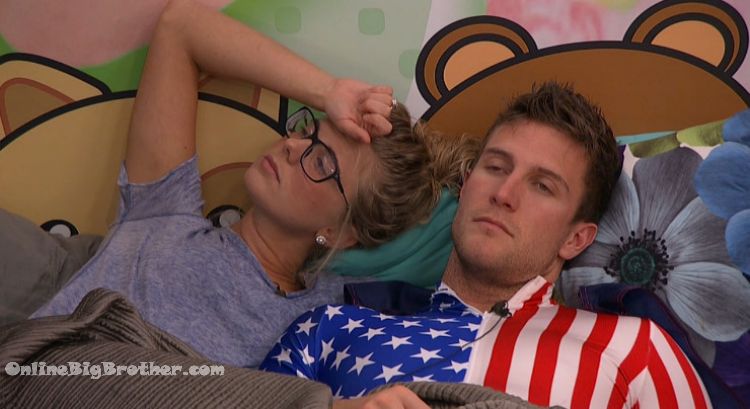 2:49pm Tokyo room Nicole and Corey
Corey – it will be the dumbest thing ever to keep those two
Corey – it's me, james and you.. Get Paul and Michelle out for sure.. Then it's final 5 it's me you natalie and James..
Corey is working on numbers trying to convince him and Nicole that the best game move is for Natalie to nominate Paul and Victor.
Nicole – I don't want Michelle to have the care package.. She's 100% with them
Corey – Please give me the care package it's my only shot..
Nicole – please send Corey the care package please..
Corey – please
Nicole – We're in danger.. We're in danger like always.. (ZOMG)
Nic – they are so happy they think we're going up 100%..
Corey – Golly… I really need that care package.. (Golly?)
Nicole – I DOn't want to pressure her..
Corey – it might be a blessing in disguise.. Natalie winning..
Nicole – I prayed my heart out to get that HOH and God didn't want me to have it.. I prayed harder than I have ever pray before COrey.. Like Hour long sessions.
Corey – I know I prayed..
Nicole – everything happens for a reason
Corey says not in a million years would he ever have thought Natalie would beat him in that type of comp.
Nicole – work smarter than harder.. I hope she keeps her word to me and respect that you worked so hard ..
Nicole – it wouldn't be smart for her to put us up.. It's a game though so she can easily go back on her word
Corey – she's got to be smart.. If she doesn't put you up no reason to put me up..
Corey – dude he said that whole crying thing he said he fakes that.. No..
Nicole – noooooo
They start fantasizing about eh care package…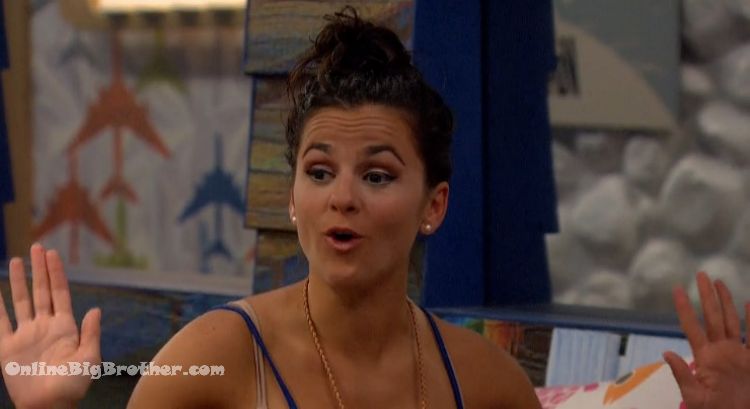 2:55pm bathroom Natalie, James, Paul and Victor
Natalie going on about Paulie calling her a princess.. Etc etc.. just bringing up all the Paulie drama again..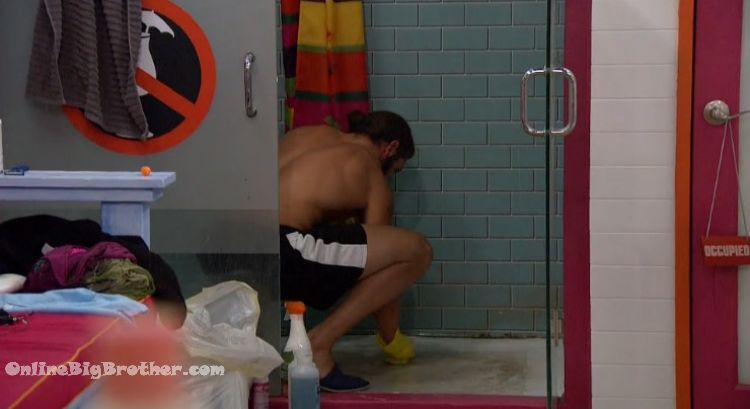 Victor is cleaning the shower.. (Victor is awesome.. he's actually scrubbing it. I've posted picture of the shower before it's the most disgusting thing)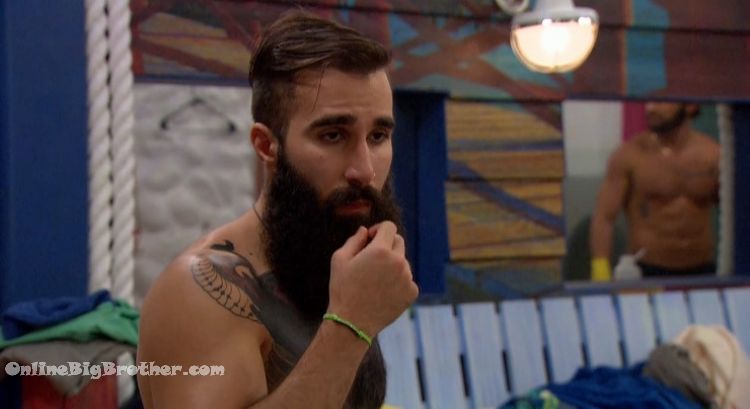 Paul tells them he's proud of her winning the HOH and he's sticking to their friendship.. Paul says she does what's best for her but he's on board to what they had planned. Re iterates it's her HOH do what she needs..
Natalie – whoever I'm putting on the block is going out i'm going to tell them.
James – you can't tell them
Victor – you can't tell anyone.. You can't make a definitive statement
Paul – I'll leave you alone.. Do what's best for your game, You earned your HOH, I'm proud of you I'm glad you didn't quit .
Paul – umm..
Natalie – I did not think I was going to win this
Paul – I'm still sticking to our friendship, if something is in the best interest of you go ahead and do it..
Natalie – thank you
Paul – you're welcome .. and that's the last thing you'll hear from your boy
Natalie – thanks paul ,.. Vic thanks for getting rid of Paule.. LOVE you for that
Victor – Ya i'm sticking to what we said
Natalie – ya
Victor – I've done that twice already
Paul – if they cut a sweet deal I'm not going to bug you take the deal .. you earned your HOH do what's best for you
Natalie –
Victor – I've stuck to my guns every time
Natalie – i stick to my guns to
Paul – you earned it good job
Natalie – thanks for encouraging me
Paul – I'm glad you felt what a real HOh win is like and you won at a pivotl time.. You deserve it..
Natalie – thanks
Paul leaves..
James and Victor joking around.. .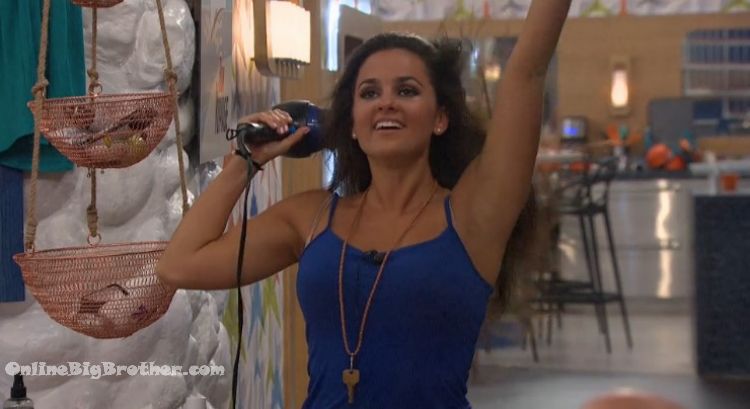 3:17am bathroom
Natalie – that was a real hard one for me was it hard for you jamezeee
Natalie thinks james threw that comp to her.
Victor says he didn't, he explains that the nature of the competitions makes throwing it impossible.
James – I was giving you a run for your money
Natalie – i was giving you a run for your money to
Natalie – he (Paulie) called me a Jersey chasers.. you know what that means I go after athletes…
Jamess- i'm a athlete
Natalie – i'm an athlete too
Leaving this here for you @DawgsBigBrother for when you wake up #BB18 pic.twitter.com/6cBV7cbmd2

— OnlineBigBrother.com (@bigbspoilers) August 19, 2016
Show your support by making a donation.