POV Holder:
?
POV Competition
Aug 20th
POV Used
?
POV Ceremony
Aug 22th
HOH
Natalie, Meech
Next HOH
Aug 25th
Original Nomi1nations:
Victor AND Paul
After POV Nominations:
? AND ?
Have Nots
Victor and James
Watch the next week of the feeds for FREE – 1 week Trial!
POv players are = James, Corey, Nataile, Victor, paul and Michelle
Have nots are = Victor and James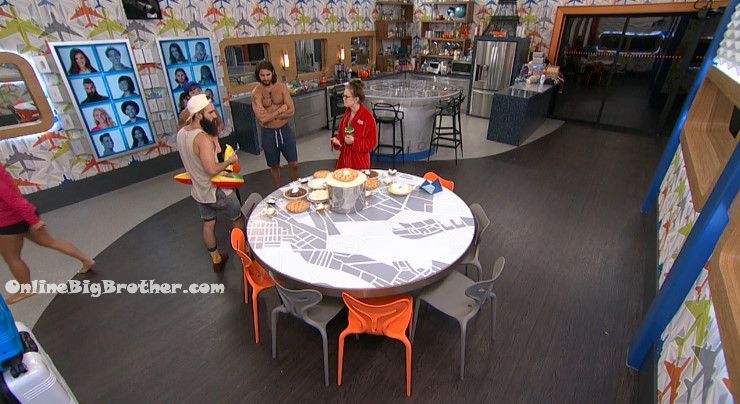 Have nots
This week's Michelle, Victor and James are the have nots however Michelle is co-hoh
All week they get Cheesecake, Lemon meringue, pumpkin pie etc etc…
Michelle tries one of the pies.. That's disgusting that tastes like marijuana.. Why does that stay spicey..
(What a fuc** joke this is)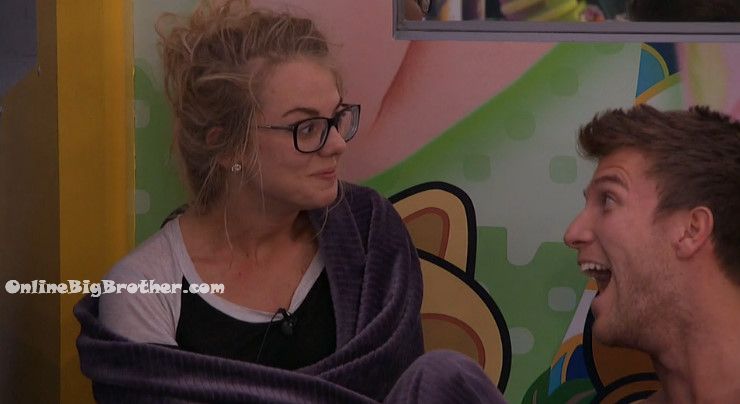 7:56am Tokyo room Nicole and Corey
Nicole – do you remember stuff from the middle of the nighttttt
Corey – dude really I gave up .. you know what screw it they can battle it out
The laugh
Nicole – I couldn't just stay awakeeeeeeeee
Corey – I know
Nicole – I just couldn'ttttttttttt
They go back to sleep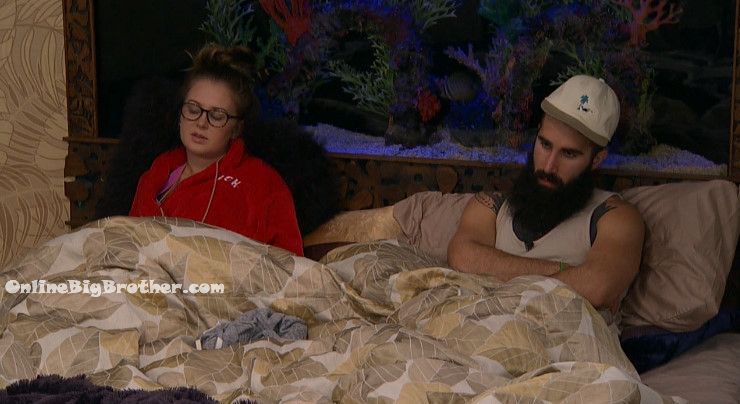 8:01am Paul and Michelle studying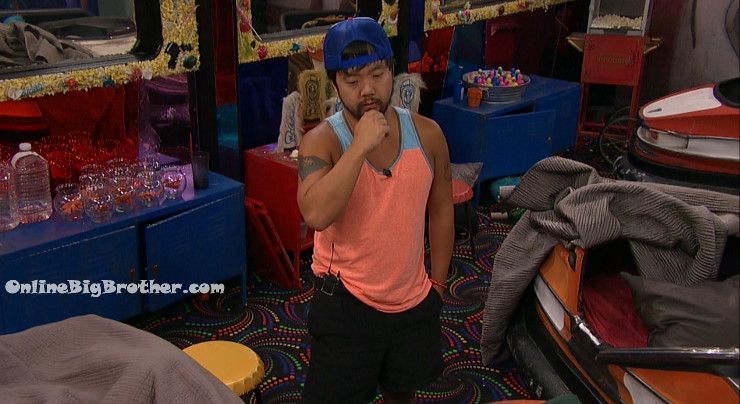 8:03am James and Victor studying All night HARD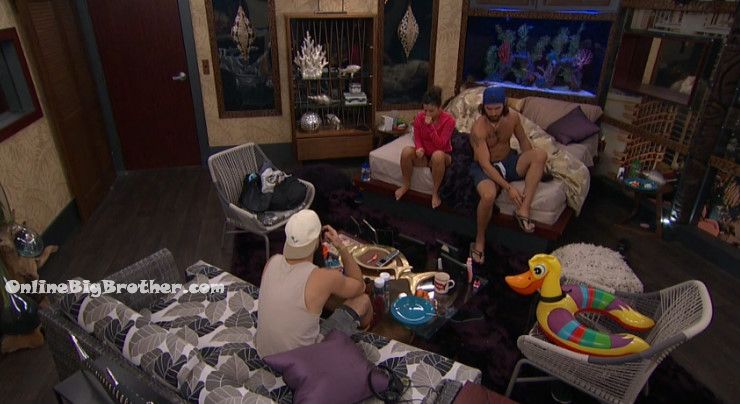 9:14 POV players are picked
(James, Corey, Nataile, Victor, paul and Michelle)
Paul is saying that they ahve a 5 to 1 chance to win the Veto.
Natalie – we got to bring it
Victor, Paul, Michelle and Natalie all meet up in the HOH to study.. (Paul, Michelle and Victor seem to have it figured out)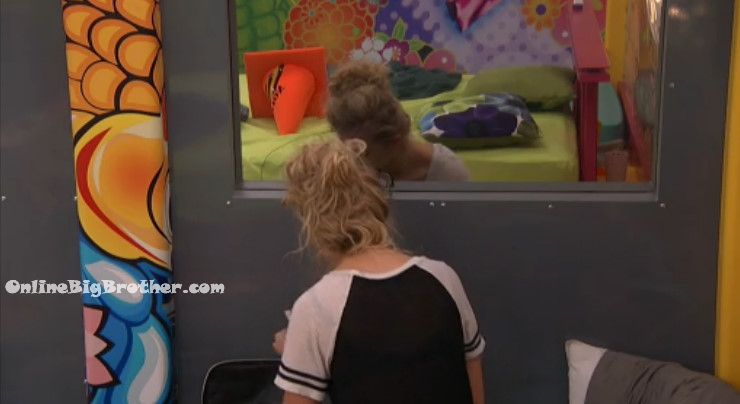 9:20am Nicole and Corey
Nicole – you going to study or are you not worried
Nicole – I've never just so yo know done anything to James
Corey – yeah I know
Corey says him and James have Nicole's back. Nicole says James won't look her in the eye or talk to her.
James comes by.
Corey – you going to win this one for us James …
Corey says he's just wanting to get this comp over with and get out side and kick it.. challenges james to a pool tournament.
Nicole – are you going to try an win
Corey says he will but he's not sure about the messages after the first 2 or 3.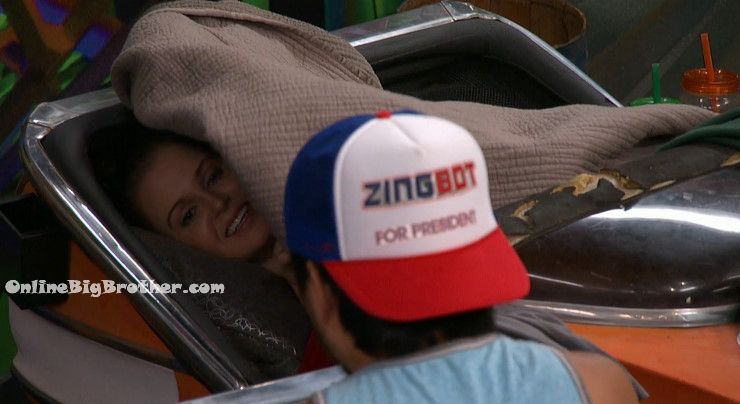 9:40am havenots James and Michelle
James about Corey and Nicole – I bet you they don't know
Michelle – doesn't even matter what Nicole knows she's not even playing.. Nicole remembered old man winter though
they laugh
James- watch out
They agree Corey and Nicole weren't even trying to win this Competition. James says Victor, Paul, Michelle or himself will be winning this
Michelle – there's no way Corey knows it..
Michele – I want to win..
James- ya
James- if Victor or Paul win HOH next week we're putting up Nicole right
Michelle – I'll volunteer as a pawn to
James- damn..
Michelle – I trust you guys
James- sh1t .. that's the plan for next week then..
After Victor leaves James says the only people that can get a care package after Corey leaves is Victor and Paul.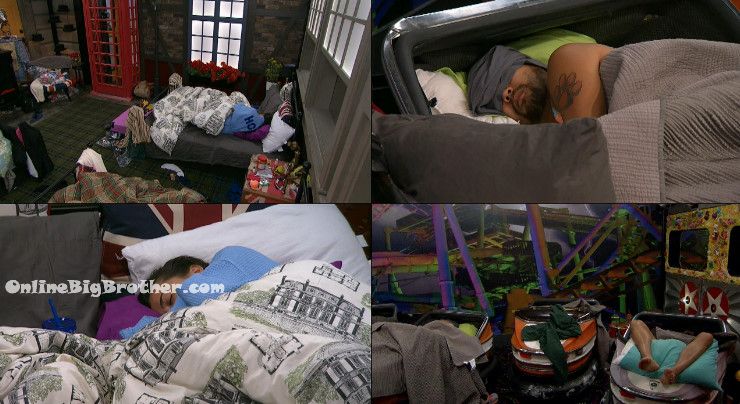 10:50am ZzZzzzzzzz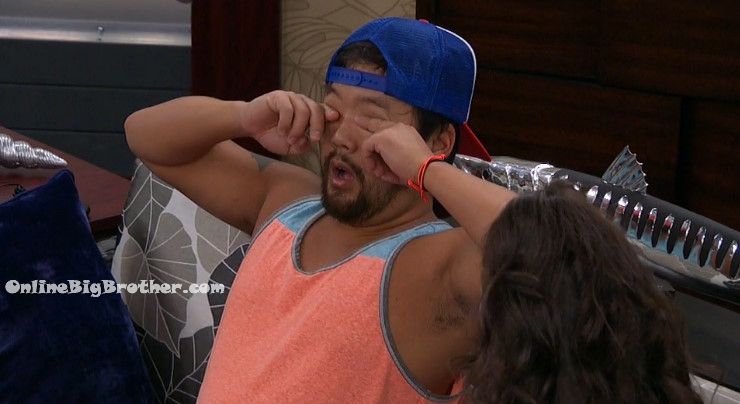 12:02pm Natalie and James
Natalie – I didn't know Paul was still sleeping up here..
Natalie – how was your nap
James – short
(She woke him up)
Natalie says she's having anxiety over all this.. she wants tot take a nap.
James – studying
Natalie – everything.. yo know.. everything..
James – take a nap
Feeds cut to jeff….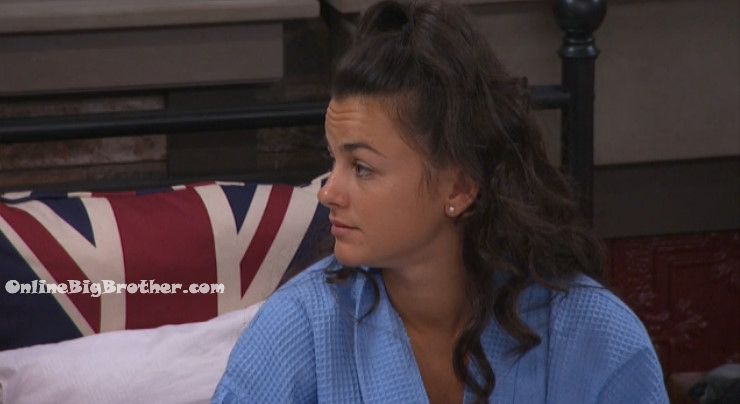 12:14pm James complaining that Victor and Paul were up in the HOH all night studying he wanted to be with her alone.
Natalie is going to put her foot down and tell them she wants some privacy
James is goign to say something to people telling them to give Natalie a day in her room by herself.
James – it'll sit better if it comes from me..
Natalie – they'll think i'm being dramatic
Natalie – at the end of the day I want Victor to win it and if Victor doesn't win it I Don't care.
James- if Victor wins Paul is staying up there Corey going up ..
James- honestly I', thinking about Sending his ass home anyways..
Natalie – Sending Corey home obviously
James says paul is fighting so hard when his life is on the line
James- when it Came down 2 times Corey was sleeping
nat – if we lock the noms.. if Victor stays up there he's the bigger threat pepople are voting him out
nat – I like Victor he desreve to make it far in this game I respect his game.. he doesn't talk shit about people..
Natalie – Victor went out with pride.. he didn't scheme.
Natalie – I want Corey out
James – I know
James – we could take Corey out this week
Natalie – do I want that blood on my hands.. lets say Nicole win
James – oh well she's putting us up if we take him out
Natalie – the way he's behaving is not OK.. telling me I am using teh veto on him..
they are going back to wanting to get Paul out of the house. Natalie says PAul controls Victor.
James says Paul is good at talking and had them all convinced upstairs that he's a saint.
Natalie says paul is very good with his words, "I know he's been lying that is why he's been paranoid.. he cannot win this veto"
James – if he does win this veto he'll be sending Victor home..
Natalie – wait if he pulls himself down.. umm.. it's going to be Nicole and …
James- Nicole is going up
nat – who else you?
nat – if Paul/Vic wins the veto Corey is going up and he's going home
James- Corey isn't a threat..
They agree Paul is the most dangerous and she has to go this week
James is claiming to be 100% all game and he can keep everything on game.
James now claiming that Nicole and Corey will not put them up next week if they put them up next week. James think she can talk to Nicole to keep them off the block.
Natalie – my gut is telling me to take out Paul and Corey.. right now
12:47pm HOH Natalie and James
James comes out of the Diary room rolls upstairs to chat with Natalie.. Natalie is called into the diary room shortly after. she finishes up her makeup
Natalie is complaining that Paul was asking her if she was studying
Natalie says she's confused
James – don't be confused people will be manipulative even when thy say they are not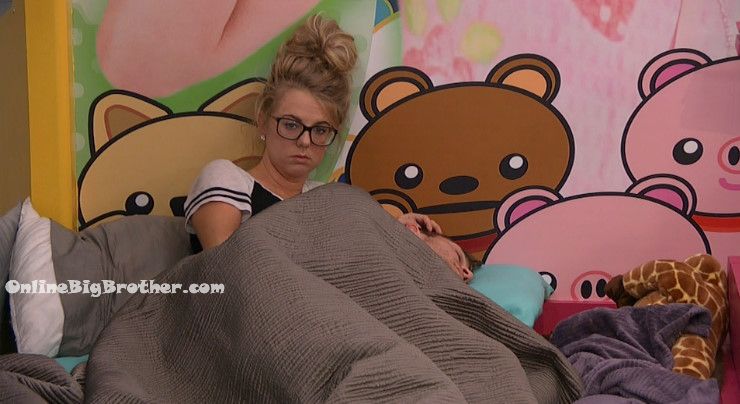 Sad cause Corey never studied and Nicole's name wasn't picked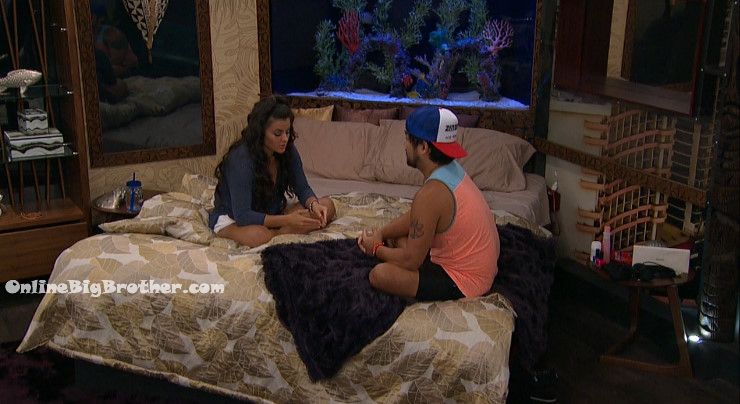 1:16pm – 2:00pm Natalie and James
saying regardless of who goes this week it's win win for them.
James- when that back door opens up me and Corey are goign to be buds.. you and Nicole.. dude we can ride this out
James says Victor or Paul have to definitely has to go (James ruining the season again.. for me at least ;) )
James- just blame it on me.. I'll be the deciding vote.. Nicole will vote and I will vote..
James says he'll vote Corey out if that's what Natalie wants but James thinks they should stick with Nicole and Corey.
Natalie – Corey goes homes Nicole will be pissed
James- she will be alone too.. she won't have anybody.. (DING DING)
James- it wasn't in my best interest to win the next 2 weeks. we always gotta stay in that middle.. we've been in that middle for a long time.
James wants to go back to playing the middle.
James says Natalie did a good job she put 2 strong players up and they are not pissed off at her
James – y'all playing big brother you just don't know it all
Natalie about Meech – She called Nicole a snake
Natalie says Michelle will latch onto anybody that offers her safety. Natalie explains that in the have nots Michelle was dead set on getting Nicole out and it took almost no effort to get her to flip.
James – we've never f***d Nicole or Corey over/.. (hmm.. .when you voted Zakiyah out?)
Natalie is now claiming to control Michelle and Michelle will put up whoever she tells her to put up.
Natalie thinks Michelle will want to put up Corey now not Nicole..
Natalie saying that Corey isn't even trying to win competitions but then Paul seems to be trying too hard for someone who always claims not to want to win.
James claims he can beat Corey in a lot of the HOH's "I would have beat him this time if I hadn't slipped and fall"
Natalie says if Corey and Nicole win and Paul stays in the game it's OK for them.
Natalie is saying they have to stay good with Michelle and Paul/Victor and hope Corey and Nicole survive..
James- I wold feel better if Paul or Victor are gone
Natalie – that weakens that group
James says it's even once Paul or Victor go. (Then Paulie comes back looking for targets)
James says once Paul is gone he'll take Michelle or Natalie to the end not him.
Natalie calls James a straight shooter. James says nobody realizes how strategic he is playing. (Is James popular with the TV audience?)
Natalie claims she took the biggest threat in the house down.. she then credits Victor but says she got the ball rolling.
James says "WE flipped the house that led Paulie being evicted"
Natalie says now that Corey and Nicole are by themselves.. they have to pick off one person from the other side.
James think Victor will put Corey and Nicole up and they can keep riding the middle to the end.
2pm – 2:25pm HOH room Nat and James. Nat says if this happens I have to just work on damage control with Meech. Why am I so indecisive. I need to stick to my guns. I'm being too indecisive. James says that's normal for you first HOH. Nat says Paul is a little smart cookie.. he is a smart guy.. you notice how he only started sh*t talking to Nicole and Corey after we decided on this plan to keep them. If I was out there sh*t talking .. blowing up people's games I would have been like buh bye! I did that kind of to Paulie .. but that was a game move. I felt bad for hurting your feelings and Z too. James says it hurt my feelings but.. Nat says I think he just thought I was a dumb flirty girl. James says I just know that Corey and Nicole want to work with us because we're a couple. They like me and I think they like you too. Right now they are more trustworthy than Paul. Nat says oh 100%. I can't wait for these noms to get locked. James asks do you want Corey to win the veto? Nat says I don't mind if he does. Then he will keep the noms the same and we can send Paul home. I don't want to win it because I dont want the blood on my hands. James says I'm probably not going to try and win it. Nat says he (Paul) thinks he can use us for strategy. I think Paul thinks he can manipulate us because we're emotional players. Nat says at the end of the day I really hope Corey and Nicole don't come after us. James says if that happens I will tell them to just put me up and leave you out of it.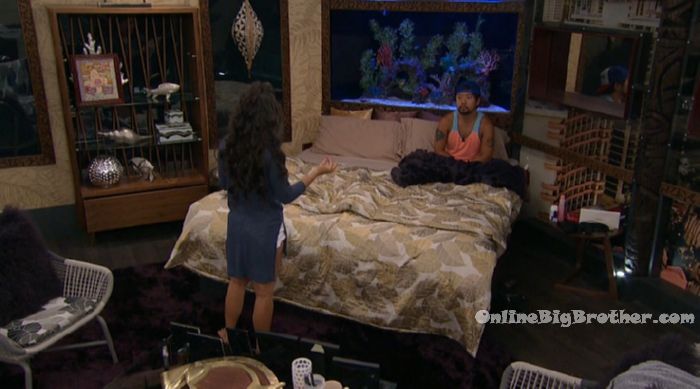 Nat says Paul is gunning for Nicole so keeping him in this game isn't a horrible situation. James says my gut is telling me we're safe for one more week and then we have to go balls to the wall. Nat tells James don't try to win this veto. I don't want any more blood on my hands. Its funny he thinks he can manipulate me into winning it.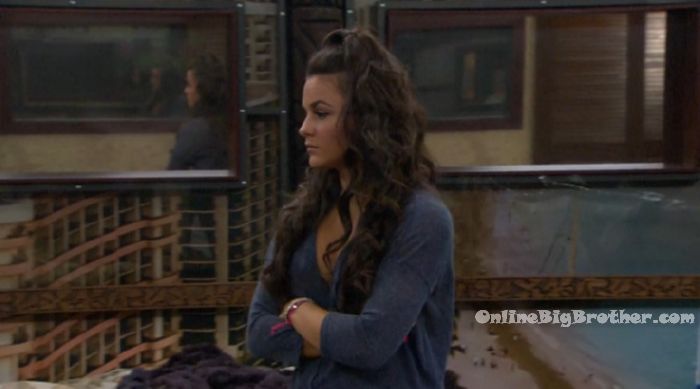 2:23pm Big Brother blocks the feeds for the power of veto competition.
3:35pm Still blocked.
4:20pm no feeds..
5pm No feeds for you
5:35pm nope not yet..
6:55pm Still nothing..
This is a BB storm watch Update…
Throughout the night the houseguests got storm watch announcements. they will be asked questions about these during the Power of Veto today.
First one
The BB area is encountering a slow moving storm front authorities are calling it Super storm glenn countless coconuts have been reported falling to the ground. Doppler radar is showing that it is raining cats and well groomed dogs forecast for super storm Glenn low pressure system will quickly dissipate.. It originated in the North East, anticipate half inch of rain and 2 lbs of dog hair this has not been seen since superstorm Jodie..
This is a BB storm update
While residents are still feeling the effects of superstorm Glenn. Another storm is rolling in Superstorm Joeza. A fierce weather system with swirling winds of 25mph and gusts of 40 mph
People are already calling this the Messiah of bad weather, This storm goes higher than normal water levels in Eviction County, But, despite initial claims.
The seas have not actually parted. Super Storm Jozea is a noisy storm, travelling towards the BB house at 22 miles per hour, The system is 78 miles wide
Stay tuned to BB Weather for further updates
This is a BB storm update
Earlier reports called the storm the messiah of bad weather are now being called a serious exaggeration.
The BB Weather Center is tracking yet another system. Large raindrops seem to be the call sign of the storm being dubbed Super storm Tiffany. Super storm Tiffany is rolling into the area bringing non stop rain. It has an impressive cloud canopy. BB weather trackers report that it's similar lesser version of last year's SuperStorm Vanessa. Stay tuned to BB weather for more updates.
This is a BB storm update
Super storms Jozea and Tiffany continue to pester the immediate BB area and if things weren't bad enough superstorm Frank is coming down from the chill town area a cold surge. Old man winter the likes that haven't been seen since 2012. Superstorm Frank is producing High pressure systems and unpredictable weather patterns it is predicted to bring a combination of snow, sleet, Rain, hail and sun. To make matter worst superstorm Frank is being trailed by a smaller storm. Super storm Bridgette which is expected to hang around in superstorm Frank's wake stay tuned for the next BB storm watch update..
This is a BB storm update
An update now on Superstorm Tiffany, it's now producing freezing rain conditions with gusts up to 64mph Tear size hail is expected from this storm the BB weather history center has filed a report on SuperStorm Glenn… They note that this system was a force for less than 29 hours. It had a high temperature of 73 and a low of 65 with a very distinct Boogie Down Bronx accent.. Some question whether it should be considered a weather event at all.
Stay tuned for the next BB storm watch update
This is a BB storm update
The convergence of superstorm Jozea Tiffany and Frank have caused problems throughout the region. super storm Jozea hit the key region NotsVille and LostVeto. Superstorm Tiffany closed down the PowerPeninsula, SafetyVille and the Toezarks.
This has caused RV's in backdoor country to get stuck.
Authorities caution residents to stay off the streets to avoid having BB roadkill. Stay tuned for the next BB storm update..
[polldaddy poll=9501597]