POV Holder:
?
POV Competition
Aug 20th
POV Used
?
POV Ceremony
Aug 22th
HOH
Natalie, Meech
Next HOH
Aug 25th
Original Nomi1nations:
Victor AND Paul
After POV Nominations:
? AND ?
Have Nots
Victor and James
Watch the next week of the feeds for FREE – 1 week Trial!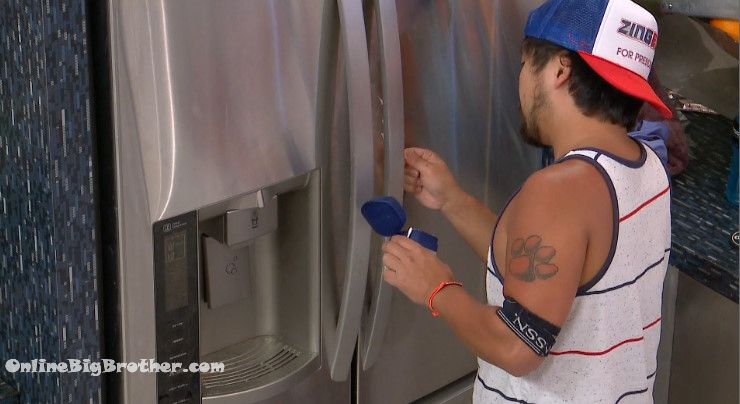 9:00pm James doing some lame prank… nobody but CBS and Nicole's parents care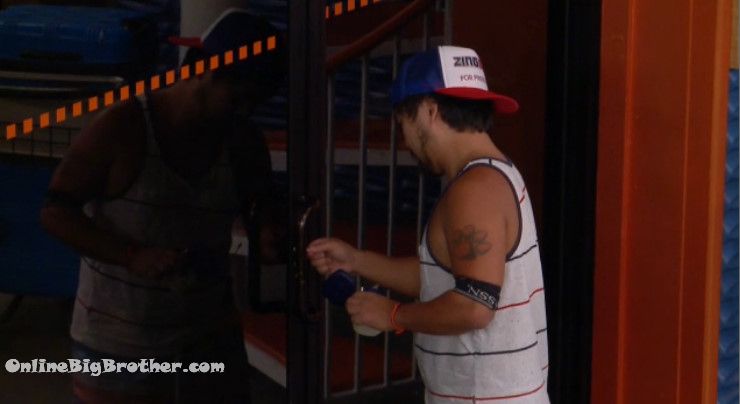 James doubles down extends his prank to other spots of the house… hehehe
James scurries upstairs before anyone catches him.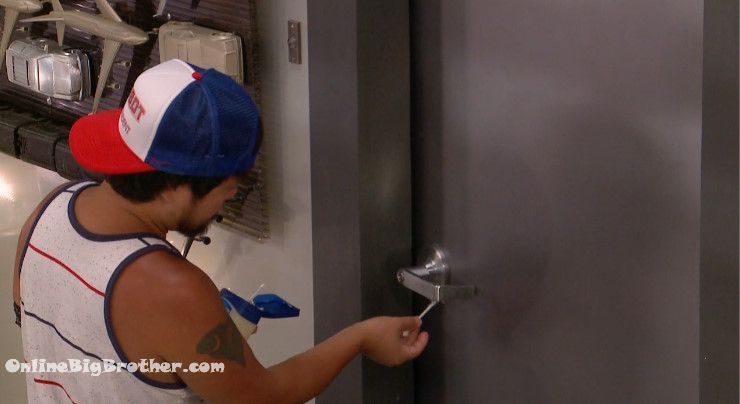 Continues the prank the HOH door knob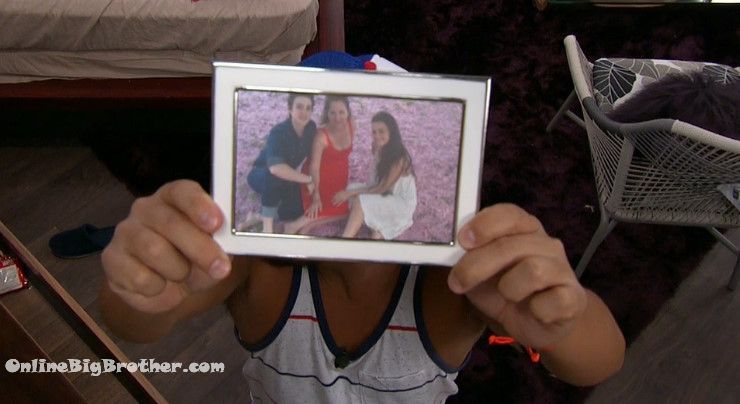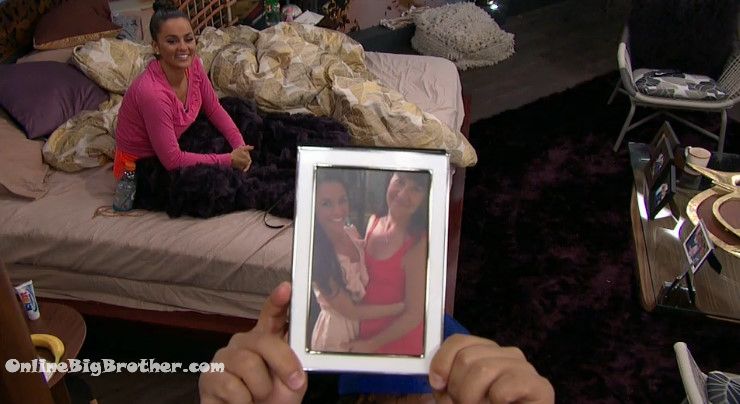 9:03pm James showing pictures of Natalie's family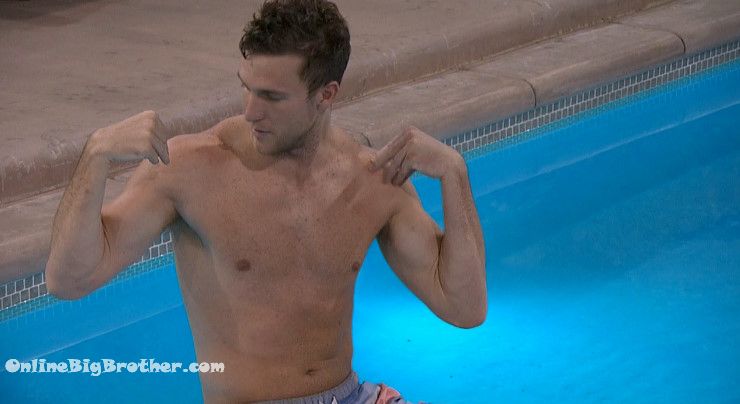 9:30pm Hot Tub Corey, Paul, Michelle and Nicole talking about Pepperdine, College Sports, wealth of international students etc etc…
Corey talks about Pamela Anderson's kids being bat boys at A&M
Corey goes on to tell stories about being courted as a athlete to play Baseball at Pepperdine
9:54pm Corey talking about Pitching and college baseball. He had tutors for all the subjects but would play 9 hours of baseball every day on the weekends. They had a private jet for the team and had to "do weights every day"
Michelle talks about playing tennis and having a private coach..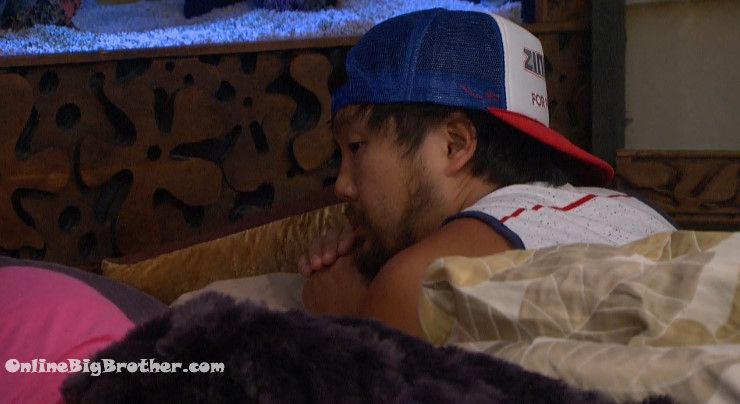 10:09pm HOH Natalie and James
Reassuring themselves that Getting Victor out is the best thing. James brings up stuff from week 1 and 2 about Victor saying that the way Victor acted that way got him backdoored and when he came back he was a completely different person. Michelle joins them..
Michelle – if you vote Vic out I'll be really sad
James – I'm not voting Vic out.. who said that..
James – are Paul and Victor worries
Michelle – Victor is on the block.. that sucks.. I still need to talk to Corey and Nicole.. I can't get them alone
James asks who she's putting up
Michelle – I just know Corey is not gunning for me
James – this is your game and your HOH… (put James up)
James – if Vic won he would have to put up Nicole or Corey and a pawn..
Michelle says she already told the she would be a pawn.
Michelle – wold suck if Nicole can pull herself off…
Natalie – think Nicole can
Michelle – it's all of us playing
Michelle – when it's down to 5 I'm gunning for Paul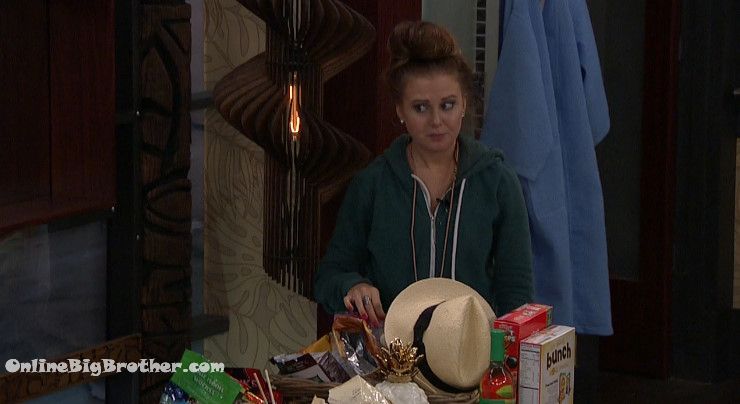 Natalie says she pissed that Paul made him study and was pushy.
Michelle says she doesn't like that either
Natalie – He's been very aggressive with his game right now
Natalie says she's been hanging out with Corey and Nicole because they haven't talked game they've been 'Chillin"
Natalie – I earned this HOH I don't need to study with my neck pulled.. he wanted me to win to pull him off.. I'm like dude leave me alone… the times when I was on the block.. he never helped me when I was one the block.
Michelle says Victor is on the same page as they are thinking Paul is over playing
James says Victor needs to tell paul to calm down
Michelle says again when they get 5 she's gunning for Paul
Natalie says she's mad Paul pulled himself off..
Michelle says that Paul has been forcing her to put Corey up. Natalie says that means that Paul has an agenda in his mind.
Natalie – Paul and Victor are going final 2
Michelle says that they are but they are going to stick to the final 5
James and Natalie think that Paul an Victor will keep Nicole over James/Natalie because they think they can beat Nicole.
James – Vic and Paul will take a stab at us before we take a stab at them
Michelle – they seem so genuine
James – Paul tells Victor what to do
Natalie – he uses Victor to win this game
Michelle – I really wanted to win that comp so Paul stayed up there..
Natalie is going on about how Victor and paul are dangerous…
Michelle – if you want to vote out Vic that's fine..
Natalie – no no on I'm not voting… he'll respect your HOH
james- Paul and Victor are tight they are like us they are tight.. I know I am next in line
Meec – you don't think with Corey and Nicole you are next in line
Natalie – if you put Nicole up honestly she is going after the big dogs she knows this game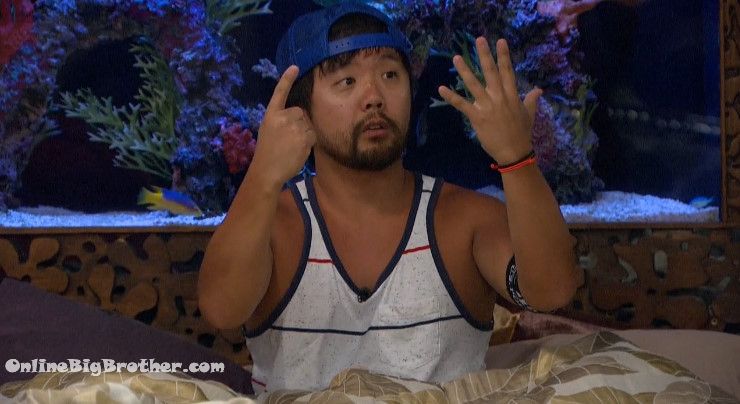 Jame s- if we take Paul and Vic to 6 and 5 they will beat us out.. literally all they have to do is win 1 HOH…
James uses his fingers to count out that Victor and Paul have to go..
Natalie going on about getting Victor out because that is what is best for their game.
Natalie – we can actually beat Corey and Nicole
Michelle says if Nicole goes Corey will be gunning after Victor and Paul
Michelle says Nicole will put Natalie and her up
James – over Paul
Michelle – guaranteed
James brings up Nicole saying Paul is her target.
James – the BB fans on Twitter would think we're crazy to keep Victor in the house
Michelle mentioned a jury member returning.
James doesn't think there will be
Natalie agrees
James is certain
James is saying he bets them a "Buffalo nickle" there is no Jury member coming back.
Michelle says Nicole and Paul are 2 people she doesn't want to make it far.
Natalie goign on about how much she likes Victor ..
James says he's going to straight shoot it to her
Michelle – If Victor goes and Paul stays and he wins he'll seek vengeance
James says Victor is a huge comp threat he's got 8 wins under his belt.. James is saying it's a bad move to keep Victor in
James is saying if you were at home on your computer you would think they are stupid for keeping Victor..
Michelle says if she was at one she would never want to see Nicole win. Natalie says her to but Nicole is easy to get out. Michelle bring up that Nicole can win Competitions she knows the game she should not be underestimated.
(Natalie and James are pushing Michelle to send Victor out but she doesn't sound 100% but pretty close.
11:00pm Backyard Paul, Nicole and Corey backyard
Paul is telling them stories about MMA fights.
11:06pm Kitchen Corey, paul and Nicole
taking about bar fights.. COrey says he never throws punches just chokes people because then he knows he won't get hurt and the person he's fighting won't get hurt.
Corey mentions someone in his family getting in a fight beating the "F***K" out of someone and getting sued for a "Sh1t ton" of money.
They have noticed James putting Vaseline everywhere..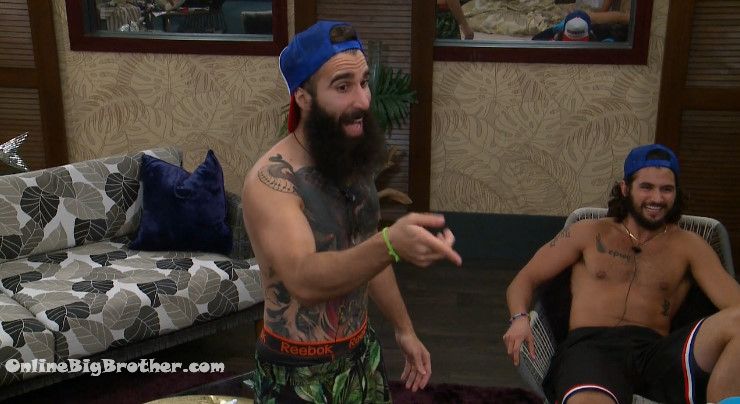 11:20pm HOH James, Natalie, Victor and Paul
Paul laughing about getting called into the Diary room when production Knew James had rubbed Vaseline on the handle. (James has rubbed Vaseline on all the door handles)
Natalie tells James to re grease the Diary room door knob, "You're the prank master"
James scurries back downstairs to re grease the Diary room knob
still finding fun in Vaseline pranks Meech "James I hate you I'm rubbing it on the DR seat" #BB18 @DawgsBigBrother pic.twitter.com/MGxc99c0Wj

— OnlineBigBrother.com (@bigbspoilers) August 22, 2016
"James I hate you I'm rubbing it on the DR seat"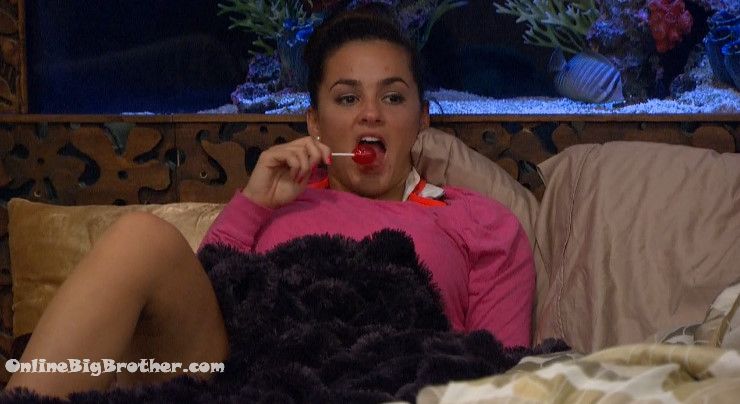 11:30pm HOh paul and Natalie
Paul says he apologizes in advance about asking them a hundred question because he was to make sure that Nicole and Corey are not getting in her head so they stick to the plan.
James comes up they talk about what is happening next week. James says they all want Corey to go but he doesn't know if Nicole is going up .
James talk about finding his other brothers and sisters in Korea. He's suggesting a reality show where he goes in Korea finding his blood parents and siblings.