POV Holder:
?
POV Competition
Aug 27th
POV Used
?
POV Ceremony
Aug 29th
HOH
Nicole
Next HOH
Sept 1st
Original Nomi1nations:
? AND ?
After POV Nominations:
? AND ?
Have Nots
?
Watch the next week of the feeds for FREE – 1 week Trial!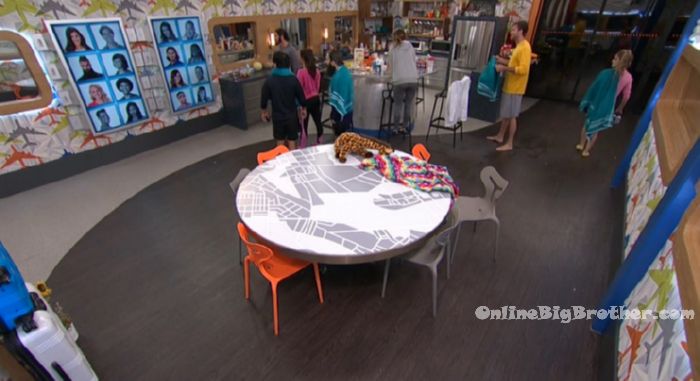 9:10pm When the house guests come inside the house they realize Corey's HG photo is grayed out. (LOL) Big Brother fixes it. In the bathroom – Nicole asks Nat you're not mad that I asked James to do that? Nat says no, she's happy for her. Nicole gets into the shower. James comes ingot the bathroom. James wants to take a shower but has to take a cold one because he's still a havenot. He washes his hair in the sink. Corey congratulates Nicole. Nicole says finally came through something for you Corey. Took about 11 weeks!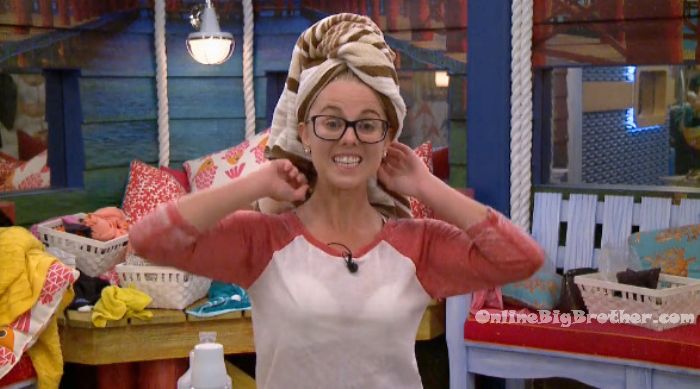 9:20pm – 9:35pm Bathroom – Nicole and Corey. Nicole says that was a mutual deal ..who ever won wasn't going to put up the other. James was about to fall that's why he made a deal. I'm not putting up Paul. I don't know what I am going to do. If you get a take over, take it … because I was the one that made the deal. That's not what jury wanted, those turds. I almost fell off and I locked eyes with Paul and he said stay.. that's why I'm not putting him up. I couldn't let him (James) win .. Clay and Shelly .. deja vu. James said it was harder sitting down .. and then once I did it I could stay there all night. James says this if for you Jenny ..(Nicole's mom) to make me feel super guilty if I put him up… I'm not going to but..
9:30pm – 9:55pm London bedroom – James and Natalie. James says people keep getting evicted and coming back. Nat says this is the season on steroids. You just have to make sure my a$$ … your a$$ doesn't go on the block. I was hoping you were going to win this one. The next comps are going to be mental comps and we need Meech. James says what reason would Nicole put us up? We didn't put Nicole up. I voted to keep Corey. I gave her the HOH so she could get a letter from her mom. What else do we have to give them our first born child?! James says everything seems to be working against us. We evict someone and there's a round trip ticket. We evict someone and jury buy back. The only reason I kind of gave it to Nicole is because I didn't want them to think that we didn't trust them and then they get closer to Paul. She might put up Paul and Victor and this time Paul might go. Nat says I want Paul out so bad. Nat says it will suck if they f**k us over because you could have won. James says I didn't want to win again because then I would have to put up Paul and Vic again. Nat says they need to take out Paul or Vic.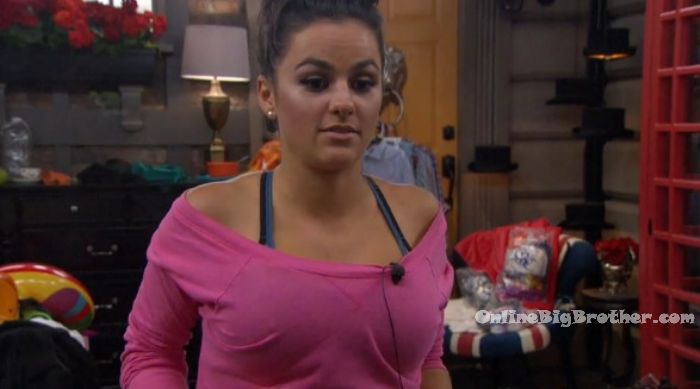 9:40pm Paul joins Nicole and Corye. VIc is being nice but one of us (Paul or Vic) are going to get a care package. Probably going to take a shot that you wouldn't want to. Nciole thanks Paul for convincing her to not drop. Paul says I saw that you were about to and then I said f**k no! I'll leave you alone now. Corey says no hangout.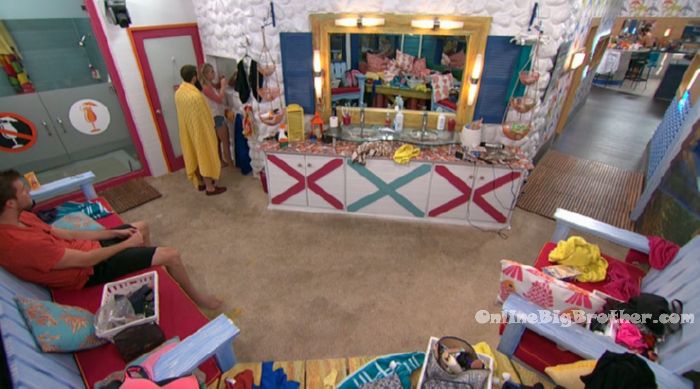 10pm Nat says Meech dislikes Paul with a passion. I told her to apologize to Paul. I asked her if she would apologize if ti meant she would win half a million. She said she would. Then she said she just couldn't do it. James says its almost like you won that HOH for nothing. Nat says it was good .. we saw Paul's true colours. Nat says I took Vic out once I can do it again. I can win comps. James says we can't be the ones to do it any more. I'm glad my goodbye message was nice. I think we can trust Nicole and Corey. James says I think so too. Nat says they have to put up Paul and Vic. James says this will show where their true allegiance lies.
10:10pm Paul, Corey and Nicole. Paul says there is no f**king way that me and Vic are going to work with those people. Burnt bridge set on fire. Paul says he thinks the care package will be an incentive.. like 5K or an HOH or something. Paul says seeing those f**Kers (jury members) was like seeing someone that died. They're probably all talking about us. Nat says I think they're (Da and Z) enjoying jury and didn't want to come back.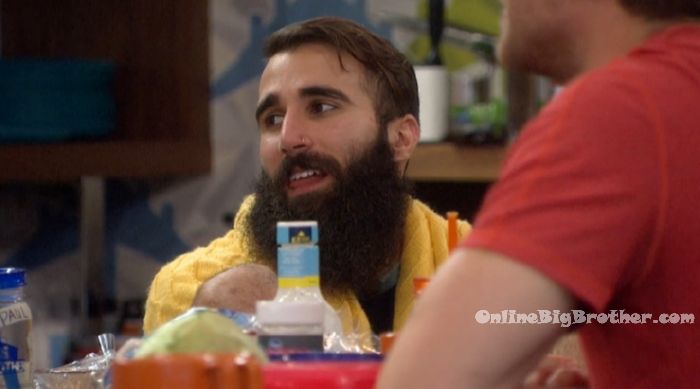 10:20pm Nicole, Corey and Meech are in bed with the lights off. Nicole says Paulie and Z didn't talk? Are they okay now? Meech says I think so. Meech asks can you imagine Paulie with all those girls. Nicole says she hopes she doesn't have ugly HOH pics.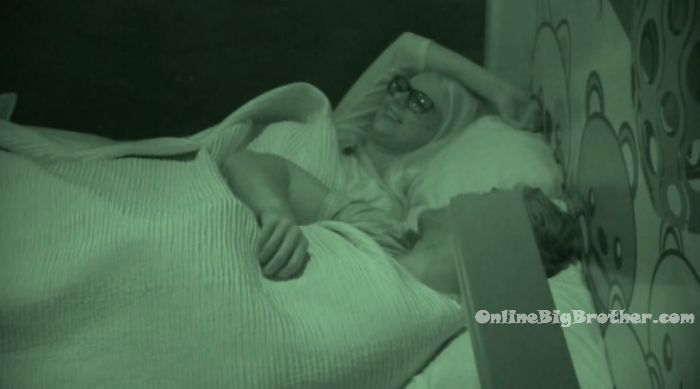 10:45pm Kitchen – Paul and Vic. Paul tells Vic now you're my social game.
London bedroom – James and Nat. James says we don't do them any more favours. We stuck our necks out too many times for them. They better put up Paul and Vic. I want Paul to go but if he takes himself off the block good for him. Nat says if he comes off the block again he is winning this game.
11pm Safari room – Paul says we're the sitting ducks and we're still in this game. We're going to f**k sh*t up. We need that care package. Vic gets called to the storage room. Paul says that James, Nat and Meech are being super nice to me now. Michelle is the worst person in the world. I got under her skin. I want her to play on emotion. You guys don't know how bad it is to live with Michelle .. she is bat sh*t crazy. I dropped the c-bomb. (Paul called Michelle a c*nt) Never cared. I am more of a public enemy than Vic is right now. Even if one of us get the care package we're not going after Nicole or Corey. We're going after the people that lied to us (James, Nat, Meech). Send us that care package and we will make it very entertaining. I will sh*t all over them. Vic comes back. VIc says that everyone in the jury wanted James out. Vic says that Paul said that James had an alliance with Michelle and someone else. And that you had a thing with Bridgette. They (Da and Z) knew they couldn't outlast me and they wanted me to get James out.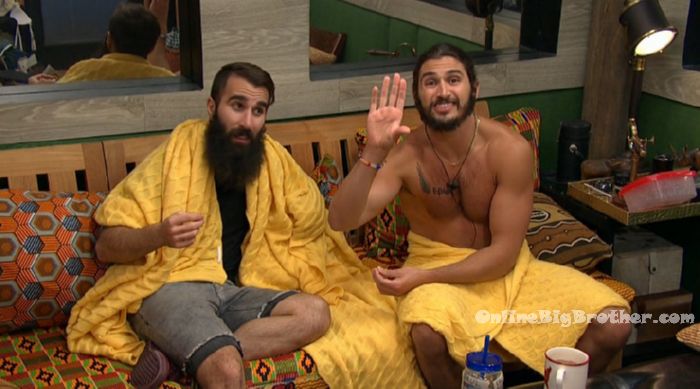 11:30pm Vic talks to Nicole and Corey. Vic says that Paulie told him that everyone is jury wanted him James out and that he told me if I came back, priority number 1 is to get James out.
11:45pm -12:55am Havenot room – James, Nat, and Vic. Nat sasy it was as if Meech and I were never HOH. Vic laughs and says right. Nat says it makes sense why I got the care package because I was being sh*t on in the house. James asks Nat questions about her past relationships. He asks if she would date someone for their money. Nat says she wouldn't date someone for their money. Everything she wants in life she wants it because she earned it herself.
12:50pm – 1am Kitchen – Corey, Paul and Vic are chatting about random things like the HOH comp, MMA fighting, etc.
Show your support by making a donation.
Donations support this site more than anything. If you dig our spoilers please find a way to support us. It's important.
"BB BRIBE"
WEEK 5 – August 25 to August 26th
The winner gets $5,000 to bribe one house guest. Bribes my influence voting, competitions, vetos or nominations. The bribe can only be given to one house guest, for one action, within the week leading up to the next eviction.
[polldaddy poll=9501597]
[polldaddy poll=9503412]