POV Holder:
Paul
POV Competition
Aug 20th
POV Used
YES
POV Ceremony
Aug 22th
HOH
Natalie, Meech
Next HOH
Aug 25th
Original Nomi1nations:
Victor AND Paul
After POV Nominations:
Victor AND Corey
Have Nots
Victor and James
Spoiler Alert!
Watch the HOH competition play out TONIGHT on the Big Brother Live Feeds at 10pm ET. Try 1 week free!
So apparently CBS is going to let us watch the HOH tonight on the live feeds and it'll be endurance. I'm thinking maybe last jury member to "Drop" stays in the game and last houseguests to "Drop" wins HOH. Could be the wall like in BB15 or a Slip n' slide. No idea.. It'll be fun to watch
*** First week FREE LINK ——-> https://bit.ly/2bZbhyS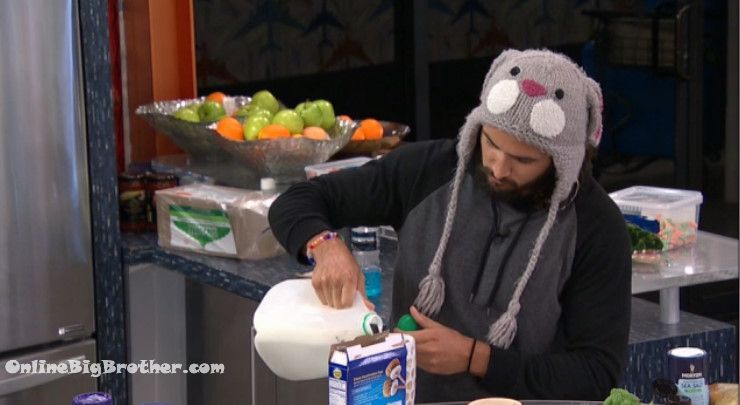 10:01pm Victor and Paul eating breakfast.
Victor says he thinks it's still 50/50 him staying.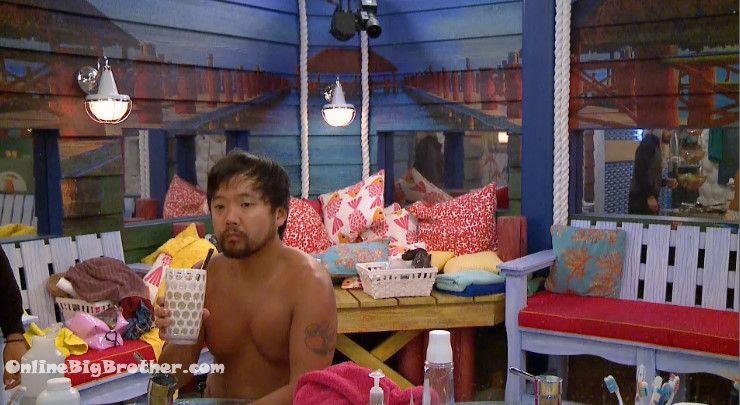 Victor offers James a taste of shake.. Says the secret the secret is Graham Crackers, 'Trust me it's good it doesn't taste like sh1t you gotta trust me on this"
James – damn good little shake there"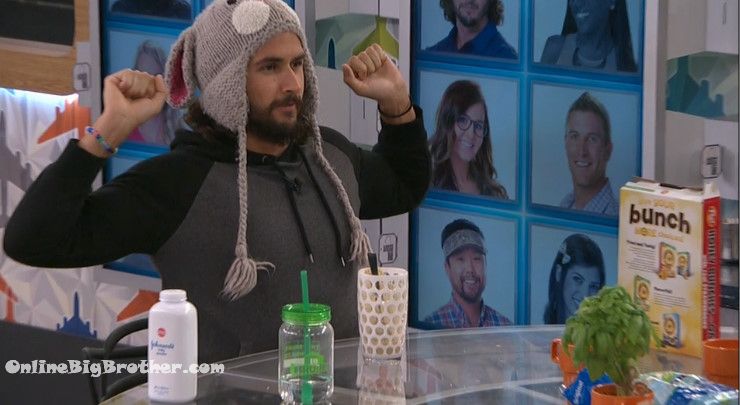 10:07am Kitchen Victor and Paul
Victor says he's going to campaign to them as late as he can.
Paul – make sure you say that 'I know him, he won't abandon ship for no reason'
Paul – I called Michelle a stupid f****g b1tch.. I don't know if she heard me though.. I was right behind her..
Paul explains they were walking to change batteries and Michelle slammed the door behind her that is when he said it.
Paul says when he wins the care package Michelle will be crying.
Victor wonders if there is a way to tell James and Natalie with certainty that he's after Paul and that Paul is working with Nicole and Corey. Victor doesn't want to screw up Paul's game.
Vic – I can't say he's for sure working with Nicole and Corey .. 'how do you know that'..
Vic – well..uhh.. . cause if I say you told me then you'll be f***d on the back end..
feeds cut
Paul saying that Nicole and Corey are just playing dumb they were talking to james last night.
Vic says he can use that be like "PAul told me you were talking to Nicole and Corey. they said you were paranoid that's how information is relaying"
Victor is saying he can show a connection that Nicole/Corey talk to Paul and Paul talks to him, "Thats good"
Paul – ya
Victor – look that's one way, I can't tell you for sure if they are working together.. why do you think they would tell him that you were paranoid asking questions
Paul – make sure that's 1 of the last things you say so there's no chance to cross reference
Paul – cause if he (james) just goes and asks them
Vic – i'll have to wait
Pau l- i'm going to sleep
Vic – i'm going upstairs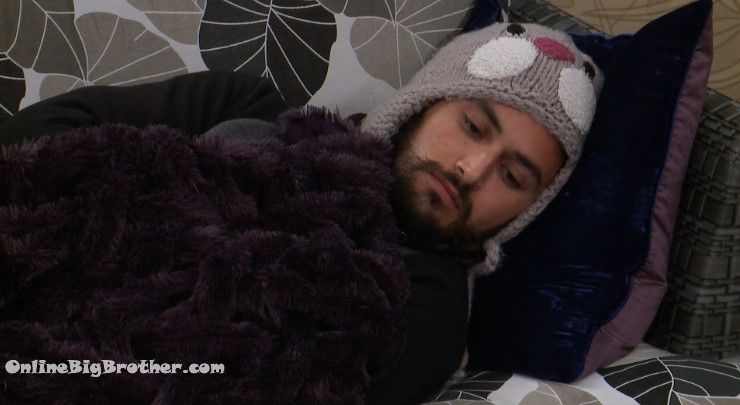 10:25pm HOH Victor, James, Natalie and Michelle
James is stroking Natalie's legs under the covers. Michelle is beside them on the main bed, Victor is on the couch. Just chit chat about dreams..
Victor says he was the cow mascot at Chick-fil-A..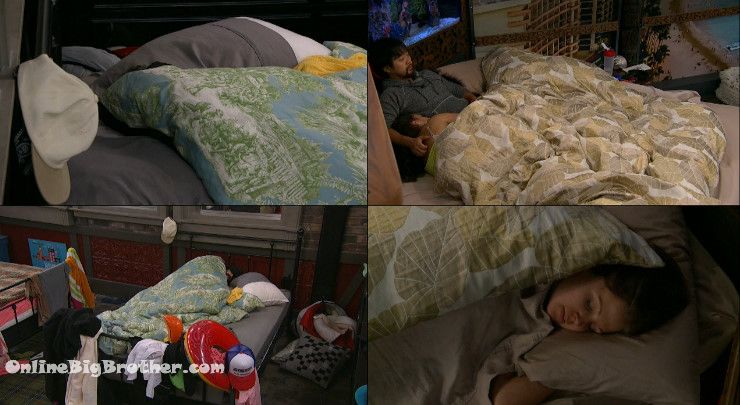 11:03pm ZZzzzzzzz
11:20pm HOH Lockdown called. feeds go to Jeff
12:00pm Feeds on Jeff.
(this will go on for another hour or so…)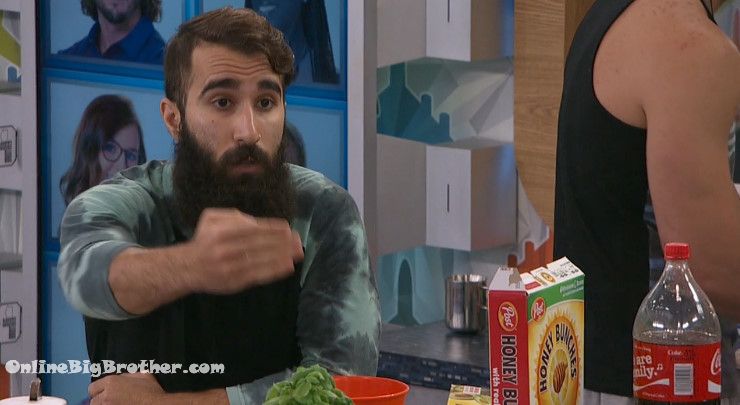 2:07pm Kitchen Michelle, Paul and James
James says Vic came to him a couple minutes ago and said Paul is telling people.
Paul – I said something about you.. What did I say
James – Vic said that you.. You said.. Corey told you last night that I was being Paranoid about conversations about stuff last night
Paul – I didn't say Corey said anything I said YOU are paranoid because you're walking around and you guys keep saying things about me.
Paul – you guys are paranoid about me
James – he said you said James
Paul – I said all y'all are paranoid about me..
Paul – I feel like I was lied to by a few people after doing a few things in this game I thought I had your back and you had my back
Michelle – He totally had your back JAmes. The biggest liar and manipulator in the house
Paul – OK bud, I'm pretty sure I'm not talking to you so why don't you mind your own business
Michelle – I don't care
Paul – Why don't you go put on some more fake tanner
Meech mocks him for getting mad about laundry
Paul – I got mad because i didn't like the way you were talking to me again I'm not talking to you so mind your own business
Meech – you mind your own business
Paul – Oh jesus christ.. Anyway James
Meech – and don't touch my clothes .. I'll burn all yours
Paul – try
Michelle – I will
Paul – self evict good one
Meech – your bourgeoisie ass clothes
Paul – you don't know who I am don't talk to me that way
Meech says he disrespects her all the time
Paul denies it, "You're a f*** cunt I'm going to say that to your f****g face"
Paul – you're a f***g bully you talk down to people.. That's why people talk behind your back because you are a terrible person.. You like to kick people when they are down and cry about them later..
Michelle says paul calls Natalie and her b1tches all the time. Paul asking her when he says that.
Michelle – all the time.. This is how you talk your way thout of stuff just like you talked your way through school..,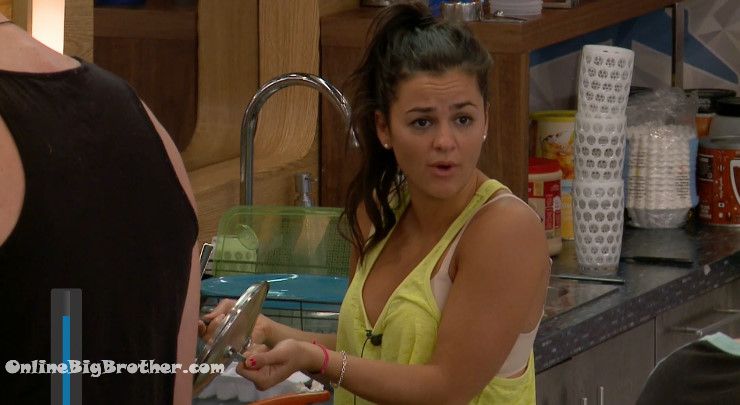 2:12pm Paul, Corey, Natalie, James
Paul saying that Michelle told him she was forced to put Paul up by Natalie.
Natali denies it.
Paul – those were not my words..
Natalie – James has nothing to do with my HOH nothing.
Paul says he's not going to take natalie's word for anything because he's lost too much trust with her.
Paul – I'm going to make my own assumptions
Natalie – that's fine you've lost my trust long ago that's why you are on the block
Paul says he's not on the block anymore.
Paul says he wants to have a conversation with James where Michelle does butt in trying to egg him on.
Natalie says her and James are not malicious people.
James says after Paul won Veto he hauled ass away from Victor and started hanging out with Corey.
Paul says that's bullshit their attitudes towards him changed immediately.
Paul says natalie was "Backhandly shitting on him"
Natalie denies.
Paul – the way you were treating me in general.. We were all supposed to be friends..
Paul says their paranoia is setting in, he's been secluding himself not shitting on Victor.
James – that's your boy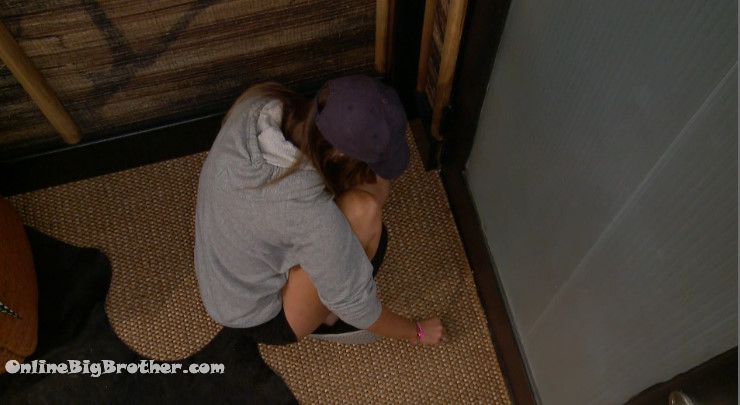 Meech listening in.. .
Paul Says her and Michelle were mean to him and he doesn't appreciate it.
Paul says Michelle's words after Nominations "Natalie made me put you up"
Paul – she said she felt forced.. You can bring her out and ask her.. Everything that comes out of that girl's mouth means nothing to me all she does is put people down then cries about it because she feels sorry because she'll look like a bad person in front of everybody else.
Natalie says it was a game move he's a great player she loves him as a person "it was a game move"
Paul says he was legitimately sick "I went to the Doctor Dude.. the legitimate Doctor dude" and in the HOH he heard someone say that he wasn't really sick it was a girl.
Paul calls Michelle a terrible person she's a bully, rude and beats people when they are down

2:33pm the fight continues
Paul – My conclusion was you wanted me gone this week..
Natalie swears she never said she wanted him gone, "Those words never came out of my mouth"
Paul wants her to admit he was the target. Natalie won't admit it.
Paul – so you didn't want me gone this week..
Natalie – either way.. I'm HOh I got to put people put.. Guess what you're a huge threat in here.. You are an amazing player.. You are huge target in this house..
Paul says he was hurt the way she treated him, "you were malicious and Rude"
Natalie wants to know how she hurt his feelings.
Paul – I don't want to talk about it
Natalie says Paul told 'I was s****G James d1ck to the top"
Corey – Never said it
Paul – I guess he never said it I must have made it up Nat..
Why don't we talk about your plan to get Paulie, Nicole and Corey out
Nat – if that was the plan I would have put them up
Paul – right right.. You said Paulie, Corey Nicole then you made a deal with us in the room..
Corey swears he never said that "Doesn't even sound like what I said"
Paul – how about you saying you've been playing innocent this whole game and you've flipped a switch and now you're lying..
Paul – so I lied about getting my degree.. Fuck getting into pepperdine..
Nicole spazzes out tells them she's sick of hearing people saying this and saying that said this.. "UGH..If I have to hear about the FT's.,,…. It sucks"
Paul and Victor have a fake fight..
Paul starts to call Victor out.
Victor – you jumped ship bro
JAmes – that's your bro
Paul says they told him the target was Corey ..
Victor – you hopped ship
Paul – I don't see how I hoped ship..
James says Paul has been hanging out with Corey. Paul says Victor has been hanging out with James, Natalie and Michelle in the HOH.
Paul – I can't trust James, Natalie and Michelle at this point
Victor – I can trust James, Natalie and Michelle at this point
2:58pm
Paul telling them he's working with Corey and Nicole because he can't trust them
3:00pm Victor says he'll take a swing at Paul if he wins HOH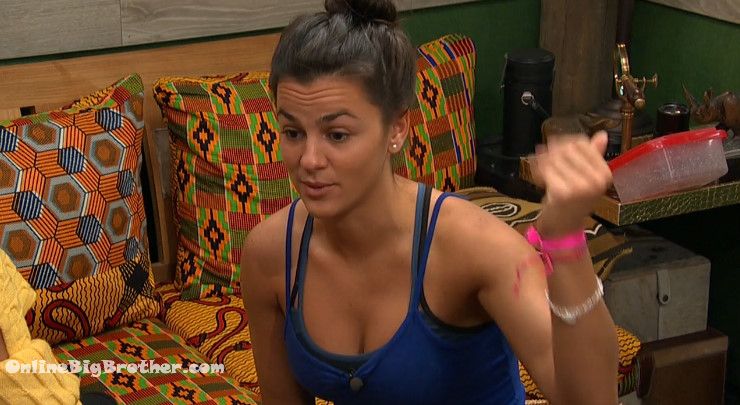 3:15pm Safari room James, Michelle, Natalie and Vcitor
Natalie freaking out because Paul said she pinched his ass she did because he slapped her a$$
Michelle says Paul is playing Vanessa game..
Victor says Paul is working with them, "I'm telling you they are working together and if Corey stays.. "
Natalie says Nicole is defending Paul. Victor agrees.. Starts putting out examples
Natalie – Corey needs to go Dude.. see how they don't defend anything they do nothing..
They tell Victor to run to Paul and make sure he hasn't lost Paul's vote. Victor runs off. (AHAHAH)
Natalie – James you have to vote Corey out
Michelle and Natalie both want Corey out.. James is worried he might not be the deciding vote now.
James warns them this might be a trick
Natalie and Michelle don't think Vic would do something like that.
Michelle – Vic was hurt last night
Natalei – you're not voting to keep Corey.. I don't trust it
Michelle says they have to vote out Corey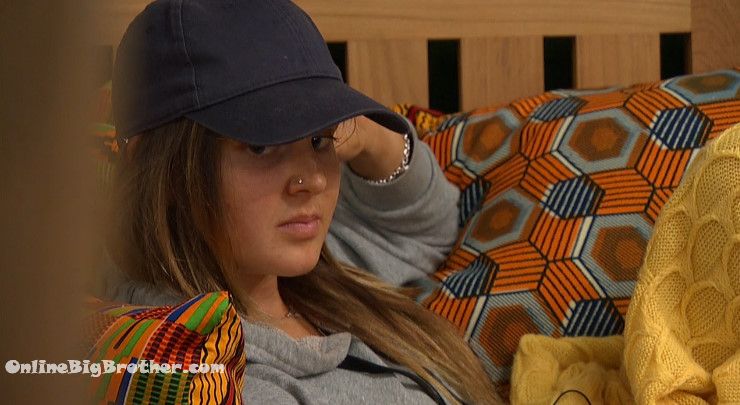 Victor comes back .. says it's cool with Paul he's not voting him out.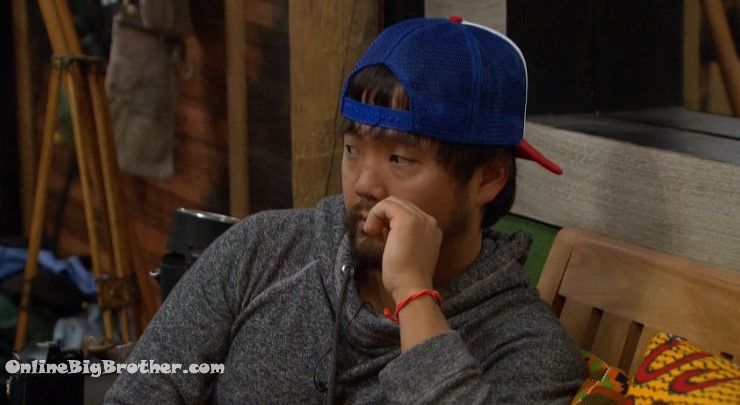 3:37pm Safari room James, Natalie and Meech
James in thought..
Natalie – we need COrey out.. you don't see it
James- it's starting to get like that.. the only thing I like about Victor he's willing to talk to us, Nicole and Corey just collect information..
Michelle – Victor is more trustworthy ..
Natalie – we need Corey out
Michelle says if they keep Corey they guarantee Nicole final 2
James says Nicole and Corey have been acting sketchy
James again says this might be a ploy. Michele swears it's not.
James – I can't believe flipping a vote this late in the game.. that's not my style..
The girls tell him they want Victor to stay.
Natalie – if you take out Corey only Nicole will be pissed
Michelle says Nicole will lose her love of her life she'll be useless
James- I swear man if this comes back and bite me in the a$$
Victor back says he's smoothed things with Paul.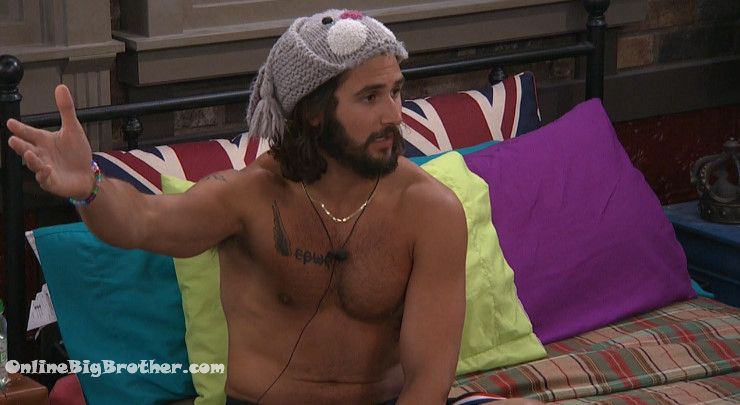 3:30pm Vic and Paul London room
Vic retelling everything..
Vic says they want him to hang out with Paul and make sure Paul doesn't vote him out
Paul – Bro if we pull this off we win the game.. set James and Nat up.. F**** you
Vic – sitting ducks bro
Paul – OHH my god..
Paul is going to keep feeding sh1t to Nicole and Corey, Victor is goign to feed sh1t to James, Meech and Natalie.
Vic – they are so convinced.. they are 100% convinced that you are with them (Nicole/Corey )
Paul and Victor congratulate each other for pulling this off.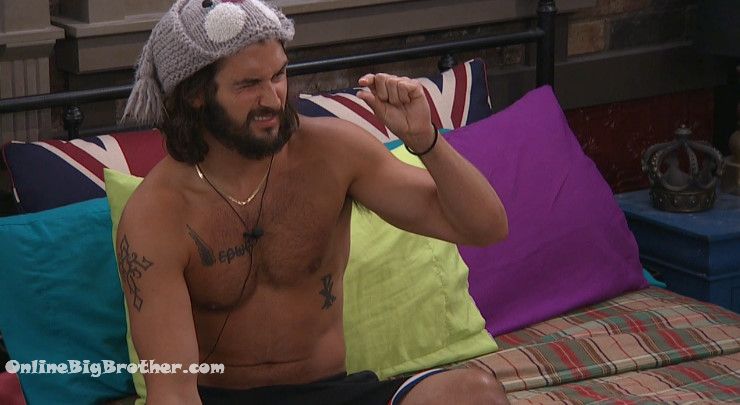 Victor – dude we're this close..
Paul – they think I would abandon ship on my hommie.. f*** you
Vic – dude the thing that really got me, before all this happened when the talks started
paul – they tried to turn you against me
Vic – not only that but … don't explain to me I trust you
Vic – when the first talks started I knew I would be voted out.. Before this conversation with James..
Vic tells him he needs to hang out with Corey and Nicole
Vic – do not allow them to cross mingle.. if they cross mingle sh1ts going by the wayside
Victor says in the safari room they were call saying Nicole is Sliding to the end and Corey has to go when he goes she'll be frazzled.
Victor – we're right fucking there.. you are talkign a storm.. everyone is shitting on you ..
Paul – 2 of their people can't compete Nicole on my side now F*** you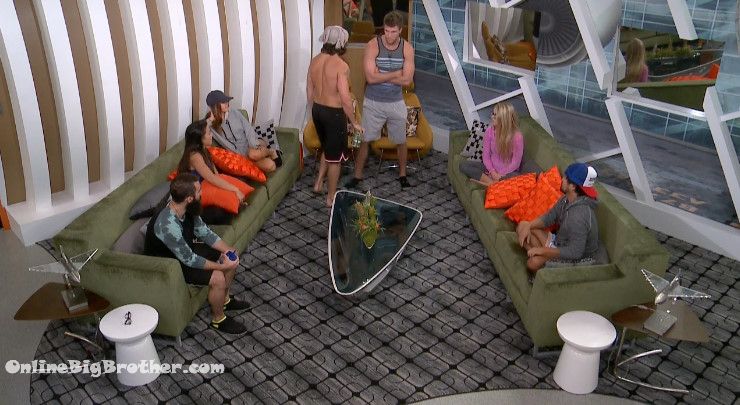 3:38pm
Production – so today we're voting to evict either the walking dead or game of thrones..
3:47pm Feeds on Jeff..
(House flipped Victor staying Kraken shrine worked yo ucan thank me all later)