POV Holder:
?
POV Competition
Aug 20th
POV Used
?
POV Ceremony
Aug 22th
HOH
Natalie
Next HOH
Aug 25th
Original Nomi1nations:
? AND ?
After POV Nominations:
? AND ?
Have Nots
?, ?, ?
Watch the next week of the feeds for FREE – 1 week Trial!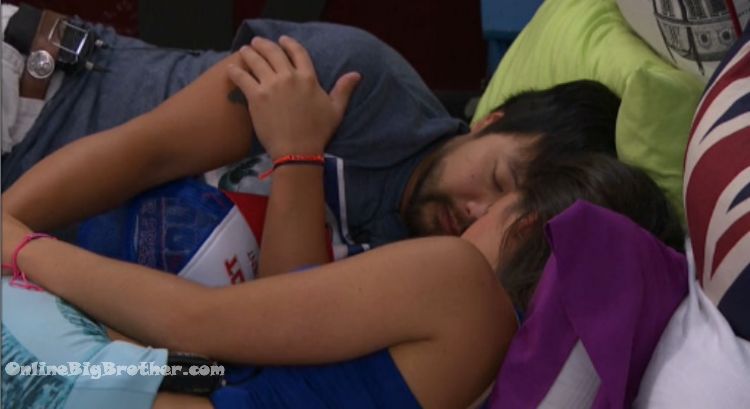 3:35am Natalie and James waiting for her HOH room to open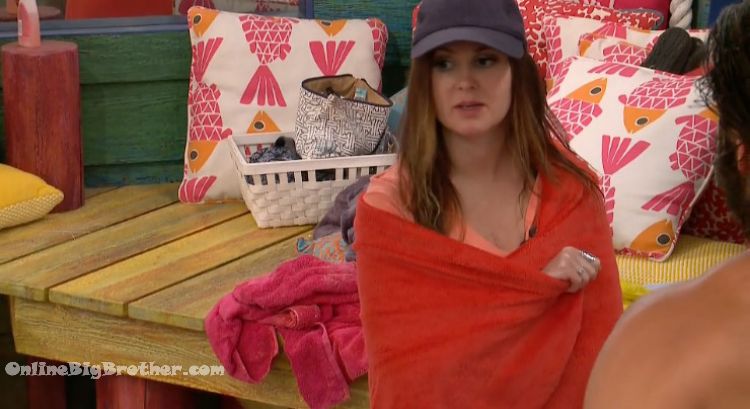 3:42am MEECH and Victor Bathroom
Vic – you think Natalie is going to do Nicole and Corey
Meech nodding..
Meech – I'm pretty sure she's going to ..
Vic – remind her what they did
Meech – Nicole is denying it.. Nicole is being so nice her her all of a sudden..
Vic – worst case she has a deal with Nicole and Corey, Nicole and James to take us 3 out.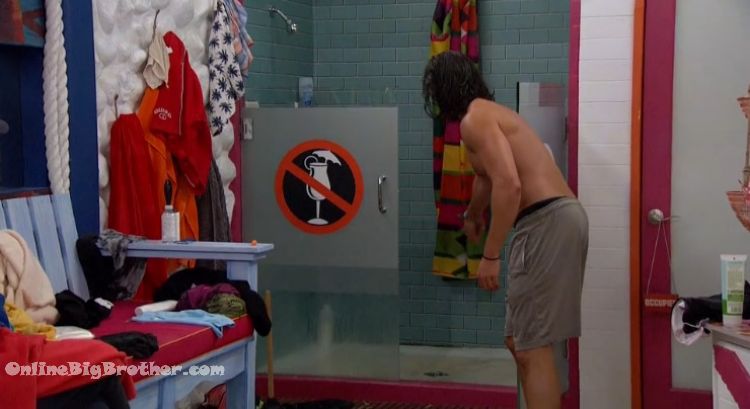 Vic – Look at this..
Meech – did you clean that
Vic – yes I couldn't shower in that
Meech says she trusts natalie
Victor says he'll protect james, Natalie paul and Michelle until Nicole and Corey are out of the game.
Michelle says the same with her she's never going back to working with Nicole and Corey.
Victor mentions worst case him and Paul go up, "Let pray she does what she said she'll do"
Michelle – If James had won Natalie would have been telling him to put up Corey and nicole..
Victor – if me or Paul get the care package tomorrow.. Why are we getting the care package… I would love to get a care package tomorrow..
Victor tells her Natalie never gave a definitive answer when he brought up sticking to the plan.
Michelle says Victor isn't a big target he's on her side.
Michelle says if he was nominated She'll use the POV on him.
They head to the kitchen ..
Victor – even Paul is feeling a little sketch
Michele – I hope you guys wouldn't feel like that if I won.. I guarantee ..
Michelle points out that they'll be spending a lot of time with james in the have nots.
Victor points out that they won't until after the nominations. Victor is not excited to be sleeping in the bumper cars.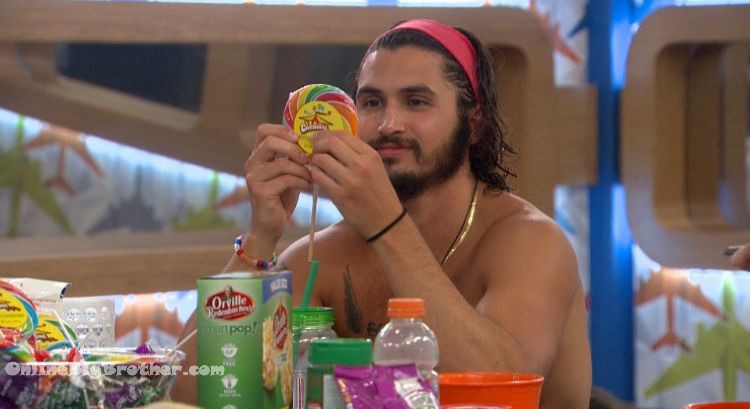 4:00am Meech and Victor hanging out in the kitchen looking at the nutritional composition of the lollypop
Meech – it's crazy how much sugar is in stuff..
Victor says if the care package is a HOH takeover he would feel so bad for natalie.
Meech says they are safe this week but they shouldn't feel too safe.
Victor says he never allows himself to get too worried about the game the worst thing that could happen is he goes to Jury.
Michelle going on about natalie hating Paulie why would she have teamed up with Corey and Nicole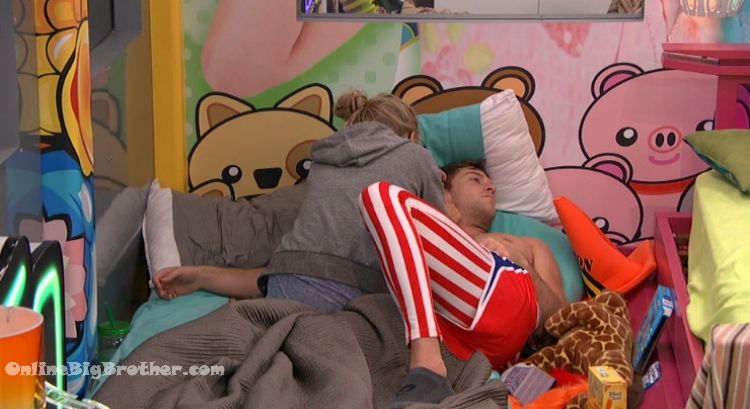 4:02am Tokyo room Corey and Nicole
Nicole still saying "I'll be shocked if she puts us up.. "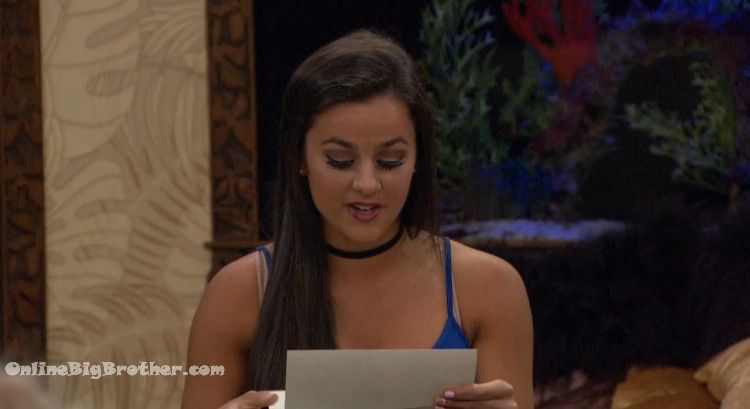 4:33am Victor, Meech, Nicole and Corey
Joking around about crapping pants.. Farts in the have nots.. Etc. etc..
Who wants to see my HOH room… #BB18 pic.twitter.com/YOcKeVksYH

— OnlineBigBrother.com (@bigbspoilers) August 19, 2016
Who wants to see my HOH room .. .
HOH letter 4:36am Cam 1-4 Fri 8/19
(it's a long one..)
There's reasons for you being away that fill me with excitement and pride.. I'm sending you positive waves to make you endure and succeed in your goals. Even thought you very seldom go
["ohh I'm so sad I miss her']
Even thought you very seldom go everyone in tango is asking for you .. they miss my sparkling glittering daughter around.. This is the third year me and Ethan danced tango in the latin fare as usual I made pinatas for the children and I had a blast with my criminal breaking it..
["I told you we make pinatas guys"]
"This is what I call the older boys they love it..
["I don't get it']
"Once they have that stick in their hands they transform into beasts and that pinata is gone in no time actually they are inspiring me to develop a business with my pinatas making skills"
Meech – that's cool
Nat – she's like really artistic
"We are very busy helping daddy publish his books about little natalia"
"The plants you gave me have produced Zucchinis to feed the country. Some of you friends have stopped by and enjoyed your truce Zucchinis"
"These Zucchini plates that truce present remind me of my natlaia"
"You have to see the garden it's a forest of sunflowers.. It feel like a nature of celebration "
"Your true power is when the beauty is generated by you"
"Like Dad don't be afraid of falling.. I love you I miss yo you are my heart you are my life.. "
My Nathalia Love Mommy
Everyone having a fun love at the length of the letter..
Michelle – Tango, Pinatas, Zucchini.. She got a lot in there(AHAHAH the best)
Natalie tears up from the letter.. "Thats my mom… "
Natalie – Oh my god I love her that's so cute..
Natalie – we got in a really big fight.. I felt really bad I went to the store and bought her some Zucchini flowers.. It was my truce offering.. Sorry mom I love you so much.. I'm so excited..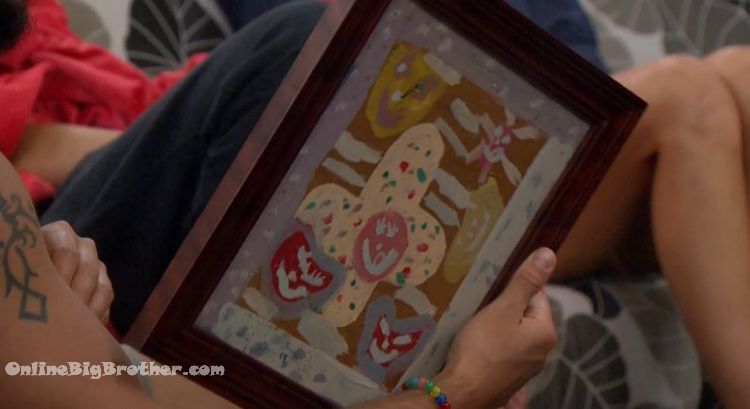 A Picture natalie drew when she was 8. She laughs at it being included in her HOH basket. Victor mentions how there was that pillow he sewed when he was 3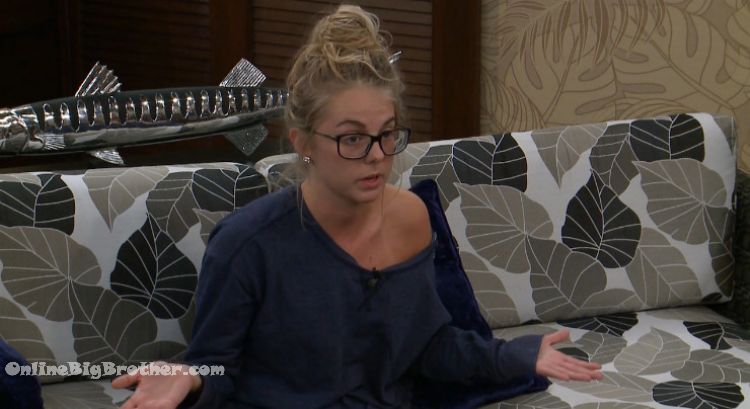 4:57am HOH James, Natalie and Nicole
James asks Natalie to not put him up
Natalie – what do you guys think about Paul.. .what do you think about him in General.. I have no idea what to do
James- what did he say about you
Nicole – are us 4 working together
Natalie – I feel like we should
James – I feel like we should to
Nicole – literally us four should be working together.. That's our best shot us working together..
Nicole says Paul, Victor and Michelle are working together
Nicole – I just know I would not put you guys up and I'm not a threat to your game.. I'm 100% down with us going final 4..
Nat – i'm trying to get a feel
James- i'm just saying from her view.. If I was her it will be a tough decision
Nat – paule was the only person I wanted out.. He would go around the house taunting me.
Natalie says she's worried that Paul was eavesdropping..
James – he was eavesdropping 100%
Nicole – he's a very smart player and a very social player and vic with his comp wins those two together are a very strong duo.. I feel like paul will come up here immediately he'll try to get into every single conversation possible.
Nicole – I'm legitimately happy you won ..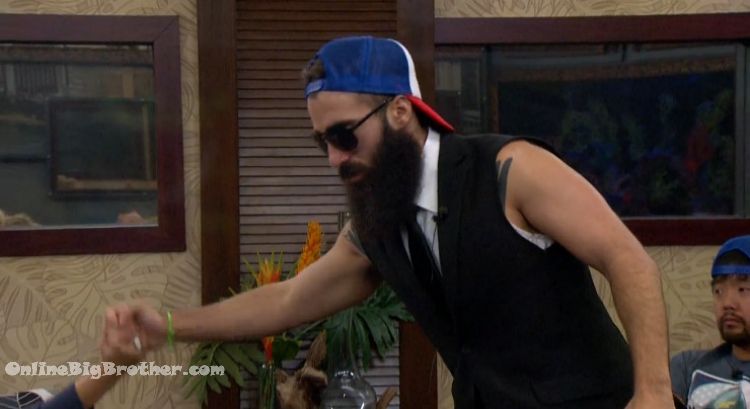 Paul comes up to say goodnight..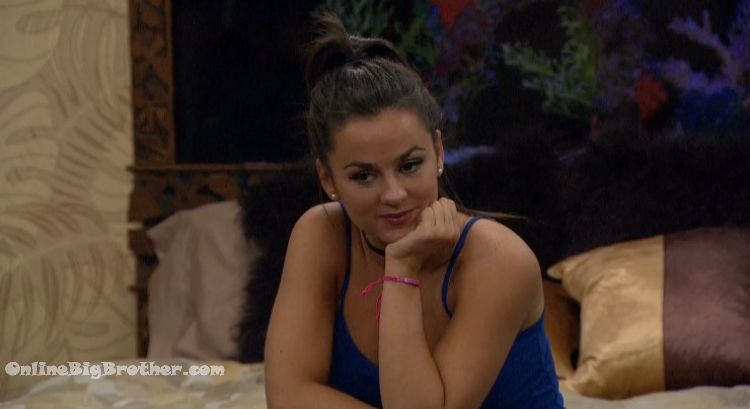 Nic – if you keep me safe this week.. I already think I'm working with you.. Prior we talked this si sa four deal.. I would never even think about.. I have your backs the whole entire time.. You have me james and corey fighting for since you can't play. I literally can only offer you literally keeping you safe until final 4..
I'm a loyal person I would not break my word.. There's No way.. You guys are not a threat to my game.. YA I would like to stick together for sure.. You gotta do what's best for you i was Legitimately happy.. I Was literally 100% Legitimately happy you won…
Nic – it's really hard putting people on the block..
Nic – i hope i've never done anything to make you not trust me..
Nic – I have your guys back.. I know you are in a tough spot
James – any HOH move she does is going to be 100% on her
Nic – I know ..
Nic – you know I would backstab you guys..
Nic – showmance scare the crap outta people it's amazing we made it to final 7 honestly strategically I am not coming after you to.. I literally wouldn't come after you to I swear on everything.. You guys are what I have in this game
Nicole – Paulie needed to go.. I was ready for Paulie to go.. He needed to go that's fine..
I'm not a threat to your game or jaems' game.. I'm not
Natalie – I won because I wanted HOH before I get evicted in this house..
Jame – that's the hard part.. You gotta do what's best for your game.. Final 67 people got to go they got to go up…
Natalie- I don't understand why Paul is eavesdropping..
James – i don't know what he was doing
Natalie – I feel like he threw that comp..
Nic – I literally would do anything I could to keep you safe.. In this game.. I've never endangered you guys guys game at all

They hug it out..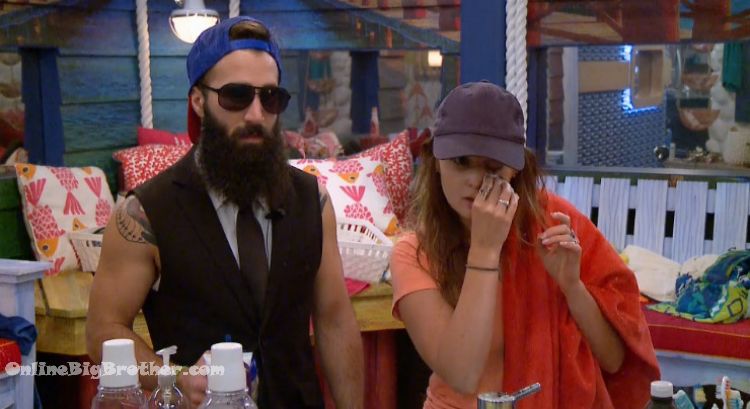 5:05am bathroom Meech and james
Paul – Nicole is up there right now .. I talked to her she said I have nothing to worry about but who knows what deals..
Meech – fuc**ing snake
Paul – I know.. You going up to talk to her..
Meech – I trust her.. why , why would she want..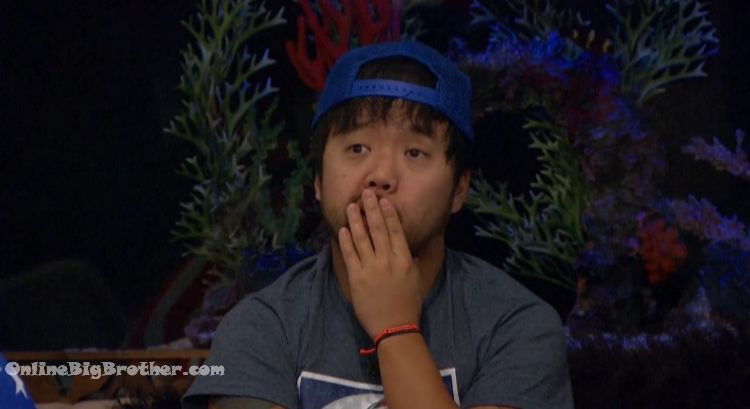 5:10am HOH natalie and James
James – what do you feel … for sure you are going to piss people ff
Nat – i'm ready for it
James – what side do you feel you want to roll with ..
Natalie says Nicole came to her earlier today and she
Natalie – I know she's a genuine person
James- I feel like she's a very emotional person..
James thinks Victor can be worked with but the problem is Paul.
James – Paul is his anchor that makes him float or sinks him.. (WTF james)
Nat – paul told paulie that james was targeting Corey and NIcole.. That came out of her mouth down there. .
James- the bad thing about it paulie isn't here to confirm or deny it
Nat – why would she make that up
James – Paulie might have made that up to pin shit on me..