POV Holder:
?
POV Competition
Aug 20th
POV Used
?
POV Ceremony
Aug 22th
HOH
Natalie.Meech
Next HOH
Aug 25th
Original Nomi1nations:
? AND ?
After POV Nominations:
? AND ?
Have Nots
Victor and James
Co-HOH Care package was awarded to… MEECH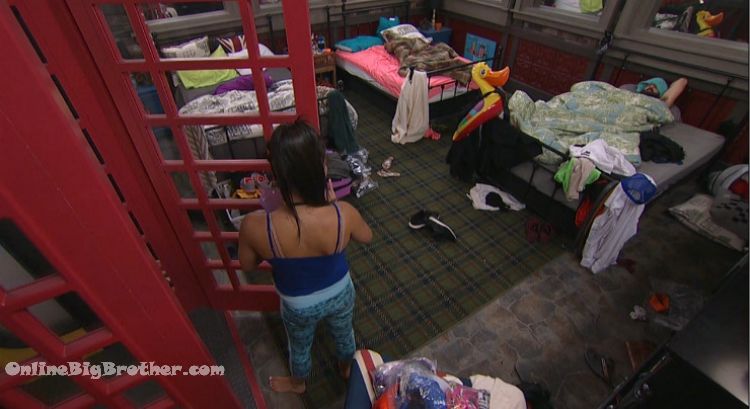 10:39am Paul and Natalie London room
Paul – everything cool.. Vic said.. He wasn't freaking out
Natalie – People are obviously going to talk
Paul – I know I know
Natalie runs out..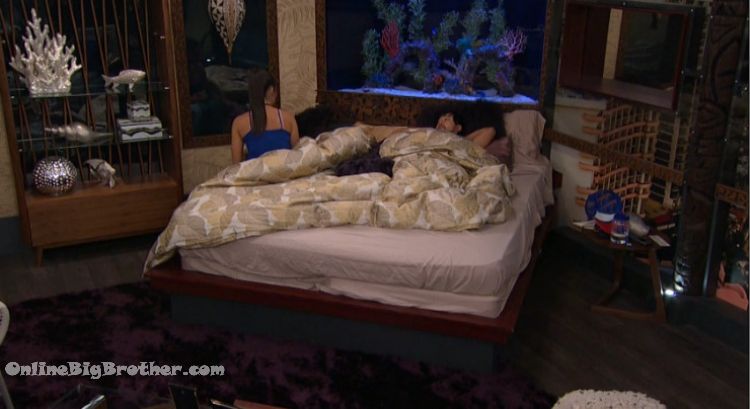 10:44am James and Natalie HOH
Natalie is hoping they're is a power of veto in the care package because that is who will go up.
Natalie – hopefully it's something good.. I'm not going to lie help me put someone up… It'll be an advantage for me.. (why are you getting the care package?)
Natalie – I need to take into account 2 things Corey and Nicole haven't talked to me all season, I've heard something about Nicole I've heard some things about Corey. I know they talked behind my back Bronte told me..
Natalie – They've never talked to me, Nicole has never had a conversation with me .. You know
Natalie – and then I have Paul who I don't really trust at this moment.. He was eavesdropping on my conversation.. He wants a final 4 deal with me then we have Nicole who wants a final 4 deal with us .
Natalie – Nicole didn't want to work with me when she was working with Paulie .. You know
James – yeah
Nat – there's a lot that goes into it
James – I agree
James says it's easier to play the middle.
Natalie says she had to win this HOH she can't be in this game and not have a win.
Natalie going on about her neck hurting again she won't be able to play in the veto, "You'll have to play for me"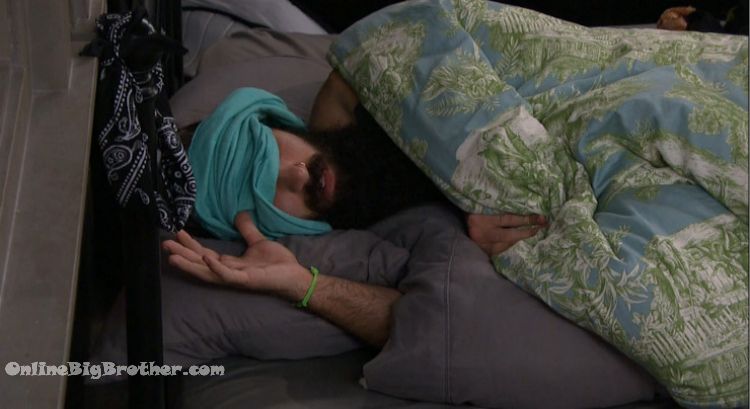 10:44am London room Victor and Paul
Paul – we might be getting screwed
Vic – you talked
Paul – she came in here and was getting her stuff.. Like just running out pretty much.. I was like ehh.. Everything cool she's like yeah everything is cool.. I said yeah Vic said he was upstairs and it was weird.. She was like obviously people are going to talk I was like OKAY.. I know.. I'm just saying..
Paul – it was just strange..
Vic – yeah, now you know what I meant.. She acting weird..
Paul – f*** it..
Victor – I'm telling you America is going to hook us up.. It's Corey.. UGHHHhh
Victor – America bones us .. like f*** the sitting ducks..
Victor – Care package will put a wrench in their plan..
Victor – If my picture comes up on the memory wall i'll be like I knew it, I knew it you couldn't hold up your side of the bargain.
Vic – Bomb.. you still have to beat me in the veto..
10:55am
Vic – Eh..
Paul – mhhh
Vic – you know what would be sketch to?
Vic – if we got some type of power and they wanted to come in and talk about it..
Paul – yeah
Vic – cause there should be nothing to talk about
Vic – Fools are sketched out..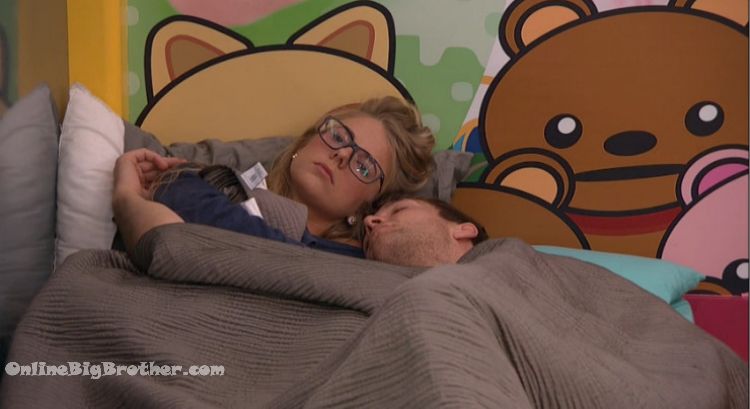 12:07pm… if they are not sleeping they are doing this..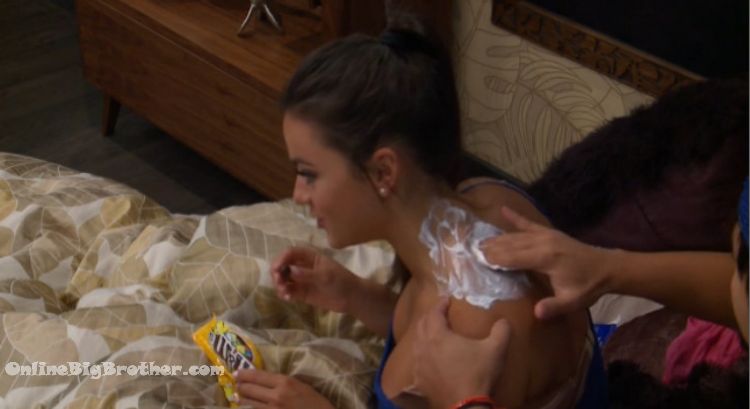 12:24pm Natalie's neck is still sore but it doesn't prevent her from complaining nonstop
Natalie – I look f***g gross like an ugly a$$ person.. I want to burn that picture
12:35pm Natalie saying she's going to try and pull Meech in.
James says Victor and Paul want to take him and Natalie out once they get to final 5.
Natalie – maybe they want to take me out..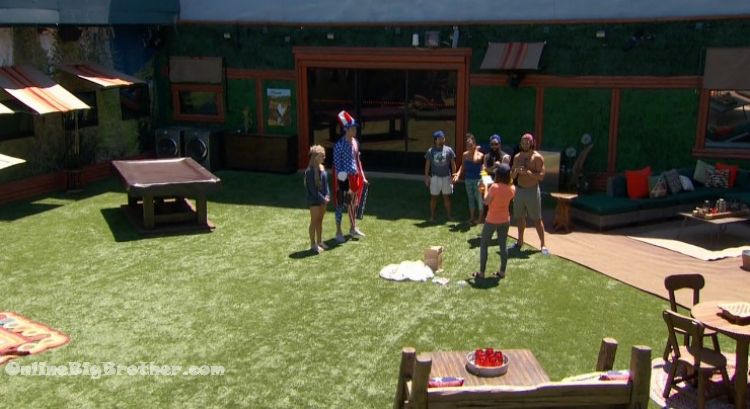 12:47pm Meech is co-HOH .. Boom
-share all the perks of the HOH, Safe for the week, share the HOH bedroom, and no longer a have not
Michelle – YES
Corey – Ohh nice..
-Responsible for naming 1 of the 2 nominees for eviction that means Natalie only names 1
Meech – I feel bad..
Natalie – I didn't want to be alone I'm happy
Neither Michelle and Natalie compete in the next HOH..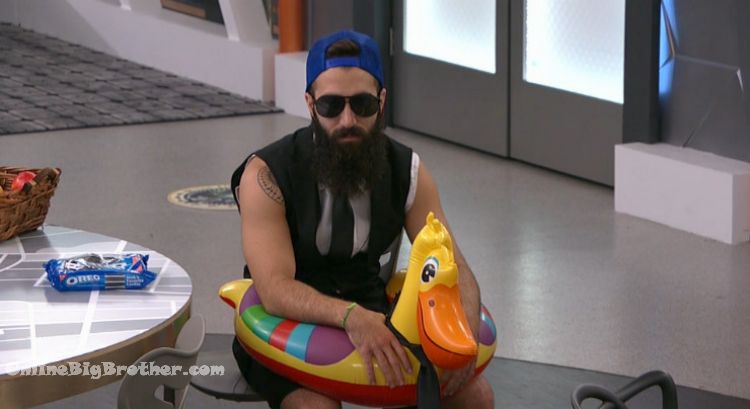 12:54pm Paul seems thrilled.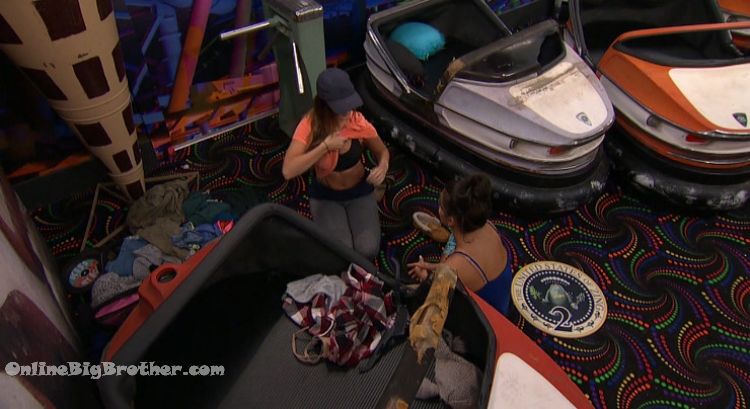 12:58pm Have nots Michelle and Natalie
Natalie – Obviously you want Corey and Nicole right..
Michelle – I want Nicole, don't care about Corey
Natalie says she caught him eavesdropping.
Michele – paul can be sketchy like that
Natalie – He's lied a lot of times I've caught him lying do you have a final 3 with them
Michelle – no
Natalie – Corey and Nicole right.. Paul and victor.. They are taking each other to final 2.. Who can we beat strategically.. Who do we have a chance to win against..
Meech – I think the same way
Nat – emotions out of the way.. You and James will never ever be on my hit list..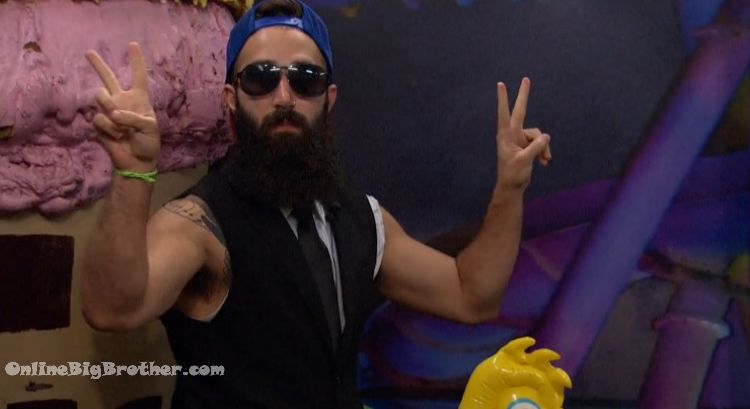 Paul – America f***g loves us… legitimately loves us… everything we ask for is happening..
Michelle – I'm shocked..
Natalie – I get to spend my HOH with one of my best friends in the house..
Paul leaves..
Michelle is saying "paul and Corey what were you going to do"
Natalie – Final 7 we can't play with emotions.. I don't like how Paul is really paranoid..
Michelle – what did Corey and Nicole say to you
Natalie – they're not coming after you
Natalie – If we put Paul up we're not pushing anybody off..
Michelle – except for Vic..
Natalie wants to go tell Victor all Paul's lies
Michelle – we can put up Nicole and Vic
Natalie says she has a lot of stuff on Paul.
Natalie says PAul and Victor will take her out before Michelle, "You are an invisible player.. You can make it to final 2"
Michelle – I'm totally onboard..
Natalie wants Paul out says it's their best strategic move..
Michelle – I've wanted him gone for a while now..
Michelle – I just don't trust Nicole and Corey
Natalie says James says once you get to final 6 you play with different people.. There's no Paulie no Zakiyah..
Natalie says Nicole isn't coming after them.
Michelle – I'm onboard dude..
Michelle – dude I want to be honest with you I was thinking If I win HOH Paul would go up.. I swear to you.. the night before..
Michelle is claiming that Nicole and Corey have never lied to her but Paul has multiple times. (ZOMG)
Michelle – Dude I'm down
Natalie – He's playing a dirty game.. He lies a lot..
Michelle is down to get paul out this week..
(Well that's a waste of a care package.. LOL meech now doesn't play in the next one and they are doing exactly what Natalie was going to do in the first place)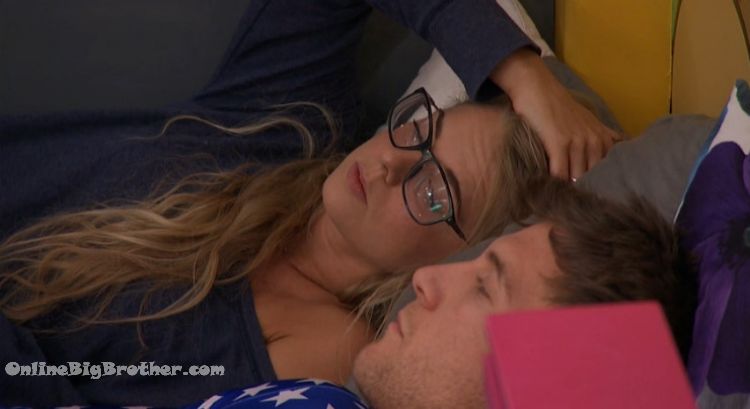 1:05pm Tokyo room Nicole and Corey
They didn't pray enough…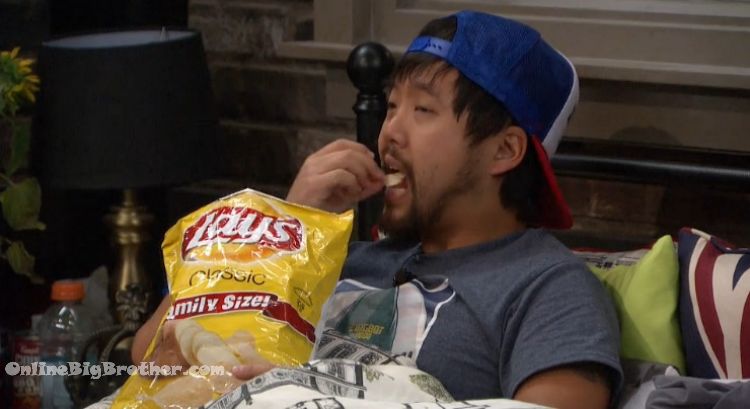 1:20pm James and Paul
James says he thinks Paul's safe but it's Big Brother..
Paul – right..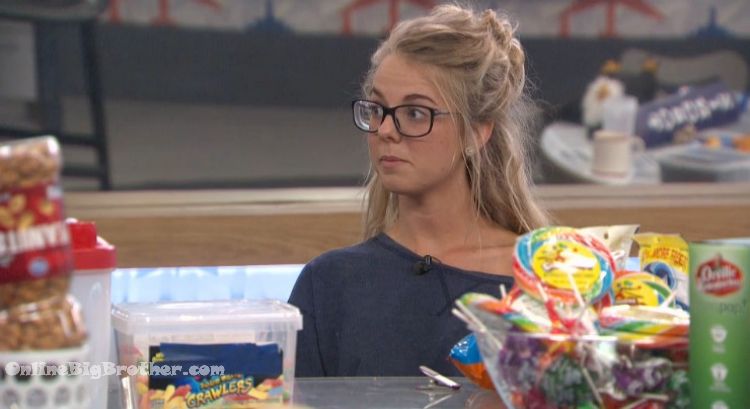 1:22pm Natalie and Nicole
Natalie says she talked to Michelle already..
Natalie – this will change the game for me completely..
Natalie says someone is going home and it's not Nicole and Corey.
They start scheming how to convince Michelle to put Paul up and Natalie will put Victor up.
Natalie – I hope you guys will be loyal to me.. James really trusts you.. Paul is playing a dirty game
Nicole – YES..
Nicole says America would have given Victor and Paul the care package if they wanted to save them
They Think America gave Meech the care package to take Paul out.. (Good lord)
Natalie going on about Paul eavesdropping …