POV Holder:
?
POV Competition
Aug 20th
POV Used
?
POV Ceremony
Aug 22th
HOH
Natalie, Meech
Next HOH
Aug 25th
Original Nomi1nations:
Victor AND Paul
After POV Nominations:
? AND ?
Have Nots
Victor and James
Watch the next week of the feeds for FREE – 1 week Trial!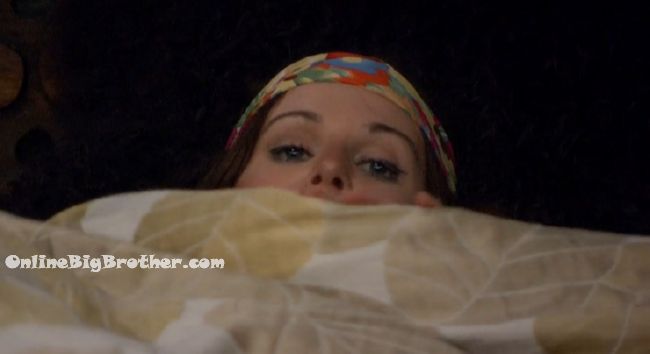 12:00am HOH James, Michelle, Paul
Paul is saying just 2 days ago hey were all talking about final 5.
Paul and victor are telling them about the error they've made putting them up staying they've been played
Michele – they are probably shitting their pants saying hey it actually worked..
Paul is going to call Corey and Nichols games up tomorrow.
Natalie comes in
Paul – at this point why do I need to lie to to guys about that..
Corey is called into the Diary room and Paul wants to call her out now that he's gone.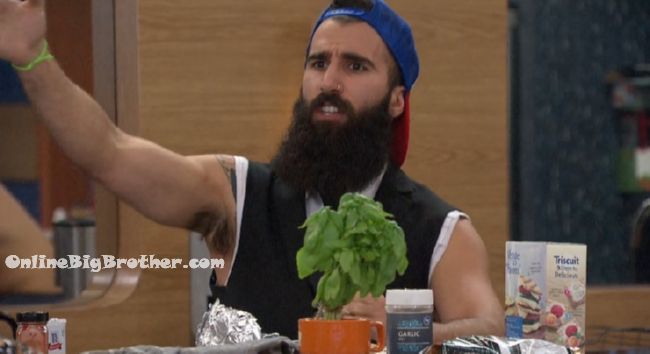 12:10am Paul, Victor and Corey
Paul – hook me up tonight.. I heard how am I a manipulator..
Nicole – I just know you lied about the one day thing..
I lied but you voted..
Nicole – you knew that she was going thome..
Payule – I'm on the block because of you you know what you are doing.. How am I a liar or a maiona0pulat..
Nicolle – you are only a block from something I said
Paul – how am I a liar and a manipulator that is why you said to them..
Nicole – honestly I didn't know you were going on the blockkkkkkk
Paul – yes you did cause you want to save you and Corey's a$$
Nic = I have never made one thing up about you
Paul – let's flashback to the comment I told paulie that james is coming after him
Nicole – it came from paulie
Paul – it's really easy to say it came from Paulie/… can I asked Paulie that not he's gone
Nicole – I get that.. I don't want them to think I'm coming after them because I;'ve never gone after james..
Nicole – I have never ever wanted to go after james
Paul- ya'll fist bumps each other… no you are trying to cover your tracks
Nicole – I've never lied Paul.. I just want you to know I never made things up for you..
Paul – the sole reason I am on the block is because of you and Corey..
Corey comes back says his costume is done.
Paul – don't look at Corey it was you.. Why am I a manipulator.. Who have I manipulated
Nic – I think you are really good at it.. I think you are after me
Paul – you are coming after me for no reason..
Nic says he's not nominated because of her.
Corey – I don't think so
Paul- I'm positive.. So you are 100% I'm coming after you
Nicole says someone in the house right now told her he's after her 100%
Nicole – it was more than 1 person it was 2 or 3
Paul – I don't believe that.. You are no more a credible source.. You made up something about me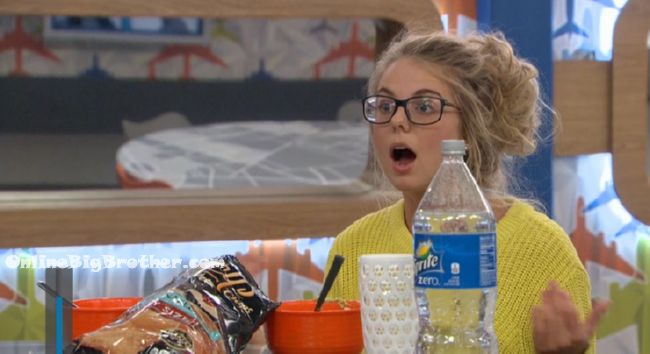 12:20am
Victor says Nicole's date comments hurt Victor this week, she brought it up with Natalie and that was something Natalie cared about
Paul – We're on the the block because of you two because you called us manipulators and Liars.. Play this game without making sh1t p about me..
Paul – 3 people that seems to have trust about me yesterday don't out of the blue.
Nicole – I'm so confused.. I don't like confrontation
James- of course nobody likes confrontation especially when you are getting called out.
Corey says Nicole and Corey are the stronger players.. Paul says Corey has never been on the block and Corey has won more comps than him
Corey – right right,, so y'all are not saying you are the strongest duo in the house
Paul doesn't look at them like a duo says "We don't snuggle up in the same bed together"
Corey – ya'll are going to steamroll and win this whole thing that is why ya'll are on the block
Paul – oh and you guys are going to do that..
Corey – it's an even playing field
Paul – was it not trust that you said in the Jacuzzi you said you were throwing everything
Corey denies..
Paul – that's rad dude because I'm positive you said that
Corey – I wish I could say that..
Paul – you are a lot stronger and you give people less credit..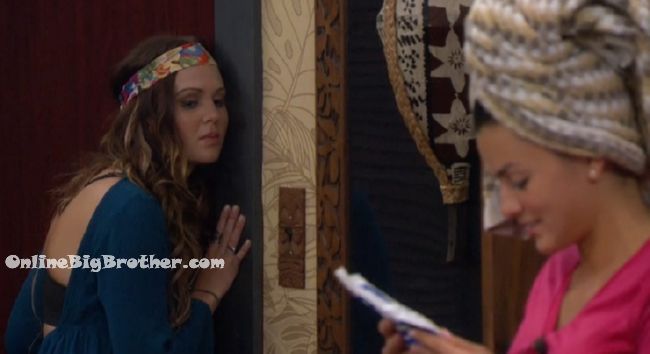 12:36am HOH Meech listening in.. with Natalie
Michelle – did Corey say that to you about the comps in the jacuzzi
Natalie – ya
Michelle – he just denied it..
Nicole walks in
Nicole – clearly he just went offffff on meeeeeeeeee
Nicole – Honestly you guys
Nicole – like he… I called him out on the da thing and he's just freaking out..
Nic – I don't know what to do my heart is racing a mile a minute .. he's so mad..
Michelle – you just got to fight back with him that's what I did earlier..
Nic – he just talked louder..
Nat – that's what I did earlier I stopped talking..
Nic – I don't feel like I can eatttttttt
Nicole says that Corey doesn't throw comps there's no way.
Nicole says paul was goign after James for weeks and now denies it.
James comes in says it was Victor that was making the plan that James and Corey were the first ones out of the 5 guys.. This is what Paulie told James.
Nicole says Paulie was helping her he wasn't giving her lies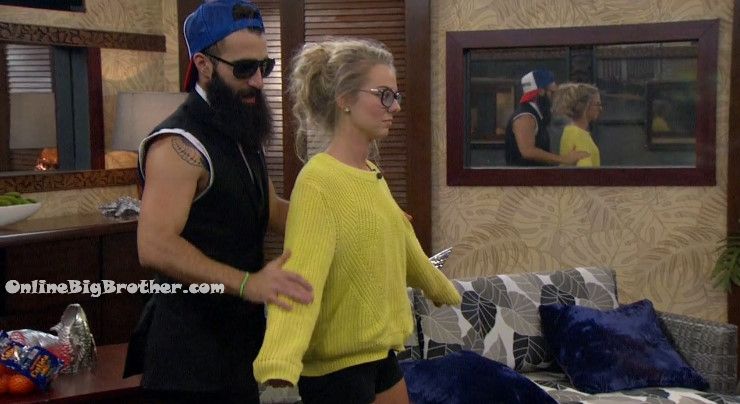 12:40am Paul gets a red alert..
Paul comes in "Big Brother hooked me up with an red alert to make sure you're not spreading more bullsh1t in here"
In front of the HOh Paul is saying that She fist bumped to get James out with Paulie in the safari room. Nicole says she was just doing it to play along with Paulie she is not going after James has never goner after James.
Paul- the 2 people claiming me and Vic are the strongest couples.. You've never been on the block Corey has been on the block 1 and pulled himself off.. you have not been on the block every single week.,. and yest we're the dangerous duo..
Nicole says not being on the block is sign of being a strong player..
Natalie wants it to end.
Paul – if you are saying it behind my back get ready to say it to my face.. in front of everyone in this room.
Paul leaves.. Natalie calls this Jerry Springier..
Natalie – Honesty Vic looks like he wants to punch Corey.. about the date thing
Michelle – Vic wants to punch Corey
Nic – he looked so angry he was shaking his face was red (that's BS and Meech isn't buying it)
Nicole – I just want to hide and cry
COrey comes in – that guy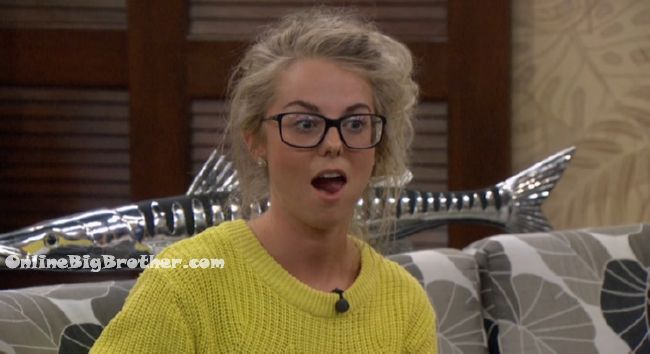 Nicole – am I goign to get torturedddddd I don't know why i'm the sole reason
Corey now deny about saying he threw comps.. 'He's very convincing .. manipulating"
Nicole – he's trying to change the target
Nicole – who in here told him I said he's a manipulator
They said no one Paul is making it up.
Nicole and Corey play stupid about everything they are Innocent and are loyal to the HOH crew.
Paul comes back says he wasn't in around Corey when he said he threw all the comps he just heard it from someone else. Paul is in the bathroom gettign ready to shower.. yelling out to teh HOH people.
"At the end of the day no more costumes and uni-tards"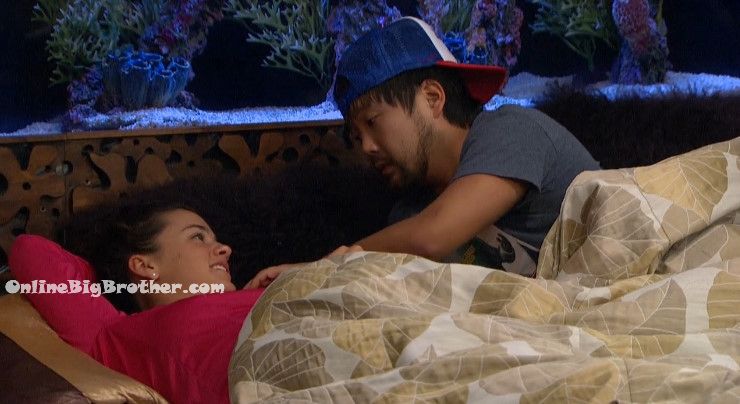 1:05am HOH James and Natalie
Natalie – I don't know James how much more of this game I can handle.. i'm taking a lot of heat here..
Natalie – Paul threw my name under the bus about the jacuzzi
James- I think Corey said I said it
Natalie – oh thank god
Natalie – Corey lied to her to her face about throwing comps.
James – he said it in a joking manner
Natalie – no he was serious
Natalie doesn't like some of the things Corey is saying
James- I'm telling you Corey will get his time .. he'll get it
Nat – what if they win and put us up
Jame s- they aren't putting us up.. If I don't have Corey.. I have Nicole…
Jaems – If I don't have Nicole I got Corey
James – I can really pull on Nicole's heart strings.. Nicole really really likes me,, like.. but like.. her parents watched me all season her parents like me she likes me she was a fan of me.. I was the only one she messages from last season..
James- if they win I'm goign to pull a Nicole.. like please don't put us up I really like you .. do the same thing and hopefully it works.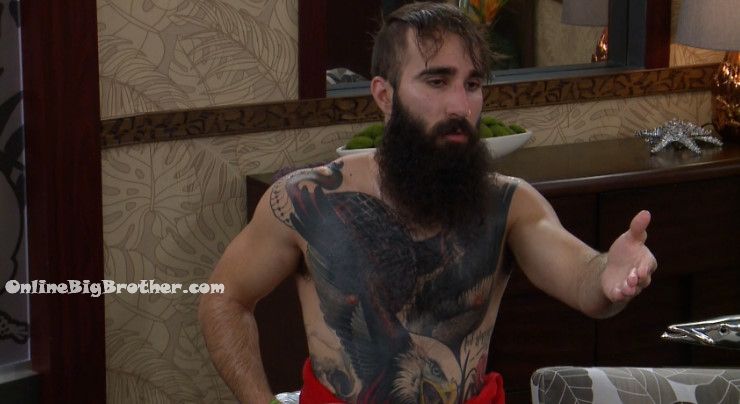 1:08am Paul, James and Natalie HOH
James says Corey is pinning on the Comp throwing comment on James. Paul says when he was downstairs calling Corey and Nicole out it was the same thing they were playing dumb claiming they have no idea any of this was being said.
Paul impersonated Corey and Nicole, Natalie laughs.
Paul – every single ting yo told me they denied.. they did not admit to one thing.. not one
Natalie ohh
Paul going on about the bullshit excuses and playing dumb Nicole and Corey are doing.. Natalie and James laughing at his impersonations..
Paul – do you mother f***ers trust me now did you see their reactions..
Paul says Corey and Nicole are liars.. Paul says they told him it was James and Nat pulling people into rooms asking questions. Corey and Nicole had nothing to do with Paul and Victor gettign nominated.
Nat – wait what… we were pulling people into rooms
James – we never pulled anyone
Nat – I never pulled anyone either
Nat – just don't bring up the Jacuzzi ting
Paul – My bad I know..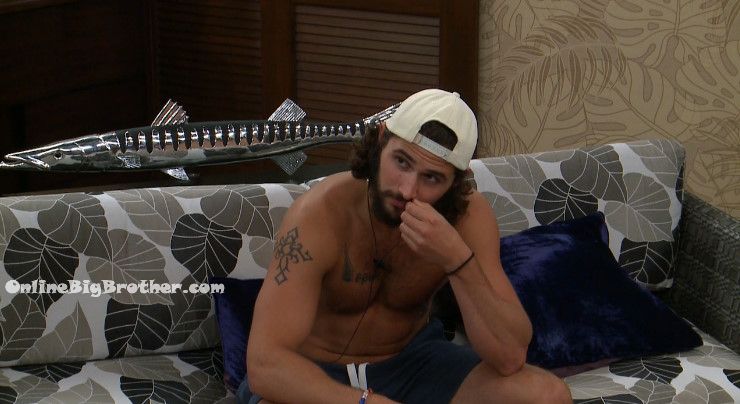 Victor is now with them.. he tells them that Corey and Corey are denying everything saying it was you two's plan all along.
Paul – as soon as me and vic are out of the equation they dart into separate rooms
James is now claiming to have only talked a handful of times to Corey and Nicole
Victor says this season is full of call out.
Jame s- whenever I get on the block I have to top all this sh1t..
Meech comes in..
Paul retells a story about what Corey said about Natalie last week when paulie was on the block blowing up. "Honestly dude she does that shit to everyone she is s***king James d1ck to the top and he's letting this happened"
Paul says Paulie and Corey were in this room.
Meech he denied the Jacuzzi
Natalie – this backdoor better go through I 'm heated..
Paul – she said you guys were pulling you guys into rooms.. do you guys see now who is full of sh1t.
Meech says Corey is now telling them that Paul and Victor wanted to backdoor James it was coming from them last week.
Natalie – if you would have given me the information about the blowjing..
Paul – it's not game related
Natalie – it matters because he's a d1ck
Paul – I thought you already f***g knew that.. didn't you know that.. he's that much of a blowj.
Natalie thought it was Pauli not Corey saying all the comments
Paul saying it was Paulie with Corey right behind him the entire time.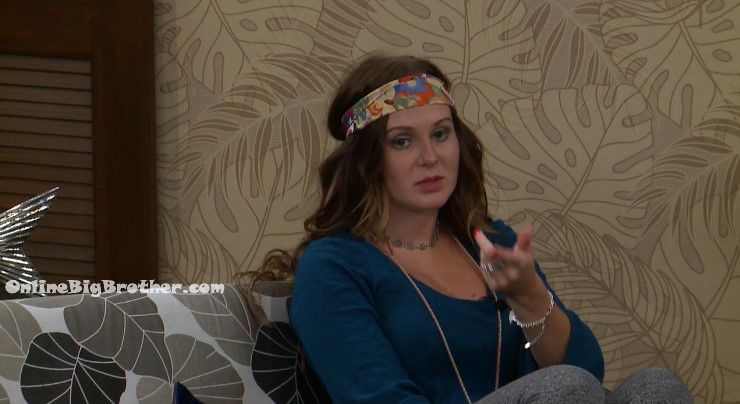 Natalie – I made a mistake today
James says they have to focus on winning the POV
Michelle – live feeders I know what you are thinking you're welcome
Vic says he never said the date was the reason he was on the block he said the date comment helped.
Natalie says she's winning the veto tomorrow and using it to get Corey nominated. "I'm going to pull off whatever.. whoever gets pulled off is staying.. whoever stays on teh block is staying.. "
Natalie wants Corey out now.. .
Paul – Guys please try your best tomorrow.
Michelle – we will dude
Paul – cause I am, hopefully this is open your eyes up..
James – ok guys so the game plan is we win the veto tomorrow pull down somebody we put Corey up end of story..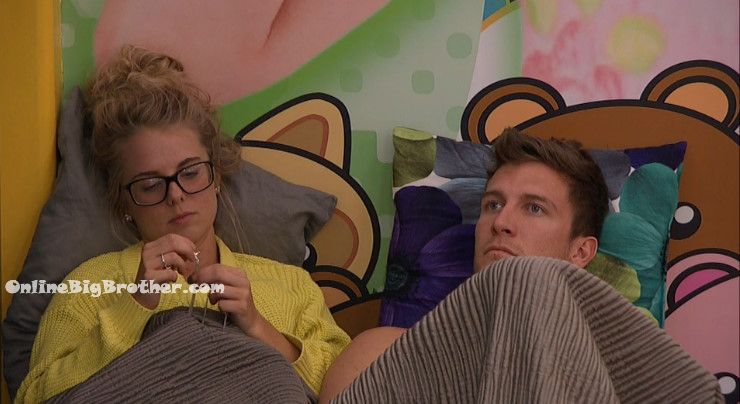 1:35am Corey and Nicole Tokyo room
Nicole is saying they are probably going to be the renom this week she thinks it'll be her not Corey. This will keep the target on Paul/Vic
Nicole says it's James feeding paul everything this is where it's all coming from.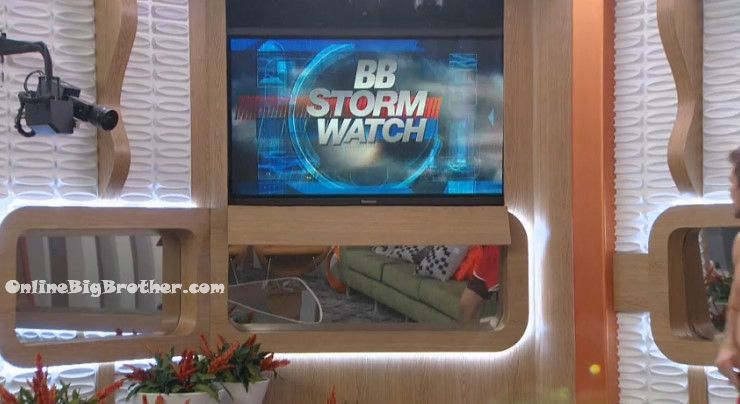 Big brother comes over the speakers STORM WATCH
1:40am This is a BB storm update..
They all start running down to the living room
Meech – shit veto .. it's the memory one
Natalie – I don't have a bra on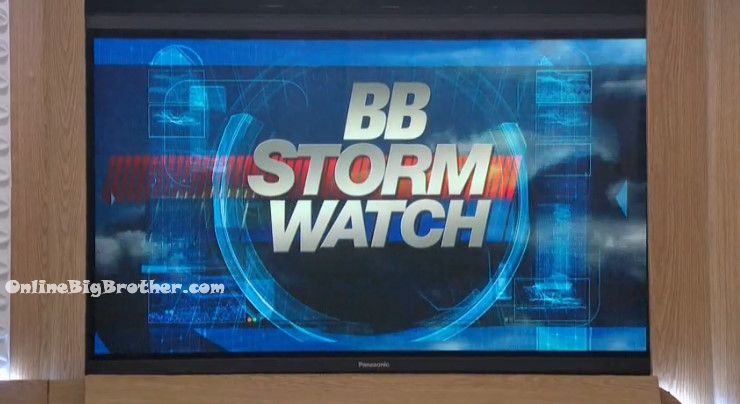 (Throughout the night they are getting 'Storm updates' which will be part of the POV on Saturday.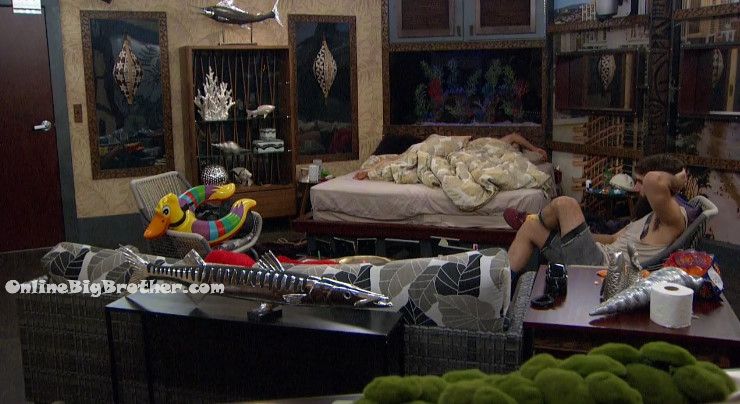 It's 6:44am at and they are still getting updates each update is for a evicted houseguets. Paul is still studying them like crazy. Michelle and Victor are up helping. everyone else is sleeping but wake for the storm updates. It sounds like the plan is to backdoor Corey hard to tell (Nat,Vic,Paul,James,Meech) all seem to be together again having studied all night.
As of 6:50am Pual is the only one up reciting all the Storm updates. Sounds like he has them all to memory and is going over them while Vicotr, Michelle and Natalie lay around the HOH room 1/2 asleep. You get the odd addition from Vicotr or Meech who are helping out.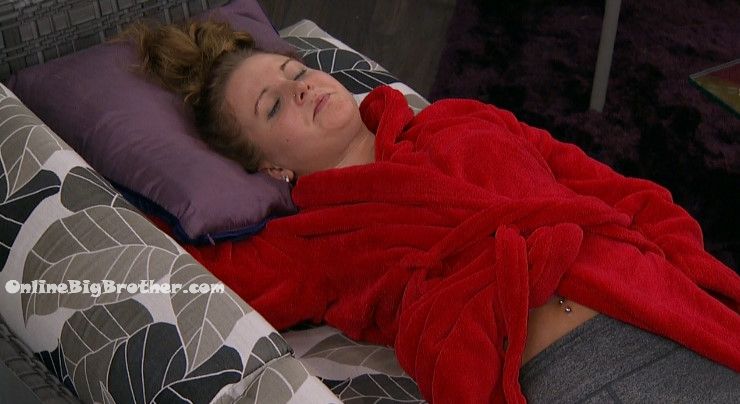 6:52am HOH
Paul – Meech you want to go over it
meech – what part
Paul – all of it from the top
Meech goes over them again..
they are now suggesting sleep
Meech – it's funny Paulie would make Corey and Nicole stay up.. he would be dangerous for this comp.. glad we got him out
7:04am feeds on jeff trivia
[polldaddy poll=9501597]