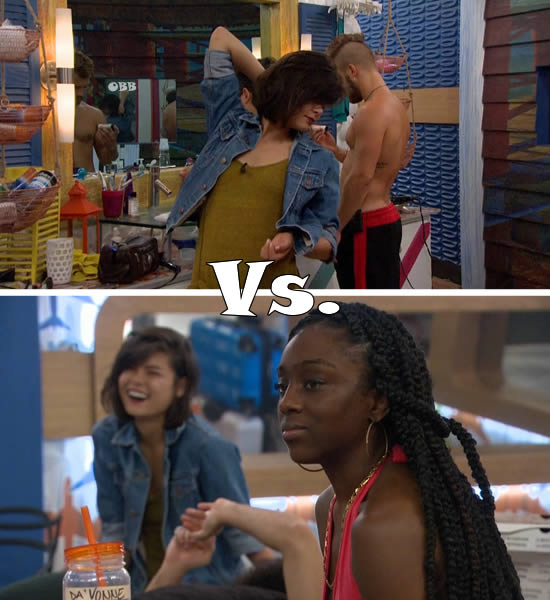 This has probably been the easiest week in terms of game talk. Very light.. Very slow.. Kinda pathetic. The week started off on the heels of a Frank eviction with Paul winning the Head of House hold competition.
The plan from the get go was to Backdoor Da'Vonne. This was an initiative pushed hard by Paulie, Corey, Nicole. Paul said in the beginning he wanted Bridgette out but after being subjected to Paulie's heavy influence he started to see Da'Vonne as the bigger target over Bridgette. Hard to tell how much an influence Paulie had over Paul. Paul is now fully tied to the Bros (Corey, Victor, paulie) so getting Da'Vonne out benefits the bros more than getting Bridgette out.
From before the nominations took place Da'Vonne was the backdoor target. Paul nominated Paulie and Bridgette. Paulie won the power of Veto and used it on himself. Paul nominated Da'Vonne as the replacement Citing his reasons, She's experienced won't freak out, Bridgette is the target, Paulie is his friend and he went up first.. Etc
They told Da'Vonne to act cool "only want to see how you react".Da'Vonne kept her cool and was told she had the votes to stay. Campaigning was pretty light on both Bridgette and Da'Vonnes part. Zakiyah and Michelle know Da'Vonne is going to be evicted and I can only assume Da'Vonne suspects it as well. Other than complaining in the have nots room Zakiyah and Michelle have done little to change the course of the house. They've isolated themselves and in Zakiyah's place made some bad moves.
The biggest thing that happened this week was the further slide of the Zakiyah and Paulie "Showmance" into the ugly and Natalie winning the care package causing Nicole, Zakyiah and Michelle to get all sour grapes about it.
Sucks that this season has turned into a showmance season, Nicole and Corey are ridiculous c'mon nobody wants to see this. Zakiyah and Paulie are f***d and James/Natalie are getting hard to watch period.
Some of the showmance links…
Paulie and Zakiyah here , Here
Paulie being a douche to her here , after which she says she's done with him.
Zakiyah back to being all over him here, here and here . .
Paulie, Paul, Victor and Corey have a real potential to bro win this season. Even with the umpteen million twists floating around.
Predicted results
Da'Vonne is evicted by a vote of 6-2
Da'Vonne has the roundtrip ticket comes back in losses HOH which is won by a bro who in turn nominates Da'Vonne and Zakiyah
Results from the Show
On the episode they did a segment on Paul's family / friend. Paul's mom said that Paul said if he wins she's getting her Bentley.
Paulie votes to evict: DaVonne
Michelle votes to evict: Bridgette
Zakiyah vote to evict: Bridgette
Natalie votes to evict: DaVonne
Victor votes to evict: DaVonne
James votes to evict: DaVonne
Corey votes to evict: DaVonne
Nicole votes to evict: DaVonne
Evicted House Guest: DaVonne by a 6 to 2 vote!
On her way out DaVonne whispers to Victor that the others plan is to take him out in the Double Eviction.
Julie Chen opens DaVonne's ticket to reveal a "One way ticket", therefore Davonne will NOT re-enter the house. DaVonne yells "Ya'll lucky!"
DaVonne is the first member of the jury.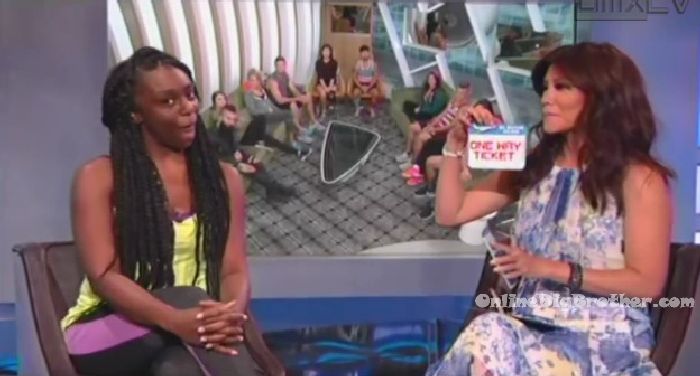 It looks like an endurance HOH competition… hopefully it goes all night!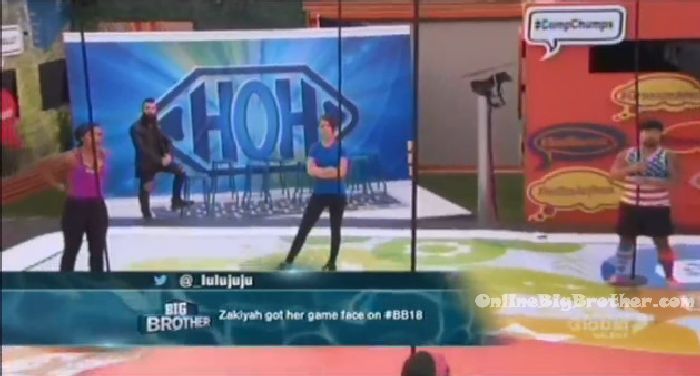 HOH Competition – "Harsh HashTags" – The house guests are lifted into the air and spun around as they are beaten with harsh hashtags. They're allow to kneel down but they can't sit down. The last one standing is the HOH for the week. The first 4 to fall off are havenots for the week.

Internet trolls come out to hit the house guests with hashtag bats.
NEXT WEEK IS A DOUBLE EVICTION!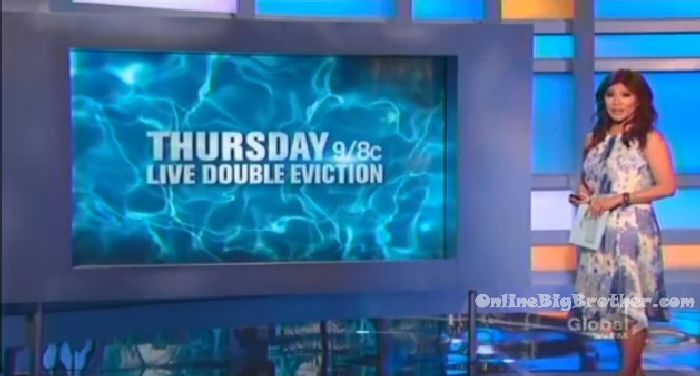 HOH Winner: ?