POV Holder:
?
POV Competition
July 30th
POV Used
?
POV Ceremony
Aug 1st
HOH
Paul
Next HOH
Aug 4th
Original Nominations:
? AND ?
After POV Nominations:
? AND ?
Have Nots
Natalie, Paulie, Corey, Zakiyah
CBS All Access: Live feeds are only $5.99 per month – Try it FREE for 1 WEEK!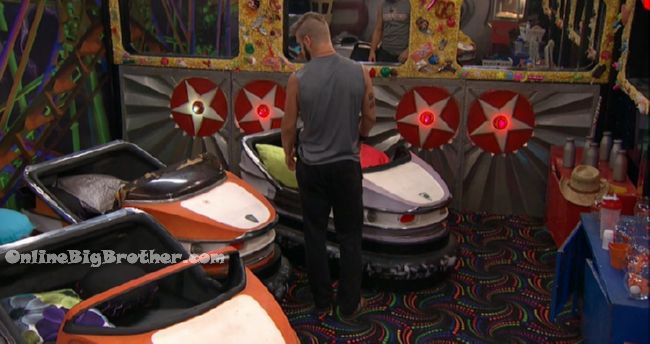 10:53am Paulie and James
Paulie says a lot of people were throwing Natalie's Names out as a pawn last night.
James is pissed by this because other people told him different accuses "them" lying to his face.
Paulie – Paul doesn't want to piss Victor off
Paulie – so I said f*** it I'll do it.
James- Nicole said she told him to put her up
Paulie – she did..
Paulie adds that Nicole was pushing for Natalie to go up instead of her.
Paulie again saying at that point he volunteered to go up.
Paulie – at the end of the day the target is the target (Da'Vonne) and one of us will come down to make that happen. If that doesn't happened unfortunately BRidgette has to go..
Paulie says Corey was also volunteering to go up, "That was a strength and honour move on his part.."
James mentions how Production came over the speakers telling them all to get up, it's not normal.
Paulie thinks it's normal.
Paulie – Paul got a little rattled because Victor told him he's going to get pissed.
Paulie goes over the whole him volunteering to go up on the block so Natalie didn't have to at least 3 times. During one retell he said Nicole told Paul 8 people in the house will be made at him if he doesn't nominate natale. People in general were unsatisfied with Natalie's reasons to stay off the block.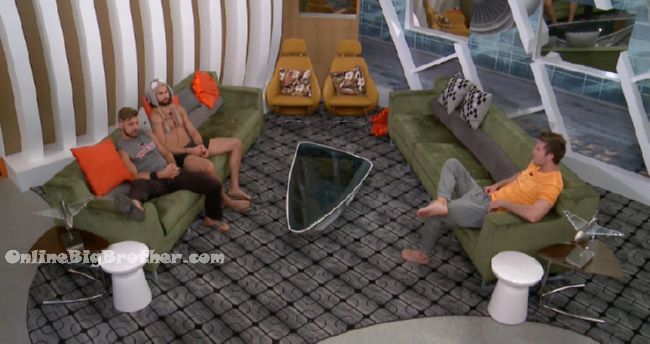 11:10am the houseguests have been told about the care packages.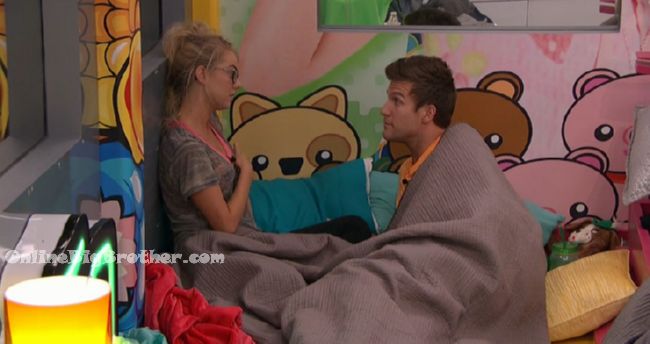 11:14am Nicole and Corey
Nicole thinks Bridgette is going to get the care package because she's got nobody.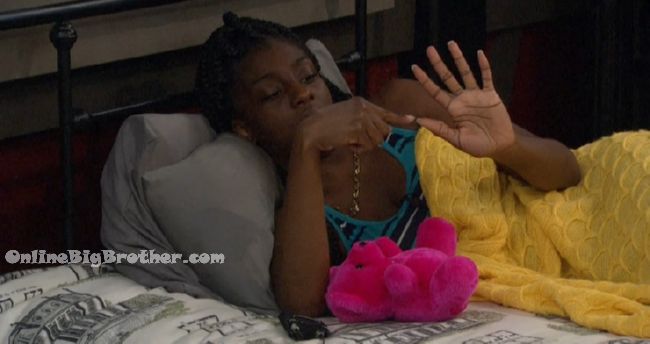 11:22am Da, Meech, james and Paulie
Mad speculation about the care packages. They seem to agree that Bridgette might get the care packages because she's alone and was attached to Frank.
Michelle – I hope they don't like her
James – you got to understand America likes the underdog
Da'Vonne doesn't think Bridgette is a underdog.
Michelle asks if they showed "Frank's nasty side"
Da'Vonne says she talked about it in the "Office" (Diary room)
James – depends on how the edits are
James says he loves his fans.
Da'Vonne is glad she's been in the house longer to collect more fans.
Michelle thinks Nicole got so many fans because her season had Frankie Grande
Da points out being in a showmance collects you more fans
James says if he wins the Diamond power of Veto he'll raise hell and call everyone out on their sh1t.
Da says Zakiyah and PAulei slept upstairs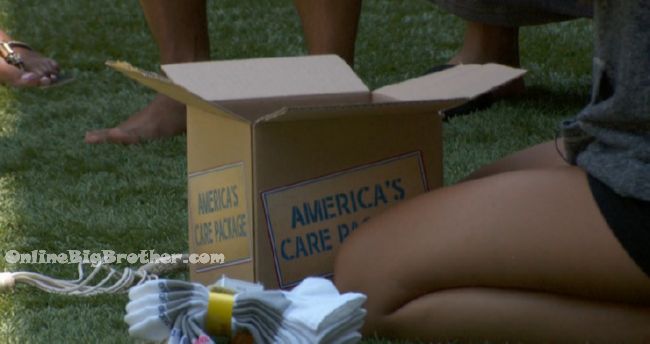 11:53am natalie gets the first care package
"America I love you thank you"
11:56am Tokyo room Michelle, Corey and Nicole
Nicole is super salty that Natalie got the care package. Sounds like Natalie was looking forward to be a have not because she wanted to lose weight.
Nicole – nothing against her but she's not playing the game
Nicole says Natalie and James' showmance is probably getting a cute edit
Michelle says she would have voted Corey to get it
Nicole thinks that would have made sense.
Nicole points out that Natalie "true side" is coming out she talked about prostitutes said the F word and condom ballons.
Nicole just goes on and on about Natalie getting this care package making excuses that her family are holding out for the big things. Theres more important things that they are going to be awarded.
Michelle thinks the house should demand Natalie on the block.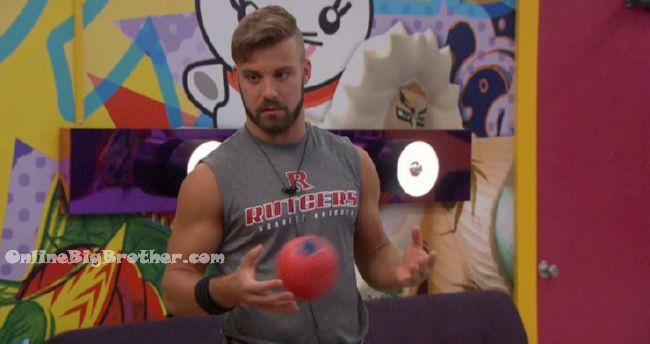 Paulie comes in.
They mock Victory a bit for the sessions he spend in the safari talking to live feed viewers.
Michelle brings up putting Natalie on the block asks if Paul is still cool with it.
Paulie says Zakiyah wants Natalie gone.
Michelle – she's cocky
Nicole – She's changed… She's cocky
Michelle and Nicole pour scorn on Natalie they want her on the block. They don't like her at all.
Paulie is retelling natalie last night campaigning to stay off the block. He mocks her in his retell. Calls her Gina Maire and adds that he warned James
Paulie says the only reason to keep natalie around was for a easy win.
Michelle chimes in that she liked Season 15 other than the racism part.
Michelle wants to pull the 8 people in the house up to the HOH and get natalie on the block.
Michelle – I would rather see her sweat up they're
Paulie says if it was up to him he would put her on the block every week until it's time to clip her..
Paul- take a seat every week you don't have to do anything until it'S time to go him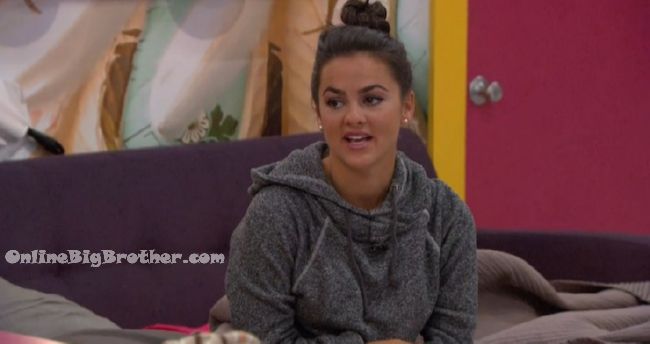 Natalie comes in says she wishes she could Give Corey the have nots pass for a week.
Natalie – if you guys want anything from my care package…
She gets the cold shoulder.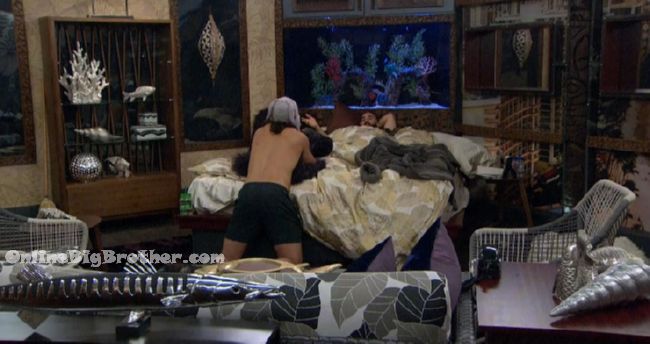 12:22pm Victor and Paul
Victor saying that Paulie is downstairs saying Natalie should be on the block every week
Paul – she literally has done nothing
Victor – all she does is complain about everything get on everyone's nerves.
Paul asks Victor to send Paulie up.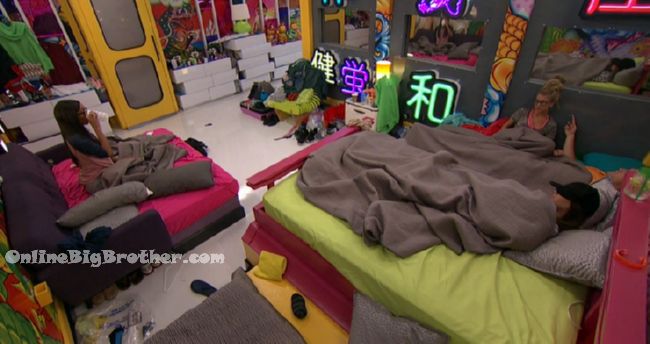 12:30pm Zakiyah, Nicole, Michelle and Corey.
Bitching and complaining about Natalie winning the care package. Zakiyah is going to put Natalie up. (talking shit about Natalie like they did about Bridgette, Frank, Paul, Bronte. When these 3 turn on each that'll get good)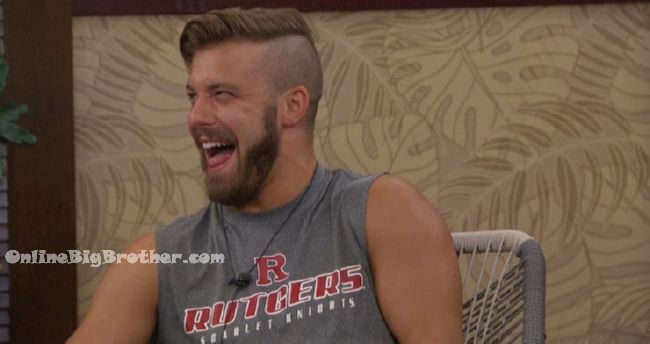 12:31pm HOH Victor, Paulie and Paul
Paulie is saying they should send Natalie home. Victor wants to be the one that does that. Paul tells them Natalie is a waste for his HOH.
Paul – this is a better plan strategically.. it gains the trust of certain people.. Putting Natalie on the block the funniest thing ever does it really do anything. no..
Paul – people don't like her
Paulie says Michelle who HATES Bridgette said she'll put Natalie up (Seriously who doesn't Michelle hate)
Paulie tells them when they were taking Tiffany out he stayed on the block he had zero votes. He keeps saying strategically putting Paulie up is the better play.
Paul wants Paulie to feel 100% comfortable before he goes up on the bloc.
Paul – if I have the power to pin down 2 strong players..
Paul – I would rather get rid of a strong girl this week than one that is useless.. Natalie.. she's absolutely useless.. getting rid of her now with the numbers is useless.. you get rid of a strong girl now
Paulie says the strong girls are: Bridgette Da, Nicole, possible Michelle
Paulie says with 2 girls on the block they control the vote.
After many back and forths Paul wants to stick to the plan Paulie and Bridgette.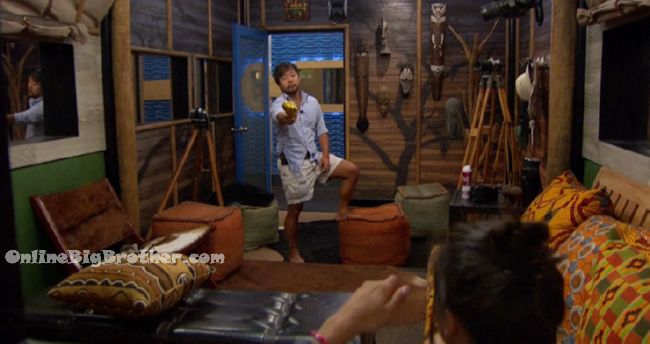 12:45pm James and Natalie
James says that Nicole is trying to get Natalie on teh block.
James – just be careful
Natalie – She's calling me a pawn..
James – just because you go on the block it's not the end of the world.
James – hang in there kid
Natalie – thanks…
James- you're welcome..
James leaves..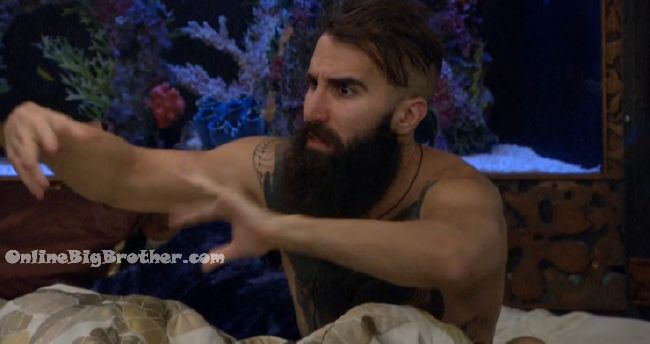 12:48pm
Victor leaves.. Paul complains that Victor is lingering around..
Paul – PP talk
They agree they want to keep Victor deeper in the game let someone on the other sides take him out. Paul is admat a Strong female has to leave this week
Paul – once Da and Bridgette are gone.. never cared.
Paulie says once Da and Nicole are gone the only girl they are threatened by is Michelle.
THey agree Victor can go after Nicole.
Paul says once Da and Bridgette are gone they need to start letting some of the girls win to "Clip" the guys. he doesn't know how that will play out "it's sketchy"
Paul – I love Corey I really do.. I feel James stick to his guns more than Corey
Victor joins them..
Paulie saying if he wins the next HOH he'll put up 2 strong girls.
Victor Is getting pissed that Natalie told everyone he disrespected women.. Victor wants to put Nicole and Natalie
Paul – that's a big move
Victor – I trusted her so much and she shitted on me..
Victor starts talking about all the media attention he got for some things Natalie said about him.
Victor – having to defend yourself for something you didn't do makes you feel like shit..
Paule and Paulie – that's the worst bro…
Victor – hope you learned the lesson hope you learn to talk to women .
Victor – shit her pants when I walked back in the door.. 100%
Paulie – 100%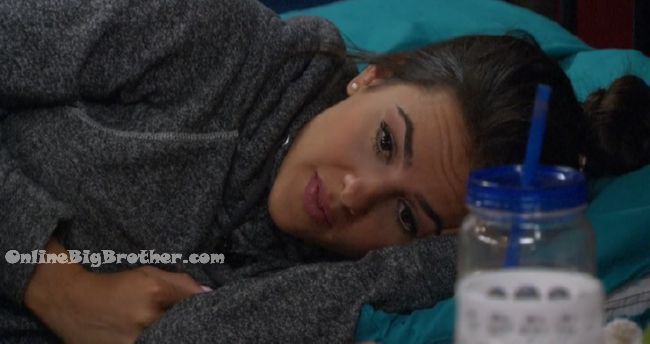 1:00pm Natalie is going grey from the stress..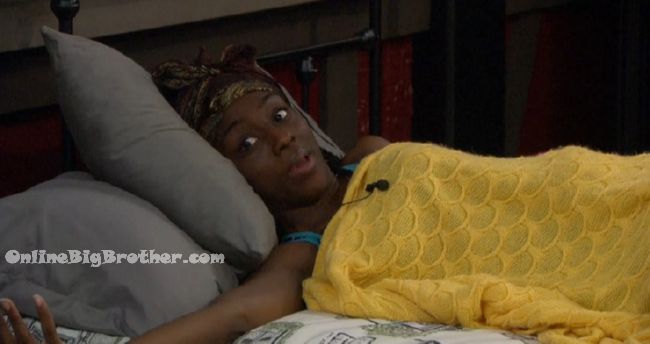 1:12pm Da, James and Natalie London room
Natalie says she was happy she got a package but it seems like other people are mad at her.
Natalie – I genuinely feel happy when good things happen to people
Da says people got jealous. explains the reason why Natalie got that package was because the people watching the show see her as genuine.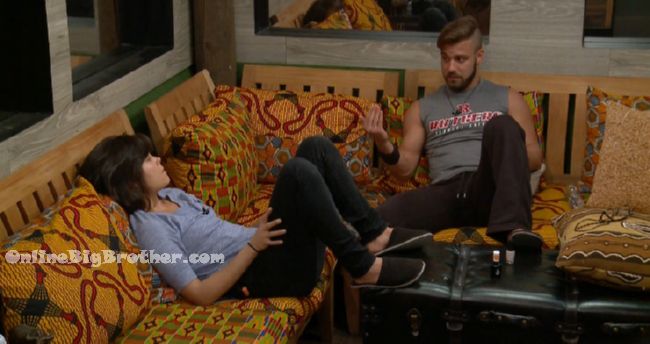 1:20pm Paulie and Bridgette
Paulie tells her she's going up with him, explains to her the plan is to get someone else out. Bridgette and Paulie agree they want Da'Vonne out.
Bridgette figured she'd go up as a pawn because she used him as a pawn.
1:55pm Paulie tells Bridgette he's 100% positive things will go their way this week.
Bridgette says she trusts Paulie side more than the Zakiyah, Da'Vonne, Nciole side.
Bridgette – I feel like those girls are tighter than I give them credit for.
Paulie – if that is the case Zakiyah would be a really good actress.
Bridgette says Michelle Nicole and Zakiyah are really close.
Paulie says Da'Vonne is looking after herself, "She has a kids.. I respect it I would do the same thing…"
Paulie – "People were upset by Natalie's reaction.. she gets sassy.. there's a certain air of confidence"
Bridgette says Natalie doesn't play the game.. points out that Natalie never played the game for a whole week when she was nominated.
Paulie – James can only protect her for so long.. nobody wants to keep her around unless it's for strategy.. for me I want to clip that strategy.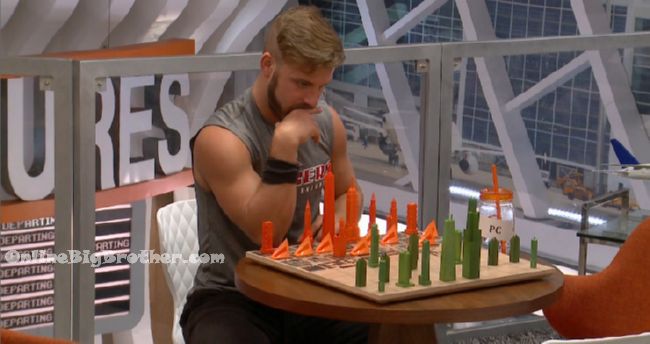 2:30pm
BREAKING…… Paulie plays himself in chess.
2:41pm …….
3:19pm
3:26pm Paulie and Natalie
Paulie says the plan is to use the Veto so they can backdoor "someone".
3:44pm Fruit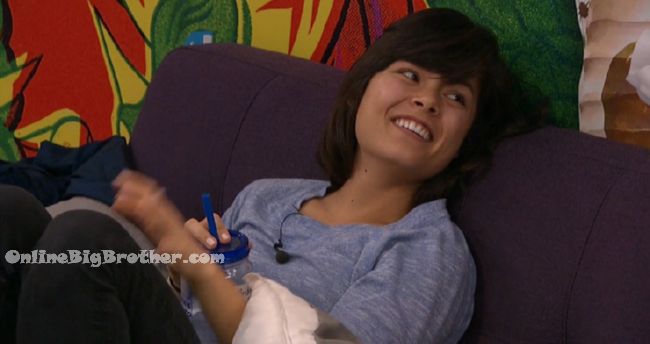 4:05pm Bridgette and Zakiyah
Bridgette is saying this is a Olympic year she year they do extra "Crazy" thinks for this seasons, "What a exciting season to be in"
They speculate about the care package.
Bridgette – It's another fun twist
Zak – ya I'm curios…
Zakiyah – When i started this show I was like I got this I got this.. even when I saw you i'm like She's got this she's got his.. You're quirky
Bridgette says she was star struck.. when she saw Frank.
Zakiyah says she was too.
Zakiyah – I've seen every season since season 4…
Chit chat.. Natalie comes by talks about having rosacea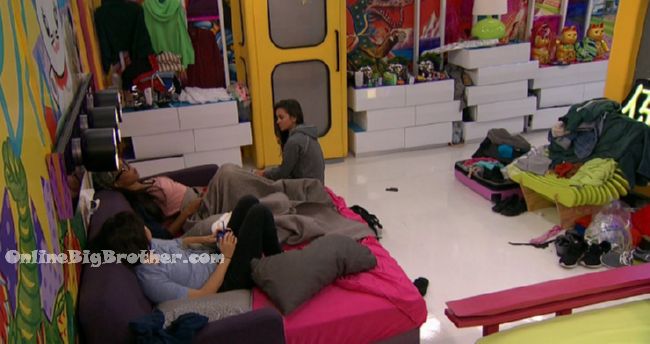 4:26pm Tokyo room Zakiyah, Natalie and Bridgette
There squashing the beef between the Paulie and Natalie touching/massage/etc issues that Zakiyah had.
They bond over Race. Sharing stories of their mixed race backgrounds.
Zakiyah – I love the melting pot
[polldaddy poll=9485811]
[polldaddy poll=9485817]