POV Holder:
?
POV Competition
July 30th
POV Used
?
POV Ceremony
Aug 1st
HOH
Paul
Next HOH
Aug 4th
Original Nominations:
Bridgette AND Paulie
After POV Nominations:
? AND ?
Have Nots
Natalie, Paulie, Corey, Zakiyah
CBS All Access: Live feeds are only $5.99 per month – Try it FREE for 1 WEEK!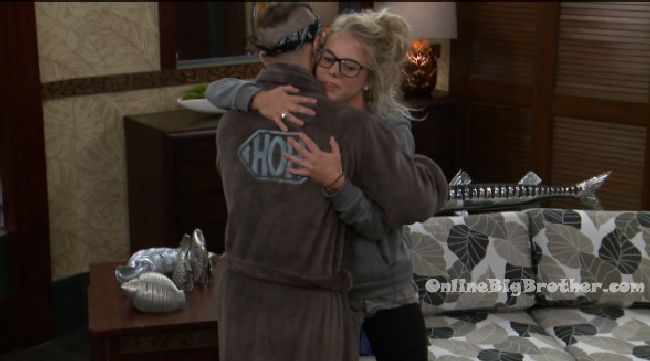 Nominated: Bridgette and Paulie
6:10pm HOH room – Nicole tells Paul thank you! You know I would have done if for you. They hug. Paul says I didn't want you to panic. Nicole says Paulie stepping up like that. I mean I would have done it. The fact that he is cool, calm and collected. Paul says well if I win, I'll pull him off and if he wins he pulls himself off. Everybody wins. Nicole leaves. Vic joins Paul. Paul tells Vic to keep doing what he is doing. Laying low. He says for someone who just came back you're doing great not being a target. Its working, just be careful constantly being by me. Michelle is a paranoid mess. Natalie hates you.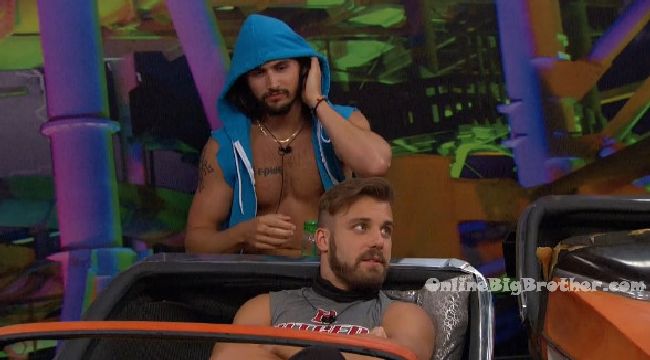 Havenot room – Michelle asks did you see Bridgette's face. Z says yeah she looked disappointed. I'm glad he was so blunt. Michelle says I thought it would have been better. Victor is getting cocky too. Paulie joins them. Michelle says thanks for taking one for the team boy! Paulie says no problem. Nicole joins them. Michelle says at least you can play in the veto and try to win it. Paulie says I know.
6:10pm – 6:35pm HOH room – Bridgette comes up to talk to Paul. Paul says sorry the speech was a little harsh. Bridgette asks if is playing her. Paul says no if I wanted you to go home I would just tell you, you're going home. You're on the block, I'm HOH… why would I fake it. I'm a straight shooter. I wouldn't say you're really a target for other people but they're more worried about how you're going to react after last week. Da is super shaddy. You have Victor, Paulie, Corey and Nicole. All I can tell you is trust me. The way that I set this up .. its going to work. Don't take what I said too hard, its TV. If you trust me things will go the right way. If you don't trust me and get paranoid I can't predict how things will go. My advice to you is lay f**king low… let others become the target. Next week we move forward and work together. I did what I had to do. All I have to say is if I'm up on the block because of any of you guys.. I'm killing all of you. Keep me f**king safe. F**k all of you guys. Bridgette says I think you know where my head is at and who I am going to target. Paul says I'm here to play the F**king game. I like ballsy moves. I like being a pawn. I like making things go. I don't beat around the bush. I don't like being a pu$$y. America likes people that do sh*t. They're like damn these people have balls. And I want to have balls at the end of the day. I don't want to walk out and people be like you were a pu$$y. Or win and be like the Steve guy BB17 that won and was a boring guy. Bridgette asks if I get house guest choice who should I pick? Paul says I think Natalie. She would be easy to beat and the least suspicious.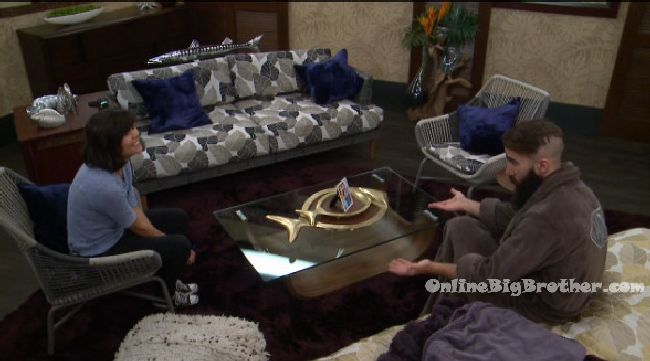 6:40pm – 7:05pm Havenot room – Paulie, Corey, Nicole, James, Michelle, Vic and Paul are chatting about random things and just hanging out. Michelle says if I play and win the veto and take off Paulie … Paul you're putting Natalie up? Vic says anyone that wins will take him off. The talk turns to ecstasy. Michelle says that she took "Molly" once. Is that bad to say? Z asks how did it make you feel. Michelle says it just makes you really social. I don't know if it was real.
6:55pm Bridgette says to herself in the storage room "When in doubt win! When in doubt win! When in doubt win! When in doubt win!" Paul wants some crumbly a$$ peanut butter cookies .. fine!
7:15pm Havenot room – Paul talks to Paulie. Paul says dude PP (Paul & Paulie) is so chilling! I talked to Bridgette upstairs and she said you and Paulie are such straight forward guys. She was like you guys are the best people in this house. She said I don't trust anybody but you two. PP is literally kicking it!!!! Paul says one of us wins I put Home girl up. (DaVonne) Paulie says Meech wants us to put Natalie up …PISSED!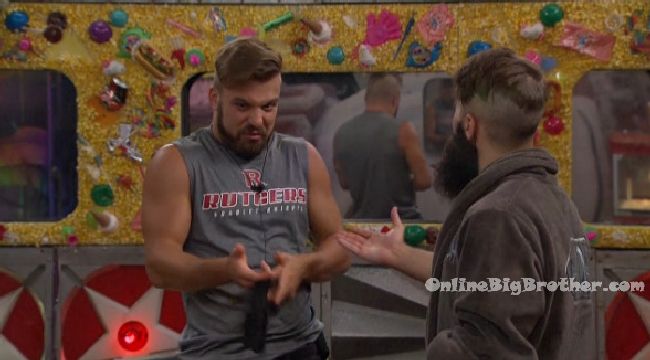 7:30pm – 8:05pm HOH room / Secret Paris Room- Nicole says I kind a like that Frank is gone. He just stirs sh*t up and yells. Like I wouldn't have even been about to eat an avocado today. Do you miss him? Michelle says no. Nicole and Michelle check to see if the secret Paris room is open. It opens up and they go inside. Big Brother tells Nicole to stop that! Nicole asks why, I didn't even do anything. Paulie and Corey join them. Michelle asks who does he (Pau) want out next? Paulie says DaVonne. Paulie says I'm not worried about it. If anything Victor was being a baby about going up. Later I can be like I did it, don't be a b***h.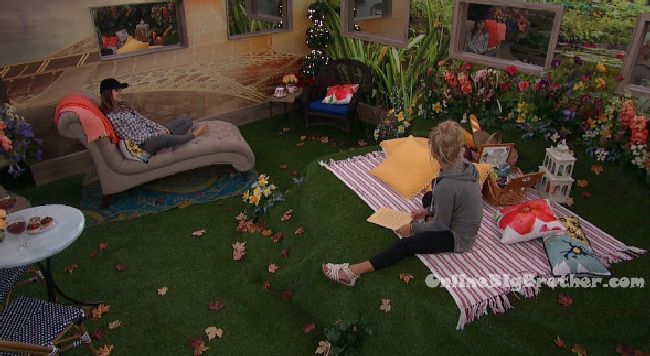 Vic's wet dream@bigbspoilers #bb18 pic.twitter.com/o5ZaAxKc7E

— Dawg (@DawgsBigBrother) July 30, 2016
8:40pm Bathroom – Michelle, Nicole and Z are hanging out.
8:55pm In the kitchen – Paulie, Corey, Natalie, Vic and James. Natalie asks what was your most romantic date? Paul says I took a girl to Italy and London. Ungrateful b***h! ALone in the kitchen – Paulie tells James I'm trying to get people to show their cards. there are a couple people that are playing quiet and coy. They hope its the luxury comp.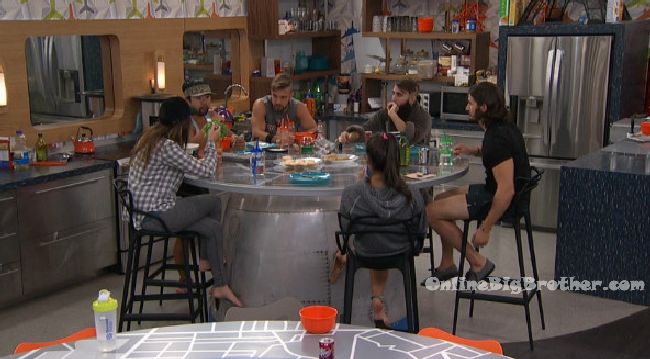 9:25pm Bathroom – Paulie and Corey are talking. Corey says I feel bad for Bridgette. She's in a bad spot. Paulie says she's okay. One of us will pull me down and Da will go up. If not then its unfortunate but she (Bridgette) will have to go home. I know that you, Vic, James and Natalie will vote to keep me. I wants to see how the others vote. How Da and Z specifically act. I am almost positive Z is flipping both sides. Why would she wait until yesterday to tell me that Da has been trying to feed her head with stuff. Like that I'm playing her. Meanwhile she is probably the one feeding into it. Corey asks why does Nicole want Da out so bad? Paulie says I think Da has a lot of information about her that will come out if Da goes on the block.
10pm Safari room – Michelle says Paulie says Da will tell anybody anything to turn them against each other .. because that's her game. Michelle says yeah I'm going to be careful about that now. Paulie says she will definitely try and pry you for information. Michelle asks me? Paulie says anybody. I don't talk to Da about anything. She made up certain sh*t. Michelle asks you still don't trust her? Paulie says not at all. She was talking a lot of sh*t about Nicole. I think she has a lot of stuff on Nicole. Michelle asks what does Nicole have on her? Paulie says we may never find out. If its up to me I would have Da go home because she's said my name too much and all of a sudden when you come to me trying to say stuff about other people as if I'm going to do your dirty work for you … that's when I'm like HHmm. She went to Paul 20 or 30 times yesterday. Michelle asks why? Paulie says to sway nominations. She wanted Nicole up. Michelle says well I trust your judgement. I've got your back whatever you decide to do. Paulie says thanks Meech. If Da goes this week .. then next week we choose between Bridgette and Natalie. Michelle asks do you think Da is trying to get Natalie on her side? Paulie says Da is trying to get everyone on her side. Michelle says we can't let Bridgette get too far either.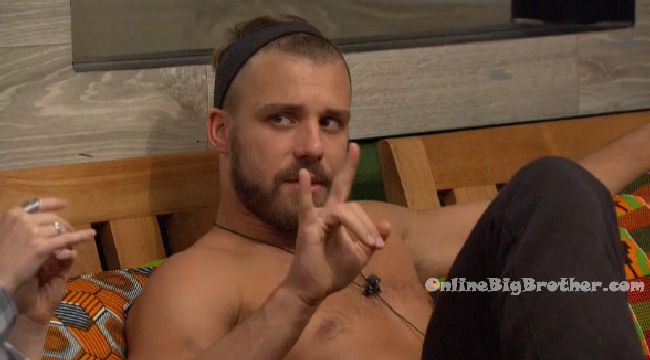 10:25pm Paul asks why do you think Natalie got the first care package? Do you think it was the least. Nicole says I'm sure she's liked. Vic says he thinks the voters wanted to save the better care packages for other people. Z tells Paul I definitely think you will get one. You, Natalie, James, Meech and I don't know who the last one would be.
10:55pm – 11:45pm Safari room – Nicole and Michelle. Nicole asks do people want Da out? Michelle says I think so .. I don't know if its for sure though. Nicole says that's good with me. Michelle asks what does Da have against you? Nicole says I don't know .. whatever Frank said in front of the house. I'm not confrontational. That's why Frank was so mad because Corey and I could have flipped and voted her out. Nicole says all the freaking boys want her out and James too. Nicole says this is all between you and I. Did you not know James wanted her out. Michelle says no. Nicole says shoot. Michelle says I won't say anything. Michelle says I just don't want Bridgette to stay longer than she should. Nicole says if she doesn't go this week they she should go next week. Michelle says I wish we could send 2 people home. Instant Eviction. Nicole says I actually feel bad for Bridgette. She's sleeping in Frank's shirt. That's sad.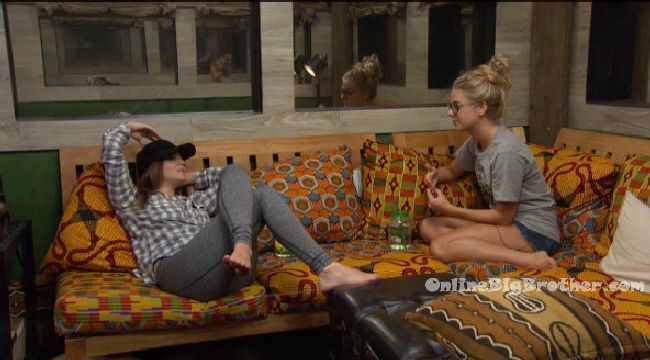 12am Michelle crying because she threw an apple at Paul and now feels bad.
[polldaddy poll=9485811]
[polldaddy poll=9485817]