POV Holder:
?
POV Competition
July 30th
POV Used
?
POV Ceremony
Aug 1st
HOH
?
Next HOH
Aug 4th

1


Original Nominations:
? AND ?
After POV Nominations:
? AND ?
Have Nots
Natalie, Paulie, Corey, Zakiyah
CBS All Access: Live feeds are only $5.99 per month – Try it FREE for 1 WEEK!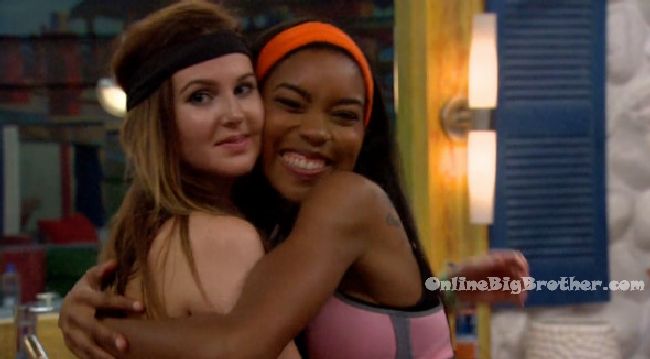 8pm The live feeds return – In the storage room – Natalie says that she really tried but choked. She says now I'm a havenot. Natalie says I better not go up as a pawn. James says Paul wants to send Birdgette home.
In the bathroom – Paul talks about how pumped he is that he won and can't wait to get a letter from his mom. Michelle asks Paul are you ready for people to butt kiss you?! Paul says yeah! In the living room – Nicole, Da and Michelle talk about how fast the comp went.
HOH WINNER: Paul
Havenots: Natalie, Paulie, Corey, Zakiyah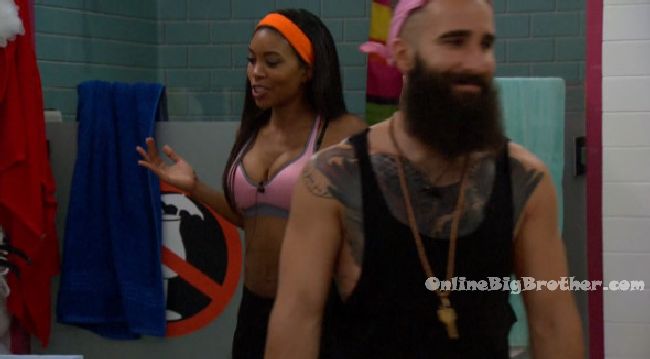 In the storage room –
Corey and Vic congratulate Paul on winning HOH. Pual says I didn't really want to win it considering next week might be a double eviction. Paul says I'm going to want a guy going up as a pawn next to her. I want a guy playing in the veto next to me against her. Vic says I don't feel comfortable going up considering I just came back. Paul says we'll talk about it. Corey doesn't say a word. They leave the room.
Da talks to Paul about how now Nicole is trying to talk to her and being her friend. She hasn't talk to me in a week. I don't want to talk about Frank! Paul says I see it. I see it all. He tells her he doesn't need any help with his decision but will need protection next week if its a double eviction. Da says I've got you.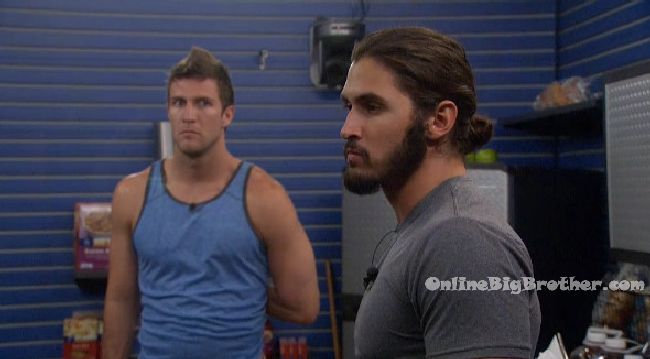 8:50pm In the living room – They talk about how the round trip ticket is only good till August 8th. Michelle says that's only 4 more if there's a double eviction. Corey says I feel like my name will get drawn for the veto comp this week. Paul says I'm excited to do the blog thing. Natalie says I can't wait to find out about your secret. Paul says no secret… just maybe pics of me without a beard or modeling pics. Bridgette asks would you guys consider that a crap shoot (the hoh competition)? Paul says no. (LOL)
London Bedroom – Michelle asks Da do you think she thinks she's going up? Da says Yeah I think she expects it. Or maybe she thinks she has the ticket.
9:30pm Big Meech is sleeping and Da is reading the bible. The house is pretty quiet with most of the house guests in the kitchen eating and chatting about random things. Natalie jokes that James is going to be a havenot with her. James says I'll do it all but the cold shower.
FLASHBACK and watch everything you missed: CBS All Access FREE Trial!
9:45pm – 10:10pm Bedroom – Paulie says that Da has been trying to work hard. He wants to put Vic up. I'm going to tell him we're 5-6 if you put a guy up there you run the risk of losing him. I'm going to push for him to put up Da and Bridgette. I'm just going to be like look bro .. next week Bridgette isn't going to be gunning for you. You can't put Vic up. James joins them. Paulie says I'll be like look bro if she gets a chance she'll (Da) take a shot at us. James says we'll if we can get him to do it. Paulie says Bridgette isn't going to come after any of us. Frank told her to trust us. She's going to go after the girls. I would rather not take out Bridgette because she wants to go after the girls. Da has been pushing him to put up Nicole. Eventually .. realistically we need to cut all the girls. If it wasn't for Frank blowing up his spot we would still be working with him. I think Nicole needs to build a better relationship with Michelle to make sure she doesn't go towards DaVonne. I know for a fact that Nicole would never come after us. Once the numbers get down to it you, me and James decide when to take out Nicole, Natalie, and Z. Paul joins them. Paul says I need you to make sure Vic doesn't go home over her (Bridgette). Paul says he doesn't think the girls would not vote out Bridgette. If I put up Da .. she is going to sh*t her pants. Paulie says I think this would be a good week to get rid of Da. Paul says I guarantee Bridgette isn't going to win POV over one of us. If she does come off, then put Da up. I really need to get Bridgette out. I don't trust her. AND I promised James and Michelle I would get her out and I don't want to go back on it. Paulie says you know who Frank told her (Bridgette) to trust .. me and him (Corey). Paul says I don't trust Frank and I don't trust her. Paulie says the only 3 people that want Bridgette out are Da, Bridgette and Z. Vic joins them. Paul suggests he put up Natalie. If Natalie is up there is no way she goes home. Paulie thinks they can convince James to put up Natalie as a pawn. Bridgette joins them. The conversation turn to talking about the HOH comp.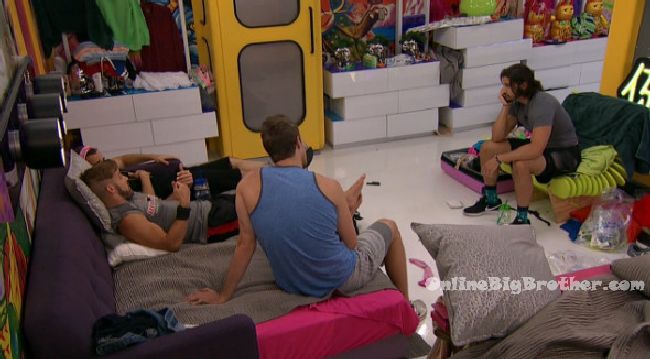 10:20pm Paulie says the best plan is two pawns, no guys and get Da out. Paul joins them. Pualie says I have three options to be the pawn. Da, Z, or Natalie. Paul says I was just mentioning that to them saying that I was a pawn for 3 weeks and put my nuts on the line. Vic says you can narrow it down by who hasn't been on the block yet. Paul says I blew her sh*t up and I don't trust her. Paulie says if it makes you feel better who ever wins HOH next week will put her (Bridgette) up and get her out.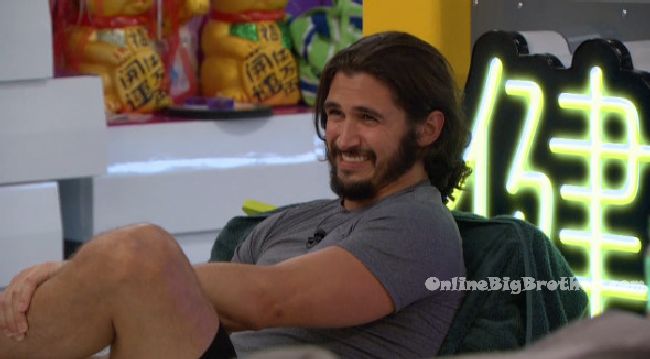 [polldaddy poll=9477458]
[polldaddy poll=9477456]
[polldaddy poll=9477457]