POV Holder:
PAulie
POV Competition
July 30th
POV Used
Yes
POV Ceremony
Aug 1st
HOH
Paul
Next HOH
Aug 4th
Original Nominations:
Bridgette AND Paulie
After POV Nominations:
Bridgette AND Da'Vonne
Have Nots
Natalie, Paulie, Corey, Zakiyah
CBS All Access: Live feeds are only $5.99 per month – Try it FREE for 1 WEEK!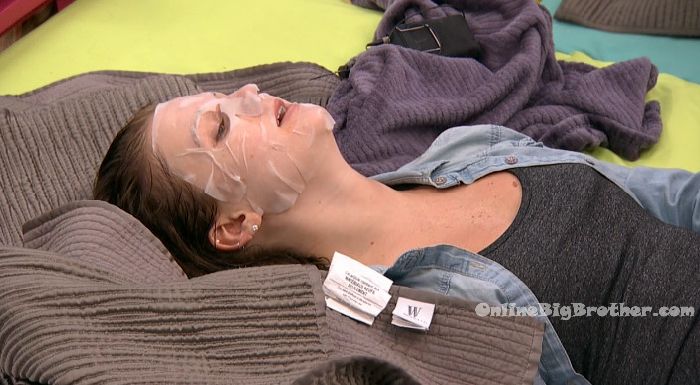 5:20pm – 5:30pm Safari room – James and DaVonne are talking. Da asks I have your vote 100%? James says yeah. I think Natalie will vote that way too. Nicole told me that she (Natalie) was going to veto however I voted. Da says I just wanted to know where your head was at. James says if I catch any word of it, I'll let you know. Da says if you do just let me know so that I can enjoy my last couple days. Da says that Nicole brought up Natalie's name as someone to go up. James says yeah I know I thanked Paul for not putting her up and he said people definitely wanted her up. All I know is I was nominated 3 times now in my season.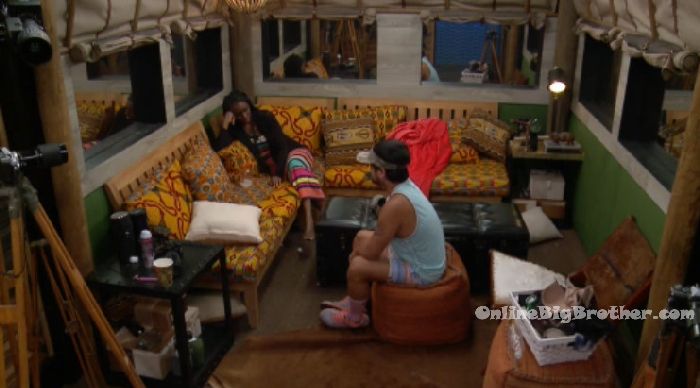 6pm – 6:20pm Paulie and Nicole. Paulie says if he (Vic) doesn't win it, just get him out. There's no reason for him to be here. Every time he has a conversation he wants to talk game and just talks so loud about it. And if he wins who knows who he would put up. He says different people every time. He keeps asking about an alliance name with the guys… I was thinking of saying we got it. "The executives" and everyone has names within it. Like we would call him the "CEO". Nicole says that's hilarious.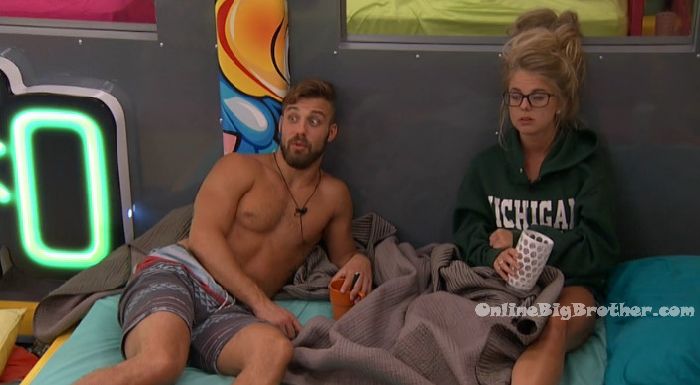 6:30pm – 6:40pm Bedroom – Paulie says The fact that she (Da) tried to say that I was playing you and using you is reason enough for me to want her gone. Her doing that in an indirect way. Z says I know you want her out this week. I know you think she is really really bad for your game. I just want Bridgette out. Vic and Michelle join them and the conversation ends.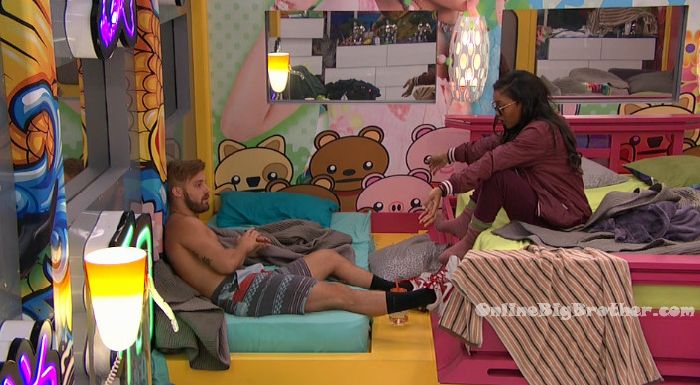 6:50pm Bathroom – Da asks are you feeling nervous? Z says yeah, I just don't know who I can trust. Da asks what did he (Paulie) say? Z says nothing. That's the problem. Da asks has that been going on long? Z says just today. Da says its been really weird this week ever since I got put up on the block. And either he (Paul) knows, or they're doing it behind their back. Which I don't understand because my whole thing was just talk. Da says I don't think they're plotting against you. I think they're just not telling you. Like they'll come to you after and say they couldn't tell you because of how close you were to me. Z says if that's true they I'm going to play this game like Rachel Reilly and play it on my own. Da says I've seen them having lots of conversations with Nicole .. so if you feel some sort of way about her don't voice it.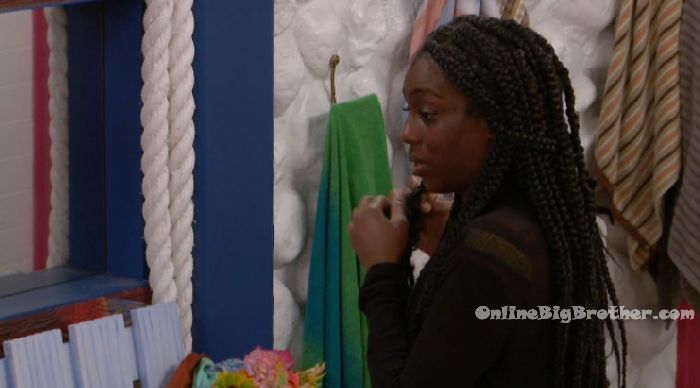 7pm – 7:25pm Bedroom – Da & James. Da says I think they are going to try and take a swing at me. James asks how do you know? Da says I keep walking up on conversations and they shut up.. they didn't before I go put up on the block. I walked up on Nicole and Paulie. Vic and Bridgette. Nicole and Corey. I just wish someone would tell me. James asks do you want me to find out? I'll just ask them, they will probably tell me. I'll just tell them I'm on board. They'll be like I didn't know you were on board but sure!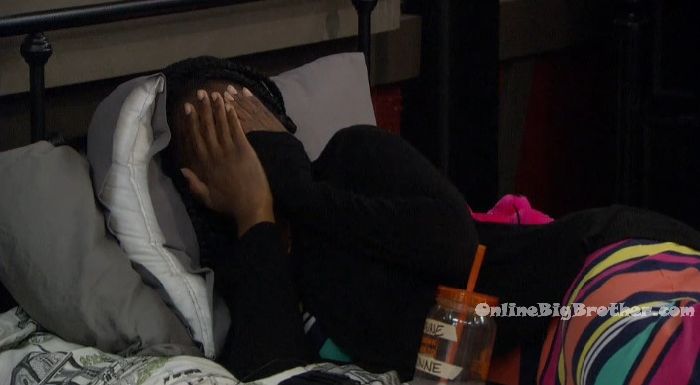 7:35pm – 8pm
Z is crying to Nicole about how Paulie doesn't talk to her. He makes me feel insecure about things. It hurts my feelings. Am I doing something wrong?! I can never put a finger on Paulie.. one minute I can read him and then the next I can't. I just feel in the dark. It makes me feel stupid. It just makes me feel alone. Nicole says you're not. People just think you're close to Da. Z says I don't give her information. Nicole says you should have that close relationship with her. She could be a vote for you if you're in the end. You have no reason to not trust me, Paulie or Corey. Z says It just bothers me that he can't talk to me. Like just f**king talk to me.. I'm a straight shooter. There's no reason why we can't get up and talk. I'm not against him. Nicole says he says great things about you. Nicole tells Z that she acts tough around him and can't do that. He has your back. You guys need to communicate better. He likes to be very .. like on his time.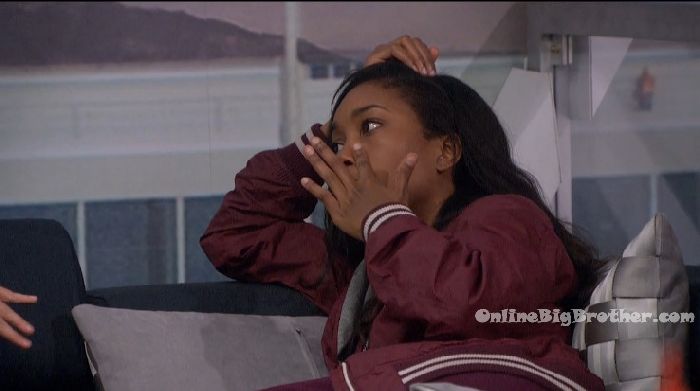 [polldaddy poll=9486231]
[polldaddy poll=9485811]
[polldaddy poll=9485817]