POV Holder:
PAulie
POV Competition
July 30th
POV Used
Yes
POV Ceremony
Aug 1st
HOH
Paul
Next HOH
Aug 4th
Original Nominations:
Bridgette AND Paulie
After POV Nominations:
Bridgette AND Da'Vonne
Have Nots
Natalie, Paulie, Corey, Zakiyah
CBS All Access: Live feeds are only $5.99 per month – Try it FREE for 1 WEEK!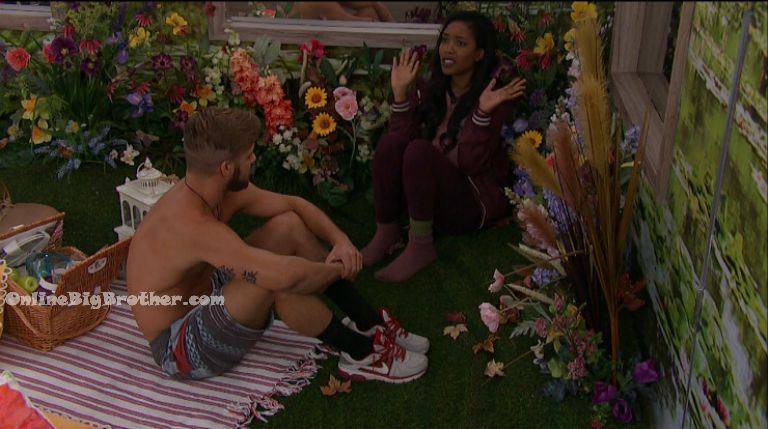 9:01pm Paris room Zakiyah and Paulie
Paulie is acting pissy that Zakiyah lied to him on 2 occasion.. enjoy..
Paulie – I gave you two chances to say information I knew where facts
Zakiyah – about what.. I don't understand why you are doing this to me
Paulie – I trust you 100% I trust the 5..
Paulie – if you want information I give you the information
Zakiyah – I give you information
Paulie – I just put you on the spot for two pieces of information.. You didn't give it me.. Make me feel…
Zakiyah – about what
Paulie -MAKE ME FEEL where is the information I've giving to you actually going..
Zakiyah – about what.. Everything to give me I tell Michelle.. Should I not talk to her..
Zakiyah – you are making me feel like I did something
Paulie – you did do something .. You lied about 2 things..
Zakiyah – can you just tell me flat out
Paulie – I told you is that what Michelle said when she entered the room and I asked you if Michelle was the only person in the room.
Zakiyah – Michelle and me were laying around the bumper cars taking a nap..
Paulie – it wasn't just you and Michelle..
(Michelle said to Zakiyah when she entered the room that Corey, Paulie and Nicole have been spending a lot of time whispering together. James took this and ran up to Paulie with it. Zakiyah later told Paulie that it was Victor that said this not james.)
Paulie wonders where the exclusive information he gives her is going.
Zakiya gets defensive and Cries.. Paulie continues to act like a douche canoe saying she lied to him 2 times.
Paulie – Kinda makes you seem phoney
Zakiyah – WOW…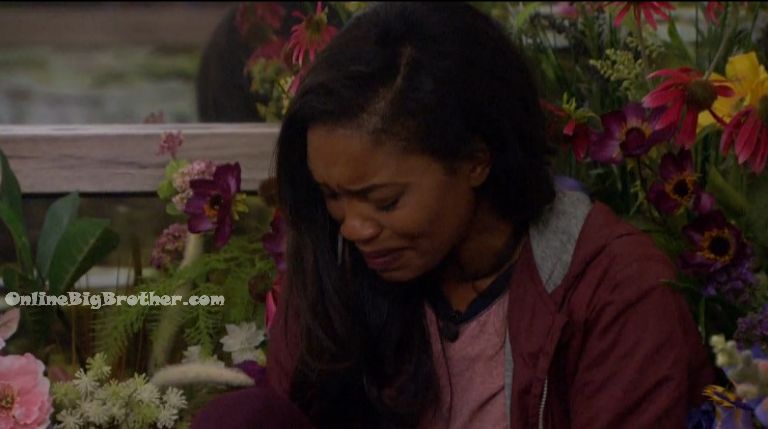 Zakiyah crying..
Zakiyah – you're making me out to be this person i'm not ..
Zakiyah is accusing him of using her for strategy..
Paulie asks if production is putting that in her mind tells her she has to be "Stronger than that.. I had my arms around you all last night"
Zakiyah says he's being cold to her
Paulie – I'm not we're having a conversation .. I'm sorry I'm taken back..
Zakiyah – you're playing the game.
Zakiyah – I'm sorry you felt betrayed
Paulie – again Betrayed a word that was never said…
Paulie gets up and leaves.. "This conversation is over Z … "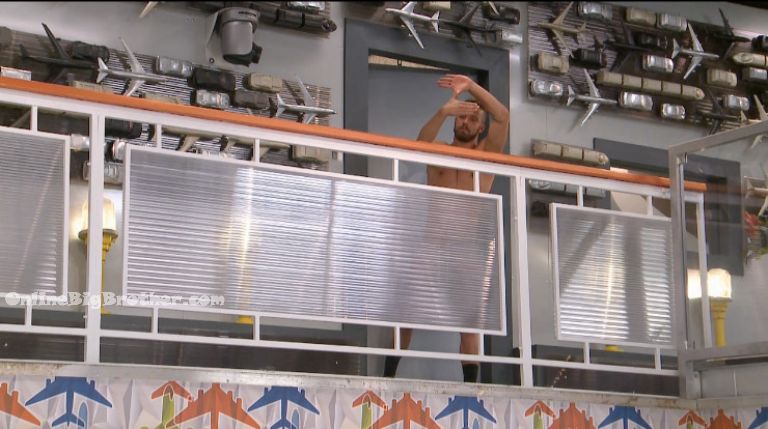 9:22pm Paulie scurries to the HOH to talk to Paul
Paulie – I wake up at 5.. Nicole is talking to me about like.. Da.. Z, Michelle all the f***g sh1t.. Paulie adds the conversation that Michelle and Zakiyah had in the have nots where they were talking Games and James was in the rooms. PAulie goes on about the information he wuse to tell Zakiyah would get filtered throughout the house.
James comes in says Zakiyah is freaking out.
Paulie – Z is shtitting her pants..
(Paulie goes on and on about all this.. Not enough energy in the sun to follow his thought processes)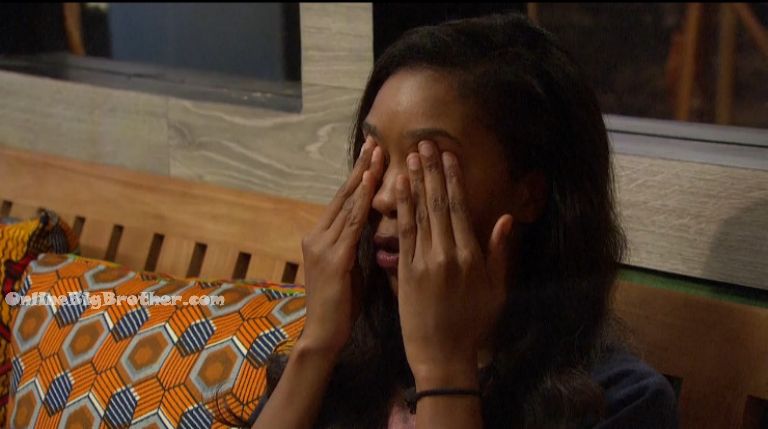 9:32pm Safari room Zakiyah retelling to Nicole..
Zakiyah – it was unresolved.. He basically cut me off..
Zakiyah starts to cry
Nicole – it's hard to deal with boys especially in the house..
Zakiyah says she hasn't felt that way since talking to her ex, "I feel so stupid"
Zakiyah – I'm like why are you being cold.. I know she's separating it but…
Zakiyah crying going on about being sorry didn't know James was in the room.. Etc, "I'm trying to be rational it's one of those things.. Why do you have to be like this you don't have to talk to me like this… "
Zakiyah – I would never betray Paulie.
Zakiyah wonders what James said, "I've never said anything negative to him.. Maybe just we gotta get Natalie out.. "
Zakiyah – I wish I had someone that was functional like Corey is with you..
Zakiyah says after Paulie left the PAris room he went into the HOH she thinks he's talking sh1t about her because the door was locked.
Nicole – Think about your game.. Strategically you have the strongest guys on your side.. Do not left.. Feelsings.. We feel real deep.. We can cry and let it out.. You are strong you need to show you are strong.. You don't want this to get in the way of 500K..
Nicole – he still has your back..
Zakiyah – that's the worst conversation I've had with anybody in a long time.. He walked all over my a$$ he got loud says what he says and I got cut off..
Zakiyah – I felt like a damn kid getting into trouble..
Nicole thinks it's all going to blow over because Paulie and Zakiyah have chemistry that will be they're outside the house.
Zakiyah is wondering what James said to Paulie to turn her and him against each other, "I guess it worked"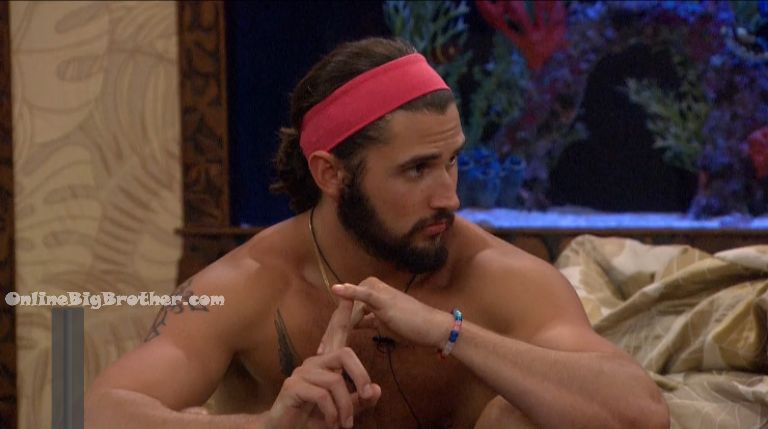 9:48pm Victor and Paulie
Paulie continues the douche canoeing .. explaining the conversation with Zakiyah..
Paulie – I was as like.. There is no reason to lie to me about those things and you did.. I was like Vic told me and James told me.. those are two people i'm not working with. What if they decide to take that information the wrong way they win HOH and put me on the block.
Paulie – I was like.. I was like.. thats not good..
Paulie – I was like so.. I was like.. I was just bringing that to your attention cause that's what I wanted to talk to Michelle about. It's not good you do that around people you don't know we're working with.
Victor – yay ay ay ay
Paulie – I was like.. I asks you how many people in the room twice.. I asked you what Michelle said.. TWICE.. I was like I asked you if the information was 100% that vic told Michelle that and not the other way around.. TWICE..
Paulie – Like I asks you those specific things and i was like the way I did it .. I asked you in the beginning.. one of each and I asked you in the end.. so I gave your brain time to processes it
Paulie – if you didn't know the right answer first it wold have came to you eventually because your brain works on problems it doesn't know to solve them.
Paulie – then I was like .. I asked you again.. and you lied again.
PAulie – she was like I didn't know I didn't know I honestly didn't know.. she was crying..
Victor – She gets caught in a lie and cries about it.
Paul comes in
Victor – Zakiyah is crying downstairs
Paul – good never cared.. Pissed scared.. Never cared.
They decide on a name for their "Guys" alliance they it the executives..
Corey joins them they decide to get Bridgette and Michelle out during the double eviction to eliminate the last few strong girls.
Victor leaves..
Paul – aww thank god..
Paul is worried about Bridgette. They are not worried about Zakiyah very much because of her lack of Competition wins. They think Michelle is going to win so she should go sooner than Zakiyah.
Paul – It'll be funny you put Bridgette and Meech up together.. Bridgette might win put up Zakiyah.. Take your pick..
Paulie – Michelle is two face..
Corey says the girls are trying to flip Natalie.
Corey says he can't stand Zakiyah.. "Just looking at her I'm depressed… like chill out bro.. Who are you.. She gets so mad at Paulie"
They mention how Zakiyah is always looking pissed..
Paulie – there's no doubt in my mind she'll be the first person to talk mad sh1t, throwing my name under the mud.. F** you mother f***er
Paulie – you come out of the DR saying 'you went in'
Feeds cut
Paule – later that night you and I have a f***g argument, i'm so pissed.. Having to be in the DR and i'm yelling at them.. Being like..
Feeds cut..
Paul – Da wanted to punch me in the face because I told her she looks like a black licorice candy..
Paulie – everyone one of those girls except for Nicole and Bridgette take everything personally.
Paul explains it was the dress she was wearing with the white stripe it looks like that black licorice
Corey – I know..
Paulie – This homie (Paul) right here is the furthest thing from a f****g racist..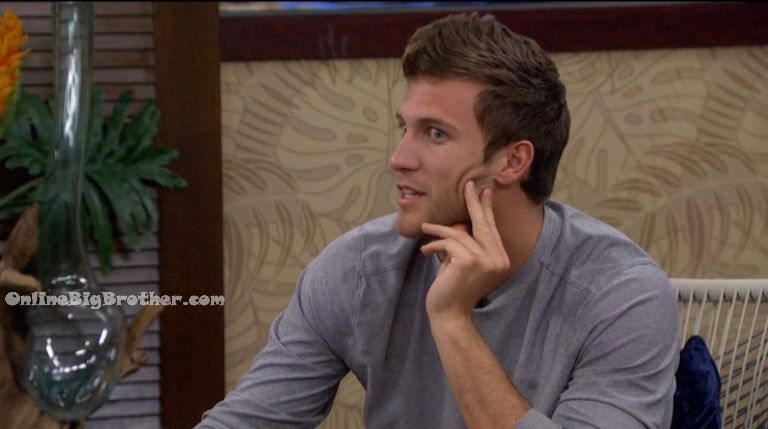 10:29pm
Paul is saying Michelle is going to talk to him tonight.
Paul – I doubt it she doesn't have the b@lls
Paulie – Z hates when Nicole and I talk
Corey – Nicole has never done anything to any to these girls like what did she do
Paulie – Has Natalie done anything to these girls.. Did Bronte do anything to these girls
Corey – No
Paulie – Did Bridgette really other than that thing with the shaved eyebrows… allegedly .
Corey – They are so mean to other girls.. are they not.. they are so mean to people for no reason.. I know for a fake Nicole hasn't done anything to Z..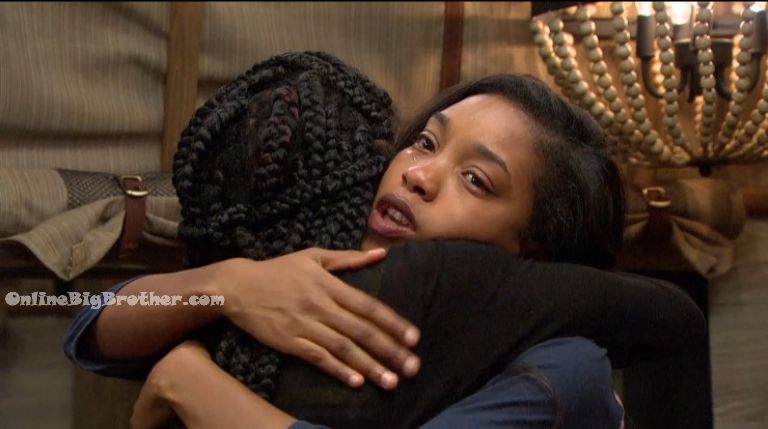 10:16pm Zakiyah and Da'Vonne Safari room
Zakiyah says she doesn't talk much game with Paulie at all, "It's just flirting… "
Da – I told you from the beginning with that (Showmance) Save it until September, I do care for you
Zakiyah – I wish I could rewind.. He doesn't trust me for whatever reason..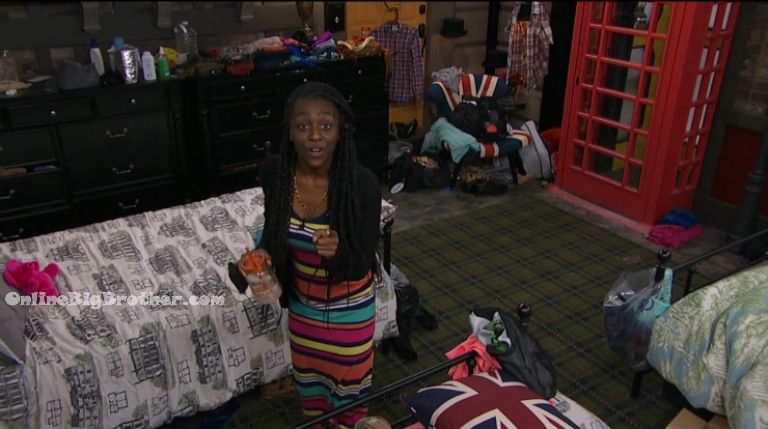 10:26pm Da'Vonne
Dancing around thinking that Zakiyah and PAulie are over and she can use Zakiyah to take out Paulie
Da'Vonne – that's if they don't send my a$$ home this week"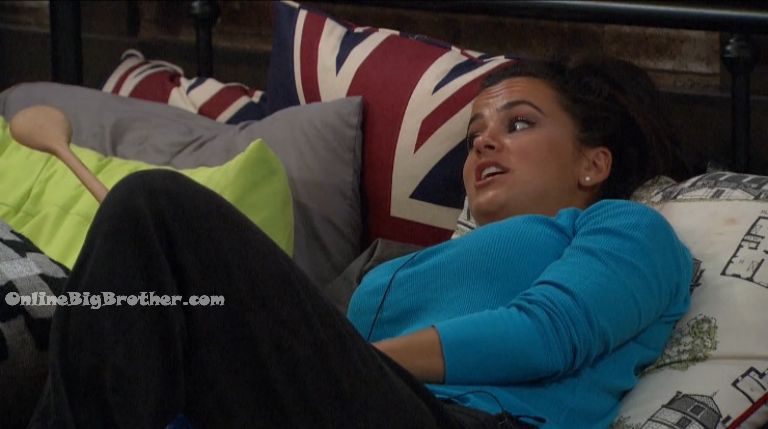 10:33pm London room Natalie and James
Natalie says she's not liking Nicole, "She said.. I have a good point.. da really trusts you a million percent.. Bridgette.. her saying that comment.. there's not f***g saran wrap to cover my pie.. that was directed at you she's never made a comment like that you know.. you don't thin that's weird he didn't say that in front of you or me.. "
Natalie – she should have made that comment that is passive aggressive..
Natalie – what if she wins and puts you on the block.. just letting you know how I feel.
Natalie is saying that Da'Vonne won't put them on the block, "She's going to be crushed"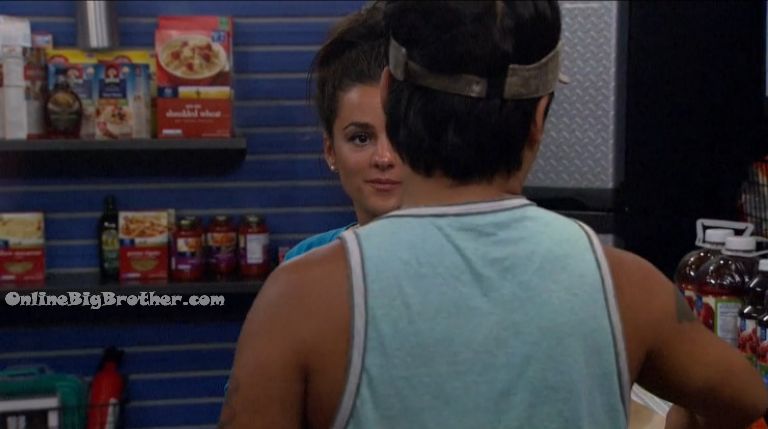 10:41pm Storage room James and Natalie
Natalie – Michelle thinks Da is staying
James is saying Natalie needs to vote with the house they don't have the vote the best they can do is tie it.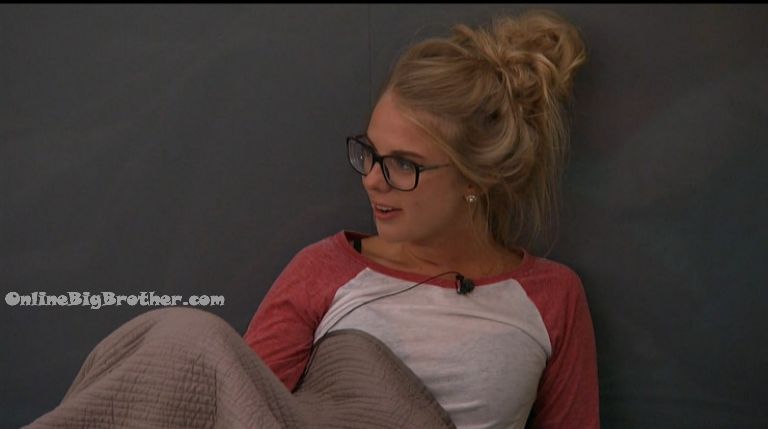 10:50pm Nicole and Natalie
Nicole – Hey Nat.. Who were you guys calling two face
Natalie – I wasn't calling anyone two face..
Nicole – what was that about..
Natalie – I dunno not about you
Nicole – why is this going around the house
Natalie – I mean I never called you two faced.. it wasn't about you.. that's weird.
Nicole – I trust you .. If it's not about me I don't care.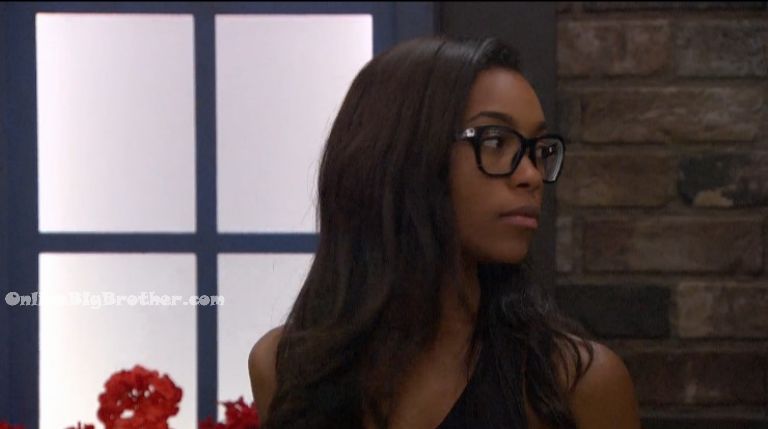 11:00pm London room Zakiyah and Michelle
Michelle – I'm pissed… I don't want anything to do with them.. (Paulie and Paul)
Zakiyah – i'm to the point where I got the Rachel Reilly this thing out ..
Michelle – exactly..
Zakiyah – I felt like shit thought I had to throw up..
Nicole's been shady to me all day she hasn't anything..
Zakiyah you have not idea how shitty I felt.. I felt so shitty.. I've not felt that low in a long time.. only my ex made me fell that bad
Michelle – I got your back no matter what
Zakiyah about Paulie's conversation in the Paris room – What the f*** do you want to know.. why you playing these games
Zakiyah says Paulie is taking James and Victors word over theirs.
Michelle – Victor said it… I hate whispering..
Zakiyah – he truly pissed my life off today
Michelle – whats he doing
Zakiyah – he's playing hide and go seek with everybody
Michelle says he's onto Paulie's sh1t, points out that Victor and Natalie have both noticed Paulie, Corey, Nicole always whispering.
Zakiyah thinks Paulie did this on purpose to remove the emotional attachment they had..
Michelle isn't sure Paul will break the tie in Da'Vonne's favour. Zakiyah hopes Natalie and James sticks to their guns.
Zakiyah saying she's done with Paulie.
Michelle – I don't want to see him win
Zakiyah – I don't either it's not fair at this point.. nope you don't have my vote the other person does by default.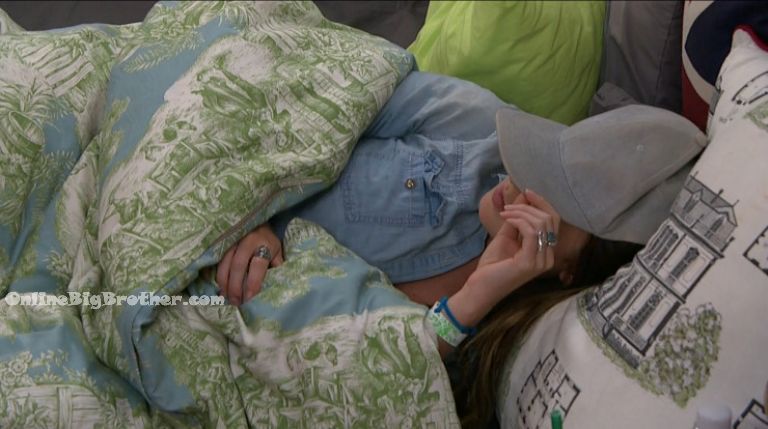 11:28pm Paulie, Zakiyah and Michelle
Michelle says she's tired of everyone's crap and she feels that people are trying to send Da'Vonne out.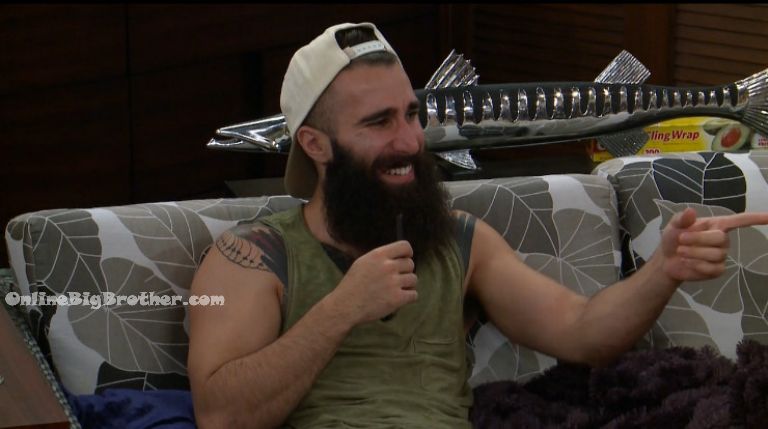 11:50pm HOH Victor, Paul and PAulie
Laughing about the coming blindside.
Victor sarcastically – Man.. I wonder which two votes were for Bridgette..
Paulie brings up the possibility of Da'vonne having the round trip.
Paul – it's a 1 in 11 chance.. less than 10% chance.. who gives a f****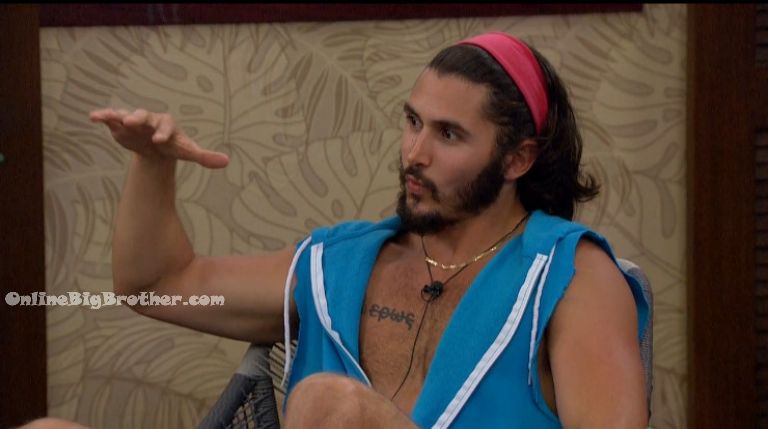 Victor – Da with a vote of 6 to 2
looks right at Michelle whistle.. pretending to drop a bomb

Paul – I'll give you a hundred dollars if you do that
Victor – If I win HOH Z and Michelle are going up.. I still want it for a for sure that Michelle goes home..
Victor – I'm putting this up with Michelle
Victor your childish and immature.. I tried to talk to you about it I tired to say my piece..
Victor continues the act out winning the POV taking the sea shell off the block and nominating Zakiyah..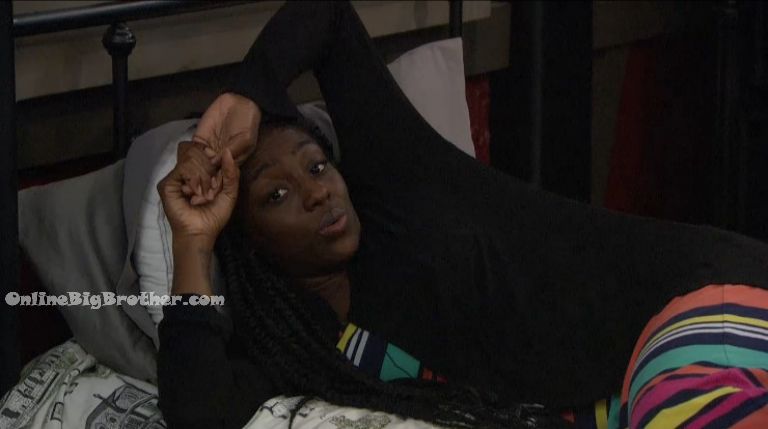 12:15am Da'Vonne and Natalie London room
Da'Vonne says she needs Natalie's vote She's never going to put up James or Natalie.
Natalie about Bridgette – on a personal level we're friends on a game level..
Da'Vonne – I hope being nice doesn't cost me..
Da'Vonne goes on to explain how she gave Bridgette help when she was on the block this is before Da'Vonne was put on. Da'Vonne thinks it was this help that might keep BRidgette this week. (LOL)
this didn't last long..
[polldaddy poll=9486231]
[polldaddy poll=9485811]
[polldaddy poll=9485817]