POV Holder:
PAulie
POV Competition
July 30th
POV Used
?
POV Ceremony
Aug 1st
HOH
Paul
Next HOH
Aug 4th
Original Nominations:
Bridgette AND Paulie
After POV Nominations:
? AND ?
Have Nots
Natalie, Paulie, Corey, Zakiyah
CBS All Access: Live feeds are only $5.99 per month – Try it FREE for 1 WEEK!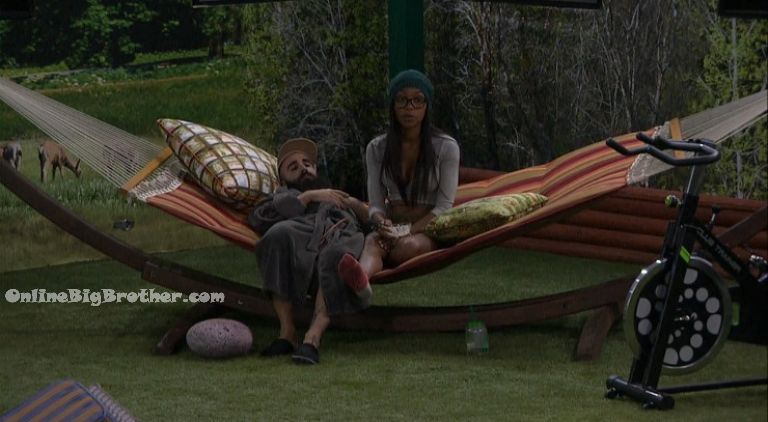 12:03am Paul and Zakiyah
Zakiyah says Victor is going next week.
Zakiyah – I know Paulie wants to put up Da and for her to go home..
Zakiyah wants Bridgette to go this week like the plan was.
Paul – SHe volunteered
Zakiyah – she did
Paul – I know Bridgette is going home.. I've made it very clear on my plan.
Paul says he' sticking with his plan, he can't control what the house does from this point he's just going to do what he said he'll do.
Zakiyah – you meech and Paulie .. .
Paul – Homegirl is getting on my nerves (Natalie )
Zakiyah – she a floater to the max.. I'll put up Natalie and Victor
Paulie joins them, tells them Victor is talking to the feed watchers in the safari room.
Zakiyah – Girls just want you to know Vic is a a$$hole.. He's spoiled..
Paulie – momma's boy..
Paulie calls him a douche.
Zakiyah – his mom gave him everything he wanted
Paul says he wants to put someone up that has experience being on the block, "YOu have literally nothing to worry about"
Paul – Bridgette's been hidden.. Where is she
Zakiyah – she's like a new person
Zakiyah – I need a puppy.. I need some puppy love..
Paulie leaves.. To play pool with Victor
Zakiyah comments on Paulie and Victor having an intense conversation over at the pool table.
Paul says James has never mentioned Victor only just talks about "Nat Nat"
Zakiyah says Victor is saying "technically" he won 5 competitions.
Zakiyah _ i will never vote for you.. I will never vote for you a$$ cause I don't care about you.. The other person wins by default
Paul – his cocky attitude
Paul – He just say stuff.. I'm like Dude you are visibly pissing people off .
Zakiyah – Meech don't care for him..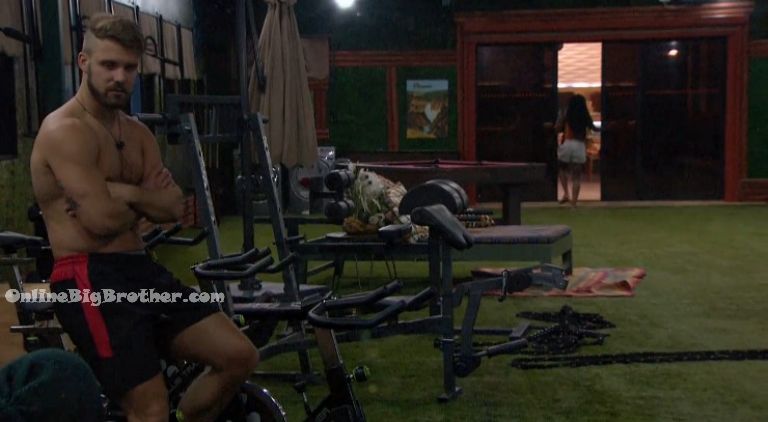 Zakiyah wants PAulie to win the next HOH anyone but Victor and "NAT NAT"
Zakiyah about Natalie – She's a bonafide floater.. She really just wants to be carried throughout this game.. That's not fair.. That's not fair for people like me.. I actually try.. Like TRY . (this is entertaining coming from Zakiyah)
Paul – yeah she doesn't
Zakiyah – she's like ohh I suck at competitions.. (last night z cried for an hour about sucking at competitions)
Zakiyah – at least she keeps her spirits up
Paule – it's working she's been doing sh1t
Zakiyah – GOD GOD GOD GOD.. please I know you are out there somewhere give your girl something i'm not afraid to do some shit..
Zakiyah – give me the power I'll pull the trigger i'm not afraid
Zakiyah about Victor – he think he the shit.. He might not look good on the outside but once you get to know him Oh my god
Paul – trust me I know
Zakiyah – he's going to have a hard time in a relationship.. Girls will be like I feel disrespected you treat me like sh1t..
Zakiyah says Natalie isn't doing anything in the game Claims that at least she' is trying in the competitions.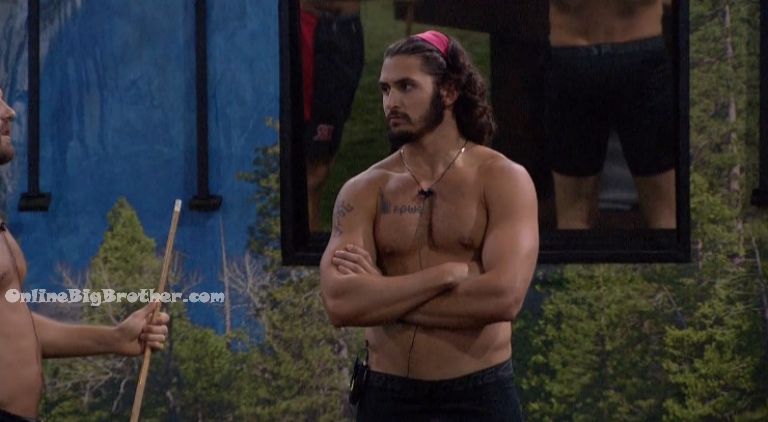 12:18am Paulie and Victor
Victor – when it's 5 guys … whoever wins the HOH.. we litterally have a high possibility..
Victor wants to keep Bridgette around to use to take out some girls from the girls on the other side.
PAulie agrees, "As long as us 5 guys are not on the block we control the votes from here on out"
Paulie says he's worried about Michelle because later in the game competitions become more mental.
This is the reason Victor wants to keep Bridgette to compete in the mental comps.
Paulie says if Bridgette wins before they get a chance to take her out they can get her to put up James.
Victor – agrees. "Me leaving and coming back was the best thing that happened.. I know people don't like me but I'm not their target.. As long as me or my boys com through
Paulie wants that Z is staring at him.. Says if they have the chance to take her out next week they should take it
Victor agrees, "Never cared"
PAulie is nervous that Zakiyah is laying in the hammock trying to get information out of paul
Victor – he's tipsy… but he's stronger than that..
Paulie points out that Tiffany told them about the fatal 5, he saw DA, Nicole, Zakiyah and Michelle in the hammock having a meeting earlier on.
Paulie – that's why we have to take a shot at Da .. we need to take out Michelle, Zakiyah and Bridgette..
Victor – the best part is knowing I can trust you and Paul
Paulie – someone has to win to take a shot at us.. And if they don't they can never take a shot
Paulie – why do you think Da is always avoiding Paul… She knows because someone told her.
Paulie – Nicole has said she wanted Da out but Nicole trusts Z.. I told her don't trust Z..
Paulie – I brought it up to COrey you're close to Nicole and she's got your back
Victor – YOUR BACK
Paulie and Victor are agreeing they can't tell too much information to James and Corey because they can't control how much is given to their girls.
Victor – I was talking to Bridgette today and Bridgette told me Da would be the replacement..
Victor adds that BRidgette wanted him to relay to the guys that she's not coming after them she wants to work with them to get the girls.
Paulie – I believe her.. What if she wins HOH takes out one of the targets.. Tells her once Da leaves the only two girls after you are Zakiyah and Michelle.
Victor – I might be a target but I'm not a target just yet
Paulie starts talking about the Cody. Caleb. Derrick, Frankie alliance winning 95% of the competitions their season (yeah it was the most exciting season ever)
Victor begins up Bridgette telling him Da told her she needs to blow up Nicole's spot to get her on the block
Paulie – that's not going to happen.
They agree da'Vonne is a schemer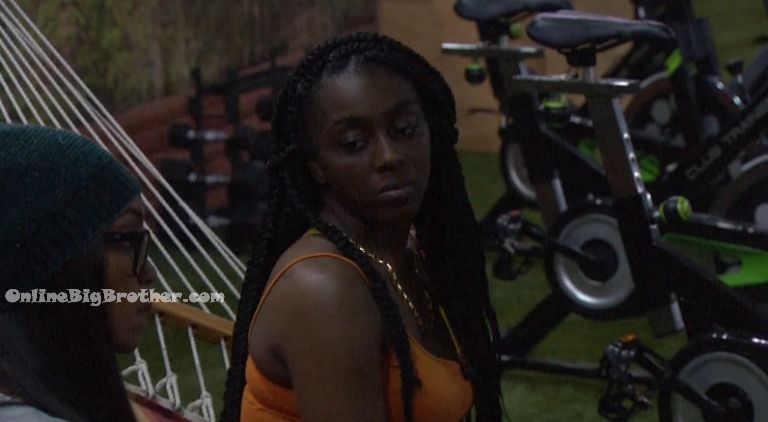 12:30am hammock Zakiyah, DA'Vonne and Paul
Talking about final 3 if you have 2 close friends and a 3rd not so close friend how would that play out. They chat about BB16 how Cody took his close friend. \
Da'Vonne – loyalty is huge to me cause I'm a very loyal person.. In a perfect world I would see us four.. You me, Paulie, James and Meech
PAul – that's the plan
DA'Vonne – in perfect world
Paul e- depends on how we do it.. Theres an order of operation.. This week has gone exactly how it should be.. Smooth as ice.
Da'Vonne -us 4 can make it far.. Then battle it out like family
Paul – I agree..
Da'Vonne – it's fair we got 2 girls and 2 guys
Zakiyah says Natalie should be nominated as the replacement when Paulie comes down, "She's too comfortable;.. Look at her too comfortable"
Da'Vonne – or keep her around and let her to Nicole
Zakiyah called to the Diary room. .
Da'Vonne – we got to start thinking about Jury votes..
Da – i've had a full year to think about this game I wanted some loyal people to have on my side
Paul – agreed.. I haven't had a full year
Paul – I think we let EXEC take the cake next week.. He'll whatever really .. he wants to float with whatever is in power.. Whoever has power.. 100% doesn't want to go against the grain
Da – you don't think he'll take a shot at us
Paul – f** no, no way… he's mentioned "those two" (nicole corey?)
Paul – Homegirls fate is sealed.. I think she knows
Da – She's sleeping a lot (Bridgette)
Paul – on her way out the door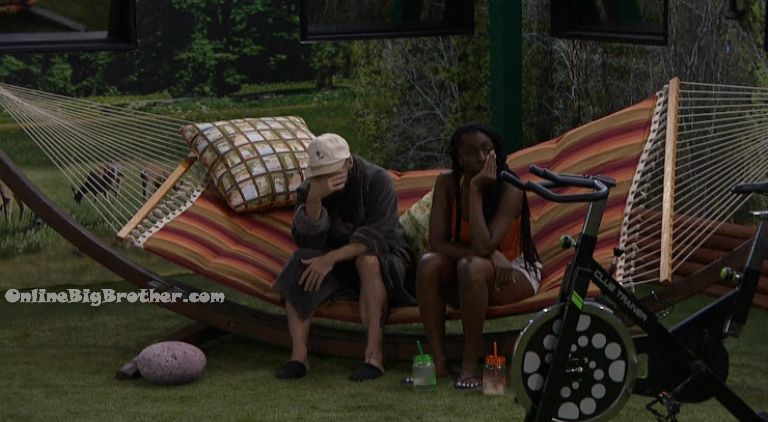 Paul – I don't even know if Paulie will pull himself down, he might he might not it's up to him.. I don't really care..I don't think anybody should care.. It doesn't f***g matter homegirl is going home..
Paul says there is no scenario where people vote to keep Homegirl over anybody else in the house.
Paul – Even goldie and tall boy want her gone…
Da'Vonne is pushing this new alliance (Paulie, Zakiyah, Paul, Michelle, James and her) idea she has planned, "we can control any given sunday and just blast these next weeks just blast"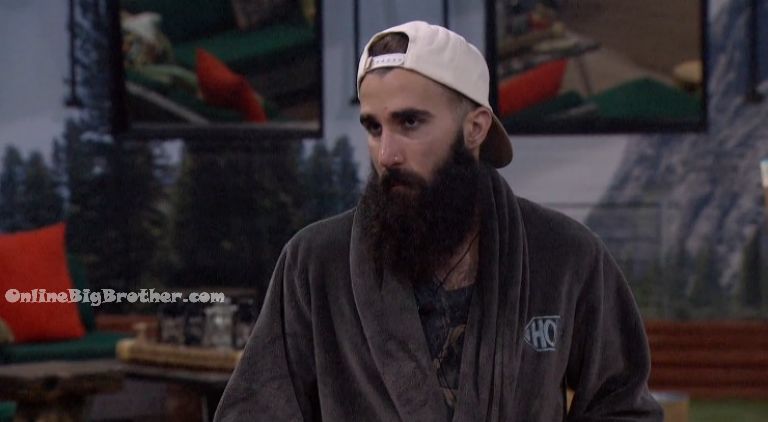 12:45am Pool table Victor and Paulie
Paulie – Paul better not go to sleep.. We need to have a chat..
Paul comes to join them..
Victor with a big smile "So how was the conversation"
Paulie – while you were a sleep those 4 girls, Zakiyah, Nicole, Michelle and Da were out here talking .. all that stuff.. I'm thinking if I didn't win or you didn't win and pull me off they were going to put the votes towards me and try and take a shot and hope that natalie wouldn't vote towards bridgette.
Paul – if I out Da up you positive she gets vote out
Paulie – gone dude..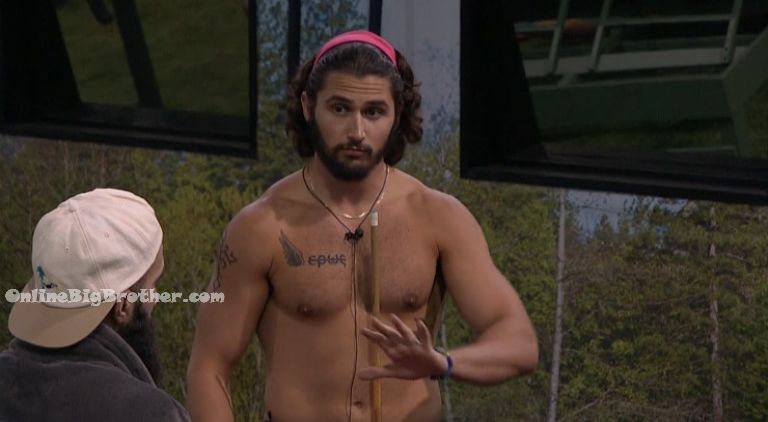 Victor counts the votes.. Victor, Paulie, James, Corey, Nicole
Paulie- and Natalie..
Paulie – it's all the guys and Natalie.. 4 votes and Natalie..
Paul – they are trying to get me to put Natalie up
Paulie – of course they were
Victor – ya
Paul – I'm not going to do that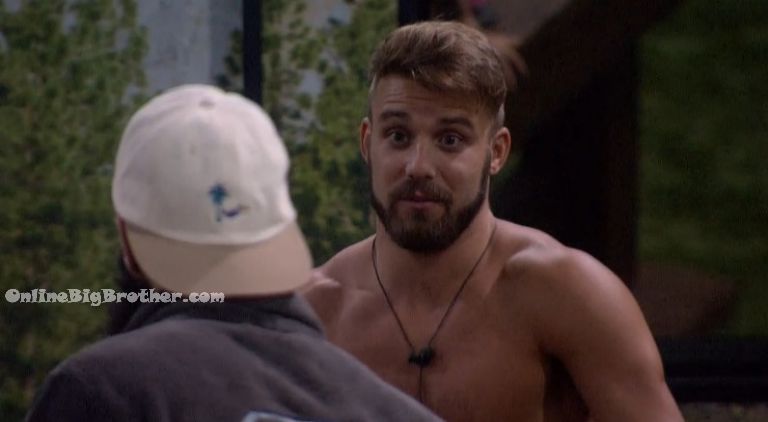 Paulie to Paul -Zakiyah thinks she's smooth she just had a conversation with me saying that we need to take you out
Victor – really ..
Paul – ya
Victor really
Paul – ya, never carried
Victor – she said that
Paulie ya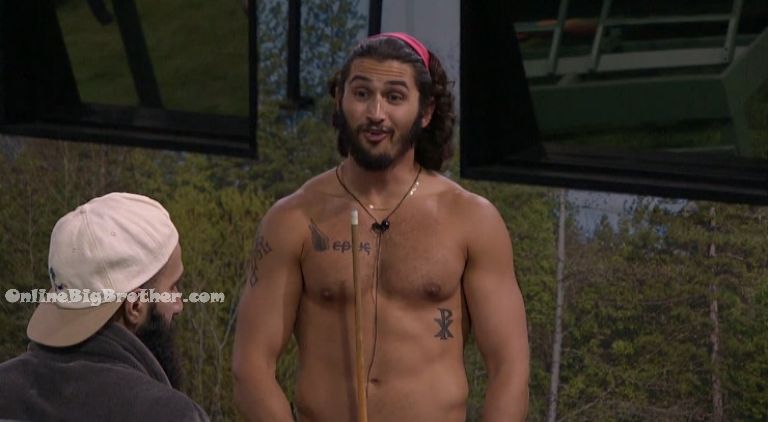 Victor OIOHOHOOHOH OHO ahahah a
Victor says she had a conversation Bridgette and she said Da is trying to get her to badmouth Nicole so she would be the favorite to go up as the replacement.
Paulie – Clip'em
Paul – clip day this week clip Z next week
Paulie – BOOM .. BOOM BOOM
Paulie – f** it never cared
Victor – they can never put us up unless they win something
They are only worried that Bridgette, Michelle and Nicole winning and Bridgette is on their side.
Paulie is going to work on Bridgette to put up Zakiyah and Michelle next week those are the last 2 girls that would be coming for her.
Paul jokes if Bridgette take a swing at him he's going to kill her.
Victor – she won't… if she's as loyal to us as she is to Frank we'll be fine
Paulie – for the time being.. If she doesn't win anything to take a shot we get rid over her
Victor says worst case she's a vote right now which is golden.
Vicote says he's been working Bridgette hard lately roping her in.. "she's really cool with me"
Paul – Da is getting on my nerves and Z is scam
Victor says he wants a name for their group..
Paulie says after they survive the double..
Victor America wants it
Paul leaves…
PAulie says Zakiyah is really scheming now. he use to give actual information early on.
Victor says he use to talk game with Nicole but she stabbed him in the back.
Paulie – guys in here are more loyal than the girls.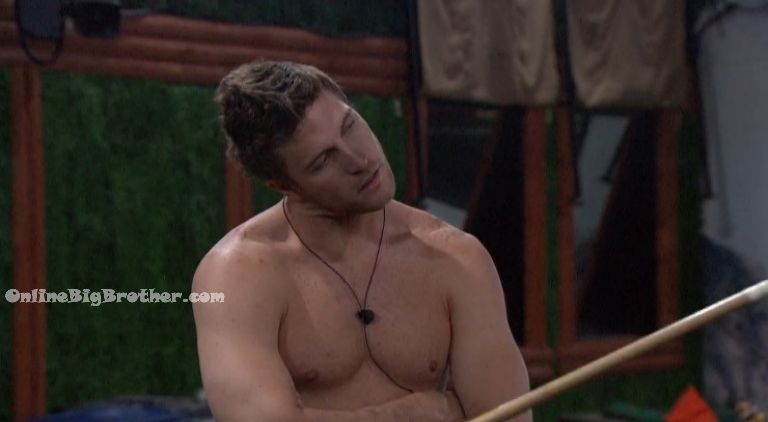 1:03am Backyard Corey, Victor and Paulie
Sleeping in the bumper cares is very hard for Corey he's 6.5.
Corey – that is how it'll be all week.. you score an hour here and there.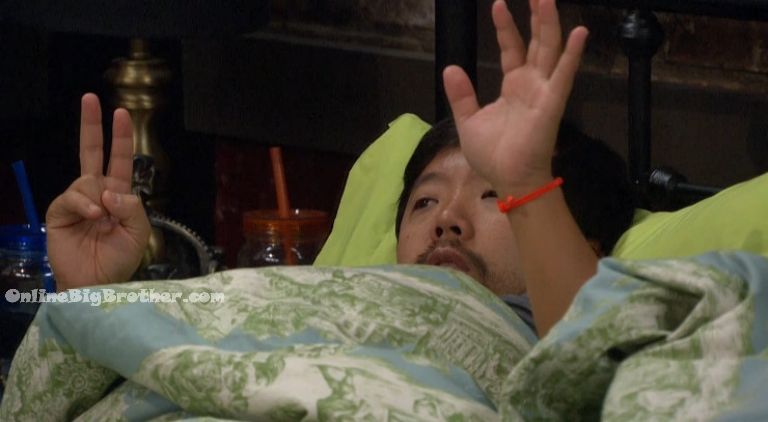 1:21am Da and James London room
Da says from the way Paulie is talking he's not going to use it she heard him say "That way Pal doesn't have blood on his hands"
Da adds that Paul told her everything is set in stone.. but nobody is giving her a definite..
Da – no one is saying a definite they are saying.. Oh ya it's smooth it's set in stone
James- Paul said he would take Bridgette out for me.. so I dunno..
Da'Vonne says she talked to Paul and he wants the final 6 to be Zakiyah, Paulie, Paul, JAmes, Da'Vonne and Michelle.. (LOl it was the other way around)
James – damn
Da'Vonne – once we get to that point me and you needs to just fight them.. it'll be hard but I thin kwe can do it
James – final 6..
Da'Vonne – when did you go out last year..
James- 7, I wold have gone further if it wasn't for those meddling kids.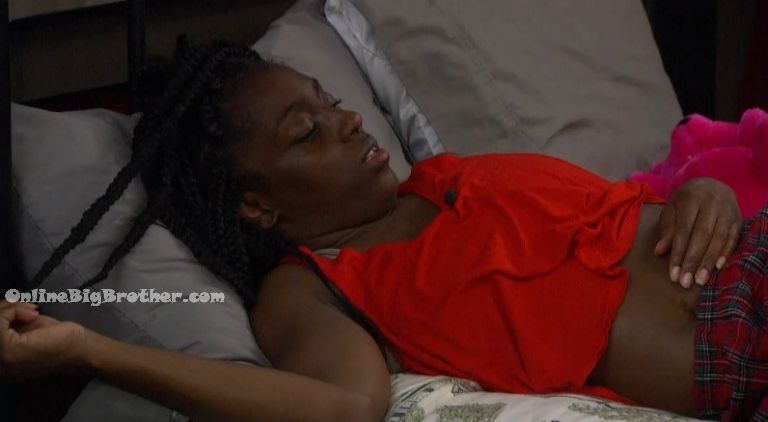 1:34am Zakiyah and Da'Vonne London room
Da – PAulie is going to have a hard time trying to cut Corey.. he really likes him
Zakiyah says she doesn't know Paulie exact relationship are
Zakiyah leaves.. Da'Vonne starts taking to herself says she needs to lay low and just win cops all this strategisng she's doing might not be helping.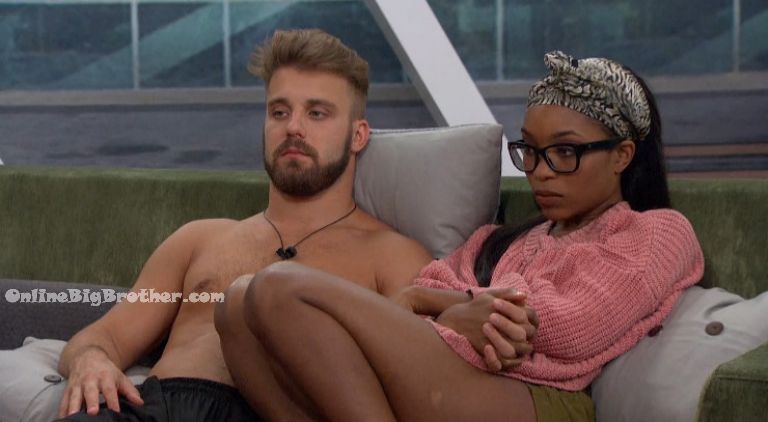 1:55am Living room Zakiyah, PAulie and Vicotr
Chit chat about hair.
Michelle walks by..
Paulie – BIG FOTHA F****G MEECH
Simon – MEEECH
Paulie – alright bumper car bliss here we go..
Paulie – good night yo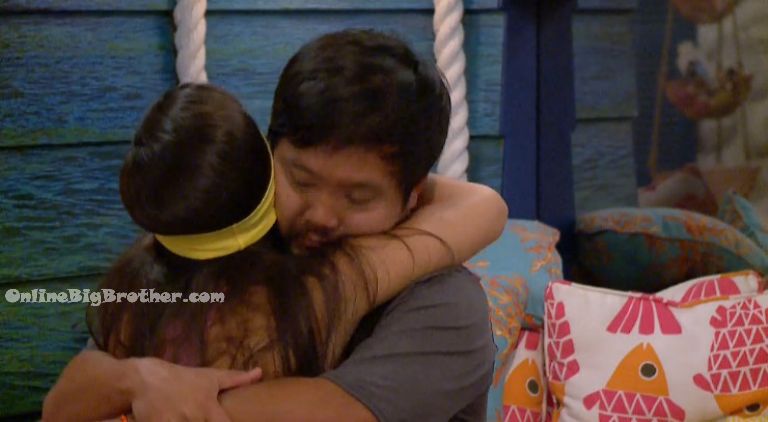 1:55am James and Natalie Bathroom
(James stomach is sore)
Natalie – you ok
James – ya
Natalie – I can get you hot milk.. warm milk and honey
James – sound like it'll tear my stomach up
Natalie- warm water
James – it'll make me poo
Natalie – warm water, Lemon and honey fix you right up
Natalie – you ok
James – Feels like I gotta poop but I don't
they realize the camera is on them
Natalie – Hey America it's me and JAmes here. James doesn't feel good so i'm trying to take care of him he's a little baby boy. ohh Jamezz… ohhh let me make you some warm water..
Michelle walks in
James- BIG MEECH
Natalie – MEECH
Simon MEEEEEECH
James – my tummy hurts.. I ate all that pizza and put Victors taco sauce on it.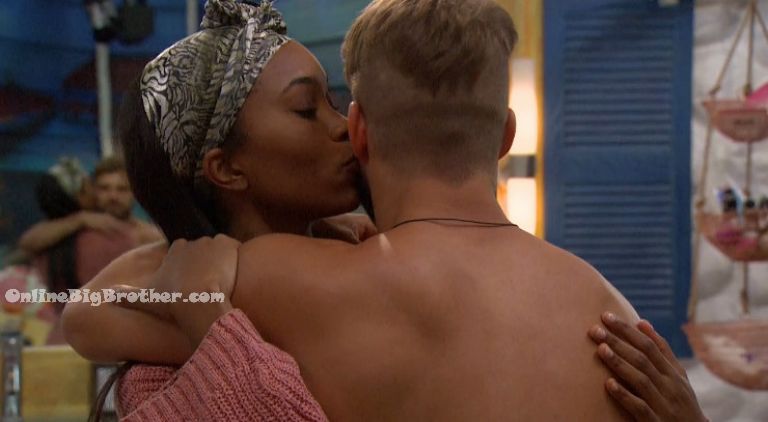 1:59am Zakiyah and Paulie
Paulie grumbling about being in the bumper cars..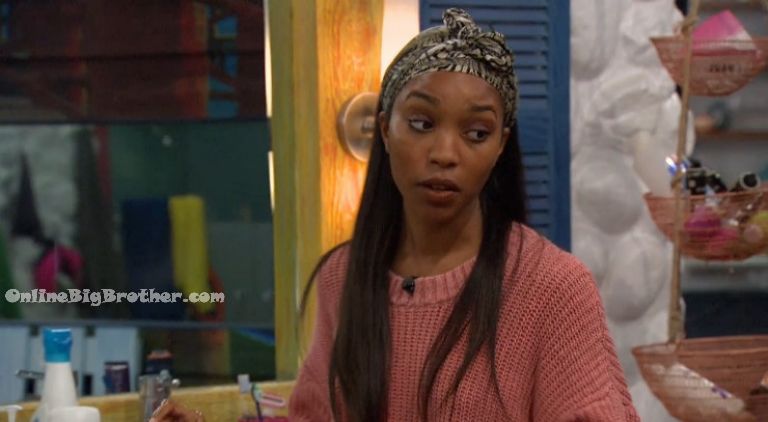 2:01am Bathroom Michelle and Zakiyah
Michelle asks if she knows what Paul is doing
Zakiyah says he's not saying but she thinks he has a plan.
Michelle – you think it's me
Zakiyah says she volunteered today but Paul told her he wanted someone up who is experienced, "I was like ok, OK"
Zakiyah says it'll probably be Natalie or Da she's heard Da volunteered to.
Zakiyah says if Da goes on the block it'll be Bridgette going home.
Michelle – right.. did you talk to him today
Zakiyah – Paul.. yup
Zakiyah says Paul is still sticking with the plan to get Bridgette out, they need 4 votes. it's just up to James and Nicole.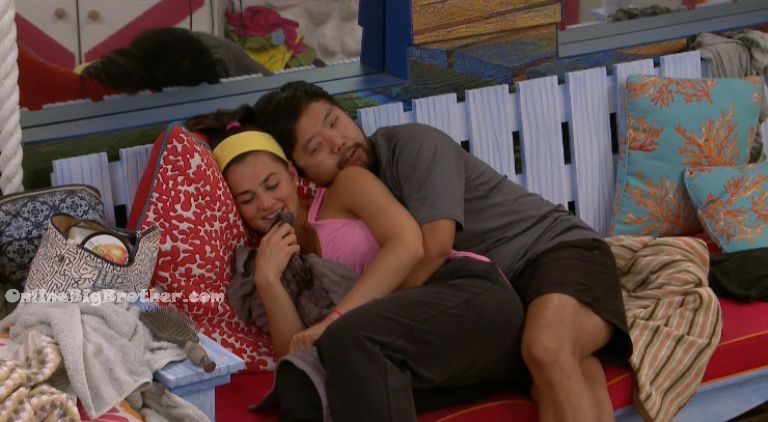 2:17am Natalie and James
Natalie – Am I the first Latin girl you've liked
James- ya
Natalie – I'm half white.. half Italian.. You like blondes..
James- it's not really like that.. all my friends just seem to be blonde..
James – ya, you are the first Latin person
Natalie – I knew it
james- have you ever dated a Asian before
Natalie- White, Black and Spanish..
JAmes- wow
…
James is plotting a prank for PAul
Natalie – He'll put me on the block .. do not get me put on the block please
James laughs says why wouldn't Paul put him on the block
Natalie – cause we're a package deal..
Natalie – I want to go lay down Jamezzz it's late..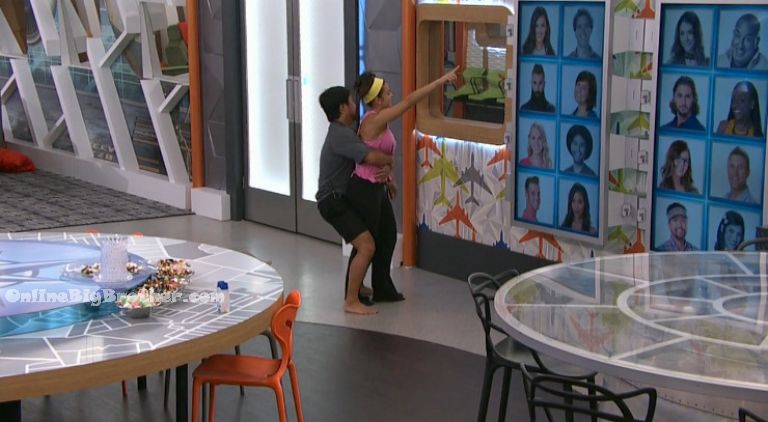 James – you don't stare at the memory wall that's bad juju you never know when the HOH is watching you remember..
Natalie – ohh ya
"u don't stare at the memory wall thats bad juju u never know when the HOH is watching" #BB18 @DawgsBigBrother pic.twitter.com/2ATEKlNKjO

— OnlineBigBrother.com (@bigbspoilers) July 31, 2016