POV Holder:
?
POV Competition
July 30th
POV Used
?
POV Ceremony
Aug 1st
HOH
Paul
Next HOH
Aug 4th
Original Nominations:
Bridgette AND Paulie
After POV Nominations:
? AND ?
Have Nots
Natalie, Paulie, Corey, Zakiyah
CBS All Access: Live feeds are only $5.99 per month – Try it FREE for 1 WEEK!
(Lots of Chit chat for the last couple hours tonight. things don't get started until 2ish)
2:12AM Paulie, Natalie, Meech and Zakiyah
Paulie talking about his brothers instagram and twitter followers says he's got 400K "insta" and 200K twitter.
PAulie – A care package could be anything
Paul comes back from diary room. The girls tried to prank him by putting salt in his water. Natalie tells him he must be parched from being in the Diary room for so long.
Natalie says there's been some flies landing on his food.
Paul – I walked into a 40 person Sh1t, piss, fu*k org*y in Berlin you think i'm worried about a fly landing on my cookie
PAulie – laughs.. Oh gawd another day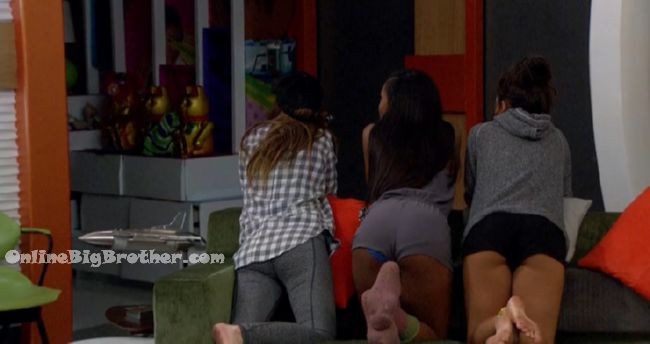 Bevis and Butthead try to pull a preank on James.. They plan to slap an inflated bag to make a bang and wake James up.
2:21am Girls waiting to see the reactions..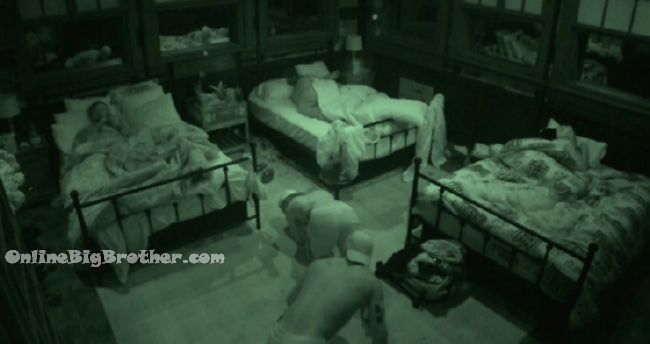 Paulie and Paul creep into the london room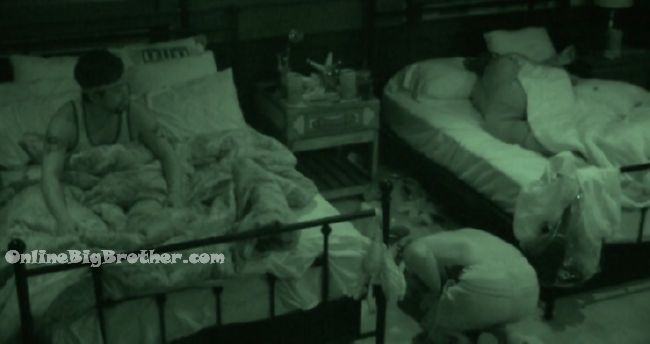 Paulie and Paul can't stop giggling think Beavis and Butt head. They wake up James/Victor… Prank failed..
James – they're so stupid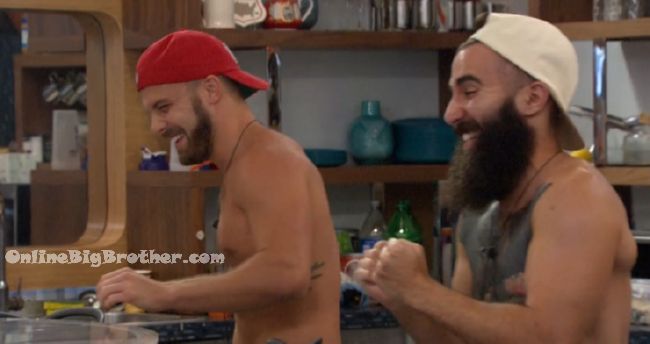 2:26am Beavis and butt figure they will put powder or water in the bag next time..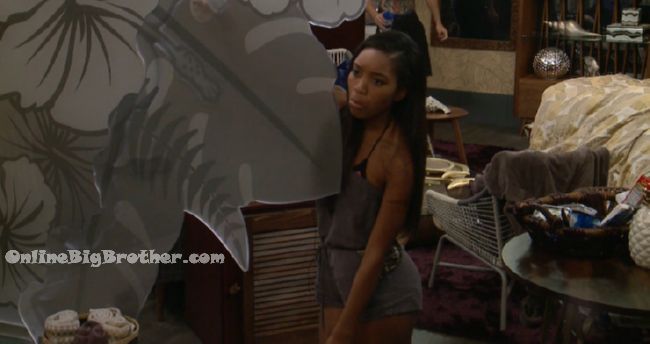 2:30am HOH Paulie and Zakiyah HOH
Zakiyah – you asked me
Paulie – I thought we just decided that.. I'm sleeping up here and you're sleeping downstairs with MEECH
Zakiyah – when did I say that
Paulie- I thought that was going down … I said Paul i'll sleep with you
Zakiyah – that's cool..
Paulie – ok
Zakiyah leaves Paul comes up.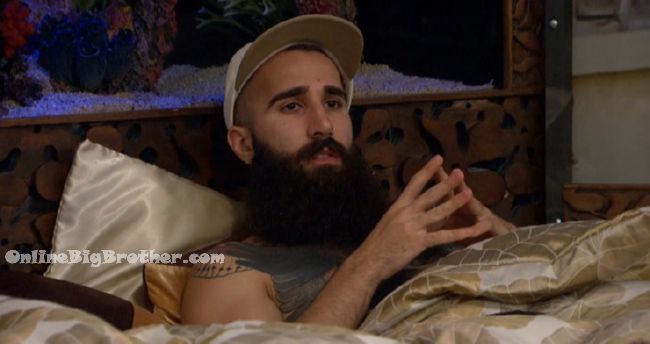 2:31am Paulie and Paul HOH room
Talking about Victor winning HOH and taking a shot at Nicole and james
PAul – Corey ios already pissed off at him.. Same with James.
PAul – we play the good guys
Paulie – it's noticeable to everyone when she's pulling her stuff..
Paulie says with Bridgette on their side they have the numbers over the girls.
Paul – personally Bridgette is the right move but if you want Da going up
Paulie – it would be the smarter move for out bigger alliance.
Paul – I don't want Bridgette to slip under our fingers
Paulie- she won't …
Paulie says if he wins next week he'll put up Bridgette and natalie and let the girls decide.
Paulie says If Corey wins he's putting up Natalie and Victor
Paulie says If James wins he's putting up Bridgette and Victor
Paul – I don't hear PP in any of those
Paulie – If Da is on the block I guarantee she's going home
PAulie talks about a win after he might put up Nicole and Michelle make a big move.
Paul asks about Zakiyah, when does she go up.
Paulie talks about after the Double.
Paulie says he'll put Zakiyah and Michelle up, "I'm not worried about Z winning anything.. The only thing Z has is try to stir things up and talk sh1t"
Paul – when it's all boys.. What do we do then.. We have to clip victor before it's all boys
Paulie – one of the girls has to take the shot or Corey/James take the shot
Paul – lset say we're down to 2 weak girls plus 2 somehow a boy and a girl on the block.. Do we keep the weak girl
Paulie – ya get rid of them… 2 weak girls Zakiyah and Natalie..
Paul – you want to take them that far
Paulie – I don't want to take them that far
Paul – they really do suck at a lot of things.. Zakiyah plays with emotion
Paulie- extreme emotion
Paulie says it will only take 1 conversation to destroy that friendship between Michelle and Zakiyah
Paul is thinking they should get Victor to take a shot at a boy.
Paul – make her happy up until the point you clip her.. Fake it fake it clip her.. Or it could bite yo in the a$$..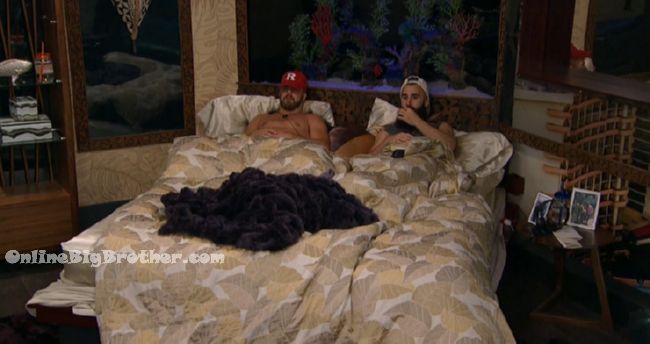 Paul – Nicole and I have a pretty strong trust I don't think she'll put up one of us boys..
Paulie says Victor and Natalie are her nominations
Paul wonders if Nicole will take a shot at James
Paulie says no Bridgette maybe
Paul points out that Frank/Bridgette had a thing with Corey and Nicole he wonders if there's anything left between Corey/Nicole and Bridgette
Paulie doesn't think so.
Paul – In a perfect world Bridgette will leave during the double eviction.
Paulie – Da, Bridgette gone.. Two strong girls .. If Bridgette won she'll go after Nicole.
PAulie – I want to clip Z 100%, because now when she does this sh1t it f***s with my social game , she puts everybody in a uncomfortable mood .. when she does that sh1t it makes all the f*** girls be like OHHH what do we do…
PAul – fake it until you try and clip her
Paulie is going to try and win HOH and put Bridgette and Z up, "Never cared"
Paul – that's awesome
Paulie – Never cared
Pauli e- she's acting like how girls act with boys I don't deal with girls I deal with women
Paul – it's petty.. I told you about that from the beginning.. She could use that sh1t against you it could f*** stuff up in the long run
Paul – when it comes to clipping dudes… Vic will be that guy.. We'll use his erratic loose cannon behavior to our advantage..
Paul wants to use Vic to make that move then get rid of him immediately so it doesn't "Spit ball" back at them
Paul – it's getting close man.. If we get through these next 2 weeks and it's in our favour we'll coast to the end for sure
Paulie agree..
Paul – I think we're good bro.. Let me turn off the lights… PP
Paulie – legendary … PP
Paulie – don't even care..
Paul – F***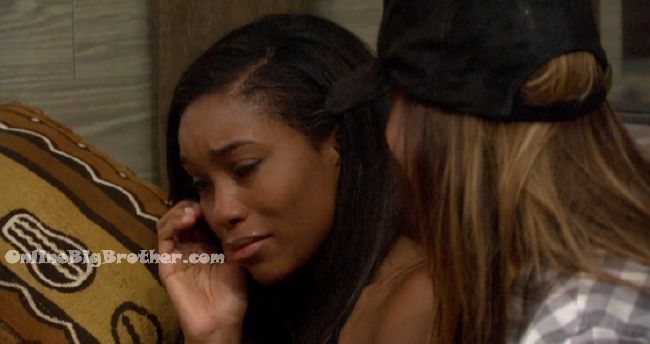 2:34am Michelle and Zakiyah Safari room
Zakiyah cries.. About Paulie beign an "A$$hole to her"
Michelle – he has Paul you have me.. me and Nicole.
Michelle – like you said homies for life.. Guess who else had fights Rachel and Brandon…
Zakiyah says Meech and Paulie are the only people she really trusts.
Michelle says there's a line of people in front of her they would put Michelle up before Zakiyah
Zakiyah says she would let him do that (Paul or Paulie?)
Michelle – I would…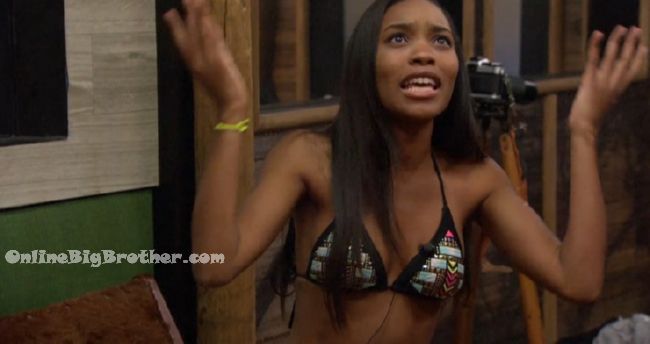 3:09am Paulie and Zakiyah arguing
Paulie – I don't like the little comments you make .. sitting in front of Natalie and being like Natalie you good at Doing nails, Paulie you want your nails done.
Paulie – I go to bed when I come out I hear that you "in" in your Diary room session
Zakiyah says the comment about the nails was genuine
Paulie – I was going to sleep on it and not make it a big deal..
Zakiyah – why were you assuming I was being malicious about that comment
Zakiyah wants him to come to her before assuming things, He says there's people all around sometimes he doesn't get the chance.
Zakiyah asks about the Diary room season who said she goes "In"
Paulie – you did in front of everyone
Zakiyah – about what
Paulie – I dunno.. I was going to talk to you about it another time
Zakiyah – What.
Paulie – you've made comments about professional athletes.. You know I was a professional athlete.. You know I take that stuff personally when.
Zakiyah – it had nothing to do .. oh my god..
Zakiyah – why do you assume.. Why didn't you talk to me
Paulie – I told you I don't talk when people are around
Zakiyah – why not pull me to the side.. This attitude from you has come from nowhere.
Paulie – I want to go to bed because there's a competition I need to win.. My mind is on the competition that I put myself on the block for because nobody else wanted to do it
ZAkiyah – I could be competing tomorrow
Paulie – I know but you're not on the hot seat
Zakiyah – this is business I'm fine i'm cool..
Paulie – this is business that's cool
Zakiyah – then we don't have to be acting like this .. it's making me uncomfortable..
PAulie – don't even bring up uncomfortable.. When every single action.. A girl can't even look at me a certain way or touch me a certain way you're getting pissed..
Zakiyah – I'm not..
Paulie – DON'T YOU DARE SAY SOMETHING LIKE I FEEL UNCOMFORTABLE
Paulie – I ain't the one making you feel uncomfortable.. You trying to put that on me that's it i'll end this conversation right now I ain't the type of person that makes anyone feel uncomfortable especially a female.
PAulie – when that word get thrown around the wrong way…
Zakiyah can't get any words i, "I don't want to go back and forth"
Paulie – ok.. Good than it's done.. We don't have to go back and forth.. I thought you made a backhanded comment..
Zakiyah – you assumed
Paulie – and you assumed girls were doing something else..
Zakiyah – I assumed nothing today..
Paulie – I put my neck on the line because YOU didn't want to go on the block.. You're the only one that didn't want to go on the block
Zakiyah – You win HOH you put me on the block.. You making me feel bad for no reason..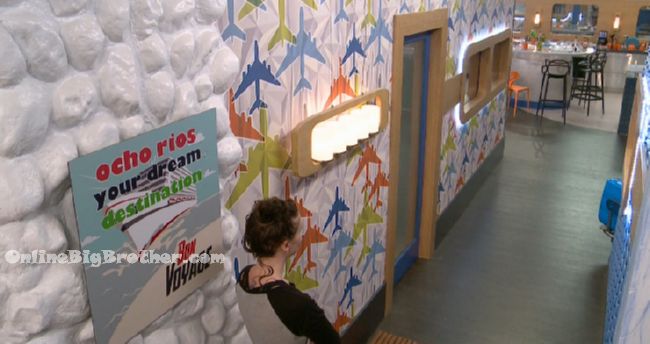 Meech listening in
PAulie – I'm going to step out.. I don't make you feel bad
Zakiyah says she didn't know everyone was going to volunteer …
Paulie – there's a competition tomorrow..
Paulie says he needs to focus for tomorrow
Paulie- I ain't trying to be on the hot seat come monday..
Zakiyah – we're not effective communicators.. I'm starting to see that..
Paulie – how many conversation about the same thing we have to talk about…
Zakiyah – Fine.. cool.. Didn't think this was going to be a issue we have
Paulie – I didn't think people playing with my hair was going to be a issue,..,.
Zakiyah – Paulie you are bringing up old stuff that had already been squashed
Paulie going on and on about how there's a big difference between your feelings are hurt and you are feeling uncomfortable.
Paulie – It's like high school stuff.. high school stuff ..
Zakiyah – there was nothing highschool related today
Paulie – given the circumstances that has happen in a week span all the things you nit pick about that comment isn't going to get taken that way? (the Natalie nail comment)
Paulie apologizes for taking offense to her making the comments about Natalie and the naile.
Paulie says when she uses the word uncomfortable it's gets him going because uncomfortable is the comments Victor made about Natalie or Uncomfortable is Frank slapping you a$$es.
Paulie – when you use the word uncomfortable to refer to me I'm going to be offended 100%
Zakiyah – you made me very sad today
Paulie – I apologize I made you sad..
Zakiyah tells him if everyone volunteered to go up this week instead of her than she volunteers to go up next week if Paulie wins HOH.
Paulie – Z you know I won't do that
Zakiyah starts to cry "I feel like a loser here.. I feel like I don't do enough"
Paulie starts talking about positive thinking and winning using inspirational tales from Conor McGregor eating only blueberries when he was pure to baseball player stats. He continues to try and make her feel better etc.. etc..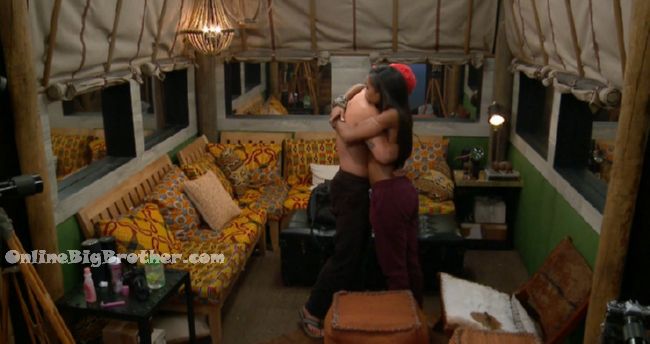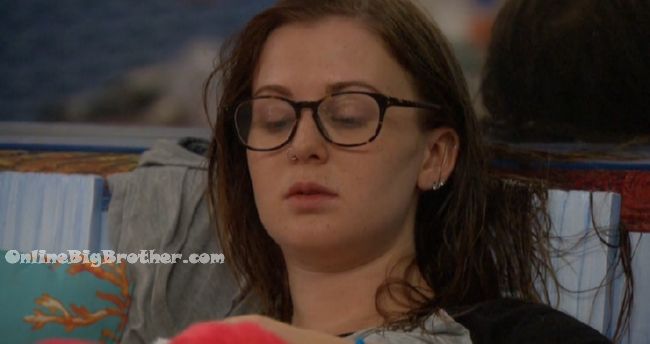 3:40am Meech
Meech – I ate 4 fibre tables and my stomach feel like it's going to implode.
Meech – I wish I was in a better mindset to play the game.. it's bad timing.. I wish I had put work into my appearance.. put my hair back to a colour I feel comfortable in…
Meech – Wish I didn't eat cookies I blame Bridgette.. I wish I didn't eat all that crap food
Meech – I know my sisters are thinking OH my god Michelle is a fat lard now.. what happened to her
Meech – How is supposed to study nutrition when she can't even control her own eating habits and looks like a frickin 5500lb whale.. I just don't understand I really don't
MEECH – Knowing you're on TV 24/7 and people can f****G see your fat rolls jiggling around.. you have to go into teh DR with a triple neck .. and your flabby arms in comps wearing swim suits I would rather lose than feel like this
Meech – this is awful, I don't get how people do it, would be fine if I had a pretty face but I don't have that either.. I'm just a stupid, loud not funny piece of crap
Meech – i'm staying in bed all day tomorrow minus the veto .. I don't give a crap.,
4:07am everyone sleeping
[polldaddy poll=9485811]
[polldaddy poll=9485817]