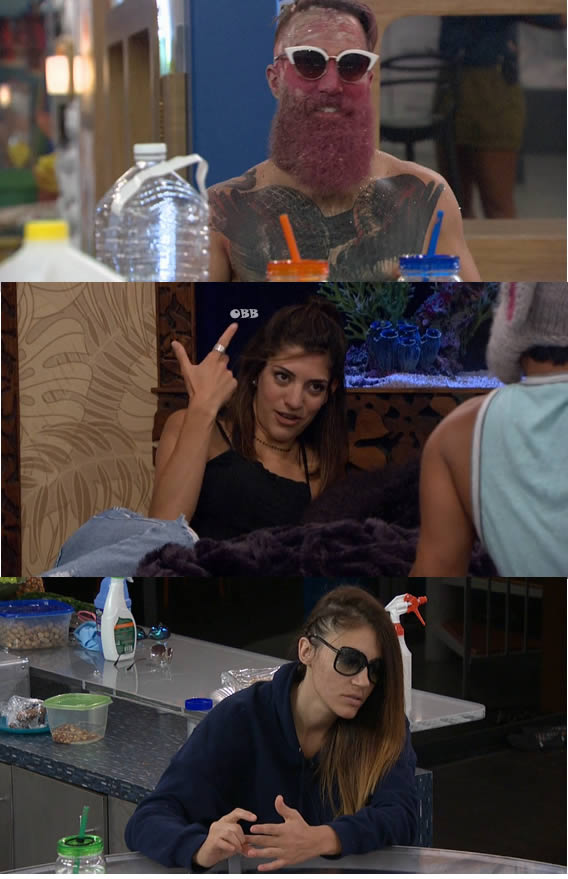 CBS All Access: Live feeds are only $5.99 per month – Try it FREE for 1 WEEK!
Week 3 is coming to an end and what a Flip Flopping good time it's been. As of this morning at the time of typing this Tiffany is staying but vote scheme isn't simple 1 vote going the wrong way and Boom tie Tiffany goes home. The flip happened Wednesday evening and was a bit unexpected at the time but in hindsight it makes sense to the people doing it and will cause more drama on the feeds. It was a complex week with the game board changing significantly. Frank, Bridgette and Da'Vonne ended the week with damaged games but Paul's game improved immensely. Paul's game did a 180. Not only is Paul Liked by everyone in the house he's nowhere a target anymore, It is very common for people to proclaim how much they like him. On top of that he's laying out strategy for the next week with the vets which is is actively debated as the "plan".
Continuing from last week Frank was the houses primary target. He was trying to get all the factions of the house to go against each other while still maintaining a larger alliance. It's comical, everyone knows now. So Bridgette wins HOH throwing a wrench into the get Frank out plan. Bridgette nominates Paul and Tiffany. Frank wins the Roadkill nominates Bronte, the target is Tiffany and they have the votes to send her out.
Early on Da'Vonne tries to get the votes to save Tiffany. But only succeeded in locking 3 of the 5, from Michelle and James. Da couldn't secure Nicole, Paulie and Corey. She stopped trying. Keep in mind week 2 Da'Vonne started really pushing to get Tiffany out and was trying to use Frank to do it, the whole get Tiffany thing started with Da'Vonne. Tiffany did not know she was the target and was told consistently from her allies she was safe with Michelle even telling her not to campaign. As the week progressed everyone continued to stay pissed at Frank and Bridgette, more of Frank's deals were found out, more pieces of his game exposed. The house started seeing Frank get closer to the powerpuff girls which caused concerns. Frank was sketchy.
Nicole started to get paranoid about Da'Vonne's. Where Nicole goes Corey follows. Along with PAulie they start to look at Da'Vonne as a target. Da'Vonne asks Nicole who she wanted to side with Fatal 5 or the showmances. Nicole doesn't answer. If she did it would have been the showmances. It became pretty obvious to Da'Vonne that she was slated to be the 5th person in a 2 couple showmance love alliance and there fore expendable.
Late Wednesday night Nicole, Corey, and Paulie decide to keep Tiffany and evict Bronte. It was a combination of things but ultimately they wanted to use Tiffany to target Frank and Frank to target Tiffany. Somewhere in the middle they can get Da'Vonne out. PAulie was also swayed because he heard from Michelle that Bridgette told her Bronte is going to put him up. Unfortunately for Paulie a conversation in the bathroom between Paulie, Nicole, Corey and Tiffany potentially tipped Tiffany off that she was indeed the target and only recently was she safe. Gong to be interesting to see how this plays out.

All throughout this week Nicole and Corey have deep game conversations with Frank where an alliance of Nicole, Corey, Frank and Bridgette is discussed. Nicole wants to keep frank as a shield saying that Frank protects them. It's a confusing mix of intertwined alliances going on right now and it's hard to tell who is loyal to whom. There's plenty of pairs though and those pairs appear to be loyal to each other. It really comes down to who wins the competitions and the herd will move with that person. With some expectations of course.
Key Spoiler posts from the week

the last week or so and they've had enough
predictions
Bronte goes home. House explodes tonight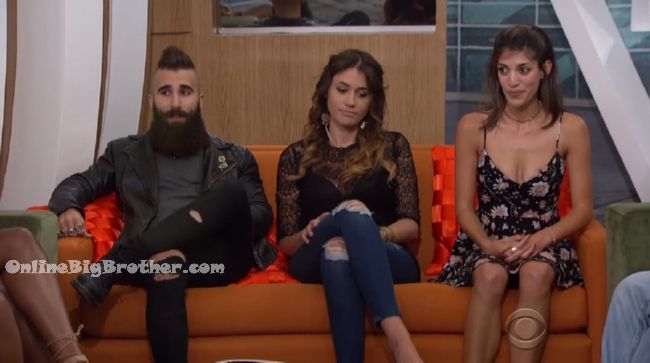 Results from show
Natalie votes to evict: Tiffany
James votes to evict: Tiffany
Frank votes to evict: Tiffany
Paulie votes to evict: Tiffany
Corey votes to evict: Bronte
Michelle votes to evict: Bronte
Nicole votes to evict: Bronte
Zakiyah votes to evict: Bronte
Da'vonne votes to evict: Bronte
Evicted House Guest: Bronte by a 5 – 4 – 0 vote
Bronte says she found out she was going about 20 minutes ago.
Frank and Bridgette's reaction of Bronte being evicted #BB18 @DawgsBigBrother pic.twitter.com/7vnnOmI5lI

— OnlineBigBrother.com (@bigbspoilers) July 15, 2016
FRIENDSHIP!!! #BB18 @DawgsBigBrother pic.twitter.com/6Zpis2bXog

— OnlineBigBrother.com (@bigbspoilers) July 15, 2016
HOH Competition called euro trippin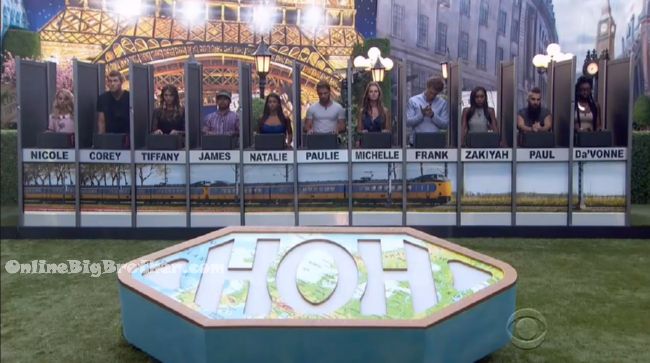 HOH Winner: Paulie
Frank is safe.