POV Holder:
?
POV Competition
July 9th
POV Used
?
POV Ceremony
July 11th
HOH
Bridgette
Next HOH
July 14th
Roadkill Competition Winner:
?
Original Nominations:
?, ?, ?
After POV Nominations:
?, ?, ?
Have Nots
Da'Vonne, Paul and Zakiyah
Big Brother 18 Alliances Help Guide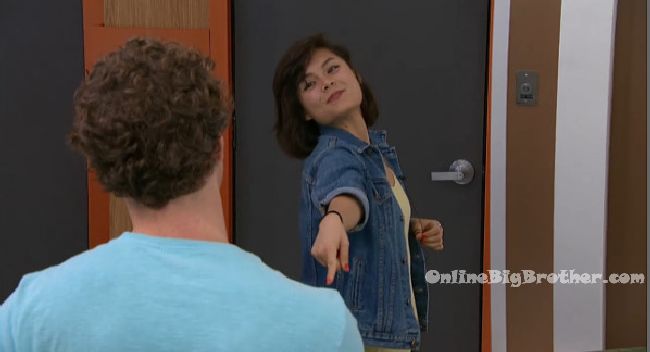 7pm In the bedroom – Frank and Paulie congratulate Bridgette.
7:05pm – 7:25pm In the bathroom – Zakiyah says so I'm guessing we're still havenots. Nicole says that Frank wants Tiffany out next. Michelle says that Bridgette is a spy for Frank. Paulie says one of us has to win the roadkill. Zakiyah says one of us needs to win the roadkill and put up one of the powerful girls up. Nicole says whatever she does is going to be Frank's doing. Do you think he would put up me or Day? Paulie says I don't think so. Paulie says lets get through this week without any casualties at least within the 5. Paulie says his target is Tiffany 100%. Nicole says what if she wins veto? Paulie says everyone just has to stay patient. Nicole says its basically Franks HOH. We need to find out who he's going to put up. Paulie says I'll find out, he'll tell me. Frank joins them. He says he is obviously hesitant about pitching Bronte. Obviously I'll pitch for putting Paul up. If I was going to pitch Bronte it would be in the sense that the whole house wants her out. Is that something we want to divulge to her? They agree that's not best. Frank says he will ask her who she wants up first and then say for me and our team ..pitch TIffany. If one of us wins the roadkill we put up Bronte. I'm thanking my stars I brought her up to the HOH earlier this week and talked to her. Nicole says lets get Tiffany out. Nicole says at this point I think you can persuade her. Zakiyah says I don't want to be up her butt.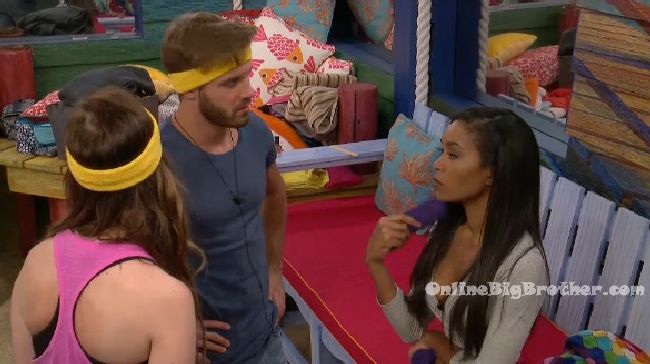 FLASHBACK and watch everything you missed: CBS All Access FREE Trial!

In the bedroom – Bridgette says I don't know what to do. Frank says who from Freakazoid and who from big sister. either Nicole and Corey or Tiffany and Corey. Frank says well you know what I want. If Tiff goes home this week it will be an easy week and there won't be any backlash next week. I think that's best case scenario. Bridgette says Tiff. Frank says yeah. Bridgette says I was thinking Paul. Frank says he won't come after you .. he's just not that type of a guy. With Corey I'm buddy buddy with him and I think I could persuade him not to put you up. Frank says Tiff isn't aligned with anyone. If she wins the veto we could send Paul home but I don't think he's a big threat. Bridgette says if you feel good about Corey then .. I just haven't talked to him too much.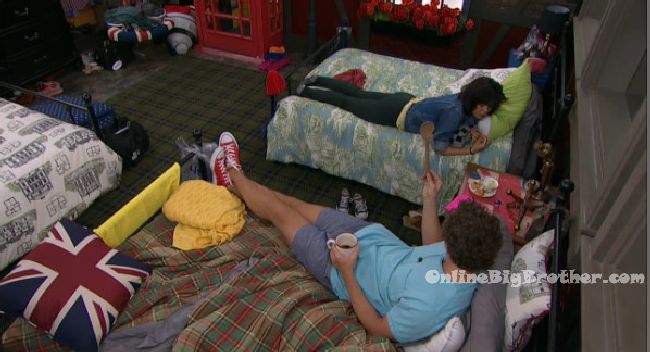 7:30pm Nicole tells Corey she is going to play it up to Frank that she threw it. Corey that's not a good idea. Tiffany was still in the game. I'm telling him I was trying to stay in it as long as she was.
7:30pm – 7:40pm Bedroom – Frank, Paulie and Bridgette are talking. Bridgette says Frank was thinking Paul. Paulie says 3 weeks on the block. Frank says he won't take it personally. Paulie says the problem is if Tiff comes off. Paulie says I don't think she would beat us (Frank or Paulie) if we got picked to play. Frank tells Bridgette if she pulls her own name she needs to pick one of them. Bridgette says if its not Paul … I don't want to put Z up. Paulie says Paul is a pretty stand up dude. Frank says the three of us could talk to him before you put him up. Paulie says I know you like Bronte but she's a fierce competitor.. it would be a way to stack the deck against Tiff.. but its your HOH.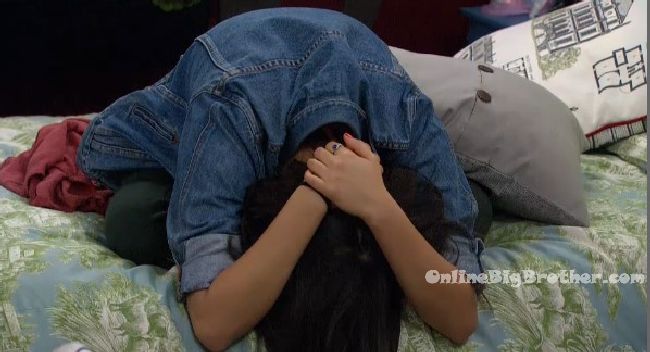 7:40pm – 7:55pm Safari room – James says yeah we messed up. DaVonne says what happened. James says that Bridgette is freaking out. She won it and then realized she didn't want it. Davonne says she needs a pawn beside Tiff. James says maybe Frank will convince her to put up Paul. James says he talked to Frank and told him how Bridgette is scared and doesn't know what to do. DaVonne says we have to try again next week to get him out. I can't even put him up if I win roadkill. James leaves. Davonne looks at the camera and says 1 more week of Franks crap! We almost had him. Frank says he's (Vic) gone! More food for us!
8pm Corey tests out the havenot room bumper cars.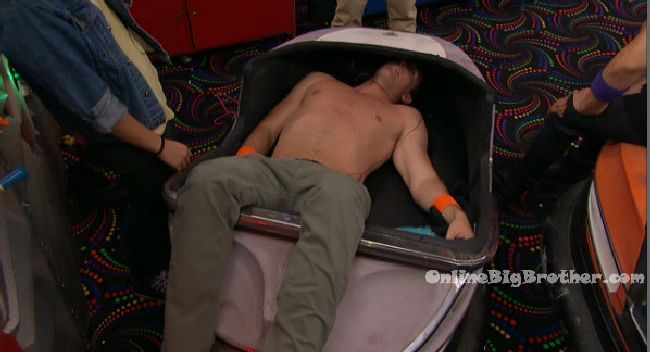 8:20pm – 8:30pm Safari room – Corey, Tiffany, James, Nicole and Paulie. Tiffany talks about how her names been thrown out to go up. Nicole says I've heard my name too. Its going to suck if its two of us. Paulie says someone has to win the roadkill and put them up .. Natalie or Bronte. Tiffany says we have POV too we could take one of us down. Corey says they could put one of us right back up. We have to win the roadkill. Tiffany asks am I toast this week? Nicole says no, we just have to make sure two of us don't go up. He (Frank) told me to brace myself. .. he told Corey to brace himself. ..expect the worst. He thinks he can convince her to put up Paul. That's why we can't stir up anything. Tiffany says I know. Nicole says right now it sounds like Paul is going up for sure .. so we can't do anything to change that. Paulie says this is Frank's f**king sidekick.
In the havenot room – Bridgette said she isn't touching team unicorn and that she is leaning towards putting up Paul and Tiffany.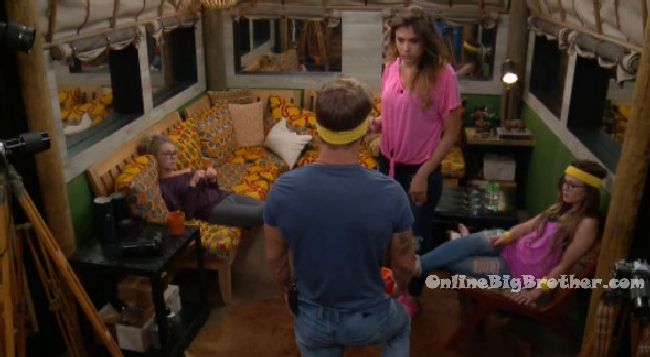 8:45pm Bronte says I think if we play our cards right this could be good. Once Bridgette puts people up ..we should be like I put in a good word for you. Natalie laughs and says I can't take you.
8:45pm – 8:55pm Michelle, Nicole and Zakiyah are talking outside the HOH room. Nicole says someone needs to be with Tiffany 24/7! Nicole asks what kind of a deal is she going to try and make .. she would have to expose some type of information. Nicole says we don't want the fatal five to be exposed. Zakiyah asks why would Paulie tell her (Tell Tiffany she is probably going up with Paul). Zakiyah says I'm about to go off! Like you not telling me .. if you got something going on.. because that's some bullsh*t. She's got some baggage. Emotional as hell.
Bronte says I just want to make it to jury so bad! Frank says DON'T SAY IN YOUR SPEECH YOU'RE A GOOD PHYSICAL COMPETITOR! Bronte asks is that bad? Frank says obvious you're a physical beast because your fit and all that just don't say it.
Paulie tells Corey all we need to do this week is keep our 5 safe. After that we'll get him (Frank) out. Then we get out Bridgette, Bronte and Natalie out and coast to the end.
9:10pm Tiffany asks Corey if you were me who would you pick to play in the POV. Corey says pick me, and I'll take you off.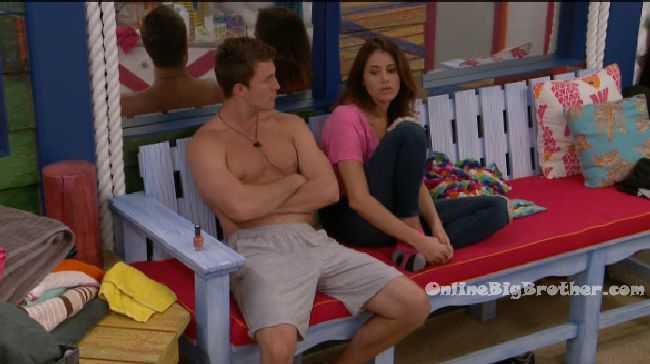 9:25pm Tiffany says I'm 95% going up .. that's my gut. Listen deals are bulls*t in this house. There's two people I want out .. its those two (Frank & Bridgette).
Bronte and Natalie are talking in the bathroom. Bronte says Paul mentioned it to me yesterday .. who the guys are out numbered. Natalie says we need to talk up in the HOH .. like when Bridgette gets it we'll talk.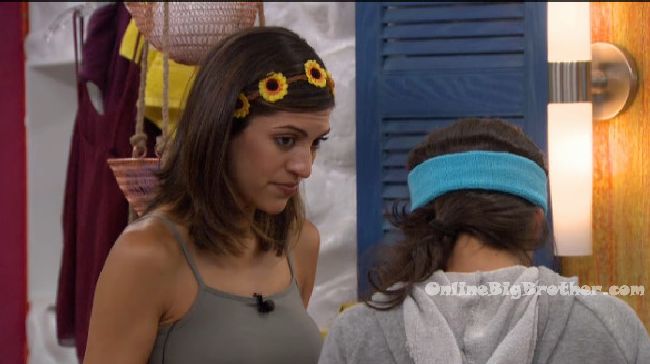 [polldaddy poll=9465176]
[polldaddy poll=9464369]