POV Holder:
?
POV Competition
July 9th
POV Used
?
POV Ceremony
July 11th
HOH
Bridgette
Next HOH
July 14th
Roadkill Competition Winner:
Frank
Original Nominations:
Paul, Tiffany, Bronte
After POV Nominations:
?, ?, ?
Have Nots
???
Big Brother 18 Alliances Help Guide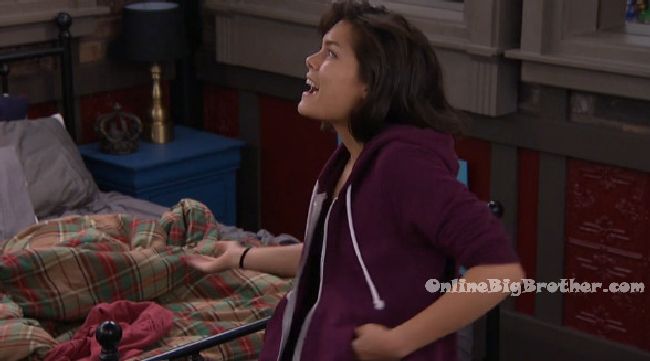 7:20pm Big Brother blocks the feeds again. The RoadKill Nomination happened. Frank Nominated Bronte anonymously.

7:20pm – 7:30pm In the bedroom Davonne says we've got to win the veto and get one of you guys down. (Paul, Bronte) Bronte says I definitely want to try and win it. If I come down then Nat would go up. Bridgette says but Nat wouldn't go home. Bridgette says this is great who ever wins the POV this is win win right!? Its just more stressful for me if Tiff or Paul get it. What do you think about my plan? Bronte says it could work. Bridgette asks do you think it could backfire on me? That's what I'm scared of. Or do you think it would rally the women to protect me? Bronte says I would hope it would rally the women to protect you. I think we need to think. If Paulie gets drawn to play in the POV he's probably not going to use it. Bridgette says if Frank or Paulie win the POV they're going to use it on Paul. If Tiff wins, obviously she's going to use it. They agree to talk later. Bridgette leaves. Bronte says I feel like I'm going to have a breakdown. I'm going to tell you something but you can't tell anyone. I'm begging you, don't tell anyone. I told myself I wasn't going to tell anyone. Even if I leave the house.. don't tell anyone. Zakiyah and Tiff join them and ends the conversation. Zakiyah comforts Bronte. Bronte says she's okay. They talk about wanting a girl to win. Zakiyah leaves.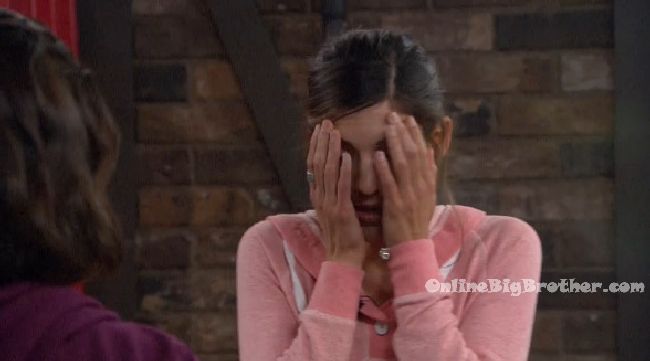 BEAST MODE @bigbspoilers #bb18 pic.twitter.com/KquoPztclX

— Dawg (@DawgsBigBrother) July 9, 2016
7:30pm Tiffany says best case scenario. I think its Paul (who won the roadkill, he didn't Frank did). He was asking who the best case scenario was for us.
7:40pm Frank says if I won (veto) would you want me to use it on Paul. James says if you take someone else down, you have to put someone else up. Frank says we'll just leave it. Frank says last week was different Paulie used it on Paul because the plan was to backdoor Vic, but that's not the plan this week. Why ruffle any feathers. I can't believe he said I'll pick you. I think he knows if they stay the same, he'll be alright.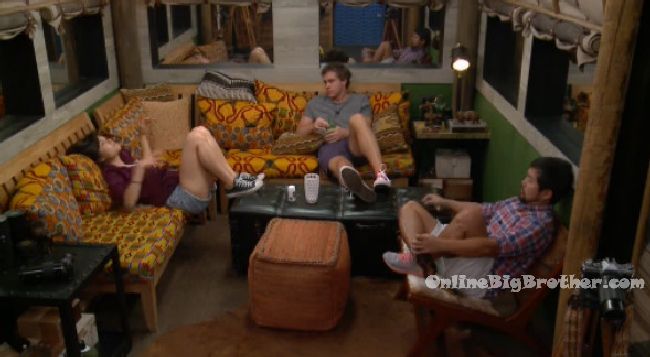 HOH bathroom – Nicole says that Jozea and Vic told me that Bronte was coming after me. Then finally I talked to her .. and thank goodness because now we talk every day. I honestly think she is going to be okay. I would never vote her out. I only ever heard her name come out from Vic and Jozea. Bridgette asks how do you feel about Tiff on the block. Nicole says I'm completely okay with it.

7:55pm – 8:10pm
James and Paulie tell each other they wouldn't put each other up. James says I'm not trying to make side deals. Paulie says I just need one solid mothaf**Ker to ride with. Once Tiff and Frank go the eight is blown up. James says its pretty much already done. James says in this game you don't need to play like Frank. There are lots of ways to play but now everyone knows his game. A lot of these people just want to make it to jury. Paulie says I get that but I think we could do some damage. James says I think a lot of people wouldn't think we're close, close. Paulie says when it gets down to it we could grab some people. James says you don't have to worry about me putting you up or backdoor or anything like that. And if I hear anything about you, I'll do my best to deflect it. Paulie says Strength and Honour. James says Strength and Honour. You could be the strength and I'll be the honour or vice versa. Paulie says I think if those two do go .. we could coast for a while.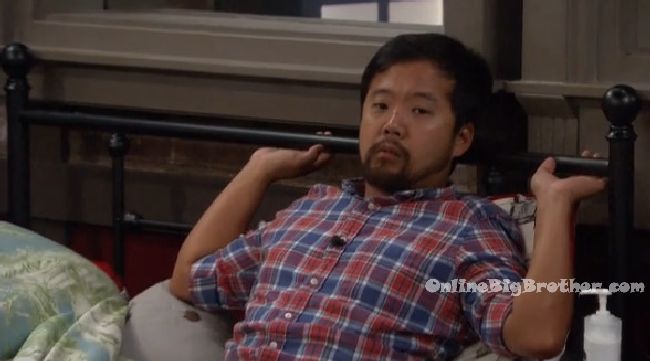 8:20pm Bridgette talks to Tiffany and tells her sorry she had to put her up, it was a team move. Tiffany says she's okay. Bridgette leaves. Tiffany asks Michelle if she heard that? Team Move? Michelle says AKA Franks move. I think that Frank is so blinded by his own game that he doesn't see everyone wants him out. Literally everyone but Bridgette wants his a$$ out.. but nobody can get his a$$ out! Michelle says I know! Nine lives!!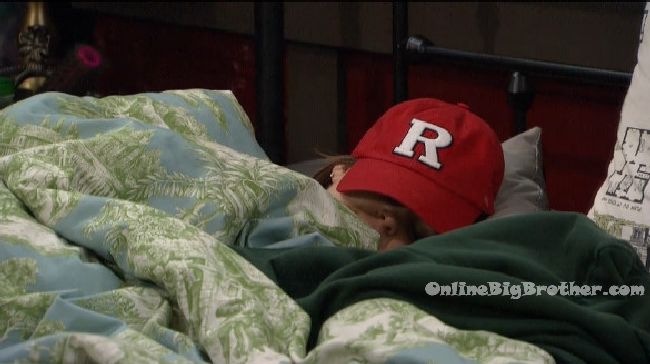 8:25pm – 8:45pm HOH room – Bridgette tells Bronte about her conversation with Nicole. Bronte asks did Frank tell you he still wants Tiffany out? Bridgette says yeah. Bronte says I trust you and Natalie. Bridgette says I don't know what to do I'm freaking out. I don't know if I can do it alone. Those boys will kick me out. If I got Corey up on the block do you think he would go home? Da and Zakiyah I don't know where they stand because they promised Vic their vote and they voted him out .. and they're on his team! I just don't want to be played by Frank and Paulie. Bronte says if you did put up Corey and I went home .. and it didn't work out I don't think there would be any bad blood. Bronte says that if Tiffany comes off it has to be a boy. Bridgette agrees but says I can't tell Frank. I can't put up another girl .. these girls would hate me. Bridgette says the reason why Michelle didn't like me in the first place .. she passed out during the first roadkill and then I said if she passes out again I would resuscitate her and shave her eyebrows off. I was like what?! I really can't imagine myself saying that. I'm going to be really embarrassed if the have that sh*t on camera. I'm going to be confused. Bronte says Tiff has rubbed Frank and Corey the wrong way. They talk about Frank's comments to Day. What was he thinking saying that to a grown woman.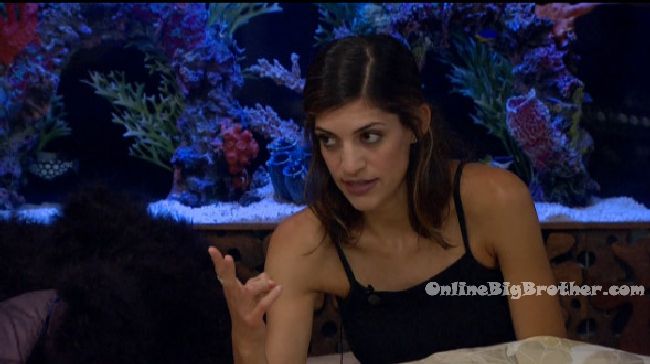 8:50pm – 9:10pm HOH room – Bridgette says What I'm afraid of is that you're going to go home on my HOH reign .. and I am going to be f**king pissed! Because that means the boys have f**king taken over my reign that I didn't want .. but now that I have it I f**king want it. If I win POV I'm pulling you off. Just so you know! F**k that Sh*T! F**k what the house thinks.. whatever we're aligned. James and Natalie are aligned. Zakiyah and Paulie are aligned .. whatever you and me babe! I'm pulling you off .. they can replace you with Natalie .. whatever she wont go home. Bronte says with James on her side she won't go home. If you get to choose someone to play don't pick Paulie. Bridgette says Frank to pick him. Bronte says our goal is to not let Paulie play. Bronte says I dont think Frank is gunning for me, I think Paulie is. Bronte says we need Paul to stay on the block. We don't have enough votes to get Tiffany out. They agree if Bronte pulls her own name in the veto pick she should choose Natalie so that if she wins it she can pull Bronte off and still be safe.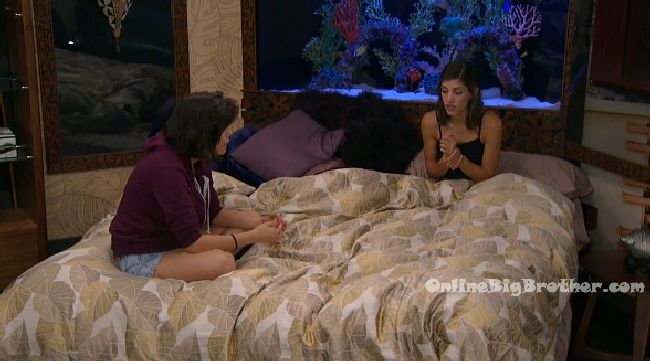 9:30pm Bedroom – James, Nicole and Corey are chatting. Paulie and Zakiyah join them. Paulie says I hope my name gets picked. Its good even if Frank gets picked because he is going to beast it out to make sure Tiff doesn't come off. I want the noms to stay the same.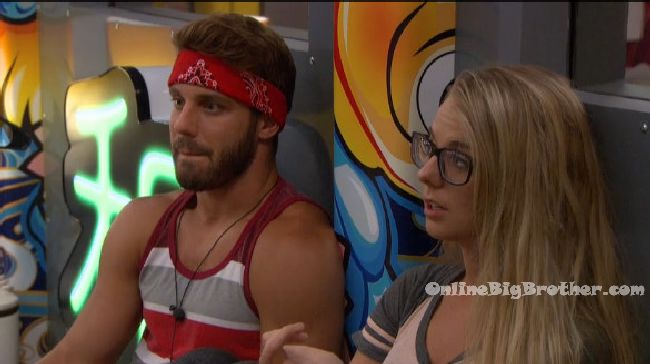 FLASHBACK and watch everything you missed: CBS All Access FREE Trial!

[polldaddy poll=9465176]
[polldaddy poll=9464369]