POV Holder:
Bridgette
POV Competition
July 9th
POV Used
NO
POV Ceremony
July 11th
HOH
Bridgette
Next HOH
July 14th
Roadkill Competition Winner:
Frank
Original Nominations:
Paul, Tiffany, Bronte
After POV Nominations:
Paul, Tiffany, Bronte
Have Nots
Nicole, Corey, TIffany
Bridgette did not use the Veto Nominations stay the same
Corey and Nicole were up past 7am giggling and chatting flashback if you want to relive that magical moment.
Essentially Nicole wants final 4 to be her Corey, Paulie and Zakiyah. They have to get rid of Da'Vonne for that to happen.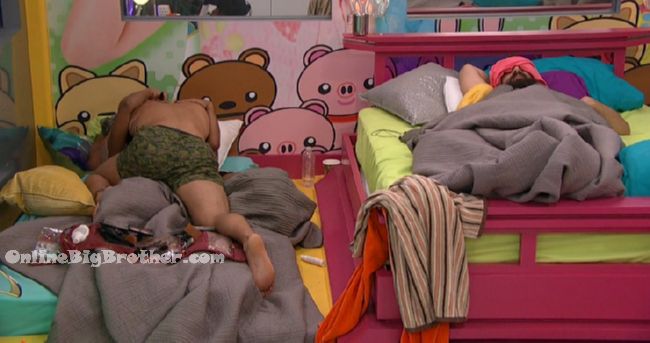 9:36am Paulie and Zakiyah.. Morning cuddles.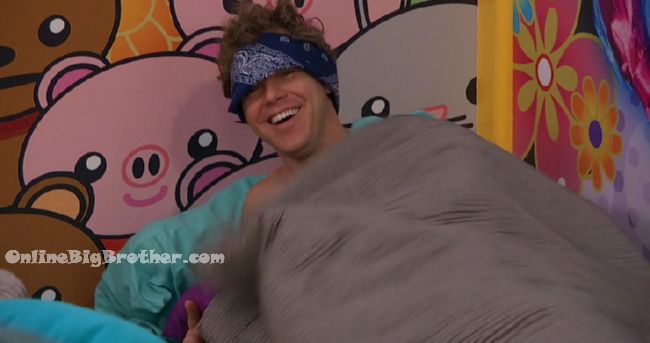 9:55pm BEdroom Frank, PAulie, Natalie and Paul
Frank – wish the back door was open..
Frank – did you saw sausage hips
Natalie – sausage nips
Natalie says she has silicone pasties..
Paul – you're nips are huge
Natalie – no they are not .. I have to wear them and they are huge.. Makes me look like I have sausage nips..
Frank – Damn bologna nips over their..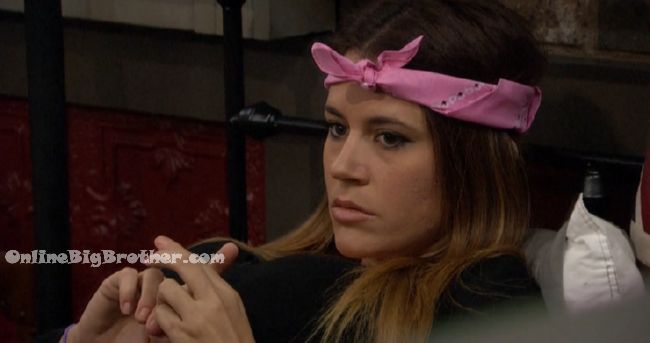 11:45am Tiffany and Da'Vonne
Da'Vonne – everyone is getting tired of the farting.. It was cute for the first 2 days.. We're over it now.
Da'Vonne calls Frank an a$$hole.
Da'Vonne – I'm just praying it's not a pre jury buyback.
Da'Vonne is worried that Frank can beat Vic, Jozea, Glenn and BRonte.
Tiffany says Vic can beat Frank and he's an easy out if he comes back, "So is frank"
da'Vonne – ya
Tiffany joins them .
Tiffany is worried she's going home next week.
Da'Vonne says Frank has been telling the girls something because Bridgette never brought her friends to the outback dinner and never used the veto to save her friend.
Michelle says day one she never liked Bronte
Michelle – when she stood by me opening night why is she wearing nude lipstick and dressed like a toddler"
Michelle says when Bronte first looked at her it freaked her out, "If looks could kill ladies everyone would be dead in this house especially Nicole"
Michelle says she won't allow a 32 year old person (Frank) bully her
Da'Vonne wonders if they break them up next week. Michelle hopes it's still teams so they can throw it.
If you guys were me would yo do any campaigning now
Da'Vonne – in this house you gotta do whats best for yourself..
Tiffany – do yo think I need to
Michelle – I don't think so .. you should campaign to Natalie..
Da'Vonen says Frank might throw a vote to Tiffany yo scare her. Tiffany does not know Natalie and James' vote.
Michelle – James has your back he doesn't hang out with Bronte..
Da'Vonne – James will go with the house 100%
Tiffany – OK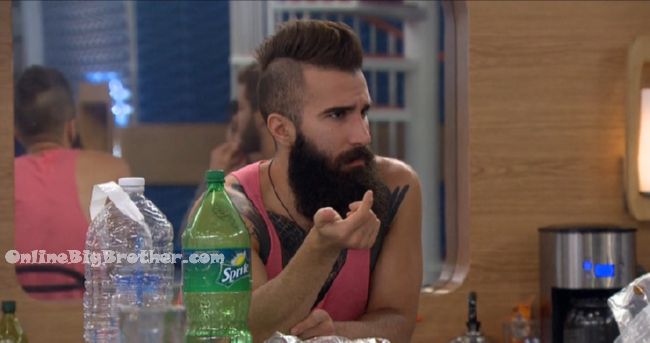 12:15am James, Paulie and Paul
Paulie tells James & Paul in the kitchen talking about telling the girls that Frank was the roadkill winner. They don't want to tell Bridgette because it'll go back to her.
(Bridgette and Natalie already know)
They go on to talk about getting Frank out next week and how to handle the girls.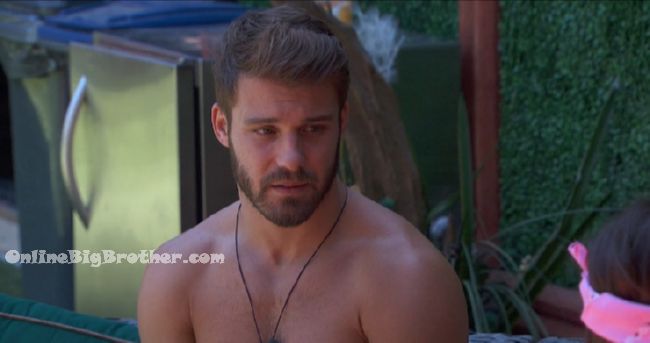 12:19pm Tiffany and PAulie
Tiffany – if you were me would you campaign
Paulie – I would talk to people and see where their heads at…
Tiffany – do you thin I have the votes
Paulie – I think you do
Tiffany asks who he's voting for
Paulie – I'm going to vote for Bronte.. I like Paul better
Tiffany – me too
Tiffany – if you win HOH next week whats your plan
Paulie – backdoor Frank.. that's everybody's plan.. just make sure he doesn't win HOH.. .everyone will break the news to Bridgette, Natalie and Bronte that he's the Roadkill winner.. that will isolate him.
Tiffany – Bronte doesn't look worried..
Paulie thinks that's the way she always is
Tiffany asks him who she should put up if she wins HOH.
Paulie – I really can't do this because who is on my team.. I would have Bridgette up there next to someone else.. that way we can't get him we'll get his Chickaletta..
They mention Frank made a final 2 with 5 different people. Tiffany says Frank was trying to get all the sides of the house to fight with each other.
(I'm working on getting the rest.. LOL some technical challenge today.. While we wait House guests poolside:) below )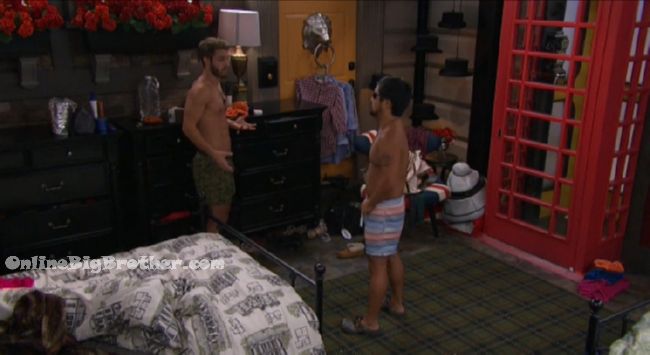 12:40pm Paulie tells James when it comes to serious game he will only bounce ideas off James and Corey. (Said the same thing to Frank less than a week ago)
Paulie says people won't clue in on the three of them because there's the common evils in the house for them to band against. Paulie adds he has an idea of who can figure it out. Paulie says they need to fan out and see if the three of are being targeted.
Paulie says Zakiyah and Michelle hates the girls, "I feel Da does her own thing"
James – me and Da are pretty tight… she's on-board.
Paulie – she's got our back
Paulie mentions that people have been telling Corey they should get rid of Bronte, reasons being Bronte is close to Bridgette. Corey brought that up to him today and was thinking along the same lines. Paulie had to talk him out of it. Paulie thinks they can pull the girls off Frank plus Tiffany can win competitions Bronte can't.
James says if Frank survives next week he'll just have to keep winning competitions to survive. James doesn't see that happening so early in the season.
James about Frank – He doesn't have his sh1t right.. Natalie is close to me than he thins.. me and Nat are pretty tight.. I can get Natalie to do whatever we need her to do.. IO don't see Natalie trying to overthrow me for Frank
Paulie – nobody will do anything for Frank..
Paulie says him and Z are tight and she listens comes back and tells him everything.
1:10pm Da'Vonne and Tiffany
Da'Vonne says that James is an ousdier they can get James to put up one of the showmance, "He likes to do that make the big moves.. put that in his head"
Da'Vonne – he really likes Nicole that might be ammunition to put up Corey
Tiffany – one of each maybe Corey and Paulie
Da'Vonne – as long as they are ion the house we will never 100% have the girls.
Tiffany – Frank already got it into his head that it wold OK to put up Corey and Paulie.. cause one of them will got home..
Tiffany think Corey would go home, "PAulie is way more dangerous than Corey.. so why not vote out Paulie"
Da'Vonne – no one will vote out PAulie..
Da'Vonne says the third person on the block make it hard because everyone will vote out whoever the third person is.
Tiffany – then we have to put up Zakiyah up.. if we want to get rid of Paulie..
Tiffany – what the hell is with these girls and the showmances..
Da'Vonne – that's cute you all can do that shit in September.. that's the thing usually showmances are targets but in this house they are not targets.. everybody is alike OHHH that's so CUTE SO CUTE..
Tiffany says James and Michelle don't care. Tiffany adds the only ones that are clingy are Zakiyah and Nicole.
Tiffany- it comes down to who we can beat in comps..
They think they can rope in Zakiyah, Corey, Nicole, Michelle, James and beat them in the competitions later in the game.
Frank gets called into the Diary room
Da'Vonne – He gets called into the Diary room for 15-20 minutes..
Tiffany says it's becuase everyone is talking shit about Frank so he needs his say.
Da'Vonne says she now has a 'Soft spot" for Paul.. she'll still send his a$$ home.
Da'Vonne thinks Paule has something with Bronte, "His heart will be broken this week"
Tiffany doesn't think the showmances this season are on the same level as a Shelli/Clay, Austin/Liz
Da'Vonne says Zakiyah and Paulie are.
Tiffany- have they kissed.
Da'Vonne – yes the shit they do.. oh yes they do
Tiffany – They kissed1
Da'Vonne – She told me know but I think she lying.. you're a grown ass women do whatever you want to do I don't care.. she knows How i feel about shomwance I'll send your ass home.. .She don't tell me too much.. Tiffany says she won't put Michelle or Da'Vonne up those are teh two people.
Da'Vonne thinks Michelle will win America's favorite player.
Da'Vonne thinks the AFP goes to the funniest player not the best game player, 'Expect for Donny he was a good player"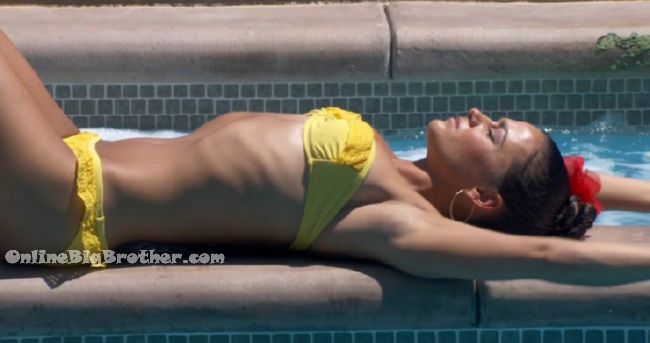 2:40pm Houseguests in the backyard..
Paul is saying that Frank is the target next week everyone is pissed at him.
Paul tells her everyone left in the game know the game forwards and backwards.. says Natalie's ignorance towards the game rubs them the wrong. Says they look at her as a wildcard.
3:15pm Corey and Paulie
Corey says Da'Vonne has lied a lot to them and a lot about Tiffany.
Paulie wants to get Da'Vonne out sooner.
Corey – what does Z say
Paulie – she trusts Da
Paulie wants to get Paul to put Da'Vonne up.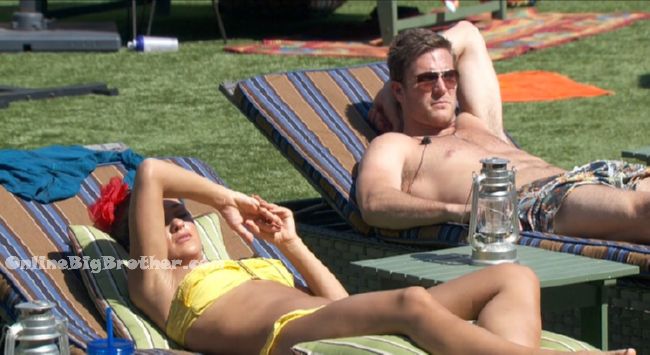 3:44pm backyard Nicole is telling them about Derrick and how smooth he was during his season.
Nicole – I'm glad he's not on here.. that would be hard for me I wouldn't trust him.
Nicole – If Zach was on here this house would be in shambles.
3:50pm HOLY F**** there's no duck in the Big Brother pool..
Nicole, James, Natalie and Corey are all perplexed where the DUCK has gone. the last time they saw it was the day they did the pool photo.
4:08pm Nicole and Frank Bathroom
Nicole thinks things have improved between her and Bronte. She's not Bronte's target anymore.
Nicole hints that "Da'Vonne" is up to something sneaky.
Frank isn't worried about Corey and PAulie they'll never put him up.
Frank says if James wins HOH he'll put up Corey and Paulie. "That's good for us.. You need Corey"
Frank – I need Michelle to win HOH she'll put up two of those girls eventually
Frank – I'm telling ya I would rather keep Bridgette around over Michelle.. She doesn't carry her weight and she's so f***g stubborn..
Frank also think Michelle will do something stupid and take out Zakiyah.
Nicole has felt in her gut since day 3 that Da'Vonne was going to strike the vets first.
Frank doesn't trust Da'Vonne but he trusts Zakiyah
Nicole points out that ZAkiyah and Da'Vonne are very very close
Frank says that is why they need to take out DA'Vonne
Frank says he told Bridgette that he won the roadkill, 'She hugged me after I told her I put her up" (Week1)
Frank really trusts BRidgette says there is no way she will run and tell the other girls.


4:25pm Bathroom Frank and James
Frank is saying they should take out Corey or PAulie next week.
Frank saying the girls on the other side want Corey out. mentions that Bridgette was mad Tiffany went up because she wanted another guy on the block.
Frank says it might be the best idea to get one of the girls (Natalie/Bronte) to win the HOH and ntey will take Corey out for them.
4:29pm bathroom Paul and Frank
Frank asks who Paul will put up if he wins HOH. Paul says it's too early he would todd that question out to the boys.
Zakiyah gets a cake #BB18 @DawgsBigBrother pic.twitter.com/epYyxpQ80p

— OnlineBigBrother.com (@bigbspoilers) July 11, 2016
4:44pm Da'Vonne and James london room
Da'Vonne is telling him about Frank wanting Corey and Paulie put up but he doesn't want to do it himself. James starts telling her about his conversation with Frank when Natalie walks in.
Da'Vonne leaves. Natalie starts telling him that Frank is getting really aggressive with her asking her who she would nominate.
Natalie – PAul told Bronte last night that Frank was the roadkill winner the first one and last one..
4:49pm pooltable Corey and Nicole
Nicole says the entire house is against Frank they should leave him in there for another week and use him to get Da'Vonne out.
Corey – you know he's telling Da to put me and Paulie up together
Nicole – yeah but she won't do it..
4:56pm backyard couch Da'Vonne and Michelle
Da'vonne says Tiffany has calmed down a lot lately. Da'Vonne points out that Tiffany can't stand Frank she will be preoccupied with going after him next week. Da'Vonne adds that Tiffany is not coming after them so why send her home.
Michelle agrees that Tiffany has calmed down. Brings up that Tiffany was telling them about how honest Vanessa was to her alliance. Michelle had talked to people that watched the feeds and she said Vanessa wasn't honest, she was manipulative, flip flopped, lied and blew up alliances.
[polldaddy poll=9464831]
[polldaddy poll=9464369]
[polldaddy poll=9465176]