POV Holder:
Bridgette
POV Competition
July 9th
POV Used
NO
POV Ceremony
July 11th
HOH
Bridgette
Next HOH
July 14th
Roadkill Competition Winner:
Frank
Original Nominations:
Paul, Tiffany, Bronte
After POV Nominations:
Paul, Tiffany, Bronte
Have Nots
Nicole, Corey, TIffany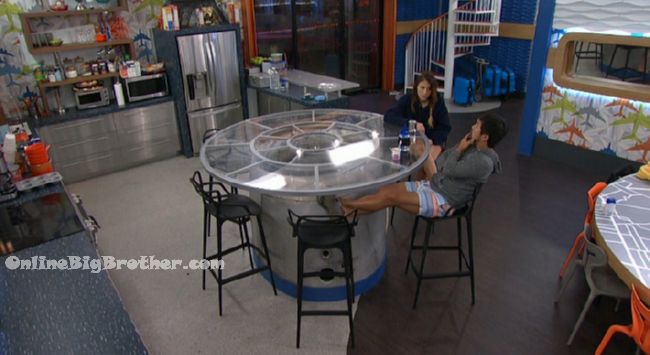 9:12am James and Tiffany chatting in the kitchen
Tiffany asks if rank is trying to get her evicted.
James – he's all over the place"
James would prefer Paul leaves, "He's always up on the block.. I'm like damn we'll never sne him home"
James doesn't know who won the Roadkill.
Tiffany says she's not lying at all she's been talking to da and wants to work with James since day 1, "I could be a strong player for you for your personal gain"
James says he's just physical not mental at all.
James says if Frank was the one that put her up he may have the numbers to take her out.
Tiffany says unless people are lying to her she has Corey, Nicole, Da and Michelle.
James – obviously Corey and Nicole are going to vote to keep you.
James – you have 4… so that means they will be voting against…. Bronte right.
Tiffany – I dunoo.. You are more in the know
James says he talks small time game not big stuff.
Tiffany says she will never put James on the block. James says he won't vote her out.
Tiffany says Paulie and Zakiyah might vote to keep her.
They agree it's not coming down to a tie this week.
James – Natalie isn't going to vote against Bronte.. Like Bronte is her best friend..
James points out that Bronte and Paul are close.
9:35pm James and Da'Vonne bedroom with Michelle sleeping off to the side
James is going over his conversation with Tiffany where he said she has 4 votes.
Da'Vonne – if we flip to keep her in here.. We don't have the votes
James – even if we flipped nobody would know we flipped… honestly Frank wouldn't know who did it..
James adds that Frank would get a lot more paranoid
Da;Vonne – it's almost like she has to be sacrificed for him to trust us so we can do what her want to do.
Da – She's gunning for him.. So i'm not scared of him.. But once we flip and keep her in this house.. It's game on..
Michelle says she wants to keep Tiffany.
James- that's three right here
Da- we need 5
James- Corey and Nicole would be it.. I can talk to Corey
Michelle says Corey will do what Nicole says.
Da'Vonne thinking maybe Corey can get on board and convince Nicole.
James is going to chat with Corey and Nicole to feel them out
Michelle – he (Corey) hates her (Tiffany) thought
James – I didn't know that.. I could get Tiffany another vote.. I could get Natalie's vote.
Da – That's 4
Da says if Tiffany is left in there's 3 people gunning for HOH against 1 frank.
Michelle and Paulie will try and throw the competition
Da and James are scared if Tiffany stays Frank will go nuts to win competitions.
Michelle says if they can't get Frank out next week they can always get out Bridgette that's his right hand, "That's worst case but we're still getting a big target out".
James – if Corey and Nicole are on board I would do it
Da'VOnne – I would do it to
They think if they frame it right to Nicole and Corey that Tiffany will help them get out Frank it might work.
Michelle says Frank will always go after Tiffany first, "It's good for Corey.. Now he's trying to get Corey out"
James- if we put in the wrench work we could get the house to flip
James – It's really true though if she stays she'll always be a target in front of us.. and we're not 100% sure we can get Frank out next week.. he might play in the veto and win it
Da – I know
James says he can get Natalie to vote out Paul but she really wouldn't want to.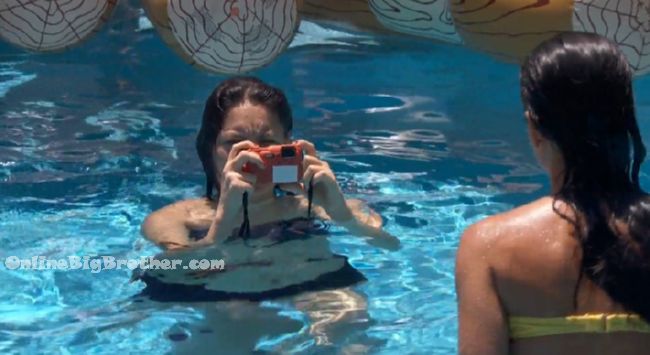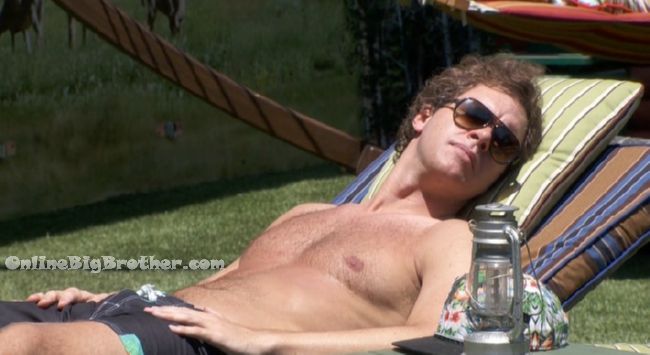 1:55pm enjoying the SUN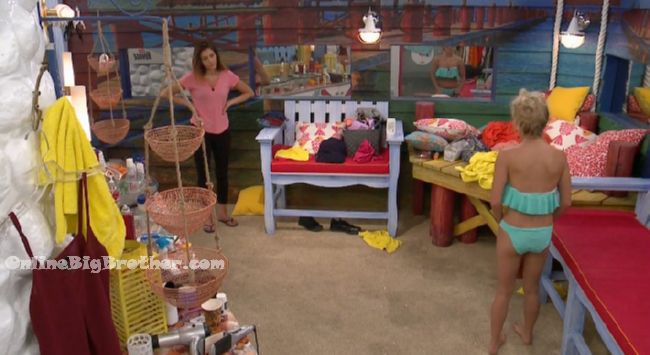 1:55pm Bathroom Nicole and tiffany
Tiffany tells her that James said he's voting to keep her.
Nicole says once Michelle is up they'll talk about it.
Nicole says Frank may be up to something getting numbers he's been spending a lot of time with Bronte, Bridgette and Natalie.
Tiffany says she's one more number to take out Frank.
2:11pm cam 1-2 Corey and Frank
Corey talking about how hard it is to talk to Tiffany and say she's safe when he knows she's leaving.
Frank says he's not sure how hard he's going to slam her on his goodbye speech.
Corey – she's just too much for me man I can't spend all summer with her.. I can't spend 2 more weeks
Frank – everyone feels that way too.. I just hope it's unanimous.. It better be..
Frank doesn't understand why anyone would keep Tiffany.
2:23pm Corey telling everyone in the backyard he likes his Apple watch it looks cool with everything he wears.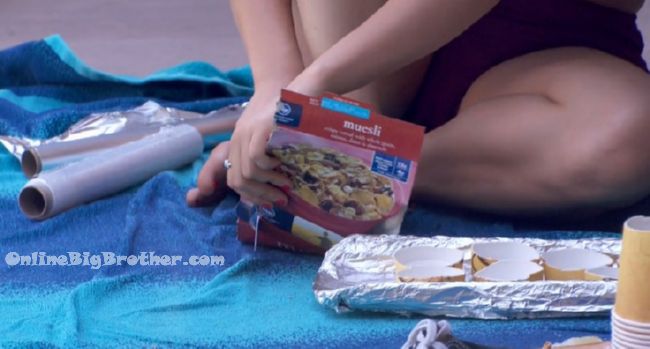 Bridgette is making a makala game.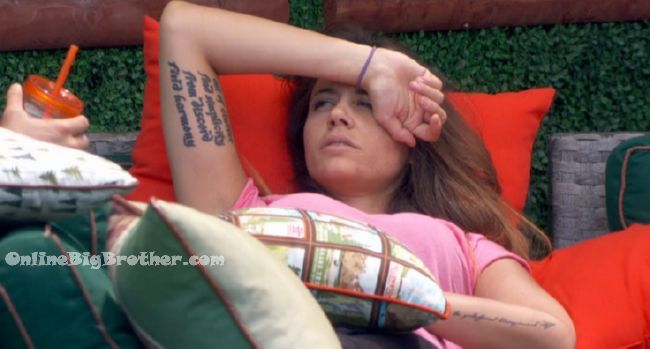 2:52pm Tiffany and Paulie backyard
Paule says he doesn't know where the vote is, "All you need is 6"
Tiffany – 5
Tiffany about Frank – He's so sketchy..
Paulie – he's all over the place
Tiffany says if they keep her she's going after Frank it's just one more person to help.
Tiffany – whatever you guys want I'll do keep me please
Paule says that's what she should be telling everybody in the house.
Tiffany says JAmes, Michelle and Day will keep me, she thinks it makes sense for Corey and Nicole to do the same.
Paulie says Frank told him and Corey to go after Da'Vonne and Frank told Da'Vonne to go after Corey and Paulie.
Paulie says Frank has been hard on Corey but he takes it easy when teasing Paulie. Paulie says Frank hasn't messed with him because he sat Frank down after he slapped Da'Vonne's a$$ and told him that doesn't fly.
Tiffany – I like Paul he's cool
Paulie – me too
3:29pm Very slow afternoon in the house.
Tiffany is trying to clean the shower but the base is stained brown she can't remove the stain.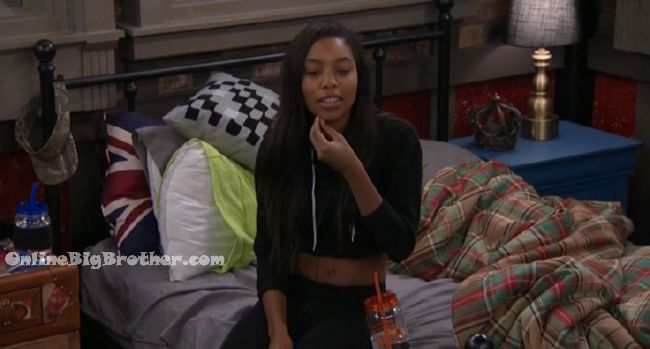 3:32pm – 3:55pm London room Da and Michelle
Da says that Tiffany is cleaning up the bathroom right now after she told Tiffany to go do something that makes people want her to stay in the house. Da meant socialize not clean. Da wants her to stay they need to get Corey and Nicole's vote. She told Tiffany to try and get a sympathy vote from Nicole.
Da – I'm actually going to vote for her to stay in the house even if I'm the only person I don't care..
Da hates telling people they are safe when they are not.
Da doesn't want to be in jury with 2 showmances winning the game.
Michelle doubts James can handle sending Natalie home.
Da knows james will be the only person to vote to keep her. Nobody expect him to do it and he said if she goes he won't be on a mission of revenge against whoever sent her home.
Michelle – things are getting real with Nicole and Corey, james saw them cuddle in teh bumper cards
Da – when has it become OK to have a showmance on Big Brother..
Zakiyah joins them says Paul made her lunch she found it too rich didn't like it, thinks it was the avocados. Michelle had the same thing she thought it was Delicious.
Tiffany starts saying how "disgusted" she is in Bridgette and Bronte for walking around taking pictures of everybody sleeping.
Zakiyah – i'm waiting for them to leave
Zakiyah wants Bridgette gone right after Frank asks if she'll be in Jury
Michelle says everyone after Frank goes to Jury. (Assuming Frank goes home next week.. lol)
Zakiyah says she will never vote for Frank to win the game no matter how good of a game he says he played.
Zakiyah says Frank's goal is to make it to the end with little girls, "That's a punk move"
Zakiyah and Michelle leave.
Tiffany joins them says she's talked to Paulie he's saying he's on board.
Da says last year people told her the same thing and only Jason and Audrey voted to keep her in the house.
4:00pm Tiffany and Da'Vonne
Da'Vonne says JAmes, Michelle and her are solid.. They need a solid 5 though.
Tiffany asks about Corey, PAulie, Zakiyah, Nicole group.
Da'Vonne says she's on the outskirts of that 5 person alliance, 'The 2 showmance then there's me"
Tiffany says Bronte will go after Paulie Tiffany won't, "I've been nothing but on his side"
Tiffany – I know Nicole wants Bronte out.. But do I think she's being sneaky.. Absolutely. .
Da says that is scarey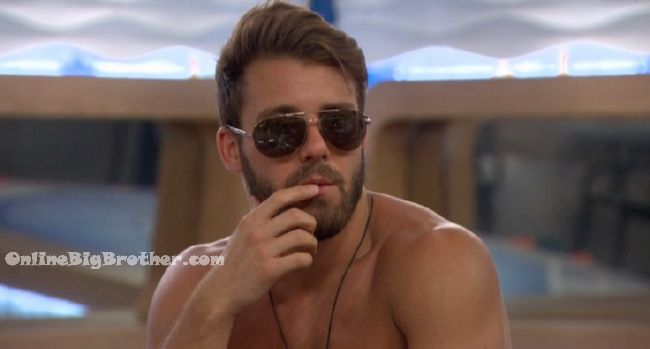 4:04pm Paulie and James kitchen
Paulie is saying Tiffany has a better chance to "Blow" them up than Bronte and Paul do.
JAmes wants to know if they are getting Tiffany out because they want to or because Frank wants to .
Paulie really wants Tiffany gone. Explains to James, sure next week she'll go after Frank but what about the the week after, "Stick to the plan send her home"
Paulie says Tiffany, Frank then Bridgette that way Bronte and Natalie are alone.
JAmes – sounds good to me man..
Paulie says Frank has burnt all his bridges, "Everyone knows he's been spinning all that stuff"
4:17pm
Da'Vonne – "If you end up going home there will be a war.. there will be away because i'll be pissed off"
4:32pm
Da'vonne about Frank "His whole presence makes my a$$ itch"
Tiff – he always has that goofy face I want to slap..
Tiffany says Nicole and Zakiyah are self centered girls if they were smart they wouldn't be playing the guys game.
4:49pm bathroom Corey, ZAkiyah and Michelle
Talking about Natalie not really liking James.
Zakiyah – he doesn't know any better
Corey – did the same thing happen with Meg
Michelle – it's sad.. I would say something now than later.
(Apparently last week or the week before Natalie told Corey she wasn't into James romantically they believe this is a big enough wedge to split James from the girls.)
5:04pm Frank, Nicole, Da, Michelle London room
Talking about the Natalie/James problem
Nicole and Michelle think there's no way Natalie is into James.
Frank thinks it's a mixture of the two. Frank says James is a good looking guy too and he's got a great personality. Frank sees Natalie going for someone safe that is also a nice guy a polar opposite to Victor.
Michelle wants to tell James because she doesn't believe she's into him.
Nicole says Natalie rubs Corey's leg and says he's sexy every day.
Nicole says Natalie told her day 2 she was in love with Corey, "Corey shot her down right away.. she said she's moving to Texas and thats where Corey lives"
Frank – I love Paulie but him and Zakiyah were completely spooned up.
Frank says Paulie got up and moved where he slept late at night because he didn't want anyone to notice but Frank did. Frank adds that production (Cameras) was on Zakiyah and PAulie all night
Frank – if we get a chance to backdoor Paulie it's not a bad idea
Frank wants to get Paulie out next week.
[polldaddy poll=9464831]
[polldaddy poll=9464369]
[polldaddy poll=9465176]