POV Holder:
Bridgette
POV Competition
July 9th
POV Used
NO
POV Ceremony
July 11th
HOH
Bridgette
Next HOH
July 14th
Roadkill Competition Winner:
Frank
Original Nominations:
Paul, Tiffany, Bronte
After POV Nominations:
Paul, Tiffany, Bronte
Have Nots
Nicole, Corey, TIffany
9:45pm Tiffany and Michelle
Tiffany saying she doesn't want to be blindsided because then she'll be thinking there's something more she could do.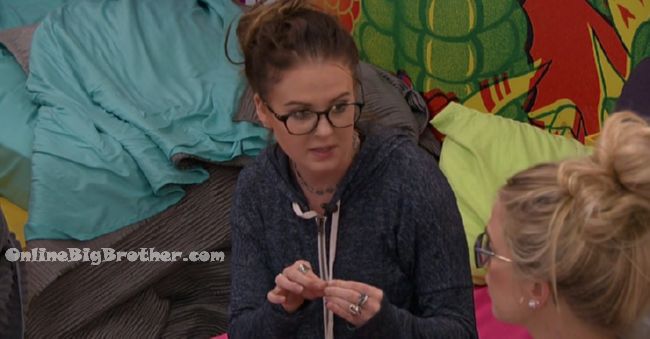 9:47pm Nicole and Michelle
Nicole says it doesn't make sense getting rid of Tiffany
Michelle saying they will all give Tiffany a sympathy vote, "The only person that will be pissed will be Paulie"
Nicole saying Bronte needs to go home
Paulie joins them.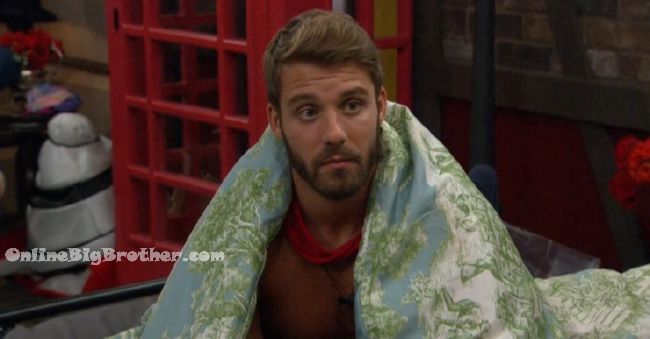 9:51pm London room Paulie, Nicole and Michelle
Michelle – Do you still think it's a good idea to send Tiffany home
Paulie – I dunno I'm been thinking about it
Michelle going on about how it's better for their game to keep Tiffany.
Michelle saying they need to put up Bridgette and Frank adds that Frank is "Old NOw" he won't be able to win Veto.
Paulie – at the end of the day if we keep her and she blows this next competition there was no point to keep her.
Bronte comes in briefly.
After she leaves Michelle is back on giving reasons they need to take Bronte out this week.
Paulie – so Bronte goes out Frank gets frazzled.. Wins the HOH he'll put TIffany up again.. Tiffany wins she'll put up Frank
Corey joins them..
They start talking about evicting Bronte being the best thing.
They count the votes they have 4, Paulie volunteers to talk to Zakiyah, Michelle mentions that Da'Vonne will vote to keep Tiffany.
Paulie – getting rid of a powerpuff girl will diminish frank's power.
Zakiyah comes in
They all agree to vote out Bronte.
Paulie – it'll be 6 to 3..
Michelle says she heard form Bridgette herself that Bronte and Natalie were after Corey .
Every one is vocalizing "100%.. I'm in.. Bronte gone.. " except for Zakiyah.
Paul comes in, says he's been studying hard and is ready for the HOH.
Paulie says they have to take out Frank and Bridgette
Paul – yeah f*** those fools.. screw the backdoor put them up
Paul says he'll use the code word Friendship during the HOH that means he's got it
Paul and Michelle celebrating Bridgette's last night in the HOH room. #BB18 @DawgsBigBrother pic.twitter.com/irgcYQfSnq

— OnlineBigBrother.com (@bigbspoilers) July 14, 2016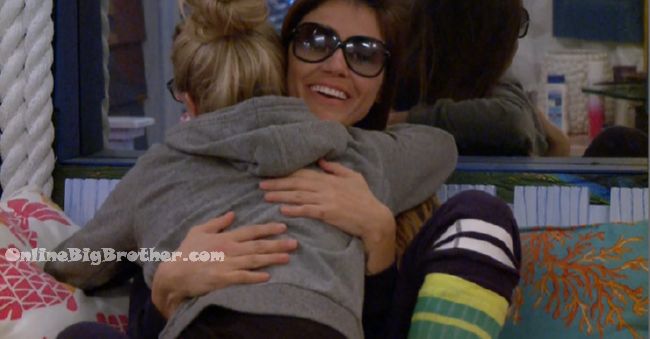 10:09pm Nicole and Tiffany
Nicole tells her she's going to be fine.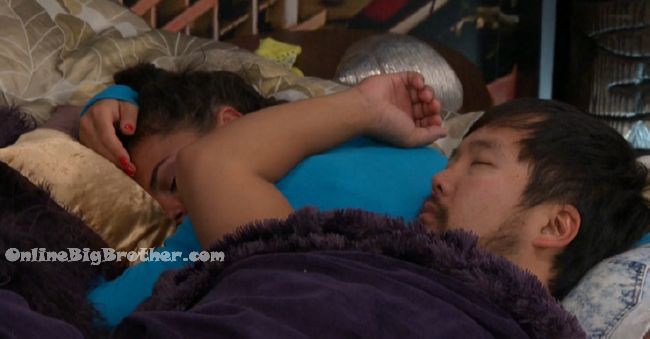 10:27pm if they're not sleeping they're are studying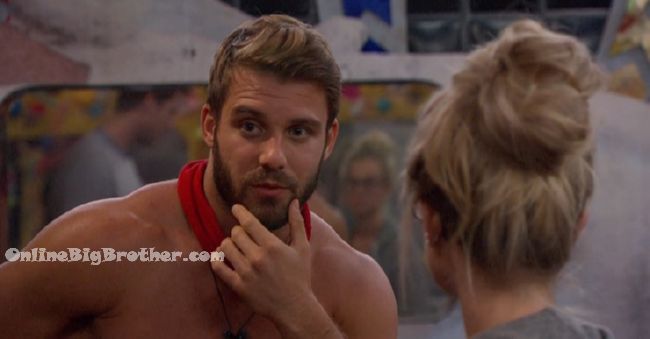 10:30pm Have nots Corey and Nicole (Tiffany sways back and forth during this entire conversation see gif below)
Corey – I can't wait to see the look on his face.. that's what you get for throwing my name out
Paulie joins them.. They start talking about getting Da'Vonne out before Frank.
Paulie – we can use Frank to out Da up
Nicole tells them Da'Vonne doesn't want to be part of the showmance alliance.
Paulie – she's got to be clipped.
Corey tells them Frank will be scared to death he'll have to work with them.
Paulie says
Paulie – Da already feels on the outs with us.. I'm worried she'll latch onto Frank, Bridgette, James and Natalie
Corey says he'll be nice to Natalie.
Corey and Nicole warn Paulie that Michelle and Da area closer than Z and Da.
Paulie says Paul is close to them more than anyone else in the house.
They go over scenarios Paulie says they need to win the HOh if they plan to take Da'Vonne out before Frank. Corey mentions getting Tiffany to do it. Nicole says Tiffany will never put up Da. Corey says they will have to win teh roadkill.
Nicole talking about keeping Tiffany with Paulie and Corey #BB18 @DawgsBigBrother pic.twitter.com/jNLZElX1ns

— OnlineBigBrother.com (@bigbspoilers) July 14, 2016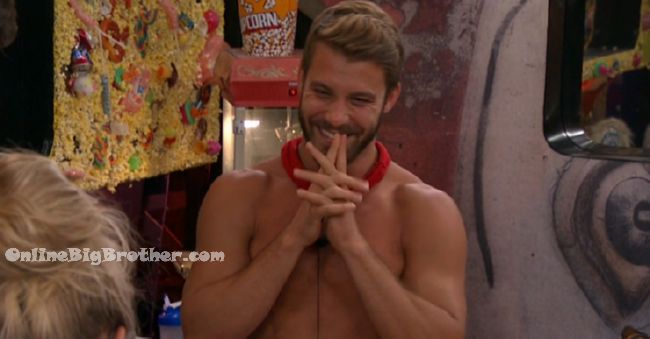 10:52pm Paulie, Corey, Nicole and Tiffany
Paulie says he can't wait to see the look on Bronte, Natalie, Frank, and Bridgette's
Paulie – powerpuff girls are going down to 2
Paulie says "It'll be f***ing hilarious" when Bronte gets Blindsided #BB18 @DawgsBigBrother pic.twitter.com/iktm2W4zX3

— OnlineBigBrother.com (@bigbspoilers) July 14, 2016
11:05pm Nicole, Tiffany, Corey and Nicole
Tiffany says her family is probably worried she's going home from everyone's diary room.
Paulie – shit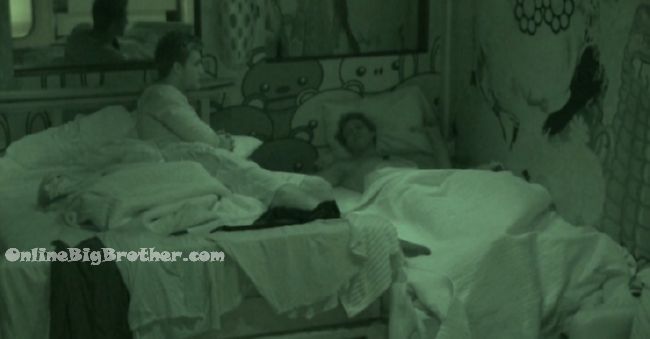 11:12pm COrey and Frank
Taking about who they need to put up against Da'Vonne. Frank thinks Paul is the best bet.
Corey – He's been up 3 week sin a row.. I asked him he said he liked it
Corey adds that Paul like getting his speeches in.
Paulie joins them says Tiffany is sh1tting her pants..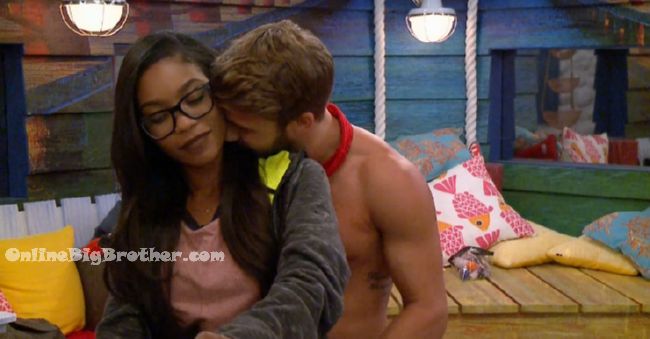 11:30pm Paulie and Zakiyah
Paulie is telling her that Da'Vonne doesn't like the 5 person alliance becuase she feels like the 5th wheel.
Paulie and Zakiyah #BB18 @DawgsBigBrother pic.twitter.com/3aOnSwpbt9

— OnlineBigBrother.com (@bigbspoilers) July 14, 2016
11:40pm Frank and Paul
Paul – who am I beating or at least knowing to beat
Frank – ideally.. you need to try and get to a point and if you can toss it to someone on my team or freak a'zoid..
Frank says he wants to win the HOH this week he's got a target for the week, "It's not yo Bronte or Natalie"
Frank in structs him if it comes down to Paul, Bronte and Natalie he has to take the HOH>.
11:55pm Paul, Zakiyah, Da'Vonne, PAulie..
Paul is telling them about his conversation with Frank. Paul does an impersonation of Bridgette the other night when they were all up in the HOH. "Thank you all for coming guys because I don't know what to"
Paul continues to make Bridgette jokes, impersonating her voice during the backing of the cookies. Everyone is laughing, they are loving Paul's stories.

12:20am Studying or sleeping
Tiffany fans can rejoice looks like there's enough votes to evict Bronte. Now this is going to be a Blindside.
[polldaddy poll=9464831]
[polldaddy poll=9464369]
[polldaddy poll=9465176]