POV Holder:
?
POV Competition
July 16th
POV Used
?
POV Ceremony
July 18th
HOH
Paulie
Next HOH
July 21st
Roadkill Competition Winner:
?
Original Nominations:
?, ?, ?
After POV Nominations:
?, ?, ?
Have Nots
?, ?, ?
CBS All Access: Live feeds are only $5.99 per month – Try it FREE for 1 WEEK!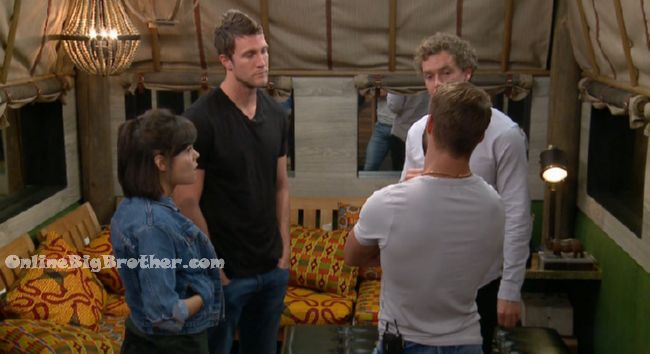 7:05pm Safari room PAulie, Frank, Bridgette and COrey
Paulie talking about putting Tiffany and Da'Vonne up.
Paulie – one of our teammates flipped..
Frank – Michelle flipped..
Frank – I don't see James flipping
Frank says he doesn't see Nicole flipping either
Paulie – well someone flipped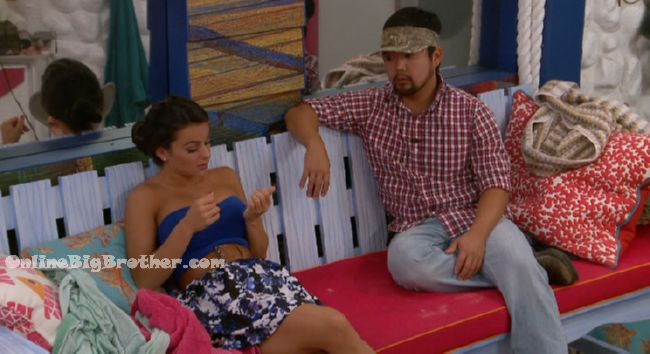 7:05pm Natalie and James
natalie – well I lost my best friend in the house.. I hate this game so muc..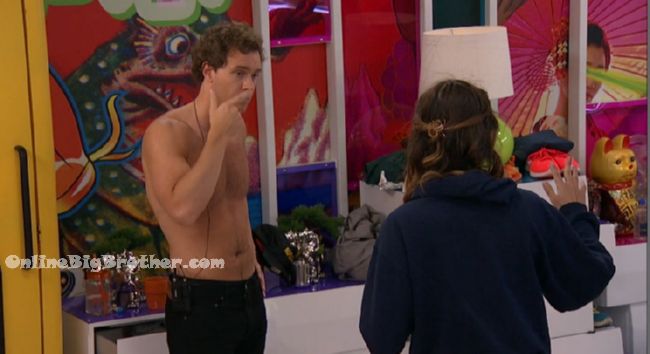 7:08pm Frank and Tiffany
(Ohh shit we got a fight CAm 3-4 )
Frank says DA'Vonne told him Tiffany was coming after him and because of that he was gunning for Tiffany.
Da'Vonne comes out.. Starts to argue with Frank they both are yelling..
Frank – I swear on everything she told me that
Da'Vonne keeps saying Bridgette told him that.
Frank – you're lying.. You're lying.. You told me in the bathroom
Frank – Tiff she's a liar.. The only reason I was after you is because she said you were coming after me..
Tiffany – you've been saying a lot of things to a lot of people..
Da'Vonne, Paul, Bridgette, Coprey, Paulie, Zakiyah and Tiffany now in the room
Frank to Da'Vonne "I want to send you home"
Da – guess where I'm not going .. Home… Guess where you're going.. Home..
Frank – I'm not going home this week
Da'Vonne – there's PLenty of weeks.. They took swings at you and they got you
Frank says this is why Da'Vonne went home in her season because she stirred up sh1t and started Drama.
Da'VOnne – I didn't start no drama my season, you just mad because you're bested
Frank – I'm not mad..
Paulie – lets not blow this house up lets have cooler heads prevail.. Emotions are clearly high right now..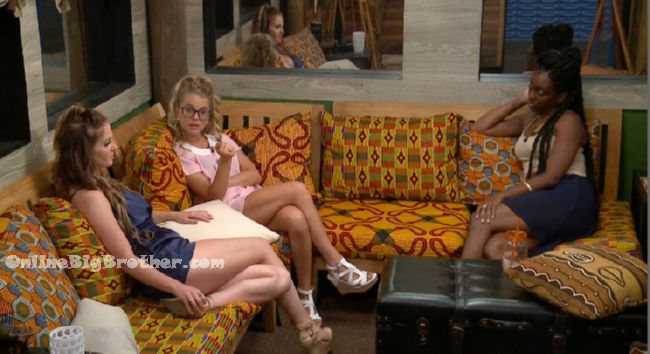 7:14pm Nicole telling them they have to stay strong...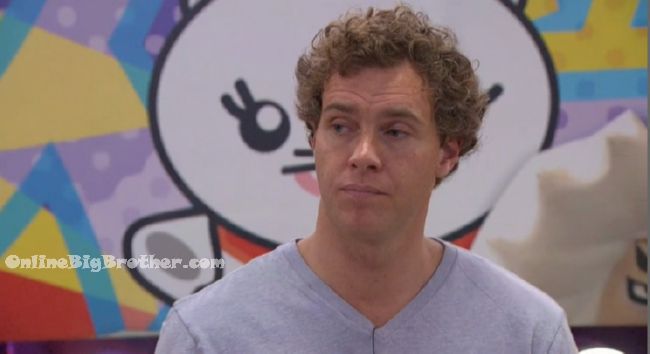 7:20pm Frank, Bridgette and Paulie
Frank – "I think the votes were you, me, James and Natalie"
Paulie – I can put Da up next to Tiffany
Frank – I didn't know I was a dictator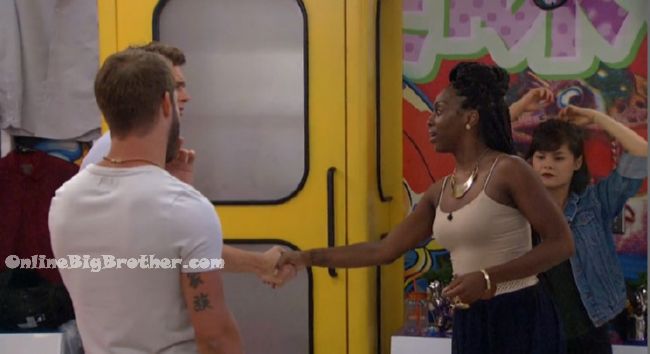 7:26pm Da'Vonne and Frank shake "it's just a game"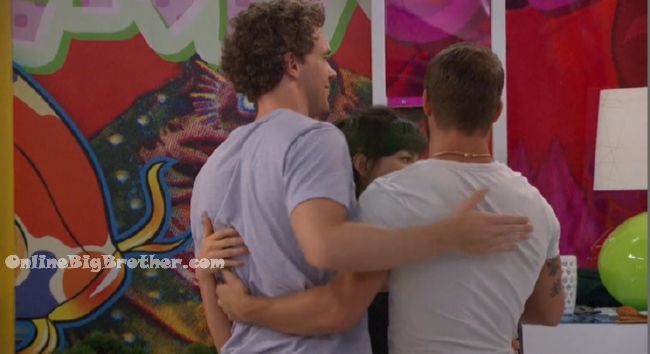 7:27pm CAtegory 4 minus Michelle hug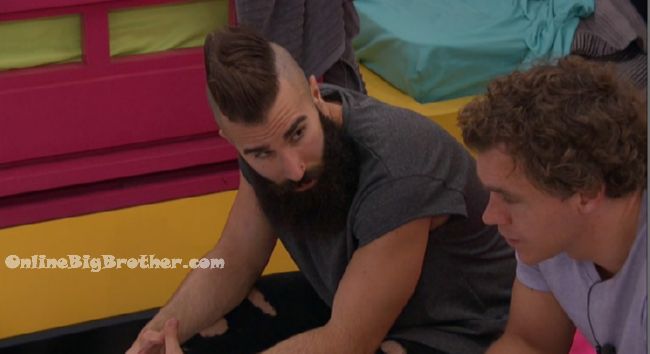 7:27pm Frank and Paulie
Frank says Paulie is putting up Da and Tiffany but he's not sure.. he's safe either way.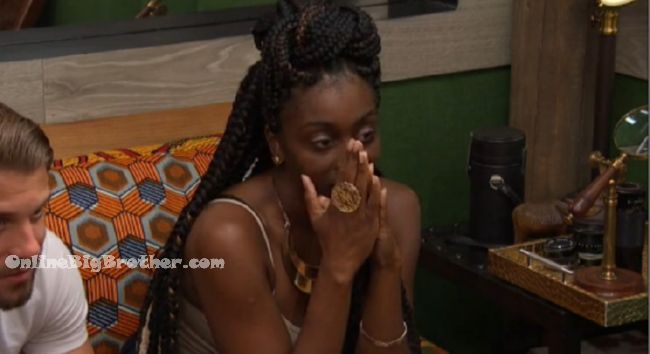 7:30pm Corey, Paulie and Da'Vonne
Paulie – Bridgette is on her scout game hard..
Da – Ohh 1000%
Paulie – he already said just think about it Tifany next to Da
Paulie – i was like Tiffany I can 100% agree with but I would rather have Natalie up there.
PAulie – that's the honest truth
Paulie – I do want to get Tiffany out.. Now
Da – She's got to go now
Paulie says if Frank wins Roadkill he's putting Da up. Paulie wants to take out Tiffany this week she has to go.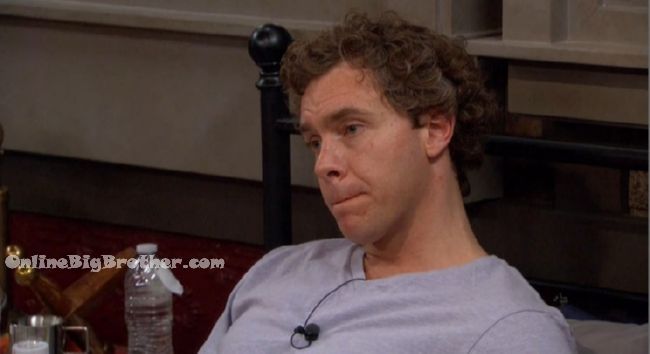 7:40pm Nicole and Frank
Frank trying to figure out who flipped.. He says Da is yelling at him that he's going home the house wants him out.
Nicole says Paulie wants Tiffany out this week.
Frank – I don't want her out.. I want Da out
Nicole – work on that
Frank – All I know is I voted Tiffany out.
Nicole is hinting that James maybe voted out bronte, "Maybe it's 2 vets vs 2 vets"
Frank – whats your read on Paulie
Nicole – it's fine he trusts you he trusts me.. I would be surprised if he put us up.. I would be shocked if he flipped.
Frank says if Nicole is telling the truth the vote was Nicole, Corey and Paulie.
Nicole that sounds right.. \
Frank says he told Paulie to put Da and Tiffany up
Nicole – he wants Natalie up.. James will be pissed.. getting Natalie out is a waste.. no offense we can get her out at any point..
Frank – Da and Tiffany are up there that's 2 vote they don't have.. WE only need 4
Nicole – I just don't open my mouth to anybody
Frank – I just need you guys to vote with me
Nicole – Yes 100%
Frank – it's got to me James and Michelle
Nicole – yeah probably.. but I don't know.. Bronte left that's not that terrible.. Tiffany might go this week that's not bad.
Frank – I have two decent targets that want to come after me.. Da and Tiff… Da's the bigger threat.
Nicole – you're the best person in competition in Big Brother history.. I want you on my side.
Frank – someone else said that to me it was Brittney Haynes..
Da comes in grabs some clothes and leaves.
Nicole – she's going to be so pissed… she'll put me up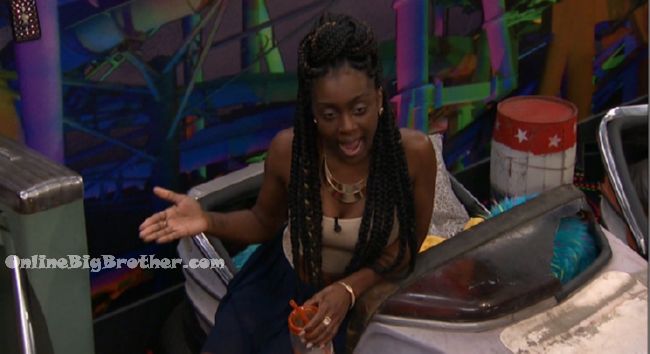 7:54pm Da'Vonne, Michelle and Zakiyah
Da'Vonne brings up Tiffany telling Frank all week people have been coming up to her saying Frank wants her out this is the only reason she was coming after her.
Zakiyah – why would she say that
Da'Vonne – that's how all that sh1t got started.
Da'Vonne – he got pissed when I said he put up Bridgette.. he got pissed…
Da'Vonne- Paulie is saying he's putting up Natalie and Tiffany… if Frank wins roadkill he's putting me up.. the goal this week is to take out Tiffany.
Zakiyah calls Frank a b1tch a grown b1tch
Zakiyah is pissed at Bridgette for walking into rooms asking people if they are OK.. "B1tch we're not friends"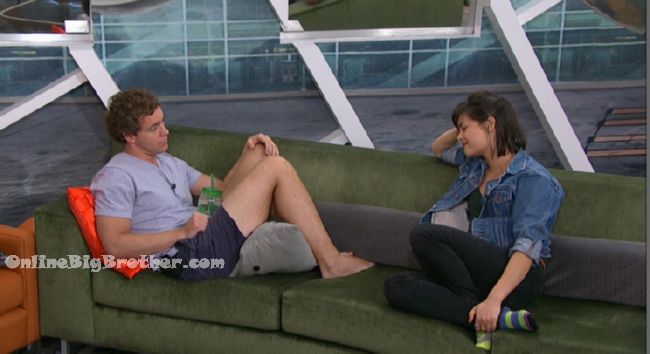 8:01pm Bridgette and Frank
Trying to decide where the votes went..
Bridgette is sure James and Natalie did not vote Bronte out.
8:06pm James, Da'Vonne, Nciole and Zakiyah Have nots
JAmes says Natalie is pissed at him because she thinks he had something to do with it.
Corey joins them.