POV Holder:
?
POV Competition
July 9th
POV Used
?
POV Ceremony
July 11th
HOH
Bridgette
Next HOH
July 14th
Roadkill Competition Winner:
Frank
Original Nominations:
Paul, Tiffany, ?
After POV Nominations:
?, ?, ?
Have Nots
???
Tiffany and PAul are nominated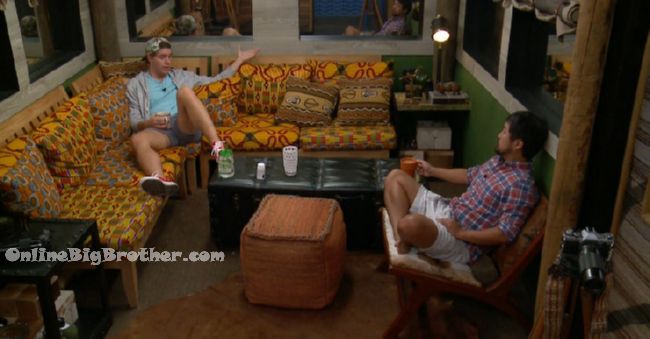 8:38am HOH Frank and Bridgette Checking out the fish..
Frank is saying today will be an easy day they have the road kill and that should take all day.
He doesn't think Tiffany is going to comes after Bridgette.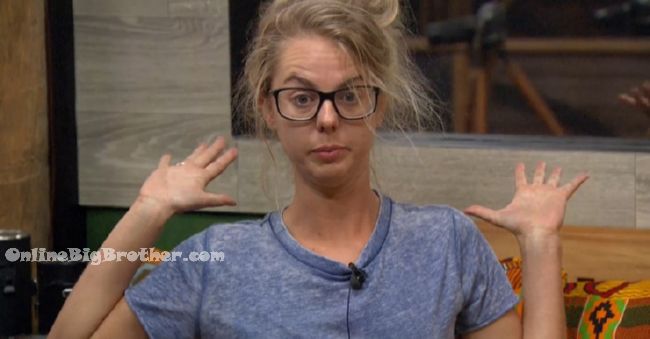 8:34am Frank and James
Frank – I kinda just popped her butt… wasn't the first time she usually laughs.. I do it to my nanna..
Frank says Bridgette has been bringing up Nicole/Corey, Nicole/Tiffany. .. a combinations.. She hasn't brought up Da'Vonne.
Nicole joins them says Bridgette is on board with getting Tiffany out. Frank brings up Tiffany telling Bridgette they she can be the bridge that brings the two sides of the girls together.
Frank told Bridgette the girls on the other side hate Tiffany nobody wants to work with her.
Nicole says Tiffany is digging herself into a deeper hole it'll be easy to vote her out after a week on the block.
Frank says Victor said "Let get this over so I can get out of this f****g place" apparently it was on the live show which means CBS pays a fine.
Frank – I can't believe he shouted out his instagram..
James – He's going to be an actor and model when he comes out
Frank – shampoo commercials
Feeds cutting in and out when they come back Frank is farting.
James says he doesn't want to smell the air..
9:12am Frank brings up how quick Big BRother ways last night to tell him and Bridgette to turn the lights on. Frank says Him and Paulie were up in the HOH for 20 minutes talking in the dark.
James says the same thing happened to him… (Feeds cut)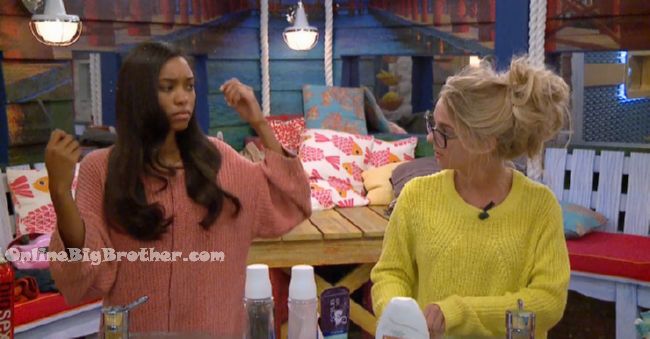 9:05am Nicole and Zakiyah
Nicole says Frank was up in the HOH all night and Bridgette is going to put up Tiffany and Paul as the pawn.
Nicole says Tiffany is trying to form a girls alliance saying she's the glue between the two group of girls.
Nicole – We got to get her out of here
Zakiyah – or she's going to f*** it up for everybody.. I don't trust her a$$
Nicole – she follows me around..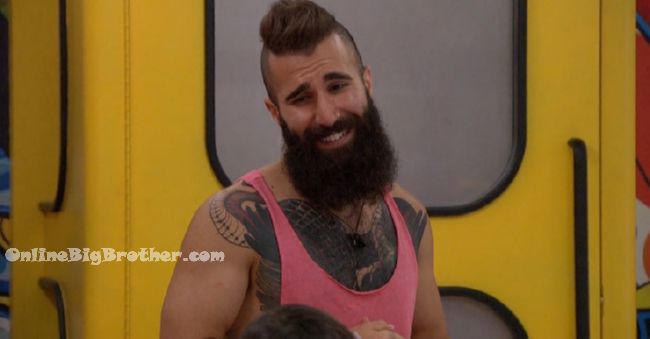 11:23am Feeds finally back.. Paul is laughing about being on the block every week.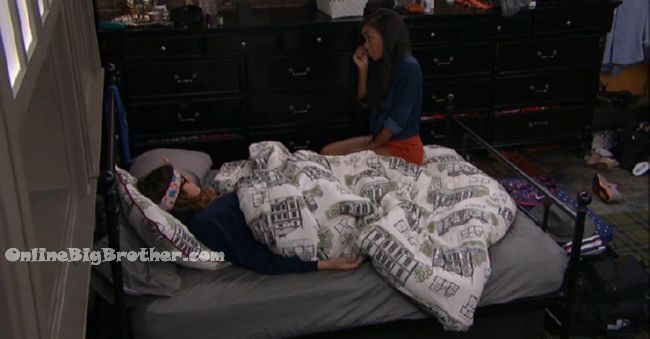 11:37am Zakiyah and Tiffany

Zakiyah is stressed about being nominated saying it's so hard to play when you are always on the defensive. Tiffany doesn't know who to pick for POV since everyone in her group wouldn't want to win it for fear of going up.
Tiffany – I gotta win
Nicole comes in.. "You have us"
Tiffany – I need to win roadkill
Tiffany – if I survive this week Frank is going down with a F****g vengeance.. and Bridgette I'm going to put both their a$$es up..
Nicole – you are doing really good..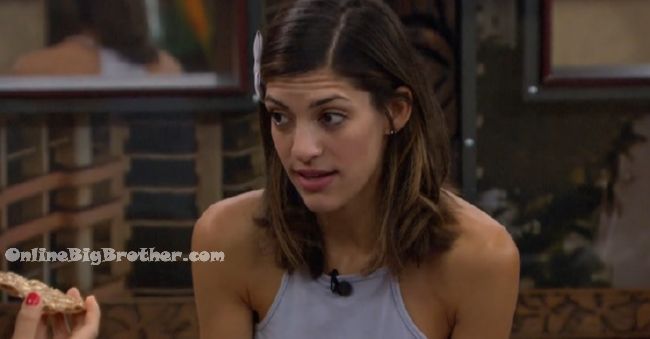 11:41am BRidgette and Bronte
Talking about telling Tiffany putting her up was all Frank's idea in the event she is taken off the block.
Bronte thinks Tiffany is more mad at Frank.
Bronte – I don't want you to be blindsided.. I want us to make it past jury.. I'm telling everyone I want to make it to jury.. There is a big thing that went on last night between Frank and DA..
Frank has slapped Zakiyah and DA's butt sometime.. He also jokingly called Da a slut. .she went into the DR and reported him..
Bronte he slapped Z butt a couple times and she was really upset about it
Briont e- Frank apologized and stuff.. A couple people have rough feathers with frank now
Bridgette I told him to not make people so angry
Brionte says "they" are going to try and take out Frank next week.
Bronte says more people are siding with Paulie over Frank
Bronte says Paulie rolled his eyes when Paul was nominated.
Nicole comes up and thanks her for not nominating her.
Bronte says her plan was to play up how strong she was in competitions so the girls would rally around her but it's done the opposite it's driven the girls closer to the boys.. "It turned into All the girls are intimidated by you"
Paul comes up.. "I OK don't take shit personally"
Bridgette to Nicole – are you ok with the nomination I know it's part of your team
Nicole – ya .. I know it's super hard to be in that position
Paul jokes that he hopes he's a havenots this week so he gets the full experience again..
Nicole and Brionte leave.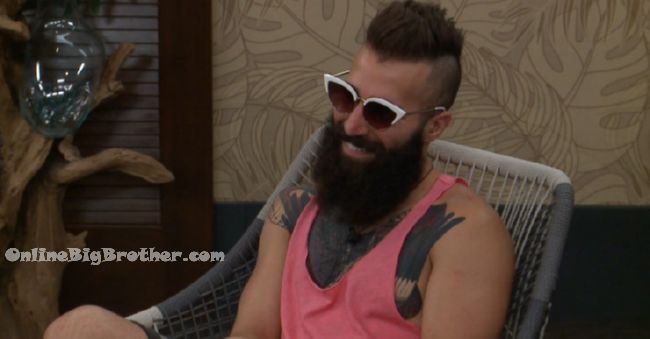 12:04pm
Paul and Bridgette Bridgette – you're not my target this week..
Paul – I don't know what everyone else thinks..
Paule says Tiffany is being weird
Bridgette says she wants Paul to win the POV but if she wins it she won't be using it on him. The only person she doesn't want winning it is Tiffany.
PAul says he'll pick Paulie for POV
Bridgette will pick Frank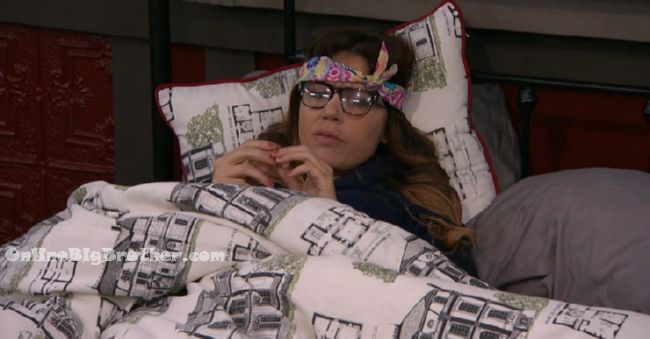 11:56am Tiffany talking to the camera
Tiffany would be good if I won the road kill.. Really really really good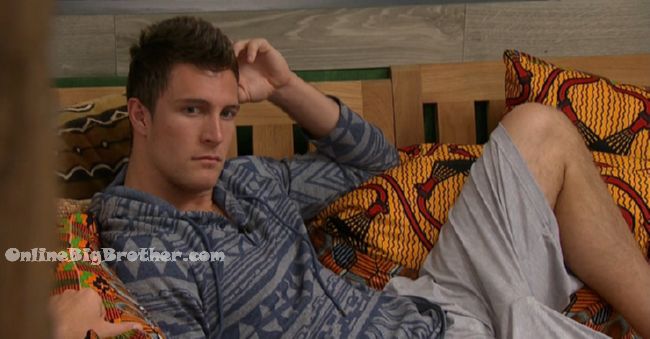 11:57am Corey and Frank
Frank is farting.. Corey laughs says he told Tiffany "He pick me to play for you"
They laugh..
Frank says this is why he got close
Corey saying theres a lot of girls in the house they have to watch their backs
Frank – we gotta cut Da she's way too paranoid
Corey – ya.
Frank wishes Da would have told him the first he's done it 3 or 4 times. Frank is irritated that it took 4 times for her to make a big deal out of it.
Corey – you know I got you're back I'm sticking with you
Frank – I still feel good about Nicole, you and Z.
Frank says he sat Da down this morning and apologized, "If I do it it means I am close to you.. If you don't like it I stop"
Frank – I don't think she took my apology very well.. Hard to tell… I'm not worried about Da one bit I get votes against her real quick
Frank knows for some people watching at home they may be saying Frank shouldn't do that – that's the way I am .. I apologize for being myself.. You know me it wasn't friggin meant.. I got a girlfriend.
Frank – I know it's mean but last night I was thinking f** let's get Bridgette to put Da up ..
They laugh
Corey had a weird feeling he was going to do that.
Frank – i'm not that kinda guy… I am tired of walking around landmines with these people.
They talk about keeping floaters on the side as votes. THat is why their grop is so perfect they all have a floater on the side.
Corey – Floaters are voters
Nicole joins them..
Frank – I told Corey I want to be lined up against Tiffany tomorrow (During the POV)
Frank mentions how he's concerned about how close James and Natalie have become.
Corey chimes in that they spend all their time together
Nicole adds that Natalie gets mad at her when she spends time to him.
Frank had no idea they were a thing until Bridgette told him last night. Nicole says the other day she was having a coffee with James in the living room and he told her if Natalie comes by he'll have to get up.
Corey – he's got moves..
1:32pm Feeds have been cut for the Roadkill..
2:22pm Feeds still down yo
3:16pm Feeds for you NO!
4:16pm FEEDS? NO!
5:00pm FEEDS HAHAHAH NO NO NO NO
Feeds back Frank won the roadkill he plans to nominate Bronte.

[polldaddy poll=9464831]
[polldaddy poll=9464369]
[polldaddy poll=9465176]