POV Holder:
?
POV Competition
July 9th
POV Used
?
POV Ceremony
July 11th
HOH
Bridgette
Next HOH
July 14th
Roadkill Competition Winner:
?
Original Nominations:
?, ?, ?
After POV Nominations:
?, ?, ?
Have Nots
Da'Vonne, Paul and Zakiyah
Big Brother 18 Alliances Help Guide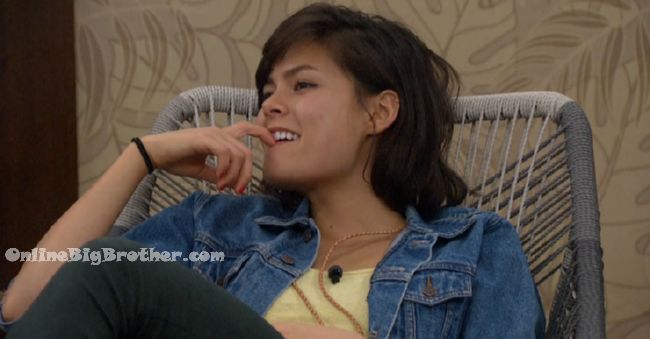 1:15am Natalie, Frank, Bridgette and Bronte
Talking about getting Tiffany out and using Paul as a pawn. Frank says the entire house wants her gone. Frank says if you are working with Paul then ask him for his permission to use him as a pawn if you aren't working with Paul then don't tell him.
Bridgette is worried about "the girls being mad"
Frank tells her he's talks to everybody in the house and he's tested the waters before Da'Vonne, Z, they all want Tiffany out. "Nobody cares for her in the game.. because she's so emotional you can't work with someone emotional"
Frank leaves..
Bridgette – should I tell him (Paul) before i'll be up till 5am ..
Natalie- he's going to be staying..
Natalie says if she talks to Paul just tell him she is putting him up tomorrow but he's not the target. No need to explain it.
Bridgette – I can't tell him he's going up.. I just feel that he'll go downstairs and be pissed off and start something..
They can't decide what to say to Paul..
Natalie – ask Frank what to do
Bridgette warns Bronte people are naming her as a target. Bridgette tells her to lay low and be chill.
Bridgette – not trying to be rude..
Bronte – who is trying to target me..
Natalie – people don't talk to me
Bronte – you have to swear you have to trust me..
Bridgette – it's just not 1 person that told me..
Bronte- why do they think I'm a threat.
Bridgette – you did well in that POV, You are intelligent well rounded women and you are not afraid to speak your mind..
Bronte is worried about people targeting her now.
Bridgette tells both of them they are safe this week they don't have to worry just lay low and get off people's radars. .
Natalie and Bridgette tell Bronte to relax with people talk about herself and her family..
Tiffany comes in asks for privacy with Bridgette.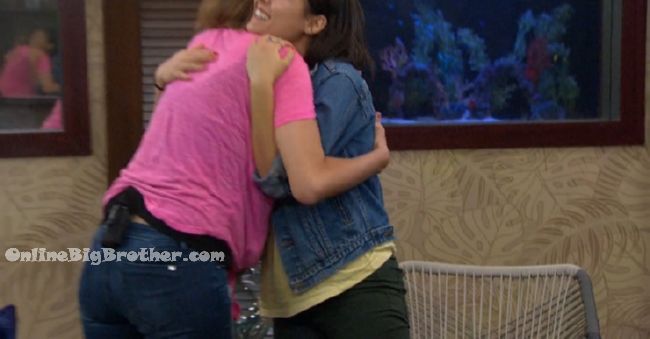 1:27am Tiffany and Bridgette..
Tiffany – oh my god I asked for burts bees to..
Tiffany – you excited to win HOH
Bridgette – I'm so nervous..
Bridgette says all her strategies going into the house didn't involve winning competitions because she never thought she would win any.
Tiffany says she could offer her a deal but that's not her laughs say that's more like her sister. She just wants Bridgette to know she's never come after her.
They huge it out..
Tiffany – good night.. Enjoy your room.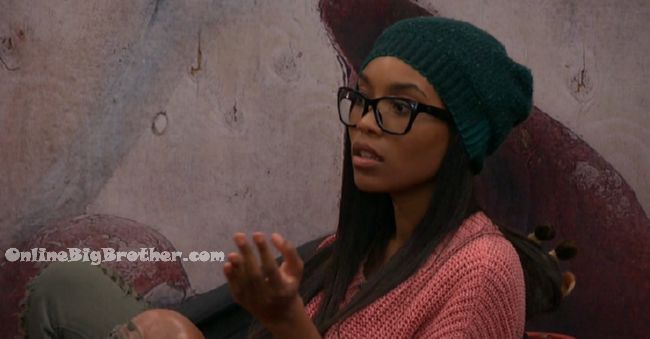 1:17am cam 3-4 Tiffany, Nicole, da'Vonne and Zakiyah
Nicole is saying Frank should not be putting up a 8 pack member..
Nicole – lets see how loyal he is..
Zakiyah 0 i'm tired of being harassed.. I'm tired of being a peace of meat..
Tiffany is sick of the farting.. "he farted on Da's face basically.. " (LOL goddamn)
Zakiyah is afraid that he'll push Da'Vonne until she snaps.
Tiffany – he's like the dirty uncle
Zakiyah – he's a horrible person.. so damn manipulative.. too man he's crazy
Tiffany – he's a sales man to the max.. I see right through it.. he fakes his laughs..
Zakiyah – he's conniving..
Tiffany – I was loyal to the 8 pack and he blew that shit up
Zakiyah – it's gone..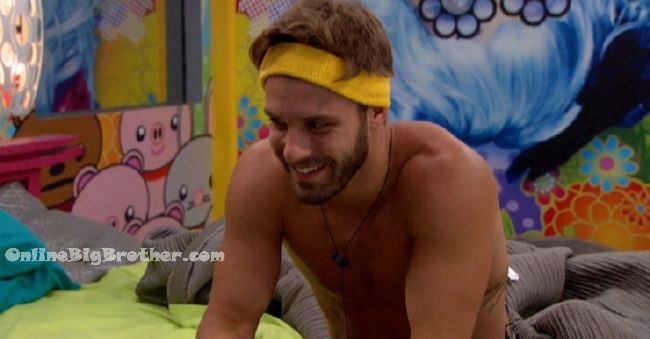 1:25am Frank, cam 3-4 Corey, Frank and Paulie
Laughing at Frank sleeping in the HOH tonight, 'Frank's bunkering down digging a trench and bunkering down"
Mention Tiffany going home this week how they don't have to worry..
Paulie and Frank bring up how they are both competing in next week's HOH one of them will be winning it.
Frank leaves..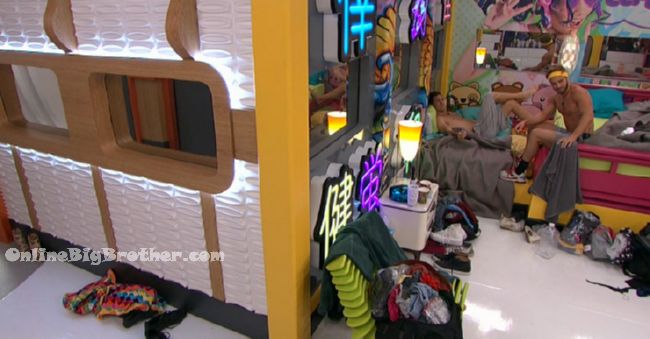 1:28am cam 3-4 Frank slaps Da'Vonne (Audio only)
SLAPPPP
Da'Von e- STOP HITTING ME ON MY A$$ FRANK
Frank laughing…
Frank – She's not serious..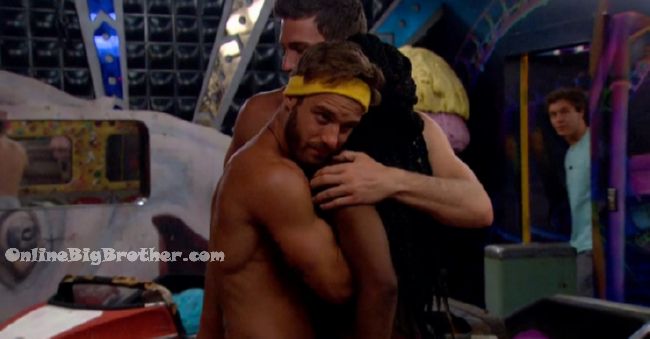 Paulie and Corey rush into the have nots to comfort her..
Frank follows "Whats up.. I'm sorry Da… "
Da'Vonne – it's cool frank…
Da'Vonne leaves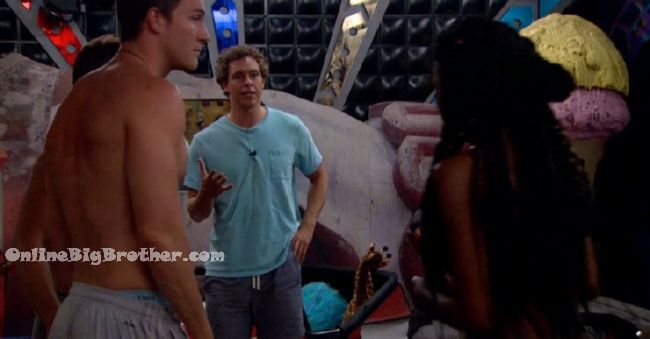 Frank – I just poked her in the butt.. It's not the first time we're just joking around..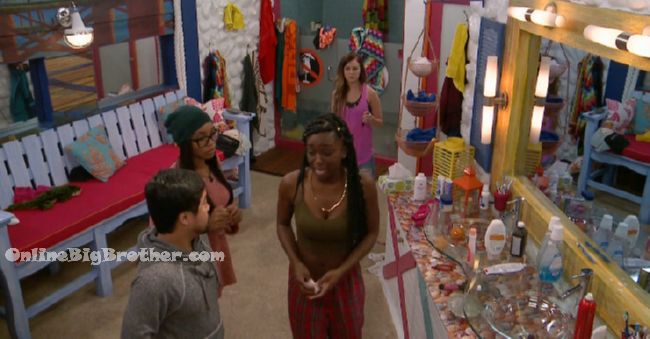 Bathroom James, Nicole, and Da'Vonne
James – yo man that shit ain't cool man.. He needs to leave her alone i'm about to get into the shit I don't give a damn.
James- i'm telling you man..
Da'Vonne is crying.. _ I almost just lost it.. Shit.. I almost just slapped him
James – he's gotta stop leave her alone..


Da'Vonne runs to the DR right past Frank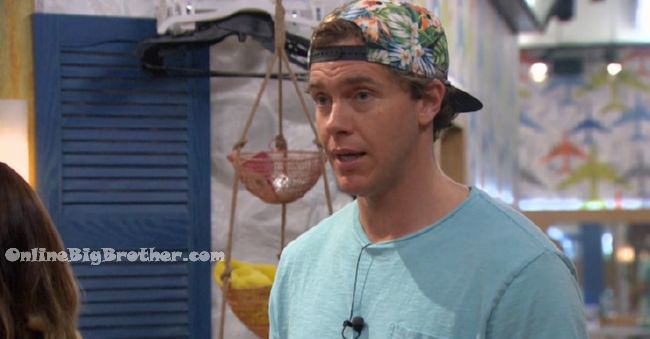 1:31am Frank and Michelle
Frank – I just popped her on the butt… she came out of the DR I dunnno
Michelle – Some people don't like that you gotta stop..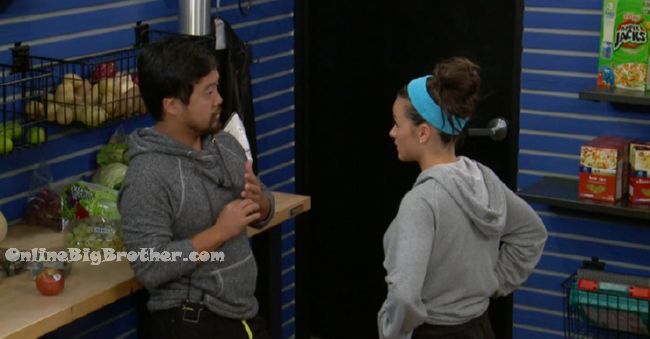 1:32AM storage room James and Natalie..
James – Frank is running around the house being crazy..
James- Da almost hit him.. He hit her butt when she was already pissed at him.. He keeps messing with her.. He hit her on her butt AGAIN.. Just a few minutes ago..
James- she almost hit him.. He's bringing up people's kids into the game.. He made a comment about having kids doesn't mean you deserve to be in Jury. James is pissed Frank even brought that up why bring family into the game. James isn't going around saying he deserve Jury more because he has a daughter.
Natalie says Frank is telling Bridgette everything to do, "It's his way.. he's going to sleep up they're tonight..
Natalie is pissed none of them get to sleep in the hoh it's Frank every week.
James is getting tough tells her he's about to say something to Frank
Natalie tells him to calm down.
James agains says Frank told to Corey and Paulie he didn't care if we Da and James had kids they don't have any bigger reason to make it to jury.
Natalie – is momma da ok
James – we didn't tell momma da heshe would go out and kill him.. She's already pissed Frank hit her up on her butt..
James- he told Da to shut her damn mouth.. Right before he hit her butt.. That is why she was pissed in the first place.
Natalie – was he joking because he's always joking
Jame s- maybe I don't know but Da is sick of it..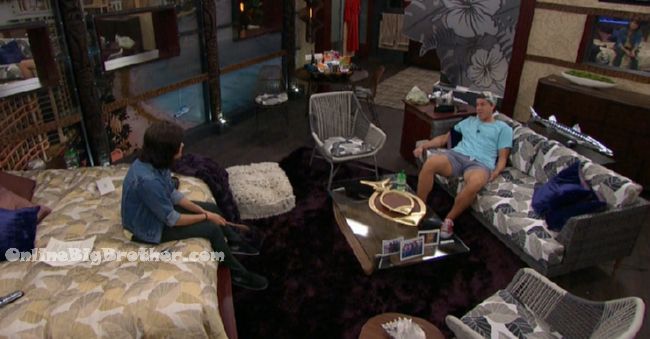 1:40am HOH Bridgette and Frank
Frank interrogating Bridgette about her conversation with Tiffany.. He wants to know about the deal Tiffany is trying to make
Bridgette – it's the whole girl thing.. All the girls are trying to band together.. I don't think it'll work 8 person alliance is not probable.. I don't talk to 1/2 the girls in the game..
Bridgette – she pretty much said I'm attached with these girls she's attached to those girls I can be the glue that holds them together.
Frank – that's funny.. All those girls want her out.. Do you want the girls to sleep with you
Brigette – it doesn't matter.. You can sleep up here incase she comes back.. Hehehe we can have girl time tomorrow.. HEHEHE
Bridgette says she would feel better with Frank up here in case Tiffany comes back.
Bridgette giggling..
Frank – it's fun to be in the big room..
Frank brings up Da'Vonne crying at him.. "I popped her in the butt a little bit.. She started crying.. Sometime those Diary room sessions you come out a bit frazzled
Bridgette says she gets a sense "They wanted her (Da'Vonne) to win" (Production)
Frank wonders if Da'Vonne is going to be a have not again this week.. Frank says that will be rough for Da she's not having a good time as a hav not sleeping in the bumper cars.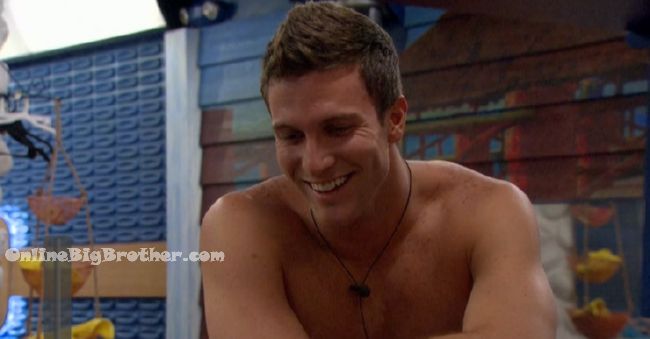 1:44am Corey and Nicole
Nicole says if she's nominated she's picking Corey for Veto and if he wins he better take her down.
Corey – I'm going to win one soon.. I feel it.
Paulie joins them, "I want to say something to Frank about doing that shit.. I don't like that shit smacking a girls a$$"
Nicole – why don't you go upstairs and camp out..
Nicole says Frank is for sure just joking around with Da'Vonne this is all it is..
Nicole – he has a girlfriend so why is he doing that..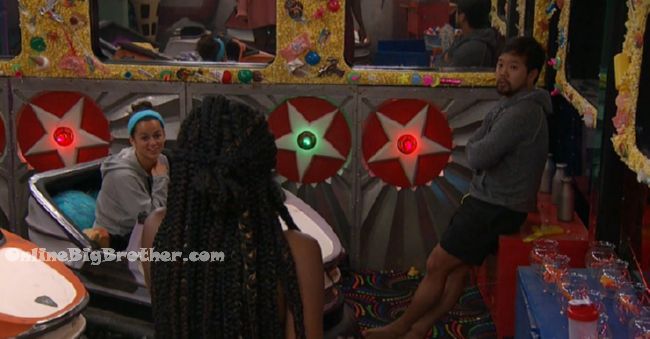 1:47am Have not Da'Vonne
Da'Vonne- I almost hit him James.. I almost hit him I was right here..
Natalie – I had to control him
James – I almost hit him James..
Natalie – well momma da everyone knows you are a good person we love you
Da – I love y'all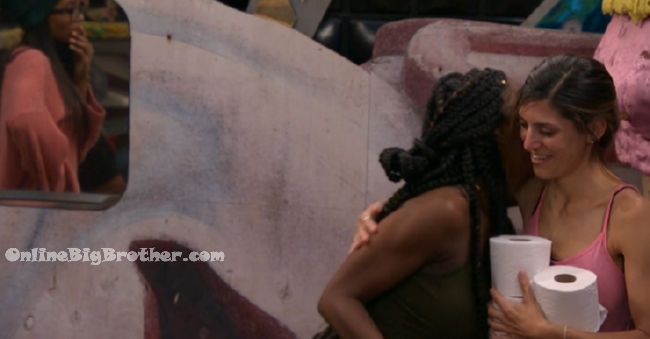 Bronte and Zakiyah come by hug it out..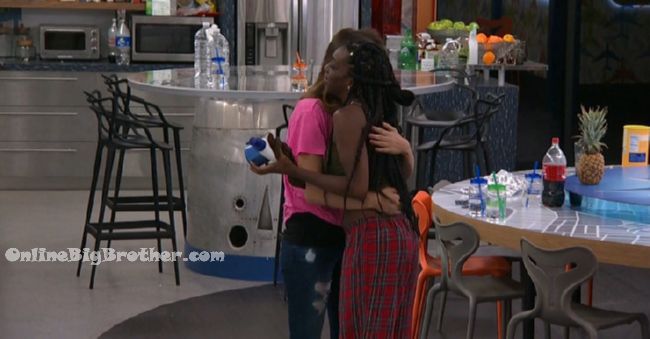 1:49am Tiffany and Da'Vonne hug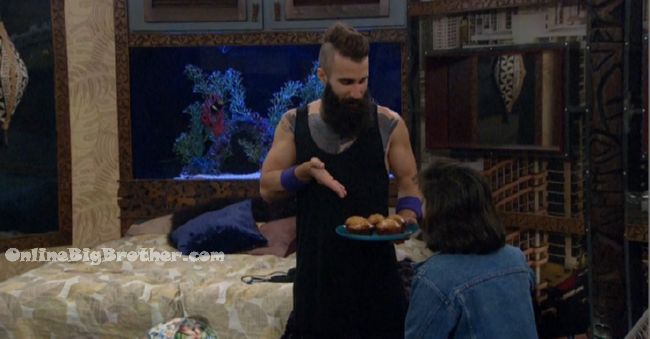 1:49am Paul brings Bridgette some fresh muffins.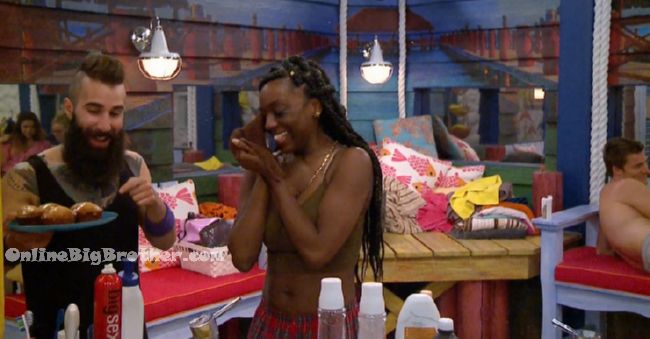 1:50am Paul offers Da'Vonne some muffins.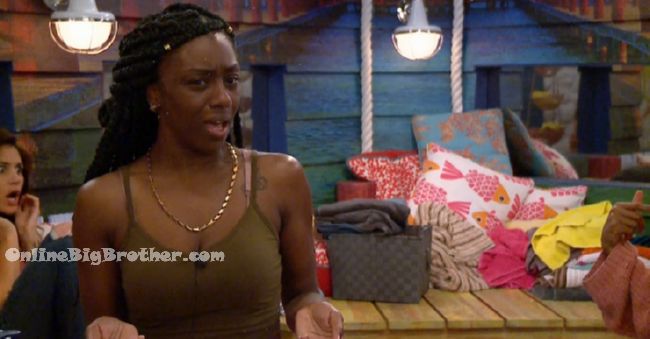 1:55am Bathroom Da'Vonne, Zakiyah,
Da'Vonne – slapping me on my a$$, always talking about my t1t1es, calling me a slut.. TElling me to shut my damn mouth that's a problem..
Da'Vonne – everytime I walk past.. "Ohh Da t!tty sitting right"
Da'Vonne going on about all the annoying things Frank did to her.
The girls in the back share some of their stories. Zakiyah brings up him lifting up her shirt and popping her in the belly looks at Tiffany "you remember that"
Tiffany does.
Zakiyah – F****G creep .. I feel like I'm following Da at this point something pops off… I'll jump in ..
Da'Vonne thanks god for catching her and preventing her from hitting Frank because she was so close.
Tiffany says just go into the DR if it happens again it's not worth getting removed from the game for slapping Frank.
Da'Vonne says she's trying to raise a daughter she doesn't want her going back watching these shows and learning it's ok to slap a girl on the butt or tell her to shut her damn mouth.
They are now realizing that Frank was a bigger a$$ than VIctor
Da'Vonne says she'll break her ankle, toes and damn throat to win the next competition.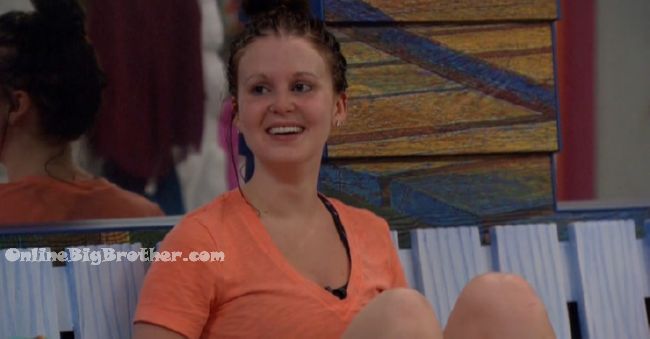 Michelle joins them..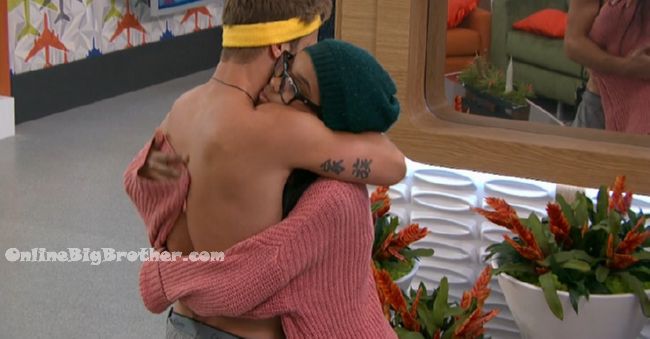 1:51am Paulie and Zakiyah
Talking about Frank slapping girls butts. Paulie says he only slaps his girlfriend butts and that's more of a playful thing
Paulie tells her they have to make sure one of the girls go home, Natalie, Bronte or Tiffany.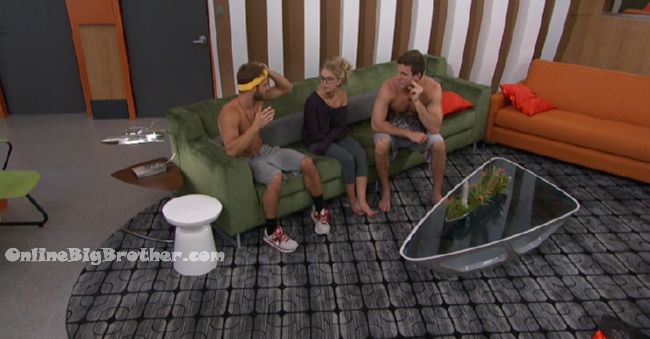 1:57 Paulie, Nicole and Corey cam 1-2
Corey – he's 32 years old he should understand that sort of thing
Nicole – did he 9Frank) say anything to you about noms.. Why is he sleeping up there..
Paulie – he doesn't want people to talk to her
Nicole – that's reasonable.. I didn't think of it..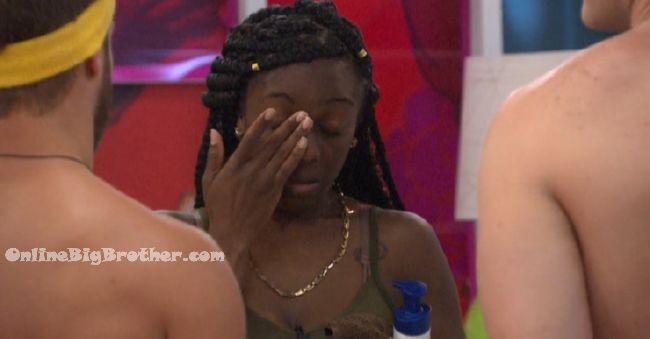 1:59am Paulie Da'Vonne
Paulie is going to say something to Frank because he's not going to stand for his behaviour
Da'VOnne hugs him
Paulie- Z told me he did it to her..
Da'Vonne – bring up he's saying ohhh titty sitting right
Corey joins them.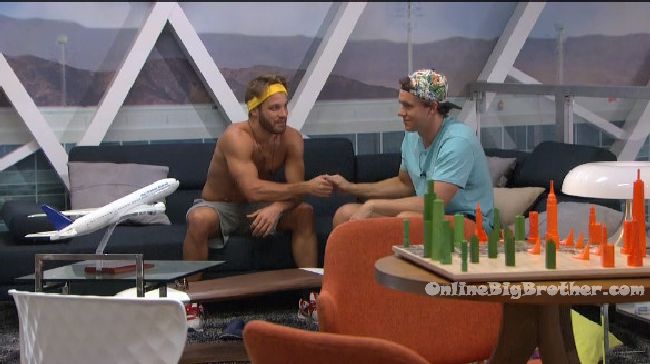 2:03am Paulie and Frank
Paulie says Franks joking with Da'Vonne doesn't sit right with him. Paulie says he didn't believe when Da would say Frank did that but after Da got mad..
Paulie – I get it you are f****g around..
Frank – I f*** around with my family..
Paulie – theres a lot.. she's missing her daughter.. this is all videotaped she's thinking of her daughter.
Paulie – she'll be fine by tomorrow.
Frank – I'll talk to her tomorrow..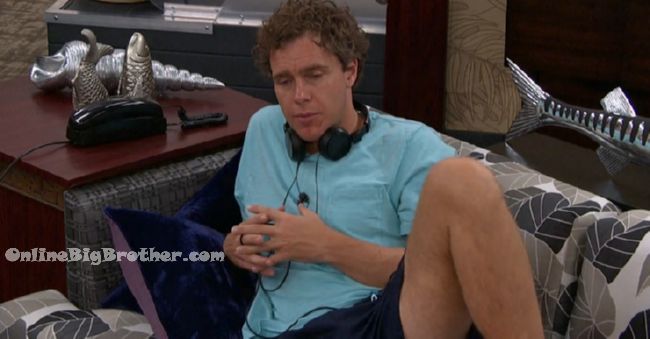 2:24am HOH Paulie and Frank
Frank tells him they are all good this week. Brings up Tiffany tried to make an all girls deal with Bridgette..
Frank brings up Bridgette being used as a glue between the two group of girls.
Paulie saying how it's worrisome how paranoid Nicole gets. Says James, Frank and him are calm.
Paulie adds that Corey isn't that bad it's Nicole who's way too paranoid.
Paulie – definitely a good week for us..
Frank – being safe and still being able to play in HOH
Paulie – once Tiffs gone we never have to worry about anonymously being put up by anyone..
Paulie thinks they are good with Brionte and natalie now too.
Bridgette comes up they hug it out
2:28am HOH Frank and Bridgette
Frank – momma da is not happy with me .. I'm confused.. I don't grab her butt I don't pinch it.. I do a finger pop.. you know like that..
Bridgette – What are you doing finger popping peoples butts..
Frank – I did it before we always laugh .. I only do it to people I feel comfortable with..
Frank – I pinch my grandmother's butt.. I pinch my nanna's butt.. I pinch my momma's butt That's the way we grew up .. my momma pinched my butt.. It's a family thing you know
Bridgette – what the hell Frank that crazy.. That's weird.. That's quirky,,..
Frank – that's the way we are..
Frank – no more butt touching for me.. Obviously
They start getting ready for bed..
Bridgette – Get comfy Frank I like to take my time
Frank – Ohh I will..
Frank – I love .. just the way you talk
Bridgette – ehehheheheeh
Bridgette – that album is really relaxing..
Bridgette comes out of the shower
Frank listening to her HOH CD – I just can't tell if he's doing it all with his violin .. sometimes he makes the violin sound like a Spanish guitar
Bridgette – he truly amazing me the way he does it.. he usually uses a lot of whistling.. it's kinda what he's known for.. he's a master of the whistle..
Frank – you ready to go to sleep… or do you want to listen instead..
Bridgette – Nah.. I listen to my dreams.. heheheh
Bridgette – hehehehh..It's weird to have a room to yourself..
Bridgette – this fish tank is kinda creepy
Frank – I know eh
Bridgette – hehehehh
Frank – I'm proud of you.. you got up there by yourself..
Bridgette – I don't know how I won it… heheheheheh
Frank – powerful.. you got up there stayed positive
Bridgette – hehehhehehe.. i feel if we didn't want his week they would have taken a shot
Frank says he's worried about Paul..
Bridgette – hehehehh
Bridgette says she's been coaching Bronte to calm down and chill, "she came on strong"
Big brother yells at them saying the bedroom likes must me on
Frank doesn't understand they usually let you talk a bit with the lights off..
Bridgette – Meanies..
Frank – you don't mind I pop my shirt it's hot in here..
Bridgette – no
Frank good night Bridge
Bridgette – goodnight Frank.. heheheheheeheh
Frank – you won HOH
Brdighette hhehehe
Bridgette – you're awesome
Frank you're awesome too ..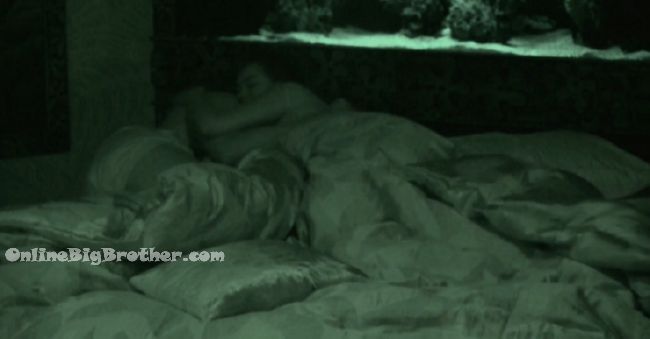 2:54am James and Da'Vonne
Da'Vonne brings up Natalie. James doesn't want to rush things with her.
Da'Vonne- One thing for sure you can check off your list she does in fact like you
James – Sweet ..
Da'Vonne- she always talks about how sweet you are how much of a gentleman you are..
James- she likes a sweet guy .. she's not into big muslces and stuff.. She likes a genuine guy..
Da'Vonne – I see how you are with her.. you are very delicate with her..
James says it's only Natalie and Bronte
Da'Vonne thought they were a trio with Bridgette.
James says they weren't.. it's Natalie and Bronte that are close, "They're best friends"
James- I'm going to tell yo something and you have to promise me you won't get upset.
Da'Vonne – I got your back
James- save it until you need it..
James was trying to feel him out about the idea of Backdooring Corey.
James told Frank they don't have the vote. Frank said to him they should make sure Bronte is on the block so they can send her home.
James- he also said we gotta get Paulie out he said we can't have Corey and Paulie get till the end..
James – I tell Corey that..
James- Frank tells Corey and Paulie he doesn't want to be sitting in Jury with me and you just because we have kids.. or Da and James don't deserve to go to jury just because they have kids.. they could go now..
James – Corey is sitting there thinking this is fucked up..
Jame s- whenever I look at him.. I can't stand him .. you are a disgusting person.. I don't know hoe why or where America thought you were america's favorite player.
James- the way he talks to women, the way he degrades women.. he doesn't deserve to be AFP
Da'vonne – I can't wait until next week.. I'm going to get his a$$
James – it's going to be sweet.. Paulie and Michelle are going to make sure he does not win
Da'Vonne – I knew he was up to something
Jame s- makes me sick.. I told EVERYBODY frank was one of my favorite players..
Da'Vonne same… Nicole did the same.. all three of us were fans of his..
James- now i'm going to.. nationally let it know that I do not repect him.. I don't respect him
Da'Vonne – at all..
Jame s- Franks has a good social game all he needs to do is lay back .. this extra stuff he doesn't need to do..
Da'Vonne – he told Nicole that I said I would put her on the block..
James – thats my only mission to get Frank out before Jury
Da'Vonne – I know for sure Paulie,. Corey and Zakiyah have a final 3.
Da'Vonne – me and Nicole are the plus 2 to their final 3
3:07am Bathroom Zakiyah, Corey, Paul and Paulie
Corey asks how his talk with Frank go.
Paulie – it went well.. he's going to apologize to her tomorrow.. I kept it simple..
PAulie says Frank is sleeping in the HOH bed tonight.. "He's trying to keep Tiffany from having alone time with her"
Paul says Bridgette was complaining about that earlier ..
5:21am .. everyone sleeping
(I'm still up)
FLASHBACK and watch everything you missed: CBS All Access FREE Trial!
[polldaddy poll=9464831]
[polldaddy poll=9464369]
[polldaddy poll=9465176]