The Big Brother 16 2-Night Première is just a day away and CBS has just released a video of the the first 8 house guests competing in the first HOH of the season! The first 8 that are competing in this competition are Cody Calafiore, Devin Shepherd, Donny Thompson, Frankie Grande, Amber Borzotra, Joey Van Pelt Paola Shea, and Nicole Franzel. In the video Julie Chen explains that this competition is called "GO Fly a Kite!"
"To kick off the summer, we thought we would take you to the beach!"
The premise of the HOH competition is that each of the house guests have to hold on to their kite while balancing on the rotating beam. Fall off or let go of your kite and your sand castle will be crushed! The winner of this HOH will be the first Head of Household and then the other 8 house guests will compete to see who is the other head of household. The other 8 that will compete in the next HOH are: Caleb Reynolds, Christine Brecht, Derrick Levasseur, Hayden Voss, Jocasta Odom, Brittany Martinez, Victoria Rafaeli, Zach Rance. After that each of the HOH's will make their 2 nominations. The HOH's then compete in the NEW competition called "Battle of the Block" to see which HOH remains and which one is dethroned. The HOH that is dethroned is then in danger of being nominated as a replacement should the Power of Veto be used.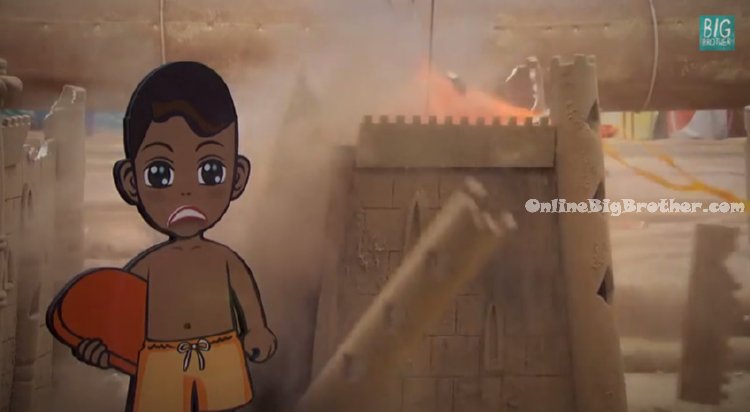 GET READY BIG BROTHER FANS! Big Brother is premièring tomorrow night! Get your live feeds now and take advantage of the discounted pricing! Early-Bird 20% Savings Special – Offer ends June 26!
Recently released Big Brother 16 news:
When will the Big Brother Live Feeds begin?
The Big Brother Live Feeds Season 16 will start on June 26, 2014 at 10:00 pm (PT).
Big Brother After Dark will start June 26th @ 1am (NT).
DON'T FORGET there are ONLY a DAY left to save 20% off the Live Feeds!
Save 20% if you sign up for the Big Brother Live Feeds before June 26th!