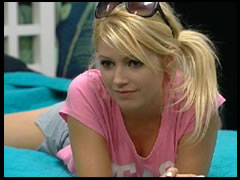 Date of Birth
August 23, 1987
Employment:
?
Appearances:
- 2004 Miss Teen Arkansas
Rivals:
Brendon Vilegas
and
Rachel Reilly
Twitter Account:
@britney_haynes
Games Stats
-HOH wins = 1 BB12
-POV Wins = 3 BB12
-Nominations = 3 BB12
-Evicted = 10th BB12
-Winner America's favorite
Britney Haynes was America's choice winner for Big Brother 12. Her hilarious diary room seasons and massive battles with Rachel and Brendon made her a easy favorite amongst the fans. She was able to pull in decent competition wins and keep the feeds fun to watch. Her fight with Brendon in the backyard where she called him a neanderthal will go down in history.
Unfortunately for her when she reached the final for it was her against the 3 members of the Brigade. With her single HOH win she nominate Brendon and Matt for eviction. Her plan was to get rid of Brendon who ultimately won the POV. She put Enzo up in his place and Matt (one of her closer allies) ended up going home. She made it until the final 4 where the brigade finally broke their silence and set her home.
After the show she moved to New York and broke up with her Fiancee Nick. Many fans thought that a possible post show showmance would start between her and fellow BB12 player Lane Endburg but that never materialized. It was learnt during Big Brother 13 that Rachel and Brendon are still not talking to Britney. On the Live Feeds During BB13 Brendon and Rachel did not speak kindly about Britenay, it is assumed they are the exact opposite of friends.