POV Holder:
Jenn
Next POV:
Aug 25 (Saturday)
POV Used
POV Ceremony
Aug 27 (Monday)
HOH Winner:
Frank
Next HOH:
Aug 30 (Thursday)
Original Nominations:
Dan And Danielle
Current Nominations:
Have Nots
Dan
Last Evicted Houseguest
Boogie and Ashley
Pandora's Box POwer
Ian -> Has a veto power
***POV Results
1) Dan in solitary dance party for 24 hours
2) Carrot top wears a carrot suit for 24 hours
3) Danielle and Britney are handcuffed for 24 hours
4) Jenn has POV, Burns clothes and is on slop for the rest of the game
5) Frank gets "chum" bath 24 hours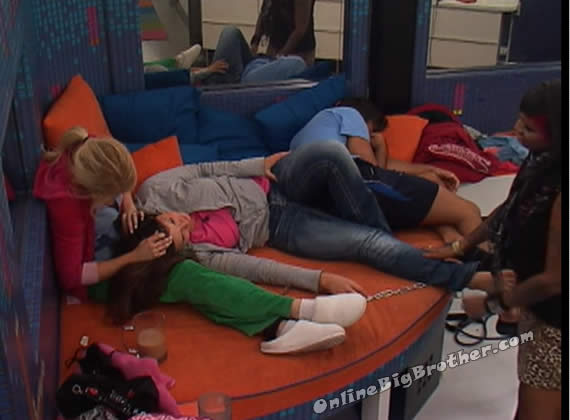 10:00pm Britney, Shane and danielle Bathroom (Shane Sleeping)
A bit ago Frank came in and was snarky because Danielle, Britney and shane were in the bathroom and not in the kitchen. The Girls tell him they are more comfortable on the bathroom couch. (Both Danielle, Britney and Frank were snarky with each other the tone was negative.)
Britney: "For 10 veto points would you make out with Frank.. " (The Power of Veto competition today required them to pick punishments for "veto Points")
Danielle: "No"
Britney: "What if you were on the block"
Danielle: "I am on the block .. NO"
Britney: "For 10 veto points and you knew you were going home .. "
Daneille: "no "
Britney: "would you kiss Shane in front of everyone for 10 points"
Danielle: "YES… but i've already kissed him twice.. in front of everyone"
Jenn joins them. She isn't sure if she can eat "America's Choice foods" or drink beer because of her slop punishment from the POV Competition.
They start wondering if maybe Dan has to keep dancing when the music on
Britney tells Jenn that a Girl has never won this game when sitting next to a male.
Jenn: "We'll hopefully that all changes"
Danielle and Brintey Shackle (Image Link)
10:41pm Cam 1-4 Solitary Dance Party
10:47pm Kitchen Shane, Britney, joe, Jenn, Ian Mostly chit chat.. Shane tells them he calls his Pen!s Pedro.
10:49pm Shane, Jenn and Danille talking about 3some fantasy. Jenn says she's had threesomes so it's not really a fantasy.
Shane says there is a lot of stress for a guy to have a 3some. Ian and Joe join them..
Danielle is unshackled from Britney right now because Britney is in the Diary Room.. She says this is the last 10 minute unshackled until tomorrow. Shane: "take a shower and go to the bathroom. Danielle has already gone to the bathroom but says that "They" want Briteny and Danielle to shower together. Shane: "You going to wear your bathing suits?"
Danielle: "I don't know"… Feeds cut
10:05pm Kitchen
Frank joins them.. Frank starts talking about 2001 A Space Odyssey .. he says it was a old SciFi movie but really good..
10:28pm Kitchen Jenn, Ian, and Shane
Shane and Ian tell Jenn she did a awesome job grabbing that Slop punishment for the remainder of the season.
Jenn: "I came here to play baby"
Shane: 'You came here to prove it"
Shane: "that whole Disqualified thing.. I was like what just happened"
Jenn: "I knew something was up it was taking Way too long"
Shane: "Ya it was taking way too long"
Ian: "I could see that you and Brit were freaking out because if one of them go down "
Shane: 'You guys ultimately hold the power"
JOe: "I didn't see him say it I saw him motion"
Joe: "I understand it.. I knew it was a glitch.. because of whatever had already transpired what they looked at"
Ian: "I knew something was up because they stressed they had to clarify something"
Neither Joe and Shane heard him say anything (Frank i assume) Joe mentions that Jenn heard "Him" Jenn giggles.
Shane: "Worked out in your favour.. even Dan was like I don't want to win like this.. he felt bad about the whole thing.. if he got the last question I'm sure he would have been happy. "
(I still don't understand what happened… in the Veto but Frank did get disqualified and removes from the POV competition and it also looks like Jenn benefited from this. Still not 100% what happened.)
11:32pm Cam 1 Britney and Danielle showering while Shackled.
11:54pm Kitchen Joe, Shane, Ian and Jenn
Ian: "Danielle and Britney are the only 2 out of the 8 of us that like Dick"
12:21AM Danielle, Britney, JOe and Shane
Danielle is tripping out that she's been with these people for so long.
They go around the table and tell a fact about themselves that they don't already know.
Ian – He once co hosted a local television Show called against the grain. It was about African American culture in pittsburgh. They talked about African American players and Basketball.
Britney – when she was a kid she did a lot of theatre she was in grade 9 and played a aborted baby that meets her mom in heaven. She stopped doing theatre in highschool..
Danielle – (She rattles off a ton of sh!t ) I went to a 24 hour dance a thon.. became a dance governor … I use to work at a roller skate rink
Shane – In college I was in the process to produce anf market some type of weight machine. Shane could not come up with the money to get it manufactured
Joe – his second passion is to set up a boys Ranch .. (LOL OMFG powerhouse Boys Ranch.. damn the feeds just paid for themselves)
Joe boys ranch will take in the very troubled boys and help them get out of bad spots. He will teach them cooking and his best friend gunter will teach them electronics (Because he's a electrical engineer)
Britney – her mom makes money online by buying toys from liquidation sources and resells them on amazon and Ebay.. Britney says that her mom made enough money so the family could go on vacations every year.
Danielle – She loves photography.. she scrapbooks… it's her passion..
12:34pm Frank sleeping (Image Link)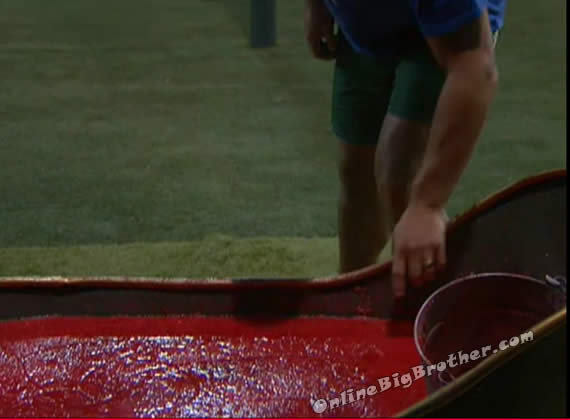 12:36Am Franks bath is ice cold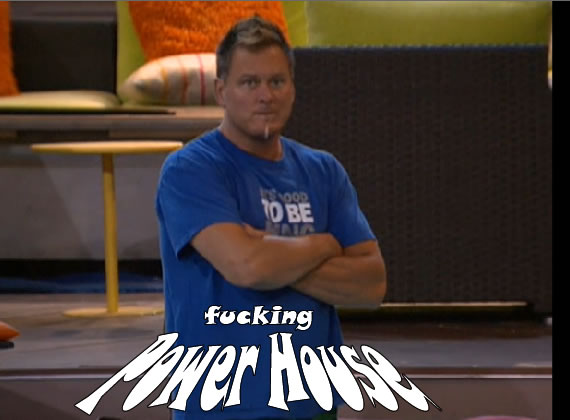 12:45am Cam 1 Joe and Shane
They are waiting for the hot tub to heat up.. "hot tub time machine"
Joe saying that Frank has thrown his game out the window by not being able to play in the next 2 HOH. Joe: "You can't be a character like that last long"
Shane says if franks can last 2 more weeks maybe he deserves to win. Joe is surprised that Frank wanted Dan out that bad.
1:05AM Hot Tub Jenn, Joe and Shane
Chatting about Frank taking being Benched from HOH for 2 weeks. Shance mentions that he thought it was only for 1 weeks but since he can't play for it next week it was extended to 2 weeks. Joe: "That's one confident mother f**ker right there"
1:12AM Hot Tub Shane, Ian and Jenn (Image Link)
1:13pm kitchen Britney and Danielle
Britney saying that if Frank makes it to final 3 he deserves to win "he's literally been a target since day 1". Danielle asks Britney if She would vote for Frank over her. Britney: 'No never"
Britney says they have 2 weeks to get Frank out.
Brintey: "You have to make 100% sure Jenn doesn't use the veto"
Danielle: "She won't"
Brintey: "are you sure"
Daneille: "Yes"
Brintey: "100%"
Danielle: "Yes"
Britney: 'I'll feel better on Monday"
The horn blows and Frank heads to the gunk bath (Image Link)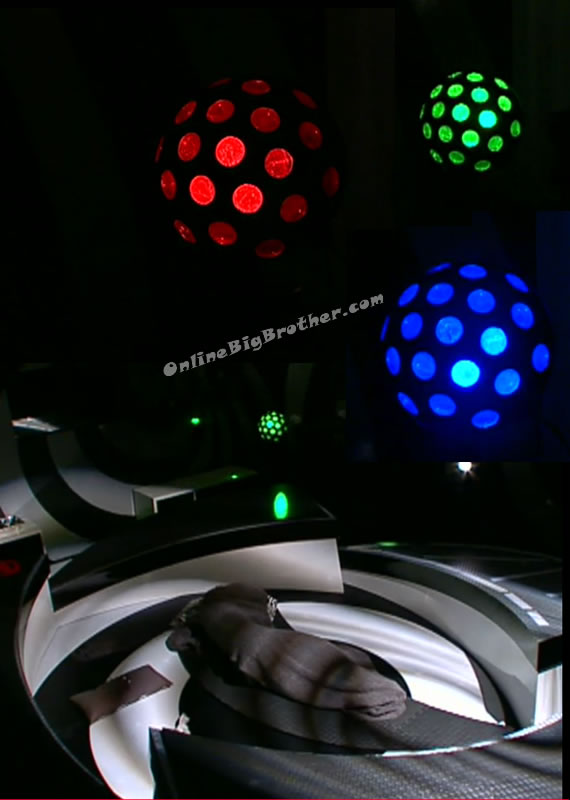 1:31AM Cam 3-4 Dance Party
1:53AM Horn goes Frank jumps in the chum
Watch the last month on the Feeds – FREE TRIAL –
2:05AM Cam 1-2 Hot Tub Ian, Frank, Joe (Image Link)
Talking about hangovers.. Joe: "I'm literally non functional .. I need to drink a gallon of f**** water"
Ian: "I've been hospitalized for alcohol.. straight up.. before I was a RA.. the golden days.. I went out on my birthday.. and man I mixed the wrong stuff.. "
Joe: "Hangovers hurt more than they use to.. I tell you after you turn 30 they hurt"
Frank: 'If I have more than 6 drinks i'm done the next day"
Share it YO!!
Tweet