POV Holder:
Jenn
Next POV:
Aug 25 (Saturday)
POV Used
POV Ceremony
Aug 27 (Monday)
HOH Winner:
Frank
Next HOH:
Aug 30 (Thursday)
Original Nominations:
Dan And Danielle
Current Nominations:
Have Nots
Dan
Last Evicted Houseguest
Boogie and Ashley
Pandora's Box POwer
Ian -> Has a veto power
***POV Results
1) Dan in solitary dance party for 24 hours
2) Carrot top wears a carrot suit for 24 hours
3) Danielle and Britney are handcuffed for 24 hours
4) Jenn has POV, Burns clothes and is on slop for the rest of the game
5) Frank gets "chum" bath 24 hours (Frank was also Disqualified from the competition)
6) Shane took no punishments
2:30am Frank and Joe are sitting in the hot tub talking. They are both hoping this next week is an easy week. Joe says that he thinks he has been promised safety for the week. Frank says that he will feel better when Dan is gone. He says that then he wants Joe or Jenn to win HOH because they won't put him up. They both discuss how they feel like they can't trust Britney. Joe talks about how Britney plays a good social game. Frank says that he doesn't like how paranoid she gets. They both agree that it's an advantage to go on block early to get it over with. Frank again bring up how if Joe and Ian had just stuck with him and Boogie they would be in a lot better position way with Ian winning HOH, Frank winning POV, Frank winning HOH .. he says that it could have been 5 against 2 right now. Frank starts talking about Shane and says that he would love to see pictures of Shane when he was chubby to see how far he has come. They both say Shane has a model's body. Frank says that last year when he didn't make it on the show he went home and watched the show and gained a bunch of weight from all the eating he did. Frank tells Joe how he sometimes comes out early and talks to the cameras because he knows no one else is up so he knows everyone on Superpass is watching him. Frank says that he likes to gives Superpass viewers a little insight into what he's thinking when he does his solo talks to the camera. Frank says that he can't believe he hasn't gotten a f**king chum bath in a hot minute. He says that he could have been sleeping! Frank tells Joe that it's Sunday, we have three weeks until the finale night! They talk about how it's crunch time and how they need to make the final push in the game to make it to final two. Joe tells Frank he is going to keep Jenn fed because they don't need her in a bad mood.

3:20am Frank gets another Chum bath alarm. He heads over to the chum bath and dumps it over himself and yells f**k this shit is cold yo! Frank then showers off and then gets back in the hot tub. Joe tells Frank that he will stay up with him. Joe heads inside to get water. Frank talks to the camera and says that he hope everyone at home can see the passion he has for this game! He says that he did everything he could to stop Dan from winning veto today even though he got disqualified. Frank says that he just loves this game and says that he can't compete in the next 2 HOH's. He says that he hopes that doesn't come back to bite him. Joe comes back outside. Joe says that Dan won't get out of the disco confinement until 6pm tomorrow. Joe says that he thinks Dan is resigned to the fact that he is going home. Frank says that he wonders if the chum bath alarms are on a set schedule or if they are watching and listening. Joe says that right now we have a 1 in 8 shot at winning. Joe asks Frank when have you ever had a 1 in 8 shot at a half a million dollars? Frank says never.
Watch what happens, AS it happens: Big Brother 14 Live Feeds!FREE for 3 Days, then ONLY $14.99 per month!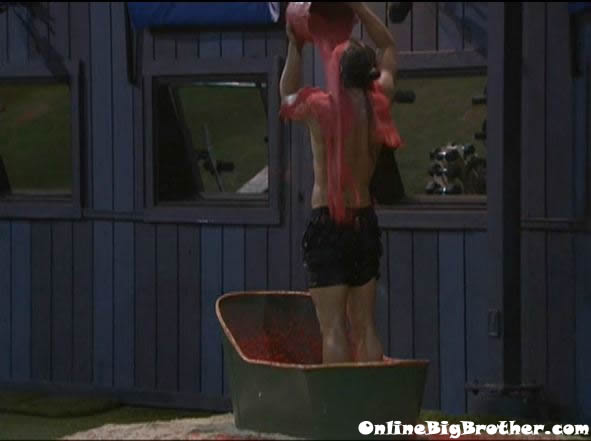 3:45am – 4:15am Joe says that he is really worried about Ian winning another HOH again. Joe says that he only saw twenty minutes of an Ian HOH reign and doesn't want to have to see a whole week of it. Joe says that Ian has a little Hitler in him, it's going to be a Willie effect. He says that he thinks the power will corrupt him and people will start to hate him. Joe says that it will ruin his nice kid image he has in the house. Joe says that it could also be a good thing because there would probably be a big target on Ian. Frank says that he told Ian that he better not double cross him again because he won't vote for him to win the game if he makes it to the final two. Frank says even if Ian was up against Dan in final two. Frank says that he would vote for Dan to win. Frank says that he would taint the jury and make sure others didn't vote for Ian either. Frank says that it just kills him that Ian did that to Boogie and I. Frank says that he doesn't want what Ian did to cost me my game. Frank says that he doesn't think Ian would put me up but I still don't want him winning HOH next week. They talk about how they have no idea what Ian would do with HOH. Joe says that f**king boy got a devil in him. Joe says that we are going to be shocked when we see his diary room session. Frank says that I gave up three grand for him and he puts me on the block?! Joe talks about what Ian said to him before putting him on block. Joe says he could be Ian's dad and whip his ass you little punk. He is lucky I am on tv because I would have wrung his little neck. Frank says that poor Ashley, I knew she was going home and I thought you little c**ks**ker. The chum alarm signals Frank to take another chum bath. After the chum bath they head inside to go to bed. Meanwhile, Dan continues to enjoy the all night techno dance party..


6:05am Frank gets another chum bath alarm. He does the routine: chum, shower, hot tub, HOH shower, back to bed. In the have not room there is a loud humming noise and no music for the last while. Dan has been tossing and turning all night.
7:30am It happens all over again.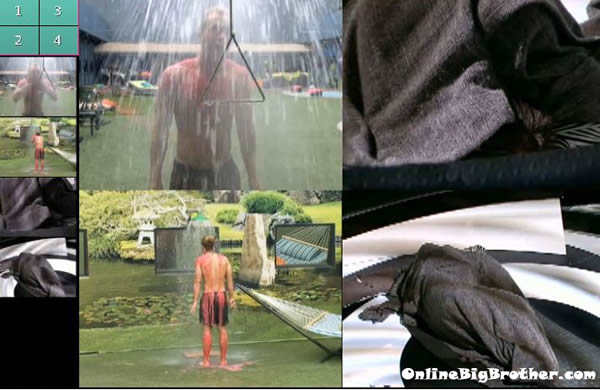 9:30am All the house guests are still sleeping, with the exception of Dan, he may or may not be sleeping in the techno dance party have-not room.
9:50am The Techno Dance party music is back on in the have-not room.
10:20am The house guests are still sleeping..
Share it YO!!
Tweet