POV Holder:
Jenn
Next POV:
Sept 1 (Saturday)
POV Used
YES
POV Ceremony
Aug 27 (Monday)
HOH Winner:
Frank
Next HOH:
Aug 30 (Thursday)
Original Nominations:
Dan And Danielle
Current Nominations:
Danielle And Britney
Have Nots
Dan
Last Evicted Houseguest
Boogie and Ashley
Pandora's Box POwer
Ian did NOT use his veto power
***POV Results
1) Dan in solitary dance party for 24 hours
2) Carrot top wears a carrot suit for a week
3) Danielle and Britney are handcuffed for 24 hours
4) Jenn has POV, Burns clothes and is on slop for the rest of the game
5) Frank gets "chum" bath 24 hours (Frank was also Disqualified from the competition)
6) Shane took no punishments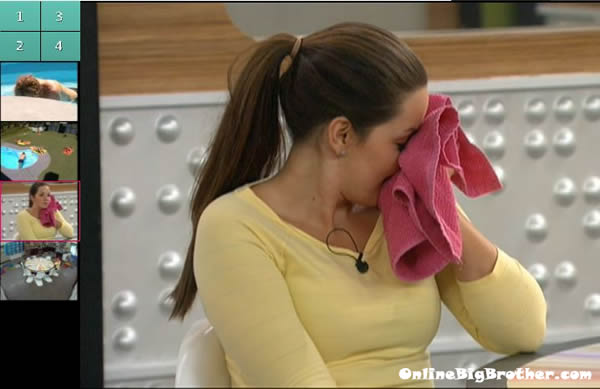 POV Ceremony Results:
Ian did NOT use his VETO power.
Jenn used her Veto to save Dan from eviction.
Frank replaced Britney as the replacement nominee.
1:50pm – 2:10pm Dan and Danielle are in the kitchen talking. Danielle tells him that she knows something that she isn't telling him and that she kind of enjoys not telling him. Dan tells her that he knows she would tell him something if he needed to know. Dan tells her that he is an open book with him. Dan tells her that some people buy that we aren't working together, just Joe and Shane. Dan asks did you think I would be the last coach standing here? Danielle says nope, I thought you would be the first one gone. Dan asks her if she is upset that Britney is leaving. Danielle says yes, she is my best friend. Dan asks Danielle if she has Shanes vote. Danielle says yes. Dan says that he needs to calm down ..you get caugh when you get c**ky. Dan says that even if he gets one more week he is happy. Dan says that he thought Jenn would use it on her. Danielle tells Dan that she was up till 3am working votes for him. She says your welcome. Dan asks how confident are you that you have Shane's vote? Danielle signs 100%. Dan asks if Britney will lay down and Die. Danielle says yeah. Dan asks did she tell you that? Danielle nods yes. Dan calls their two person alliance The Surgeons. Dan says that he is the surgen and she is the nurse. He cuts them up and she stiches them backup.
2:10pm – 2:40pm Dan asks Jenn if she is okay with him playing salsa ball with Ian in the pool. He says that he won't if she does mind. Jenn says let it chill a while. Dan heads out into the backyard and gets in the pool with Frank. They toss the ball around a bit. Ian yells hey everybody guess what time it is? IT'S POOL TIME! Dan says ask Ian if he is drunk. Ian says no just buzzed he only had three beer. Ian does a cannon ball into the pool. Ian and Frank talk and joke about the fight they had in the living room. Ian says that s**t was so cash it has been the best season and one the fans will appreciate it. Ian says that its all cool, it's just a game. Frank trades Shane a t-shirt he got in his HOH basket for 3 beer. Frank gets back into the pool. Frank starts getting heated about how BB got mad at him for not putting the carrot suit on when he went to get a beer out of the fridge. He says I haven't argued it one bit and then get after me for getting a beer out of the fridge. Big Brother switches the feeds to the kitchen.

Superpass Live Feeds FREE 3 Day Trial then:
Watch the last month of Big Brother 14 for ONLY 50 Cents a DAY!
2:45pm
In the kitchen Frank and Shane are talking. Shane thanks him again thanks for giving him the heads up. Frank says right now it is good for us that everyone wants Ian out right now. Frank says maybe we should just have a quick convo with Joe to get on the same page. Frank and Shane talk about how they don't trust Ian. Frank says that he doesn't trust him as far as he can throw him and I could throw him pretty far. Shane says that he doesn't trust him either and says that Ian could have at least been honest and instead of hiding under a rock. Frank tells Shane that this is good for him and that instead of him being the target people will be going after Dan and Danielle. Shane agrees. Shane heads outside. Frank goes to the washroom and says yes, yes, yes as he does some fist pumps.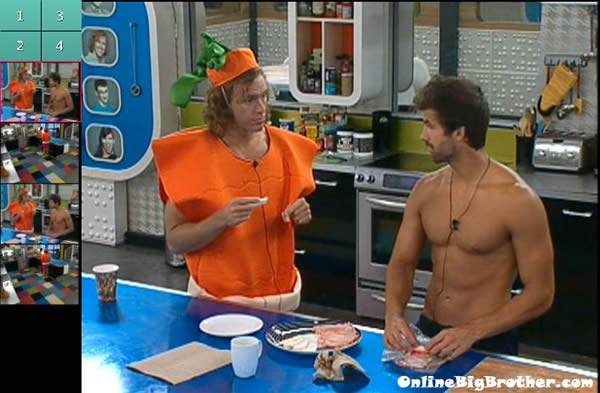 2:50pm – 3pm Shane and Jenn have a short conversation. Shane tells Jenn I give you props I know it's hard to make a big move. She says I told ya'll I was here to play. Shane says yeah you got to do what's good for you. Meanwhile, Dan, Frank, and Ian are in the pool talking about random stuff. Joe is sun tanning by the pool.
Share it YO!!
Tweet