POV Holder:
Jenn
Next POV:
Aug 25 (Saturday)
POV Used
POV Ceremony
Aug 27 (Monday)
HOH Winner:
Frank
Next HOH:
Aug 30 (Thursday)
Original Nominations:
Dan And Danielle
Current Nominations:
Have Nots
Dan
Last Evicted Houseguest
Boogie and Ashley
Pandora's Box POwer
Ian -> Has a veto power
Superpass Live Feeds FREE 3 Day Trial then:
Watch the last month of Big Brother 14 for ONLY 50 Cents a DAY!
***POV Results
1) Dan in solitary dance party for 24 hours
2) Carrot top wears a carrot suit for 1 week
3) Danielle and Britney are handcuffed for 24 hours
4) Jenn has POV, Burns clothes and is on slop for the rest of the game
5) Frank gets "chum" bath 24 hours (Frank was also Disqualified from the competition)
6) Shane took no punishments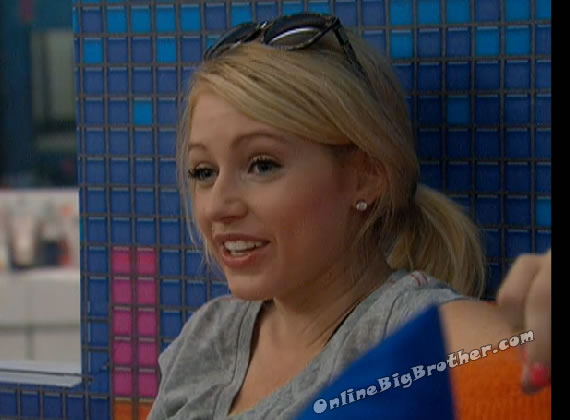 3:23pm Cam 1-2 Bathroom Couch Joe, Britney, Danielle, Shane with Ian in the shower
Britney is talking about the book the crystal castle and how sad it was. Joe mentions that his life was like that book. His father was a speed addict and alcoholic. JOe says his father would steal money from the family then blame it on Joe. Joe: "He HIde Speed in the bush so they would blame it on me.. you know to hide where all the money was going because when you are doing that kind of stuff it's expensive"
Joe and his mom were going to write a book about their life stories but they felt that nobody would believe it "the things we went through…. the things he did were so horrific"
They start talking about marriage and do you tell your spouse they look when they look like crap or do you let it slide.
Joe: "If you think you have to be deeply involve every day your marriage is not going to last.. marriages are heavy arguments it's heavy love"
Joe: "You have to be a realist.. it's not always unicorns and rainbows"
Britney: "Oh I'm a realist to.. "
3:36pm Cam 1-2 Joe says his wife and him have telepathic powers because their love is so strong. It's took them years of communication, Loving and arguing to get to this point. (Powerhouse is a freaking telepath)
Superpass Live Feeds FREE 3 Day Trial then:
Watch the last month of Big Brother 14 for ONLY 50 Cents a DAY!
3:50pm Cam 1-2 Britney dragging Danielle around the house. Frank helps Britney out. They all end up in the Bathroom. Frank tells them they are all invited in the HOH room he's going to head up there right now. Danielle says Frank is welcome to hang out with them They move over to make room for him on the couch. Frank says he does not like to hang out in the bathroom. Frank leaves.
Britney out of nowhere: "Where is Bangladesh"
Danielle: "in China"
Ian: "near Pakistan"
Danielle: "Near Turkey"
Britney: "Russia"
(WOW none of these people know where Bangladesh is)
Britney points out that the live feeders are hating them right now.. they have to figure out what to do. Shane: "Lets talk about oral S$x again"
4:07pm Cam 3-4 Dan still in the solitray Dance party.. I think he's out at 5
Here is a picture from last nights torture Dan had to go through. (Image Link)
4:11pm Cam 1-2 bathroom Everyone but Frank and Dan
Ian gives them a rundown of Big Brother 9 and how Adam and Matt (MATT MACDONALD) were arrested for smuggling oxycodone. He adds that Matt (MATT MACDONALD) was also accused of beating up his girlfirend while she was pregnant.
Shane: "When she was on the show?"
Ian: "No no"
Ian mentions Matt Hoffmans twitter account (@HeadOfHOFFhold) and how his tag says something like "As long as I don't beat up my girlfriend while pregnant i'll be the best Matt in Big Brother history" (It's since been changed)
Random chit chat.. apparently Frank's chum baths are over. they have been in lockdown for a while now.
Britney says she's 1/16th Native american.. Cherokee.
Danielle: "Im 1/8th native american"
Danielle: "I don't think speeding is that bad of an offense I do it all the time.. All the Time"
4:22pm Trivia.. Dan must be let out .
4:26pm Cam 1-2 Dan emerges from the 24hour solitary Dance party
Danielle comes in asks him if he's alright
Dan: "My heads not right"
Danielle: "What do you mean mentally? "
Dan: "Ya"
(dan looks like SHIT.. everyone is talking about it around the kitchen as Dan walks by them to go into the storage room)
4:28pm Cam 1-2 Dan smiles to the camera gives a thumbs up and says he is fine.
4:32pm Cam 1-2 Arcade Joe and Dan
Joe is offering to make him some good to help him out. Joe is thinking maybe a soup to start.
Dan: "I see flashling lights I don't know what is going on"
Joe: "You need a medic?"
Dan L:'Hmmm I dunno.."
Danielle comes in starts asking him questions.. He trails off doesn't really give her a answer. Danielle starts to panic gets up runs to the Diary Room sayign "I need to get into the DR RIGHT NOW"
When no one is looking Dan winks at the camera. (OMFG this is funny)
Danielle comes back after requesting a Diary Room session
Dan asks her if there is any good news at all .. Danielle says everything looks like it's going to be the same.
Dan: 'I need to get outside.. I see the walls coming in the lights are flashing"
Danielle: "Dan Dan.. why do you want to go outside.. are you mad at me"
Dan: "When are they letting us out"
Danielle: "someone was having a party out back and the music was so loud they brought us back in"
(Feeds cut to the kitchen…. Shane, Joe and Frank )
Joe is saying that the havenots room smells like puke.. They all comment how crappy and sick Dan looks.
Britney joins them they tell him that Dan is in really bad shape they are getting a medic and everything. Shane says that Danielle is with him.
Danielle and Dan walks by the kitchen table to go into the Diary Room to see the medic.
4:47pm Cam 1-4 Speculation run rampant about what happened to Dan in the Dance party
Joe thinks the puking got to Dan
Shane thinks it was a panic attack from the lights
Danielle thinks a mental breakdown.. "He kept saying my heads not right my heads not right.. last time I saw someone like that they were suicidal"
Britney: 'Maybe the game got to him.. because the last time he was here he sailed right through"
Joe: "Dan will not give up he'll fight till the last second.. that night just got the best of him mentally.. "
5:14pm Cam 1-2 Danielle, Frank, Britney and Frank
Danielle is crying because Dan is in "Rough" shape and one of them is going home. Frank saying that he was in a similar situation last week when he was campaigning to get Boogie's votes. Britney keeps bringing up that Dan has never been on the block after the Veto has been played. Britney: "He wanted to be the first person to win this game twice.. it's a big pill to swallow"
Frank: "He's going to be one of those guys that will be like … I did my best.. he not the type of person to hold onto regrets"
Britney brings up that when people talk about the best Big Brother player of all time Dan's name always comes up. Frank makes the comments that maybe now one of them will be considered the best player of all time. (If Frank gets on the block and doesn't win the Veto his crash and burn will be epic)
Dan comes out says he feels a but better tells them he head was really messed up. HE apologizes for worrying them all.
5:38pm Dan and Danielle Danielle is trying to get him to go to the Arcade to lay down. Dan keeps muttering he doesn't want to go back in that Room.. "They" are going to make him go in that Room. (he might be talking about the havenots room and "They" are production)
5:48pm Cam 1-2 Frank and Dan Arcade
Dan talking about the experience.. the worst part was the lights.
Britney comes in asks him how he's doing. Dan says he always thought he was a stable person mentally but being in that room broke him .
Dan: "It smelled in there to.. I don't know why.. did you smell it in there"
Frank: "NO but Shane and Joe did and they said it smelled funky like you threw up"
Ian and Shane join them. Dan explains that the lights had a set pattern it was messing with him. even with the bandana around his eyes the light still got through.
Dan: "It wasn't being alone.. just mentally I never felt that way"
6:17pm bathroom Cam 3-4 Danielle, Britney and Shane
(Danielle cried for awhile about Dan "ignoring her")
They are convinced that if Jenn or Ian use their power than Britney will go up but if both use the power Shane and Britney will go up. Danielle says she will go talk to Jenn tonight. Britney keeps telling them that Dan has already won 500 thousand dollars.
6:20pm Cam 1-2 HOH Frank and Jenn
Jenn saying that she will not use the POV but is worried that Ian might not use it. Frank :"I've told him Britney goes up and goes home if he uses the Veto on Dan"
Frank says he knows that Britney is high on Ian's list than Dan. Jenn says if Ian uses the veto power he doesn't have Jenn anymore. Frank says Ian has burnt him once already if he does it again he'll lose everyone but Dan.
Britney joins them and says there is no way they will not Vote Danielle out of the house. Jenn: "Danielle is not going home.. and thats that.. period.. this has all gotten my heart beating.. "
Britney: "Me too because I know I'm going up"
Jenn: "I do not want Dan to stay.. NEITHER DO YOU BRITNEY" (OHH Shit.. ?? is slamming it down)
Britney: "Dan said he wants to talk to the entire house about how to handle the next couple days"
Frank says that Dan is laying it on really think.. Jenn says her heart is pumping really hard and her mind is raising because she see's Dan downstairs talking to people.
6:34pm bathroom Cam 3-4 Danielle and Shane
Shane asks her if she still has the final 3 deal with the girls alliances. Danielle says she hasn't really talked to the girls since the Ashley left. Shane: "We need to keep strong"
Share it YO!!
Tweet