POV Holder:
Jenn
Next POV:
Sept 1 (Saturday)
POV Used
YES
POV Ceremony
Aug 27 (Monday)
HOH Winner:
Frank
Next HOH:
Aug 30 (Thursday)
Original Nominations:
Dan And Danielle
Current Nominations:
Danielle And Britney
Have Nots
Dan
Last Evicted Houseguest
Boogie and Ashley
Pandora's Box POwer
Ian did NOT use his veto power
***POV Results
1) Dan in solitary dance party for 24 hours
2) Carrot top wears a carrot suit for 1 week
3) Danielle and Britney are handcuffed for 24 hours
4) Jenn has POV, Burns clothes and is on slop for the rest of the game
5) Frank gets "chum" bath 24 hours (Frank was also Disqualified from the competition)
6) Shane took no punishments
3:17pm Cam 3-4 Britney, Shane and Danielle
Britney: "I kind of thought something was up when they said that Ian's veto would go first… Because Ian's veto… Feeds cut"
Shane tells Danielle: "You can't trust Dan again.. you know that"
Danielle: "He broke my heart..
Shane: "I hope Chelsea divorces him for that"
Britney: "he did this in his last season he backstab people"
Shane: "He always swears on his bible"
Britney: "He says it's not personal it's a game.. I'm a logical person I can see that he saw we were fine with him going home"
Britney: 'I've always regretted that I never fought for it in season 12 but for me to fight it right now means I go against the sweetest person in the entire world"
Danielle :"You can't Britney I won't hold anything against you"
Britney and Shane point out that DAn only wants people in the game that he can beat in competitions. Britney: "He has just burnt us both at the stake"
Shane: "Guaranteed if Dan wins he would put me and Frank up"
Danielle: "He would be me and Shane up"
Britney: 'The only people that have been good to him.. I helped clean his room last night I feel so stupid"
Superpass Live Feeds FREE 3 Day Trial then:
Watch the last month of Big Brother 14 for ONLY 50 Cents a DAY!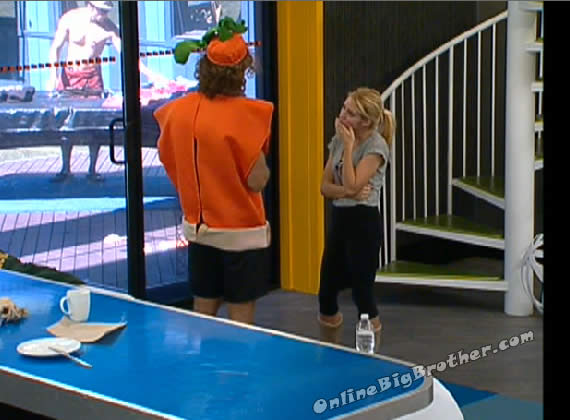 3:33pm Cam 1-2 Britney and Frank
You know why he's mad at Danielle because he wanted Danielle to fall on her sword for him.
Frank: "Ohh that it how it is"
Frank: "Trust me even if you ask Joe or Shane.. Ian is the top of my list but Dan is number 2.. I can't trust Dan"
Britney: "I'm not bitter about going home this week.. I really am not.. I felt so bad for him last night.. I feel like such a idiot"
Frank: "Trust me I know what kind of person he is.. "
Britney: "I will not allow him to win this game"
Frank: "I don't plan on taking him.. He will not win"
Britney: "He's a traitor he's a frealign traitor. He told me Final 5 .. I know you are smart Frank.. you may what was a logical move.. Sure I am side i'm not going to win 500K it makes sense what you did… but the way you treat people in this game matter and to me he is the worst person"
Frank: 'I don't blame you for being angry"
Britney feels like such a idiot for feeling sorry for Dan, she thought he was a Good person. "I should Have known better"
Britney points out that Dan will stop at nothing to get further in the game. She warns him if he's trusting Dan he's going to get cut in the end.
3:40pm Cam 3-4 Frank and Shane
Frank tells him that Dan will put up Ian and Joe if he wins HOH.. Frank doesn't even think Dan is going to try and win HOH. Frank plays up that Shane and him should be working together to get Ian out than Dan. Frank says that Joe and Ian should go up this week.
3:43pm Cam 1-2 Joe and Britney
Joe is saying if Shane votes for Danielle he's going to the other side.. it makes no sense to stick with Shane. Joe knows that Shane will take Daneille to the other side.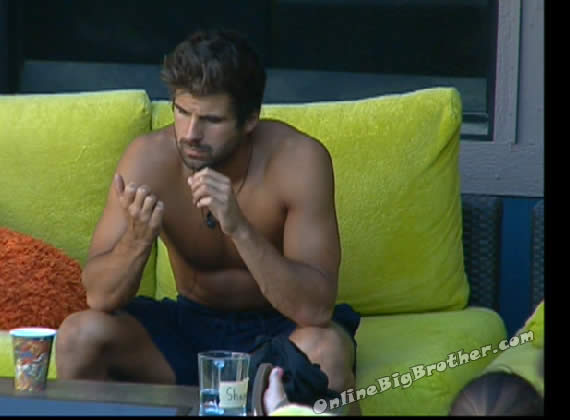 3:48pm Couch Cam 3-4 Shane and Britney
Britney says she has Ian's Vote and Joe's.
Britney: "I'm going to be honest with you.. one way or another I want you to win this game.. Even if you vote me out this week"
Britney: "Joe told me if you vote against me he's going to the other side.. he said there is no reason for him to stay on this side if you voted against me beacuse you will take Daneille to the other side"
Britney: "He told me I have his vote"
Shane: "I swear to god 30 minutes ago he told me he's doing what Frank wants"
Britney: "This guy.. ugh"
Shane thinks they should get Joe in a room and talk to him about this. He tells Britney that it's not over yet they need to figure things out. Britney says shes really proud of him he's come a long way. She's cool with going home but it will be a cold day in hell if Dan Gheesling wins Big Brother 14
Shane tells her if she leaves this week he promises her he'll get Dan out.
4:05pm Cam 1-2 everyone but Frank and Dan
Britney going off about Dan backstabbing his alliance to stay in the game.
Shane calls Dan "dan Gheespoop"
Britney points out to them all this is how he wins half a million dollars he tosses people under the bus.. people that trusted him people that help to get him this far.. he did in during Big Brother 10 he's done it in Big BRother 14.
Ian says this is Replacement nominee roulette disguised as Dan's funeral.
Brintey explains to them all that Dan was about to go home and he was able to magically get off the block. "don't all be a fool.. if that guy can survive.. come back from the dead.. what can't he do anything "
Britney: "I'm not sour i'm not bitter if I leave this week i'm cool i'll start doing Yoga with Ashley"
Britney tells them all that Dan was with them since Day one Ian put 2 people on the block for Dan and now Dan stabs them all in the back.
Britney: "How you treat people in this house is more important than how you
Ian: "Lets congratulate Frank for 500K dollars"
Danielle asks Ian what is Danielle to Dan. Ian says Danielle is a pawn.
Britney starts talking to Jenn telling her she needs to look out.. Dan is crazy good at this game if he can survive this week he can do anything.
4:43pm Cam 1-2 Kitchen Britney and Dan
Britney: "Can I at least get Sorry britney I've done nothing to you in this game.. you screwed me and now my game is over.. "
Dan: "I know you are angry I was going to talk to you later because I don't want to get in a argument with you"
Britney: "What did I do wrong to you"
Dan: "nothing.. you've done nothing wrong to me"
Dan: "It's a game… you know.. someday I hope you will understand"
Britney: "Can you walk me through what just happened"
Dan: 'Everyone in the house knew I was going home and everyone was accepting that fate and I wanted to stay in the game"
Britney: "I tried to win the veto to keep you here.. I wanted you here so bad.. I was going to take all the punishments"
Dan: "I know.. I decided I had to play.. it's unfortunate you have to go"
Britney: 'If I've been outplayed I can accept that"
Dan: "There is a lot of angry people in this house towards me… lets wait until things cool down"
Britney: "I now know how you win half a million dollars in this game because you can stab people in the back and it doesn't phase you.. how would you feel if someone spoke the way you did to your wife"
Dan: "I would be pretty pissed off.. I was ashamed.. I know it will take time"
Britney: 'You are the type of person that plays this mr nice guy act.. but you don't play like that at all.. I knew better"
Dan: "I'm sorry and when this is all over I hope we stay friends.. I know it will take time"
Britney: "I never once crossed you in this game.. I believed you when you said Final 5.. I have to pay the ultimate price now.."
Dan: "All i can say is i'm sorry.. if you want to talk later I'll talk later.. one day I hope you can be friends"
Jenn comes into the kitchen.. Dan leaves. Britney: "I'm sure he will apologize to all of you when he does it to you".. Britney leaves
Jenn: "Ohh god…" (HUGE Sigh)
5:09pm Cam 3-4 Dan and Frank
Dan tells Frank if he could do it again he would to stay in the game.
5:16pm Cam 1-2 Backyard Britney, Danielle, Shane and Ian
Ian: "Speaking the sh!ts truth I think Frank is more deadly than Dan… because he can win any comp he wants.. whichever out of you that survives I say lets go.."
Britney: "Frank will be the harder one to get out" .. Feeds go to fish
5:22pm Cam 1-4 Dan and Danielle Arcade room
DId asks Danielle if she told Jenn that I like being hated in this game that I feel more comfortable.. Britney was challenging me in the kitchen and use that line.
Dan asks Danielle for Britney's best zinger.. Danielle laughs says you have to swear you won't tell anyone. Daneille doesn't say anything…
Dan: "Cmon tell me I need a laugh I already heard the Sh!t Sandwich on"
Danielle won't tell him. Dan points out that Shane has been really nice to him. Danielle says that Shane is pissed. She adds that the entire house is pissed more at how he treated Danielle than him backstabbing them.
Share it YO!!
Tweet