POV Holder:
Jenn
Next POV:
Aug 25 (Saturday)
POV Used
POV Ceremony
Aug 27 (Monday)
HOH Winner:
Frank
Next HOH:
Aug 30 (Thursday)
Original Nominations:
Dan And Danielle
Current Nominations:
Have Nots
Dan
Last Evicted Houseguest
Boogie and Ashley
Pandora's Box POwer
Ian -> Has a veto power
***POV Results
1) Dan in solitary dance party for 24 hours
2) Carrot top wears a carrot suit for 1 week
3) Danielle and Britney are handcuffed for 24 hours
4) Jenn has POV, Burns clothes and is on slop for the rest of the game
5) Frank gets "chum" bath 24 hours (Frank was also Disqualified from the competition)
6) Shane took no punishments
9:11pm Cam 1-2 Dan and Danielle
Dan: "I Just saved us both"
Daneille: "You broke my heart.. you humiliated me in front of the whole house..I would have gone home for you.. "
Dan: "I'm sorry I had to do it.. We have a real chance now"
Daneille: "Can you at least give me a forewarning Next Time"
Dan: "No because you won't cry… your response has to be genuine"
Danielle: "You are a sick person Dan Gheesling.. the whole house is mad at you.. What did you do upstairs"
Damn: "I made it work but is all depends on Jenn"
Danielle: "what did you do"
Dan: "I just made an alliance with you, Jenn and Frank"
Danielle: "You broke my heart.. If Jenn can get past her lovers rage we can make this work"
(Dan thinks Jenn has a crush on Danielle)
Dan: "Regardless if I go home he is going to take care of you… he just needs Jenn to pull the trigger"
Danielle: "I had an asthma attack… I was hyperventilating"
Dan: "That all made it believable" Dan explains that he contemplated not letting loose on Danielle because he was worried Jenn would become pissed but he knew he could never sell it to Frank unless he cur Danielle loose
Dan explains that he told Frank that Danielle was supposed to throw the veto but she didn't went and got the points. Dan: "I said you backstabbed me"
Dan: "this gave us a sliver of hope"
Danielle: You used my emotions as strategy"
Dan: "Honestly did you think I was going to lay down before the veto meeting and not take a shot"
Danielle: "I didn't think it was going to be like that"
Dan says that Ian will never use the veto on him no matter how much Dan stuck his neck out for him. Frank wants him out.
Danielle: "What does Frank know about where we stand"
Dan: "You have to understand I made a final 2 deal with Frank.."
Dan wants her to know he fully trusts her and he knows that Danielle was more loyal to him than anyone else has been in this game.
Dan says if POV is played then BRitney will be going up and she is the new target.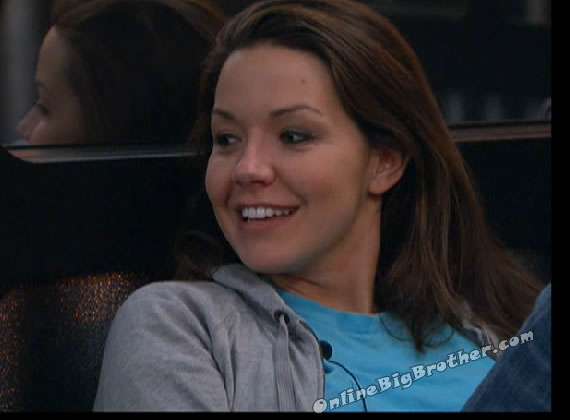 Dan: "you really think I want Frank to win this game.. what is he going to do with the money.. what are you going to do with the money.. think about it"
Dan know he will not win the money regardless of who he is up against but if he can get his played and him to the final 2 that is worth it and that is what he's been trying for all along"
Dan: "I wish we had an alliance name.."
Danielle: 'now you are asking me to turn on Britney and Shane "
Dan :"no we're covered"
Dan: "One thing that makes me different in this game is I can play everyone's emotions it doesn't bother me.. I don't know why"
Superpass Live Feeds FREE 3 Day Trial then:
Watch the last month of Big Brother 14 for ONLY 50 Cents a DAY!
9:53pm HOH Frank and Jenn
Frank tells her it's been Ian all along working for both sides.
Frank: "Would you use the veto on dan tomorrow.. you me, Dan and Danielle"
Jenn: "Ohh my God.. who will you put up Britney?"
Frank: "Ya.. Dan was actually mad at Daneille.. she was suppose to throw the POV "
Jenn: "This is going to look so obvious"
Frank: 'Ian has been working with them from Day one selling us out"
Frank: "heres the deal you and dan are going to vote out Britney.. and we are going to trick Joe into voting out Britney"
Frank wants ian gone.. "We got to do this for Mike"
Jenn: "it sucks I kinda wanted to keep these girls around"
Jenn: "I need your word"
Frank: "You know you got it"
Jenn: "I'm ready to do it"
Jenn really doesn't want Dan in the game but she trusts Frank.
Jenn: "I'm real sorry Mike had to go"
Frank: "And it's all Ian's Fault"
10:08pm Arcade Frank and Daneille
Frank: "I just talked to Jenn she's going to use it"
Danielle: "How did you convince her.."
Frank: "I told her what Dan Said about Ian"
Britney explains that everyone in the house is scared sh!tless of Dan the vote will be 5-0. Joe was freaking out he was worried that Dan rat out the headhunters. Britney: "I forgot that i'm in that Alliance"
Danielle: "what are people saying"
Britney: "that Dan was up here making a deal with Frank"
Danielle: "I have no idea what was said up here"
Danielle is crying and playing it up saying Britney thinks Dan and Her are not on good terms.
(WOW entire house flipped in what… 3 hours. so many scenarios of what can happen)
10:11pm HOH Cam 1-2 Jenn and Danielle
Jenn you are ready to do this.. Danielle: 'I'm 100%"
Looks like Danielle is 100% down with getting Britney out this week. Jenn: "Does Shane and BRitney know what is going on with Ian" Danielle: "Yes"
Jenn: "Dan pulled a F****** rabbit out of his A$$"
Britney joins them.. Danielle is saying that Dan is still really mad at her for the veto. Chit chat for a bit.. Jenn heads downstairs.
Britney breathing heavy.. . Britney: "You can't tell Jenn that Shane and I were going to use the veto.. because she's super tight with Frank"
Britney asks for specific about why Dan is upset with her.
10:43pm HOH Cam 1-2
Britney breaks down how ridiculous Dan is being if he's getting mad at her for throwing the POV.
Britney: "You are on the block to Danielle.. You quit your job for this show. "
Britney: "what a self righteous douche bag"

11:02pm Cam 1-2 Dan and Jenn
Jenn: "You got to keep me safe Dan.. you got to keep Danielle save"
Dan: "I swear to god you are safe.. I swear to god I will never vote against Danielle"
Jenn says she took a whole summer of slop he better not be screwing with her.
Jenn leaves.. Dan talks to the camera "This might be my finest hour EVER in this house"
11:18pm Cam 1-2 Dan in the bedroom
Tweet my wife chelsia and tell her to go to church for me cause I'm going to be in trouble after what I just pulled.. The entire house is in a rage.. I just got to survive the next 12 hours i'll be on the block working with Frank. "
Frank comes in and explains to Dan what he said Jenn. Dan is shocked that Frank was able to talk her into it because when he came out of the Diary Room jenn looked like she was going to kill him
Dan is worried what they are going to be saying after he gets off the block.
Frank needs time to think about it frank leaves.
11:44pm Cam 3-4 Britney, Ian and Joe hot tub
Ian is worried.. Britney says shes a little shocked that all Dan told Frank in the HOH was that he had his jury vote.
Ian and Joe both agree that Frank wins the game if he goes to final 2. Joe: "That is by far the most amazing show of something I can't figure it out.. that doesn't compare at all with Willie.. this is an entire different league than Willie"
Ian: "I can't figure out what he's doing.."
Joe: "maybe Joe is right maybe he is a mastermind"
Britney: "Maybe he wants us to have this conversation"
Ian: "Maybe we should keep Dan for the final 2 because everyone hates him.. "
they all start laughing.
Ian wonders if maybe Dan made a mistake and overreacted. Joe: "He had 24 hours to figure out what he was going to say.. that was all planned"
11:57pm Cam 1-2 Shane and Danielle
Danielle sticks with the story says that Dan is mad at her and she's embarrassed and sad about it all.
Shane is saying that if he wins HOH he's going to put up Joe and Ian and if POV is played than they will backdoor Frank. Shane is still on board with the quackpack.
Danielle: "I just don't trust dan"
Shane: "DAN?"
Danielle: "ohh ya Dan is going " (LOL )
Danielle: "I can't believe Dan did that to me.. "
Share it YO!!
Tweet