POV Holder:
Jenn
Next POV:
Sept 1 (Saturday)
POV Used
YES
POV Ceremony
Aug 27 (Monday)
HOH Winner:
Frank
Next HOH:
Aug 30 (Thursday)
Original Nominations:
Dan And Danielle
Current Nominations:
Danielle And Britney
Have Nots
Dan
Last Evicted Houseguest
Boogie and Ashley
Pandora's Box POwer
Ian did NOT use his veto power
***POV Results
1) Dan in solitary dance party for 24 hours
2) Carrot top wears a carrot suit for a week
3) Danielle and Britney are handcuffed for 24 hours
4) Jenn has POV, Burns clothes and is on slop for the rest of the game
5) Frank gets "chum" bath 24 hours (Frank was also Disqualified from the competition)
6) Shane took no punishments
POV Ceremony Results:
Ian did NOT use his VETO power.
Jenn used her Veto to save Dan from eviction.
Frank replaced Britney as the replacement nominee.

12:35pm – 12:50pm When the live feeds come back from TRIVIA.. Frank, Jenn, and Ian are up in the HOH room. Ian is telling Jenn that he was surprised that she used it. Ian is freaking out in the HOH room. Frank tells Ian that he never should have gone against him. Ian keeps saying that that he had a lot of people in his ear. Ian tells Frank that he wanted to work with him. Frank tells Ian that he heard from several people that Dan said he was going to rat you out and you lied to me about what that was about. Frank tells Ian that if he is going to start raising his voice he can step the F**K OUT! Ian says thanks, I will. Shane comes into the HOH. Shane thanks him for telling him what was going to happen right before. Shane says that he heard screaming and wanted to make sure everything was okay. Frank tells him that he wants to work with him and thats why he told him. Shane says that he wants to work with Frank too. Ian comes back and tells Frank he wants his beer back. Frank tells him to grab it them. Ian starts grabbing the beer out of the fridge. Frank says I bet you wanted to drink and tell me off or something huh. Britney comes up and says it is what it is, it's just a game. Frank says that he knows she is close to Ian and that just the other day you told Dan that you were coming after me and that you had two week to get me out. Franks says that then you were telling me that I was safe with you, and I don't appreciate you lying to me. Britney says that she understands and says that it's just a game. Britney says that she is just sad because she almost won the veto yesterday. Britney tells Frank that she just told Shane this morning that she was going to put up Ian. Frank doesn't believe it and says to go ask Shane. Frank says that you and Ian are just too close, you understand why I would have to break you two up. Britney is crying and says that she knew this was my last week. Britney tells them that she wants to work with them and that if they can see her being able to help them then she will. Britney talks about how when she goes to jury she is going to vote for the people that treat people right in this game and that she doesn't like how Dan is treating her right now. Frank tells Britney that if he could have put up Ian he would have. Britney says that she knew she shouldn't have kept Janelle's sandals, I knew they were bad luck.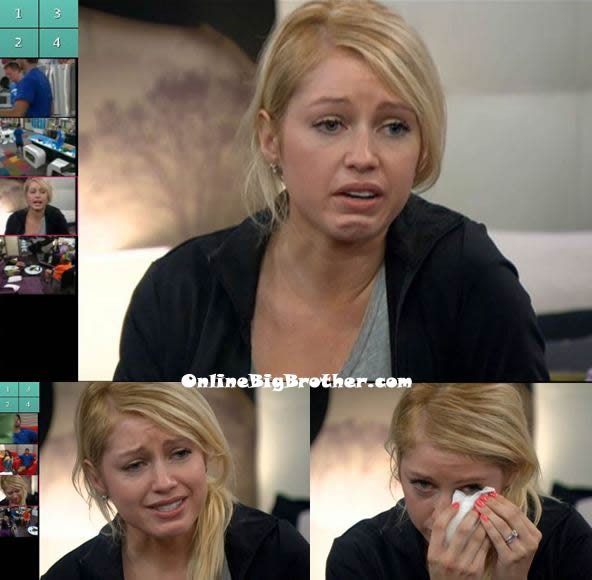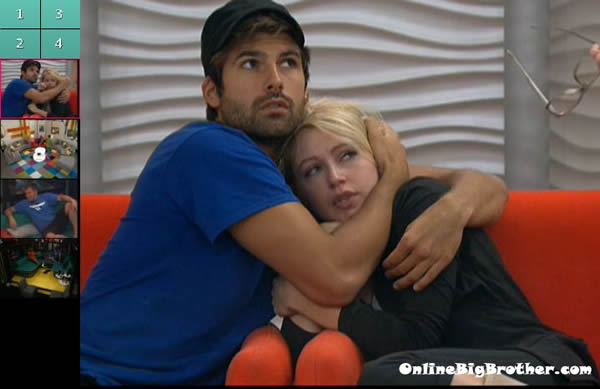 Frank and Ian are getting into it in the living room. Ian is yelling at Frank about how he has had several days to think about this decision. Frank says that he had a day. Frank says you fucked me. Frank tells Ian that he passed up the $3000 for Ian and this is how you repay me! Frank says you f**ked me. Ian says and I will f**k you right back. Ian says that if anyone takes him to the final two, he will win 7-0 so don't take him. Frank says you aren't saying anything that everyone else doesn't know. Frank laughs at how he is in a carrot suit and getting into a heated argument.
This is AWESOME – Ian going toe to toe with Carrot Suit Frank!
Re-Watch ALL THE DRAMA on FlashBack: Big Brother 14 Live Feeds – 3 Day Trial!
1:05pm Joe and Frank are in the arcade room. Joe asks Frank if he believes Dan now because you have been talking about how much he f**ked you. Frank says that he did up until the whole rat comment and says that Ian denied it ever happened. I think it was Ian that ratted us out. Joe says okay well as far as I am concerned, Ian is my number one target. I don't like that kid.
1:20pm Joe and Shane are in the kicks room. Joe tells Shane that we need to tell them what they want to hear until we get into power. Joe leaves and says we've got a b***h f**king week. They head into the kitchen. Meanwhile in the arcade room, Britney and Danielle are talking. Britney says that this is classic Dan Gheesling. This is exactly what he did in season 10. Britney says that Dan has just been using this alliance. Danielle says so he is just using using us as a shield. Britney says yeah. The feeds switch to show Ian out of the diary room walking around with his beer.

Up in the HOH room. Frank and Jenn are talking. Frank says just when you think you are done we turn this motha f**ker around. Jenn says see I told you I got your back. Frank laughs about how he was going toe to toe with a little man and he looked over and said to them I am doing this in a carrot suit. Frank says that it sucks for Britney because this is pretty much the way it happened in her season.. I am sure she is going to try and campaign but she doesn't have the votes. Dan comes up and says there is another queen in town …JENN CITY! They hug. Frank says that he already talked to Joe and Shane and they are on the same page for working with us. Dan bows to them and says you guys rock! Dan leaves the HOH room.
Out in the backyard Ian and Britney are talking. Ian tells her that he is voting to keep her and that he won't change that. He says that Frank wants you out, so why would we give him that. Britney says thank you and goes over to talk to Joe. Joe and Britney are talking by the pool. Joe says that he gave his word to Britney and that he will vote for her to stay, nothing against Danielle but I owe you. We have me, Ian and Shane, you have the votes to stay. I gave you my word and that will not change. Frank has already tried to get to me and Shane. Britney asks what did he say. Joe says that he said that you are the target. Joe says that we may just need to separate sides otherwise there will be fighting all week. Britney says thank you. Britney says that Dan is a piece of trash. Joe says just sit back and relax. Joe tells Britney everybody knows where everybody is at, the lines are drawn, there are no hidden agendas.


1:40pm – 1:50pm Frank comes out into the backyard and gets into the pool. Frank asks Ian if we can we corgial or what?! Ian says yeah, I just need a moment, I just need to hammock out for a minute. Frank says okay. Ian says that he is sorry for yelling and swearing. It's just a game. Joe says season 14! Ian says best season yet! Ian goes to get another beer and gets back to rocking in the hammock.
Share it YO!!
Tweet