POV Holder:
Jenn
Next POV:
Aug 25 (Saturday)
POV Used
POV Ceremony
Aug 27 (Monday)
HOH Winner:
Frank
Next HOH:
Aug 30 (Thursday)
Original Nominations:
Dan And Danielle
Current Nominations:
Have Nots
Dan
Last Evicted Houseguest
Boogie and Ashley
Pandora's Box POwer
Ian -> Has a veto power
***POV Results
1) Dan in solitary dance party for 24 hours
2) Carrot top wears a carrot suit for 24 hours
3) Danielle and Britney are handcuffed for 24 hours
4) Jenn has POV, Burns clothes and is on slop for the rest of the game
5) Frank gets "chum" bath 24 hours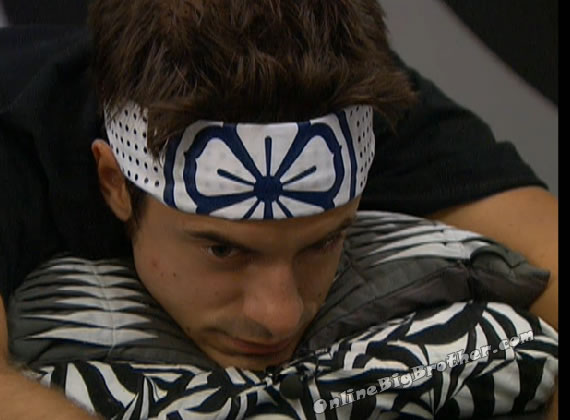 7:58pm Cam 1-2 Solitary Dance Party
Joe and Ian come to Dan and start talking to him through the door. Dan says the door is open they are just not allowed to open it expect to get dan's wedding ring. Joe gets the ring and hands it to Dan.
Dan: 'They have 4 or 5 songs they play in here so it's kind of entertaining"
Joe: "They play them.." Feeds cut
Dan: "Theres champagne i'll probably have tonight"
Dan Tells Ian and Joe that he wants to play a card game and they can slide them under the door.
Dan: "When people come by to talk to me they cut the music.. other than that it's 30 minutes on 10 minutes off"
Joe offers to get him cotton balls to cover his ears. Dan says it was tough but the way it went down he wouldn't have wanted to win it that way.. Dan says he didn't think he cheated.. (I'm not sure what Dan means by this)
Joe leaves says he'll come by every hour or so to see if he's OK
8:06pm Cam 1-2 Joe and Frank
Frank is saying that Ian is not going to use the Power and Frank wants dan gone this week. Joe says he's on board.
Joe: "Obviously Jenn is an ally for you and me I treat her like gold and she just proved a whole lot"
Joe: 'If you feel like you can trust me you can trust her.. You are not playing in the next HOH you are going to need people to have your back"
Joe says how much he is impressed by Frank today.. not only by winnign but by "Doing Shit"
Joe: "you gave me cold chills when you took the HOH.. that just went to say… this dude is serious.. it stunned other people. "
Frank: "You know all the passion I have for this show.. "
Joe: "You can do this frank.. you are going to pull this shit off"
Frank: "Don't hate because you take second" (LOL holy rice a roni powerhouse is feeding him some tasty BS)
Joe: "You are the best you are going to earn it and you will earn people votes.."
Joe: "Powerful.. you're powerful when someone wants it that much.."
Frank: 'You almost want someone to have it"
Joe: "exactly.. you'll do well I promise you that..
8:21pm Cam 1-2
Dan and Jenn talking through the door.. he tells her he's proud and Happy for her winning that. Dan: "that was hard to win"
They start to talk about the DJ equipment in the room. Jenn says that sh!t is legit.
Jenn appreciates it tells him she'll be back in a bit if there's anything he needs to yell.
8:43pm Kitchen.. Cam 3-4 Ian, Joe, Shane, Jenn and Frank.. chit chat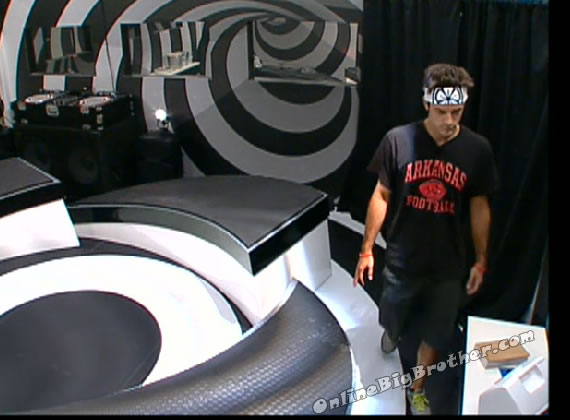 8:43om Cam 1-2 Solitary Dance Party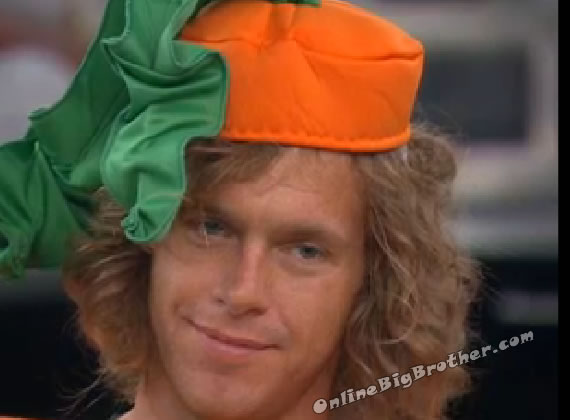 8:49pm Shane, Joe and Frank They are talking about playing Edward 40 hands.. LOL (maybe we should shut down tonight and go play that )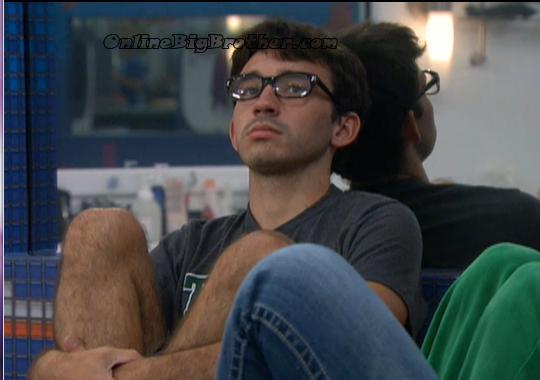 9:08pm cam 3-4 Bathroom Britney, Ian, Shane and Danielle
Talking about Amazing race with Brendon and Rachel
Prior to this Britney and Danielle went to the have nots to talk to Dan and he never replied to them. Music was off and it didn't look like he was sleeping. at 9:10pm Joe goes to the have nots and Dan still doesn't answer.
9:17pm Cam 1-2 power House (Image Link)
Power house getting ready
9:41pm bathroom Cam 3-4 Ian, brintey and danielle
Britney gives a shorty rundown of the POV Competition. Says that Frank took the punishment that he cannot play in the next 2 HOH competition for 10 points.
Ian: "He must of really wanted Dan out because he basically pissed his game away right here"
Britney: "we now have 2 chances to get him out"
Ian: "I knew he wanted him but not that Fricken bad.. but man.. "
9:58pm Cam 1 Ian (Image Link) dancing to the music coming from the Have nots room.. he has his shades on and is twirling beads.
Watch the last month on the Feeds – FREE TRIAL –
Share it YO!!
Tweet