POV Holder:
Jenn
Next POV:
Sept 1 (Saturday)
POV Used
POV Ceremony
Aug 27 (Monday)
HOH Winner:
Frank
Next HOH:
Aug 30 (Thursday)
Original Nominations:
Dan And Danielle
Current Nominations:
Have Nots
Dan
Last Evicted Houseguest
Boogie and Ashley
Pandora's Box POwer
Ian -> Has a veto power
***POV Results
1) Dan in solitary dance party for 24 hours
2) Carrot top wears a carrot suit for 1 week
3) Danielle and Britney are handcuffed for 24 hours
4) Jenn has POV, Burns clothes and is on slop for the rest of the game
5) Frank gets "chum" bath 24 hours (Frank was also Disqualified from the competition)
6) Shane took no punishments
10:30am – 11am Big Brother wakes up the house guests. When the feeds come back, Dan is lying on his back with his eyes open in the have-not room. Frank is out on the backyard couches talking to the camera. He says that there aren't many people that will take him to the final two, let alone the final three. He says that he thinks he can get Danielle and Jenn to maybe take him. Ian joins him out in the backyard. They talk about his chum baths that he has taken throughout the night. The chum bath alarm then sounds and Frank gets up to go change into his bathing suit. The alarm sounds again and Frank yells what you don't think I hear that bubba! Frank gets into the chum bath, dumps it on himself and then gets out. As he heads to the shower, Ian says good sport bubba. Frank then flicks chum at him. Ian says agghh.. that's for Thursday huh!
Superpass Live Feeds FREE 3 Day Trial then $14.99:
Watch the last month of Big Brother 14 for ONLY 50 Cents a DAY!
11:10am – 11:20am Britney and Danielle are up chained together going to the bathroom, when they're finished they head back to bed. Danielle bashes her head on the shelf above the bed. Meanwhile, Ian is in the backyard swinging on the hammock mumbling to himself.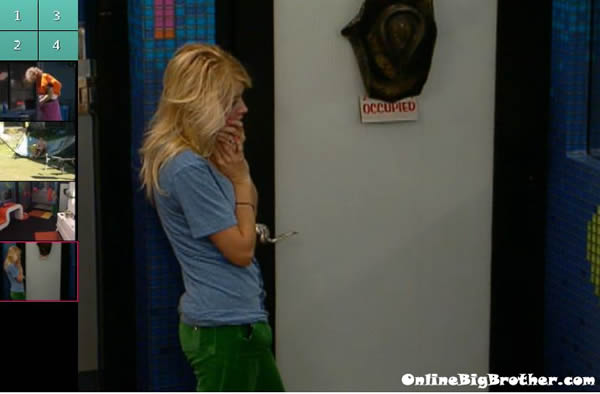 11:25am – 12:15pm Ian says that he is happy yesterday worked out well with Jenn winning it because that means Dan won't be annoying me. Frank says less time for him to bug you too. Frank wonder how much Dan will campaign against Danielle. Ian says that he won't be campaigning against Danielle he will be trying to get me to use it. Ian says but I won't and the good thing is that he told me before solitary confinement that he didn't expect me to use it on him, which is good. Frank says yeah he might come to you after though with some plan to use it on him. Ian tells Frank that he told Dan to try and throw it so that I would consider taking him down. Frank tells Ian that Dan trying to get you to use it is just throwing Britney and Shane under the bus because they could be the replacements. Ian agrees. Ian wonders who the target is next week. Frank says it depends on who wins. He says that we need to keep Jenn tight with us because she can help us. Frank says you're probably not going to take me to the final two if we make it to the end. Ian says well thats the hard thing, the right thing to do is to take you but I don't think I can win against you. My family needs it and they are more important, I want to help them and I don't think he will ever retire if I don't win this. Frank tells Ian that if he takes Joe to the final two he will make sure Joe wins the money because you have talked so much shit about him. Frank says the only person that I think will take me is Shane. Ian agrees and says that it would be a tight vote. Frank says it's a crazy game, the one mother f**ker that would take me to the end is gone. Frank tells Ian again that no one thinks about the votes, if you f**k me again I will make sure you don't get the votes. There would be me, Ashley and Jenn in jury to make sure of that. Ian says yeah I know. Frank and Ian head inside.  Frank gets another chum bath. Meanwhile in the have-not room, Dan is pacing around the room and then lays down to stare at the ceiling.
12:20pm – 12:50pm Frank gets another chum bath alarm. He says that's low down yo! So low down! Frank does the routine and then sits down on the backyard couch. Frank starts talking to the camera again about how no one will take him to the final two. He says that for him to win the game he needs to win the final HOH. If I am against Shane at the end then things might be different. He says then the jury will have to pick their poison. Frank wonders if its in his best interest to keep Shane or get rid of him. He talks about getting Danielle and having her pledge her allegiance to him over Jenn. He says that he needs Joe to win an HOH to put up Britney and Shane OR Ian and Britney. I need Ian out of this game, it is just a matter of time before he scumbags me again. He talks about how things would have been if Ian hadn't scum bagged him. I need to get Ian and Britney out of this house, not only are they close they are close to Shane. Not only do I have Shane's best interest in mind, I will make sure he gets second place. Frank talks about how Dan rushed trying to get me out and that's why he is probably going home this week. Frank says that the order he wants people out are Dan, Ian, Britney, Danielle. Frank starts going through the scenarios on what he needs to happen.
1pm – 1:20pm Frank says that his whole plan relies on Joe winning an HOH, but he hasn't even come close. The guy gets anxiety attacks before competitions. Frank heads inside. Ian comes out and gets in the pool and starts jumping and slashing around. All the other house guests are still sleeping.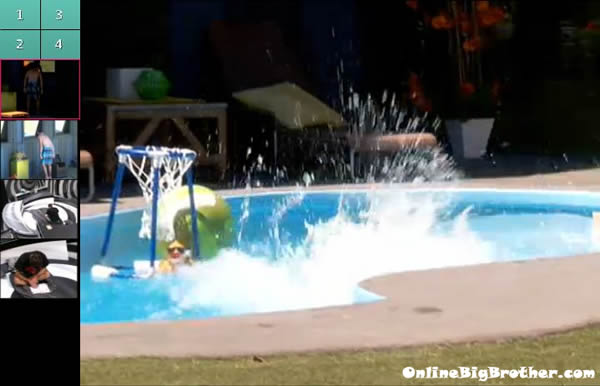 Share it YO!!
Tweet