POV Holder:
Jenn
Next POV:
Sept 1 (Saturday)
POV Used
POV Ceremony
Aug 27 (Monday)
HOH Winner:
Frank
Next HOH:
Aug 30 (Thursday)
Original Nominations:
Dan And Danielle
Current Nominations:
Have Nots
Dan
Last Evicted Houseguest
Boogie and Ashley
Pandora's Box POwer
Ian -> Has a veto power
***POV Results
1) Dan in solitary dance party for 24 hours
2) Carrot top wears a carrot suit for 24 hours
3) Danielle and Britney are handcuffed for 24 hours
4) Jenn has POV, Burns clothes and is on slop for the rest of the game
5) Frank gets "chum" bath 24 hours (Frank was also Disqualified from the competition)
6) Shane took no punishments
7:30am Dan is up and out in the backyard talking to the cameras about yesterday and his plan to save himself. He says that it all comes down to next four hours. He describes the events of last night, just in case you missed his "handy work". He says that he had his funeral and told something nice to everyone except Danelle. Dan says that Danielle did not take kindly to that. He says that he then went upstairs to the HOH room to talk with Frank. He says that his conversation went better than normal and it was up to him to get Jenn to use veto on me. Dan says that by the time he went to bed last night, Jenn was on board. Dan says that it's amazing what 24 hours can do. He says that the real question is if this goes through, am I going to stay true to Jenn, Dani, Frank. Dan says yes I am. Dan says the question is who is going up when I come down. He says that he wishes it could be Ian, but he has a veto. Dan says that Britney has thrown me under the bus and I get it now. He says that it all comes down to Jenn City, if she doesn't take me down I'm going to the jury house. He says now he understands why criminals come up with their best plans in prison. Dan says that these are going to be the longest four or five hours on my life. Dan says that if you are watching me right now and want me to survive you can send an email to my web.
Big Brother Live Feeds FREE 3 Day TRIAL: Try them and see what's happening right now!
8:25am – 9am
Dan says that it has been an amazing ride the second time around. He says that it has been more difficult. Dan says that he prefers people hating him in this game because he is more comfortable that way. He says that when people hate me in this game they are blinded in what I can do. He says that he has survived 8 evictions and hasn't won a thing. Dan says that he hopes the carrot man wakes up soon. Dan says that there is a guy in this house hell bent to destroy me, he takes a chum bath every hour for 24 hours, all because he wanted me out this bad. Dan says that 24 hours later I talk him out of coming after me at all. Dan says that now I am at the mercy of Jenn City. Dan says so let's talk about my boy Ian. He asks do I like him? Yes, do I more than like him? Dan says yes, we have lots of talks, we have a pool tournament every night where we talk, except for scheming. He says that he has been covering Ian for 25 days and for what? Dan says for him to be tacky, to tell Danielle to f**k off. Dan says that Ian doesn't appreciate it. Dan says that it was pretty funny that last night he was talking serious strategy with a man in a carrot suit, only in the BB house! He says that it all comes down to Jenn City and if she is going to pull the trigger and save me with the veto. He says that he is taking a passive approach with her because she has to figure out for herself it's in her best interest to keep me on and get little blondie out of here. Dan gives a bunch of shout outs. Big Brother wakes up the house guests.
9:15am – 9:45am Dan, Frank and Joe are talking out in the backyard. Joe talks on and on about restaurants and how he runs them. After a while Joe gets up and goes inside. Frank tells Dan that he is tired of listening to Joe talk. Dan agrees and says that we didn't even ask any questions. Dan and Frank talk about how it will go down today. Frank says that he talked with Jenn and told her not to say the rat thing. Frank says that he doesn't think it will be hard to get Joe once they show him they have the numbers. Joe comes back outside and Frank asks him how large a restaurants freezer needs to be. Joe shows them. They continue to talk about restaurants.
9:50am Frank says that when Britney goes up, we will maybe sit down and talk to Joe. He says that he agrees that it will be a little obvious. Dan says maybe I should deny it all and so that people don't think we are working together. Frank says maybe we should just say you told me some stuff up there about Ian, and that wound is a lot fresher. Dan says that best case scenario is if Ian ask if I ratted him out and then I can say I didn't but you just did. Dan wonders what he should say when they come at him for answers. Dan says that maybe he should just say that Ian got c**ky, you saw him in the ball competition. Frank says why don't we just say that you came up to me and told me that it wasn't you, and that you didn't like what Britney did about throwing me under the bus. Dan says that Britney said right after the veto competition she said we have 2 weeks to get rid of Frank. Dan says that he does like that he kept his mouth shut and Britney told you and Mike it was me by pointing at my bed. Frank tells Dan that he will talk to Joe right before.
10:10am Dan has a quick conversation with Jenn out in the backyard. He asks her they are good? Is there anything you need? Jenn says yeah, we're good. I just need you to keep your word like a motha f**ker. Dan says you got it like a motha f**ker.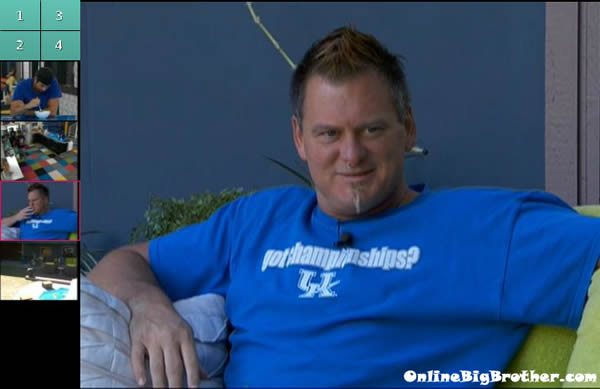 10:15am – 10:30am Dan and Jenn are running around cleaning up the house. Frank and Joe out in the backyard talking. Joe asks is there anything crazy happening that I should know about? Frank says no, but if something did happen would I still have your vote to vote the way I want. Joe say yes. The only person I couldn't vote against is Jenn. Frank says well she can't even go up she has the veto. Joe says oh right. Joe says that last night he was lying in bed and Shane, Britney, and Ian were in the bed room and the first thing Ian asked was are we alone, can we talk? Joe says then someone quickly said Joe's here. Frank says that f**king rat. Jenn joins them. Frank explains how the veto will go, first Ian will get a chance to use the veto, then Jenn and then the replacement nominee will go if there is one. Frank heads inside and as he leave he tells Joe to tell Jenn about what he heard in bed last night. Frank leaves and Joe tells Jenn. Jenn says that she doesn't know why they would say that either. Ian heads out to the hammock.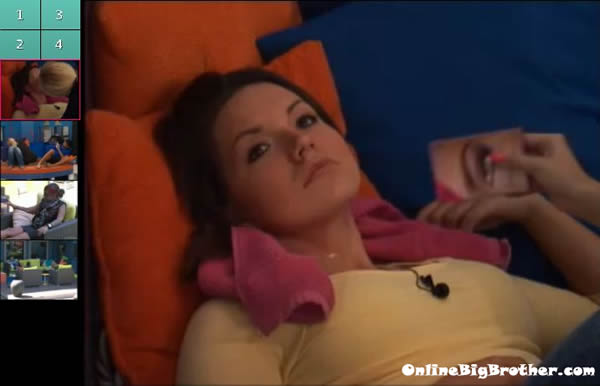 10:35am – 10:50am Danielle is in the bathroom with Britney and Shane. Danielle is freaking out because she is getting hives or a rash on her neck and face. Britney thinks that it's just nervous hives from last night. Danielle wonders if it might be shingles, she says she is going to flip out if she picked that up in the house. Danielle says that she wants to get into the diary room so bad. She says she wants something to bring her stress down. All four cameras switch to the backyard where Joe, Jenn and Frank are talking about random stories. The feeds switch back to the bathroom where Britney is fanning Danielles face and neck to cool it down.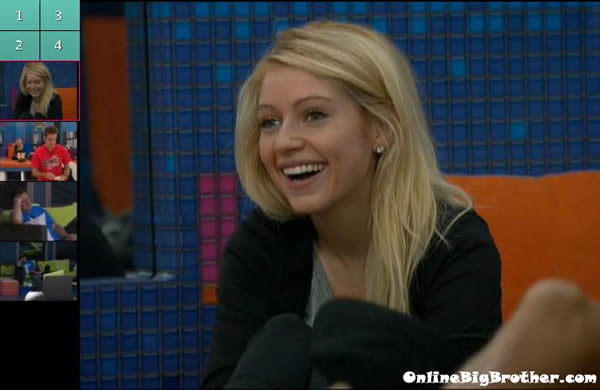 10:55am Britney says remember last night when we were talking to Joe about cheating and I asked him if he had ever been cheated on. She says that he said yeah and that he is surprised the guy can walk now. Britney says that Joe got a text that she wasn't where she was supposed to be and so he went there and punched the guy out. Britney says that she asked when it happened and she says he said 11 years ago before Levi was born. Britney tells Shane that there was no texting 11 years ago. She says his stories are so made up. Shane laughs.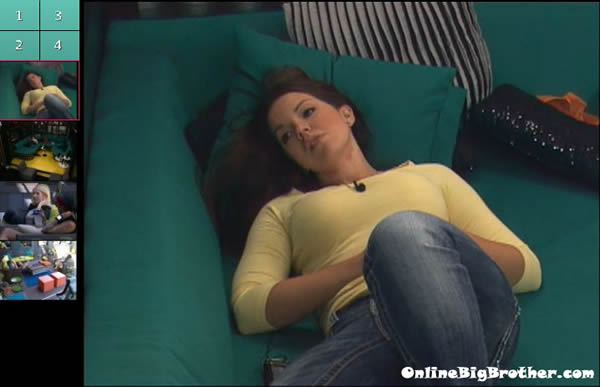 11:25am Everyone is just hanging around talking about random stuff waiting for the veto ceremony to start. Danielle is in the arcade room with an ice pack on her neck. Dan joins her and says we didn't say goodnight last night. Danielle says I though we weren't supposed to, I thought we hate each other. Dan says yeah but we can say it in private. Dan leaves and then comes back and says that he is going to ask Jenn's permission if he can say something nice to Danielle during the veto. Danielle says that he scares her when he talks about her in public now. Dan says don't worry it will be nice. Dan leaves. Danielle motions to the camera and says that he is crazy!
11:30am TRIVIA .. The Veto Ceremony is happening NOW! Get the live feeds to watch all the DRAMA when they come back!
12:10pm Still TRIVIA..
12:30pm TRIVIA..
Get the FREE Big Brother 14 Live Feed TRIAL:
Watch what happens after Jenn uses the Veto!
Share it YO!!
Tweet