-Post has been updated--Post has been updated-
9:30am Austin and Liz wake up and start getting ready for the day. Austin and Liz talk about her doing her HOH blog. He tells her to give a recap of the week. Liz says I'll write be sure to tune in Wednesday for the Veto competition, its a V-classic. He tells her the live feeders are the ones reading it. They already know. I would get right down to brass tacks if I were you. I would first start off by telling them about Irish Spring because its the zest you can taste and smell. I would talk about me obviously. Talk about me and you and how we've enjoyed the HOH room and stuff. What we've enjoyed spending time together. Liz says Okay, I'm not going to bore people to death so keep going.
-Post has been updated-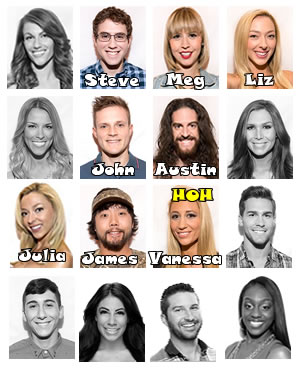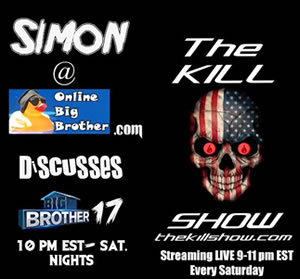 Simon from Onlinebigbrother on THE KILL show Saturdays @ 10pm
http://thekillshow.com
9-11pm
Big Brother Links
Bitchy Big Brother Blog
Big Brother attwx
Hamster Watch
Quirkydudes Archives
Big Brother Archive
Big Brother Gossip
OnlineBigBrother Forum
I Love Reality TV
Big Brother Junkies
IHateBigBrother!
Big Brother 2009
Big Brother Network
Big Brother Insider
The Big Brother Forum
yakkityyaks