Quick Big Brother Spoilers
Head of Household: Bowie
Nominees: Cirie and Felicia
POV Players: Bowie, Felicia, Cirie, America, Matt and Jag. Host it Cory
POV Winner:
Veto Ceremony:
Havenots: ?
Lock your ranks in before midnight
The situation Going to be a interesting week. As is stand right now if Veto is used Cameron goes up.

12:05pm Kitchen – Cirie, Felicia and Matt.
Felicia – everyone is waiting for one person to get up so that they can get into a conversation. And nobody knows what anyone is doing. No one knows what Bowie Jane is going to do. Everybody has a different agenda. One day it will be the tell all. When somebody decides not to use that veto. We are praying that somebody doesn't wait till Monday and say ah no I'm not using the veto. Matt – no, yeah… I am using it. Felicia – we could be wrong .. we're just seeing some odd awkward stuff and its like.. Cirie – so was he though.. there's a weird vibe. It used to seem like everything was straight. Felicia – we know that Blue wants Cory.. BAD! And we don't know if Jag wants Cory bad. Or if anyone wants Cameron bad. I am hoping .. we'll I don't know what she is going to do… I don't care what she does as long as one of us comes off the block and she puts somebody else up. That's all that really matters. This going to get craizer and crazier.. Matt – I know. Felicia – but you go out there and play today. Matt – Yup definitely.. will do! Felicia – every time you go out there and put your mind to it .. you perform. Matt leaves. Felicia – maybe the fact that Bowie Jane isn't telling them what she is going to do is the piece that is making them all worried. Cirie – my conversation has shifted from using it to get a big target to maybe you shouldn't use it. Felicia – because she might be doing what you don't expect her to do. Cirie – exactly! Felicia – and that is why I am saying we may need to talk to her and say we know who you're going after in order to make the other side feel comfortable you might need to put a leak out there.. because otherwise for both sides.. Cirie – well we don't want to give any more battery in America either for her to try to win it because right now if she thinks everyone is on board there is no rush for her and Matt going for the common goal. But if you switch that up and let her know that it might be Cory she might put a little extra Ummph in her Ummph! Felicia – but if you tell everyone else that its Cory. That's where we're going to be on Monday ..everyone is going to be paranoid and no one is going to use it. One of us has to win this sh*t.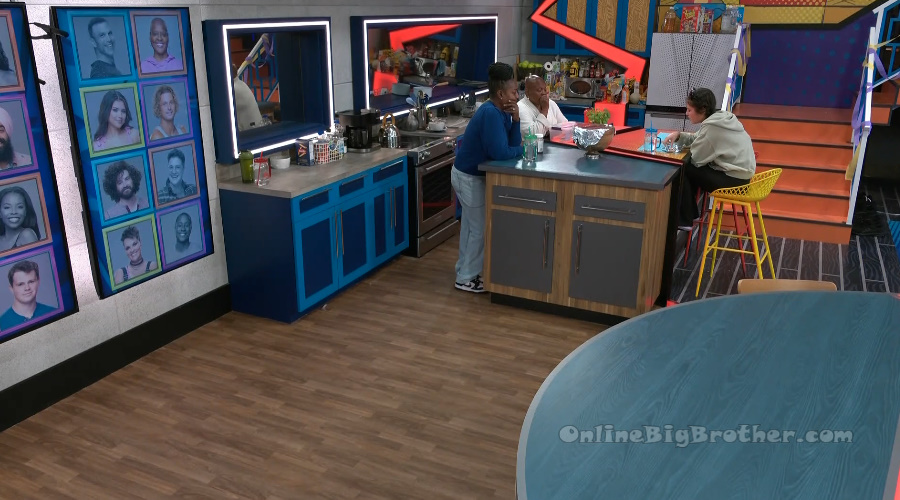 12:30pm Kitchen – Felicia, Cirie and America
America – We got this. Cirie – I know. America – We really do. It was really best case for the draw. (Veto player picks) Felicia – we just watching Cameron following everybody around the house. America – yeah he sat in the room with sunglasses on not saying anything. I am over him. Cirie – Mmmmmhmmm. Felicia – now he is following Jag. Cirie – in Bowie Janes room. America – as long as it comes across as its what everyone wants it would be unanimous and no blood on her hands. I think that is really the only option for both of you to stay this week because otherwise it gets tricky.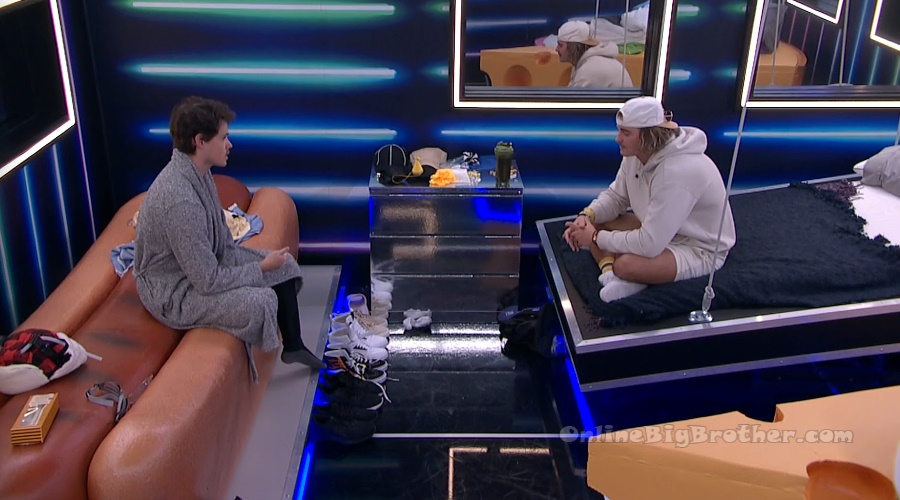 12:48pm Havenot room – Cory and Matt
Cory – The only thing that scares Bowie is that its not a house decision. You, Jag and America, she knows where you guys are because you guys talk to her privately. There is no reason for us to lie to Blue anymore. Matt – Blue knows? Cory – no she doesn't but the problem is she is probably telling Cirie and Felicia that the plan is to backdoor me right!? Matt – yeah. Cory – so now all of a sudden Bowie is actually in the middle because she's got you, me and America and Jag over here and then here its Cameron, Blue Cirie and Felicia. Matt – Cirie and Felicia would want Cameron to go though right? Cory – of course but they don't give a sh*t they just want to stay. So if we tell Blue that Cameron's been being a d**k and like going after her and selling her out.. or we just tell Blue the plan is to backdoor Cameron because at this point its too late and none of them can plan. Blue or Cameron. Matt – I know. Cory – so Blue is just going to care about keeping herself safe. Matt – I know.. I don't know why everyone is acting so f**king weird today. Everyone is just so quite. Cory – I walked into the HOH room and it was super awkward. I could tell that Cameron was pitching some sh*t. Bowie cares what they (Felicia & Cirie) think. And Bowie cares what Blue thinks.. because Bowie doesn't want to just go next week. I also think the sooner you tell Blue, the sooner she is going to trust you. If you don't tell her till really late is going to look hella shady. And like Bowie is scared because she thinks if she puts me up she is going to lose you, Jag and America. And if she puts Cameron up she is going to lose the rest of the house but that is not the truth. We just need to stop being scared of him because Cameron is gone. Once he is gone we are literally in final four.
1:15pm HOH room – Matt and Cameron.
Matt – I am going to f**king full send it! I'm going to go hard! Sprint! Cameron – I am excited to vote this week. I get to finally vote. Matt – you get to go in the DR and do a shout out. Cameron – Hi Julie, I've got a list of shout outs because I've missed a few.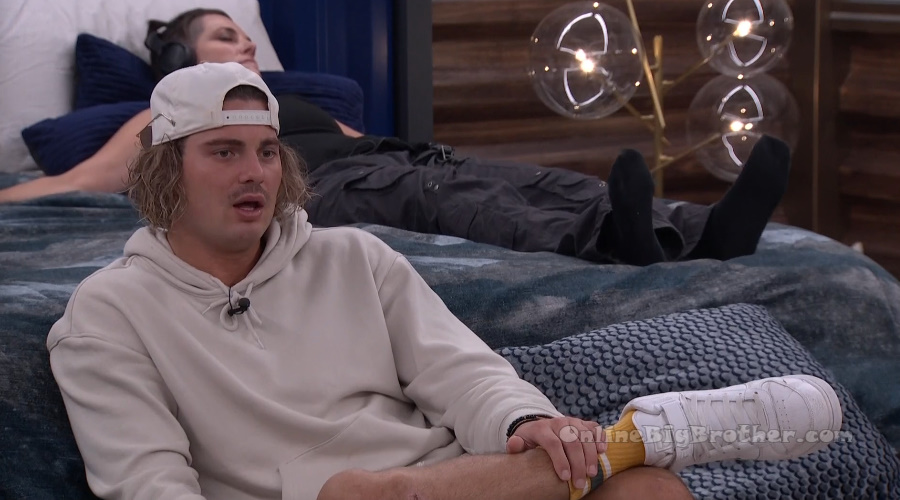 1:40pm The live feeds switch to the pound cams … the power of veto competition is starting now!
4:16pm Still blocked..
4:54pm Nothing yet.. (FYI – I'll be back in a bit to check if they're back and will update at that time.)
If you've enjoyed our updates this season and want to leave a tip you can do so through PayPal.
You don't even need a Paypal account to contribute. Any amount is greatly appreciated!