Quick Big Brother Spoilers
Head of Household: Bowie
Nominees: Cirie and Felicia
POV Players: Bowie, Felicia, Cirie, America, Matt and Jag. Host it Cory
POV Winner: Jag
Veto Ceremony:
Havenots: ?
Lock your ranks in before midnight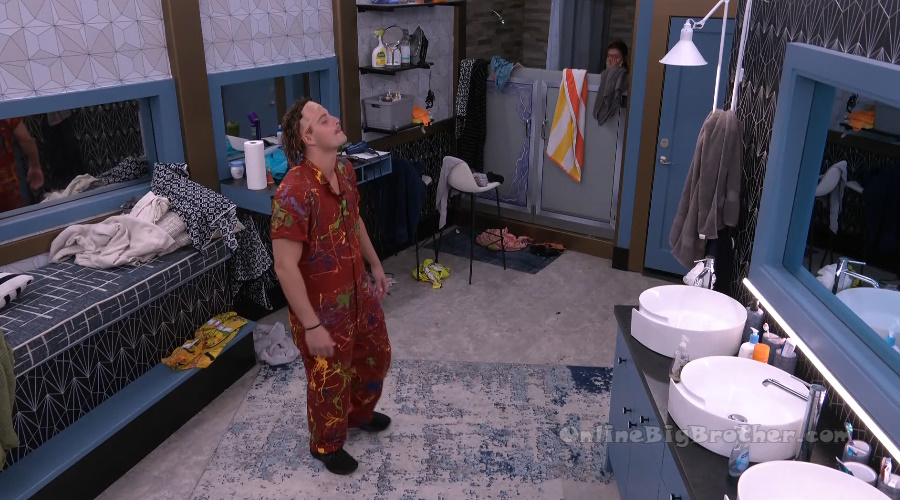 The situation Bowie F**King Jane wants Jag to use the veto so she can put up Cameron.
At 1:40pm the live feeds switched to the pound cams for the power of veto competition. The feeds return at 5:54pm.
ZINGBOT ZINNNNNNNNNNNNNNNNNNNNNNGGGGGGGGGGGGGGS!
– Bowie – A lot in common with a great white shark, both Australian with big scary teeth.
– Cameron – Lieutenant Loser to Major Fucking Tool
– Matt's was something about being a dumba$$..
– Felicia's was about being old and wrinkled
– Cirie – was something about All her friends are gone and she sucked at survivor..
– Mecole – Instead of MeMe it was MeNap then MeSleep then a weeklong MeComa, oh yeah she's not here.
JAG won the Veto!
In the bathroom – America – I f**ked up! I am so mad. I dropped it. Matt – I kept going the wrong way. I had a good spot but.. BB blocks the feeds. Cory joins them. America – he is going to be on top of her.
Comic Bedroom – Felicia and Cirie.
Cirie – I've never depended on people. I depend on myself. Felicia – in the church we had a saying.. What you can't do alone we can do together. Because I relized that you can't do nothing by yourself. Cirie – I've done everything myself most of my life. Felicia – I know and what you can't do alone we can do together. There are two books ends. There ain't no bookend without the other. This whole is game is about using and being used. We're fine! Bowie Jane could have won that competition. She picked up the wrong one intentionally because she didn't want to win and have to remove someone after she put them on the block. Now it looks like she is forced to take somebody down. I watched her a$$! She's been underplaying herself this whole dame game. Cirie – Jared said that. Jared said watch Bowie Jane turn it up at the end of the game. He said that exactly that to me. He said Bowie Jane is faking. Felicia – I really wanted Matt to win. Cirie – I almost feel like Matt didn't want to win it either. I almost felt like that. I could be wrong. I thought Jag was going to throw it. He was waiting for it.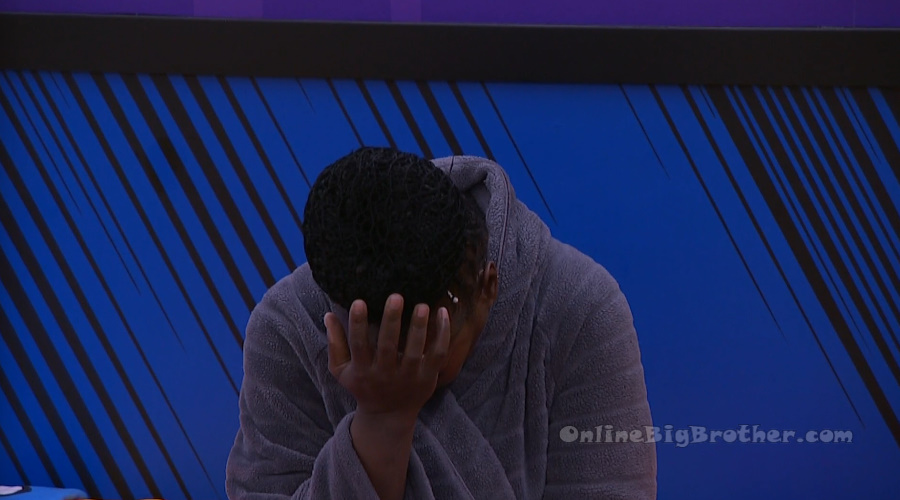 6:37pm Kitchen – Cory, America, Bowie, Blue and Felicia.
Felicia – Bowie Jane you did really good! Bowie – oh thanks! Felicia – I was like Bowie Jane you might beat Jag. Bowie – I knew I wouldn't beat him. America – you could have. Cory – Jag sucks!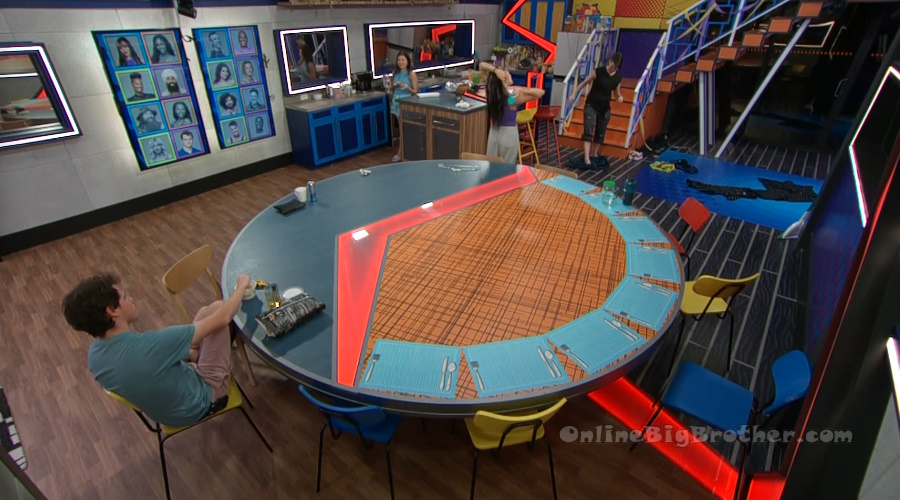 6:40pm Comic Bedroom – Cirie, Matt and Blue.
Blue – how are you doing? Cirie – I hate my life. So yeah I am just f**king hating it. F**king idiot! Blue – yeah I know. Cirie – IDIOT! IDIOT! And I flew up the thing .. it was so fast. I was scared I wasn't going to be able to get up. Matt – I thought it was more slippy.. slippier.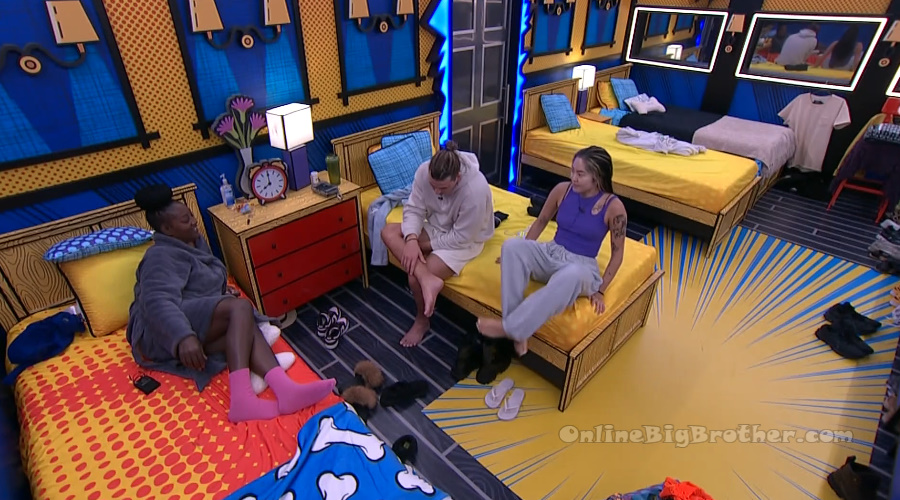 6:44pm Bathroom – Jag and Bowie Jane.
Bowie – that was great!! Bowie – Cameron is already up in the room just camping there. Jag – oh boy he shouldn't have said everything he said right before the veto. Bowie – yeah and he was like so you want to keep everything the same .. he said. And I said I haven't decided yet. BUT I have .. HE IS GOING! Jag – yeah because now he is going to switch up. Before the veto he was saying all this stuff about you and about me. Bowie – that's right. All I needed was a little excuse. Jag – yeah. Bowie – Because if he has any doubt with me or you .. this is not going to work. Jag – yeah that is what I am saying. Bowie – like even if it is all in his head its not going to work. Jag – and he is trying to pit against each other. Bowie – now we have to prepare for him playing dirty. What he is going to put out there and how we're going to counter act it. Jag – yeah we'll talk about it. Bowie – we can just say no he was saying that not me. And just make sure Matt says that as well. Jag – yeah. Bowie – because Matt and you would be the only people that would know that so .. I haven't said that to anyone else. Jag – yeah.
BOWIE F**KING JANE "I said I haven't decided yet. BUT I have .. HE IS GOING!" #BB25 @bigbspoilers https://t.co/sLQeY1KjzC pic.twitter.com/ODIui32hZd

— Dawg (@DawgsBigBrother) October 8, 2023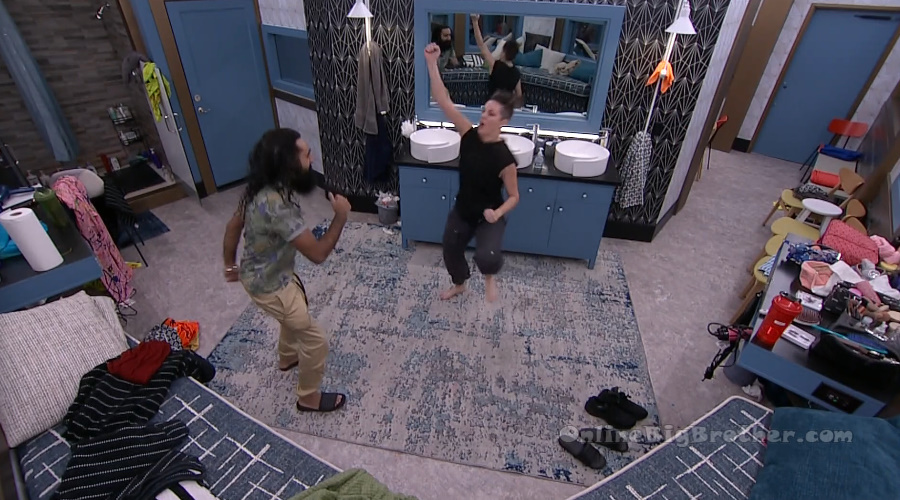 7:10pm Games Room – Bowie and Cory.
Cory – Cam goes up and he goes, then next week all we have to do is beat Blue. And Jag has never lost to Blue. Bowie – and don't let Blue get wind of that. 1 million percent. Cory – and then after that final 7 guaranteed! Then we have to go against Cirie and Felicia. All that matters now is that no one get greedy. Bowie – I am solid as a rock! Cory – my name has been out there for so long I just want to get there.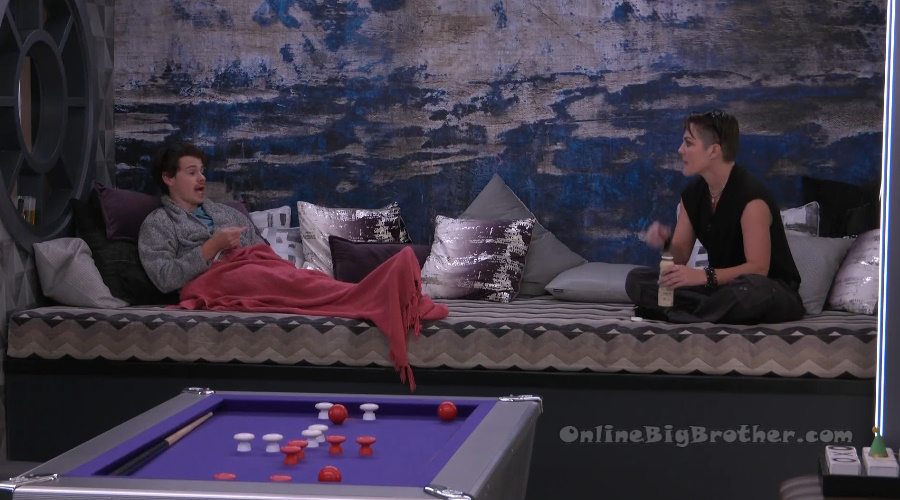 7:15pm – 7:35pm Bathroom – Felicia, Matt and Jag.
Felicia – do you know what you're going to do? Jag – I don't know. Felicia – you're going to use the veto right? Jag – NAAAAAAAAA! I am just kidding, yeah of course I am. Felicia – I don't know what she (Bowie) is going to do. Do you think she has made a decision? Matt – I think she is still deciding. Felicia – she is still considering opinions, thoughts and options. Jag – there aren't that many options. Felicia – right! There are only two options really. And both of them are going to hound her and just keep sitting in her room. After the competition he (Cameron) was already up in the room. She left because she didn't want to be up there with. I would tell him to leave. Matt – week one he said that was his strategy. Felicia – she is making him feel comfortable so that he thinks that he's staying. Jag – who do you think is better to go this week. Felicia – there are pros and cons to both… Cory is a better strategist. And he has his hands in a lot of pockets. Cam is better at competitions. Jag – Cam has won 7 competitions. Cory has won 1. Felicia – if you let Cameron go to the end .. his record alone is enough to give it to him.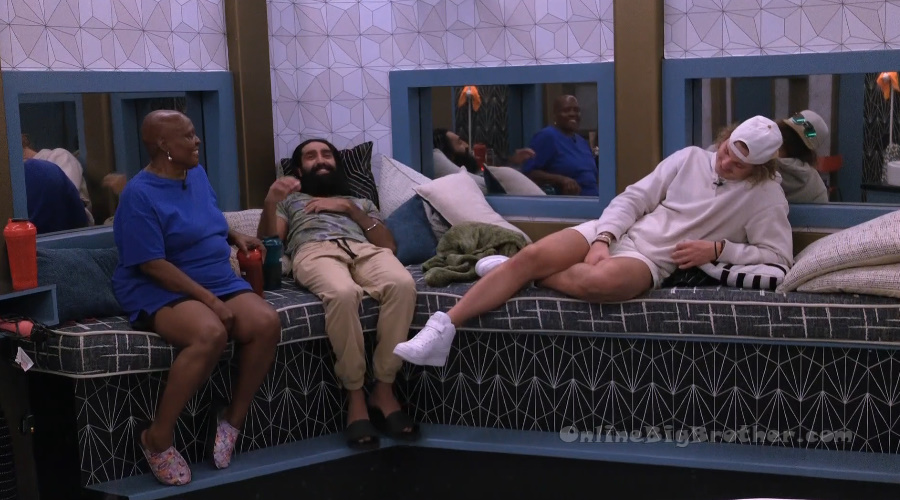 8:06pm Comic Bedroom – Cirie, America and Cameron.
Cameron is asking Cirie questions about Survivor again. He tells her he is going to apply to be on survivor right of of the gate and how he is going to tell them he knows her.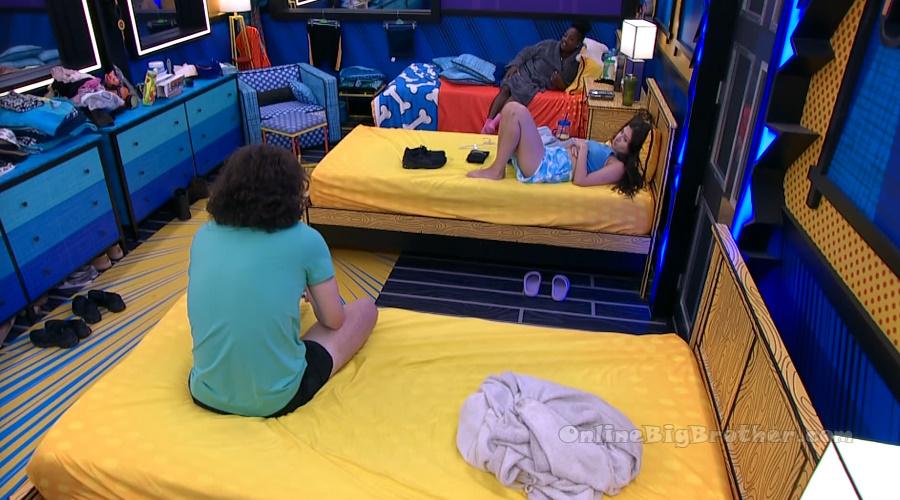 8:36pm – 8:47pm Comic Bedroom – Cirie, Felicia and Matt
Matt – She wants Cory gone. But everyone wants Cameron gone. I think she will still be okay with that. Felicia – she will have to be. Cirie – of course. Matt – Cam's going to go for our a$$es soon. He's always planting things .. I am just not having it right now. Cirie – he can't say I said anything about you. Matt – oh he did. Cirie – really?! Matt – he was saying that Cirie is saying that you're a f**king snake. Cirie – OHHHHHH.. Cameron said that to you? Are you serious!!?? Matt – I don't believe it. Cirie – are you serious?!? Matt – yeah but that's why I don't say anything. I want his a$$ up don't worry! Bowie joins them. Bowie joins them. Bowie – whatever just don't worry. Whatever you hear, just don't worry. I've committed that job will be done. No matter what anyone says. Cirie – I have no problem with Jag using it on her (Felicia). Give her a break. I'll pack. Felicia – thank you. Bowie – yeah and then just lay low. And then get ready for the onslaught of whatever.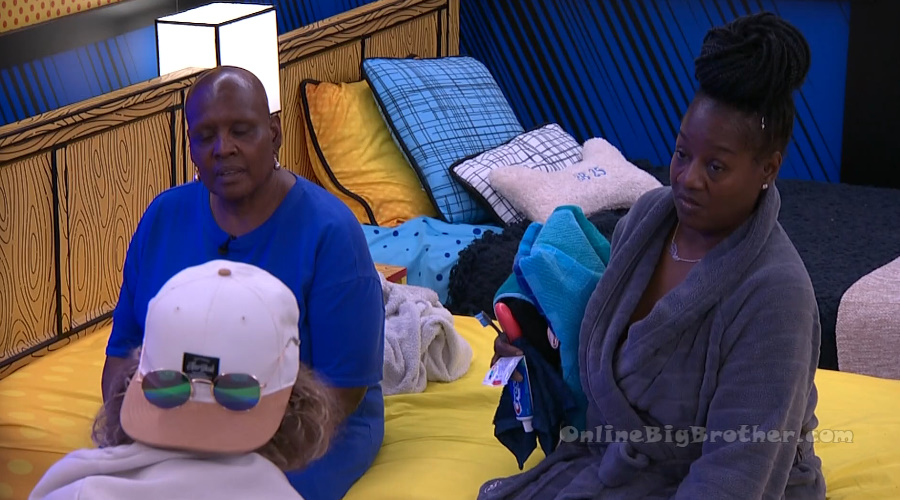 8:50pm HOH room – Cire and Bowie.
Cirie – the smartest thing you can do. I am not saying nothing about nothing. I am going to mind my business so I can get off the block. Felicia joins them. Bowie – yeah this is definitely happening, He doesn't trust me so.. How can I? He will turn on me. If he doesn't trust me I dont him. He is just a loose cannon.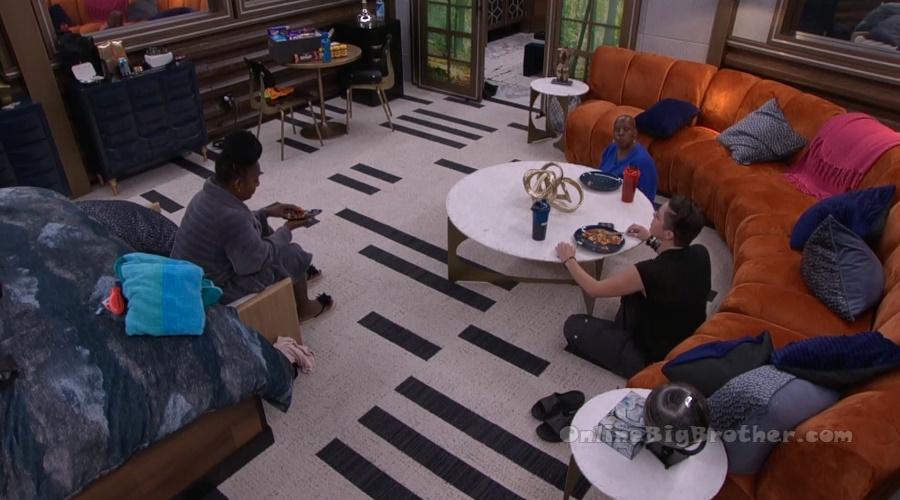 9:20pm Bathroom – Cory, America, Jag, Matt, Cameron, Blue they're all chatting about past Big Brother seasons / comps.
9:55pm HOH room – Matt and Jag.
Jag – if Cam tells people about the Fugitives what is our story? Matt – we can say that it was something that he wanted to create. Jag – we'd be like the only time he mentioned it was before eviction. And if they ask why didn't you tell, we'll be like bro there was nothing to tell. Jag leaves and Cameron joins Matt. Cameron – I've got all my trust in the two of you. If something is wrong, tell me what's wrong but I've put everything I've got in the two of you. I had a weird moment today. I never feel safe. One of my allies wins HOH. She puts up two people I definitely want put up. I don't get to play in the veto. I see weird conversations happening and I am like this is feels a lot like me getting backdoored again. Matt – but its Bowie's HOH and Jag has the veto. Cam – I know. I know that now but I just felt weird. We're going to have those times. I am just not used to any comfortable. But I am with you guys and if you say you got me, then you got me. Matt – yeah and you told Jag to keep it the same? Cam – no he does whatever he wants. I don't care as long as I don't go on the block and you don't go on the block. Matt – I know. Bowie shouldn't do that. Cam – she was like I want to do what is best for me game.. I am like that is a weird thing to say. Matt – I wouldn't think too much on it. Bowie is Bowie. Cam – I don't think she would make a move against me I just don't want anything to get weird between America and Cory.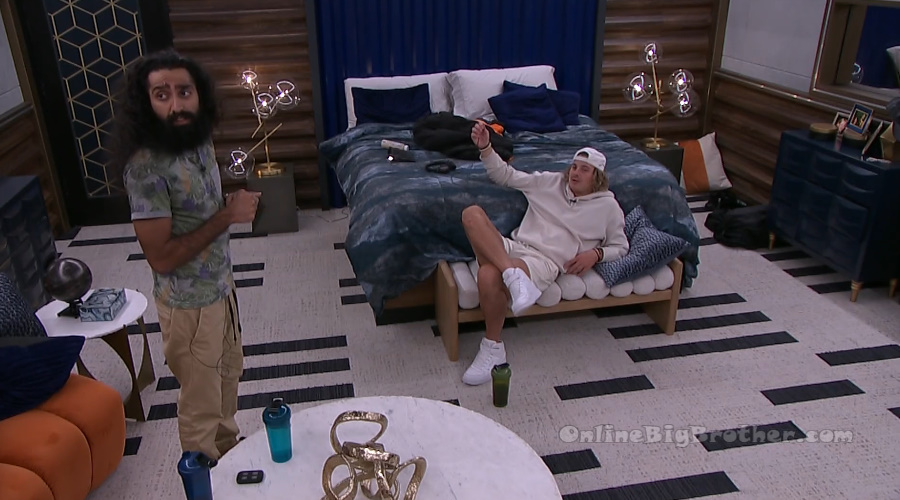 10:30pm – 11pmComic Bedroom – Felicia, Cirie, America, Jag and Blue chat about past comps from the season. They laugh about all the funny moments.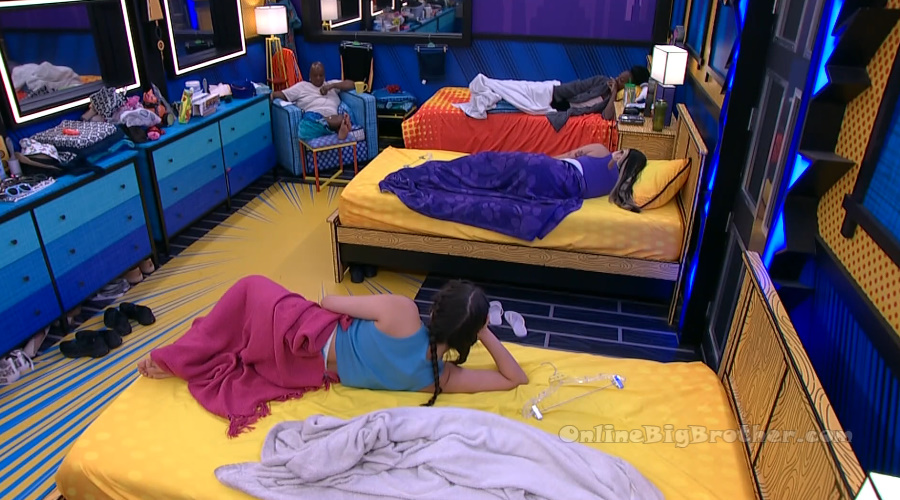 11:23pm – 11:40pm Comic Bedroom – America, Felicia and Cirie.
America – I left (the HOH) and Jag was like you can't just leave right after me, Cam will get suspicious. I was like I didn't even notice. Cameron was like this is where I am hanging out. Felicia – he is not going to let them talk tonight. Cirie – he is going to follow them and stick to them like glue. Felicia – he is trying to convince them not to use the veto. America – which is so funny because he really wanted the veto used yesterday to backdoor Cory. Cirie – wow .. and now.. now he's telling her not to use it. America – things worked out perfectly because he would have been good in that competition if he had played. The picks worked out perfectly. Cirie – the stars have aligned. America – everyone is on board. I am going to have the biggest exhale after Monday. Felicia – now I am just wondering where everyone will shit to for next week. The Plan is and all that sh*t. This is going to get stupider every week. America – I think the double will be not this Thursday but next Thursday. Felicia – right, this week it will be Cam and the next week two people will go behind him and that will take us down to 5. Oh my god. America – this is something we've really wanted.. Cirie – for a long time! America – you know where my vote is. There is no flipping.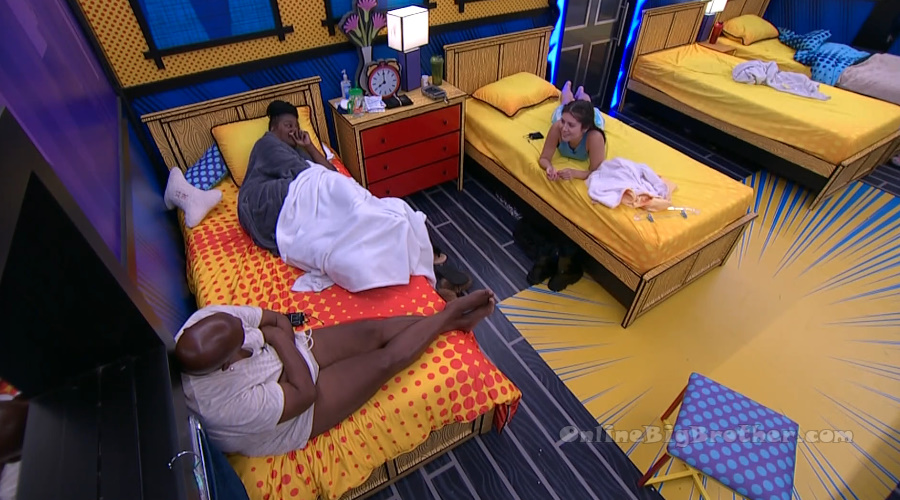 11:55pm HOH room – Cameron, Jag, Matt and Blue are rating celebrities on a scale.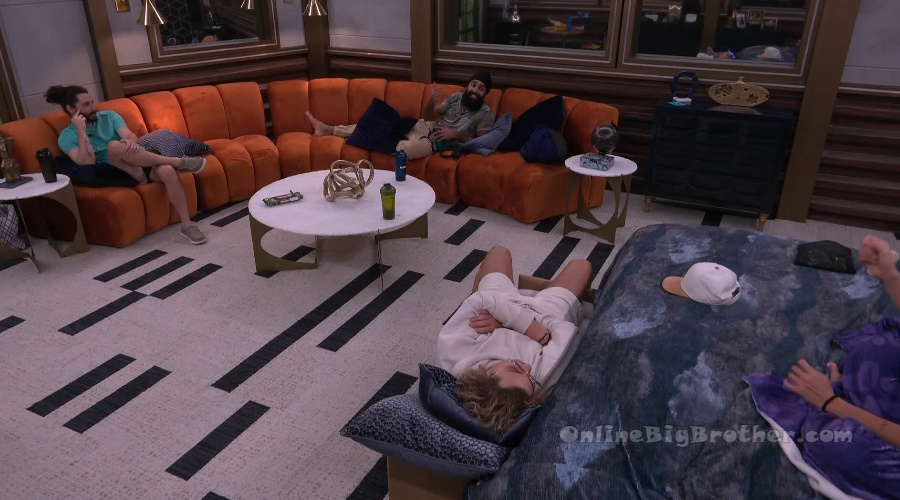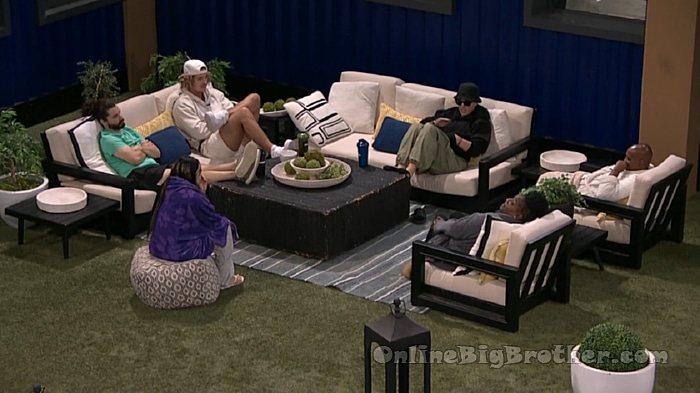 12:30 am Backyard chit chat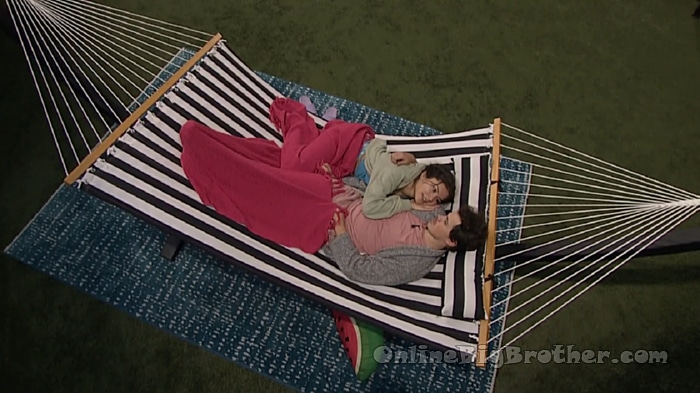 12:35 am Cory and America
America calls Cory her "Boyfriend".
Cory – you really screwed this up being my girlfriend a couple weeks before
feeds cut.. When we're back they're talking about putting on tanner. Cory says she put tanner on his groin. America says it wasn't his groin she tried for his knee.
feeds cut.
When we're back they are talking about the rumour that Felicia is related to Denzel Washington. America says she doesn't sound anything like him. Cory says he believed it a bit at first because out of nowhere Felicia use to say "I love denzel washington"
On the backyard couch is Cameron, Felicia, Matt, Bowie and Cirie. They get out of the hammock on the way past the backyard couch they mention something about during the exorcist trailer America mentions "is that Denzel's son" and Felicia said right away "No it's not"
Cam – I had a few people bought in… I had a few people say you're on to something there
Felicia – No.. no.. I wish but no.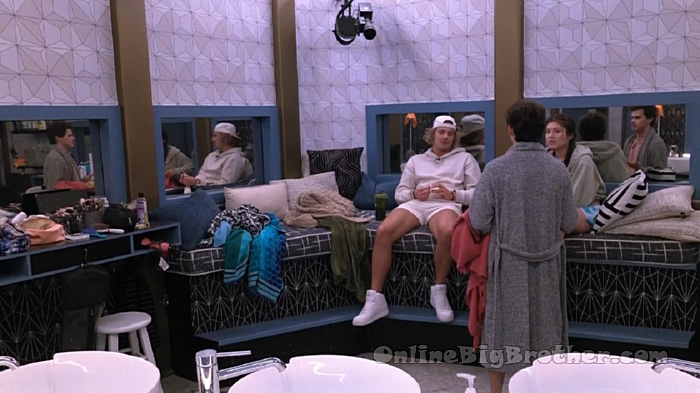 1:20 am Cory, Matt and America.
Cory says when Cameron gets put up he's going to know it's over. COry says Him, America and either Cirie/Felicia will be impossible votes for him to get.
Matt comment's how crazy it is you only need 3 votes this week.
America mentions how when Cam goes it'll open up the competitions for them.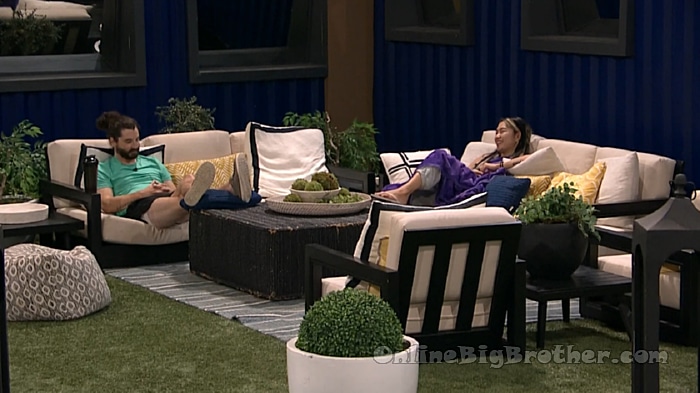 1:00 am – 2:20 am Cameron and Blue
Chit chat about the season.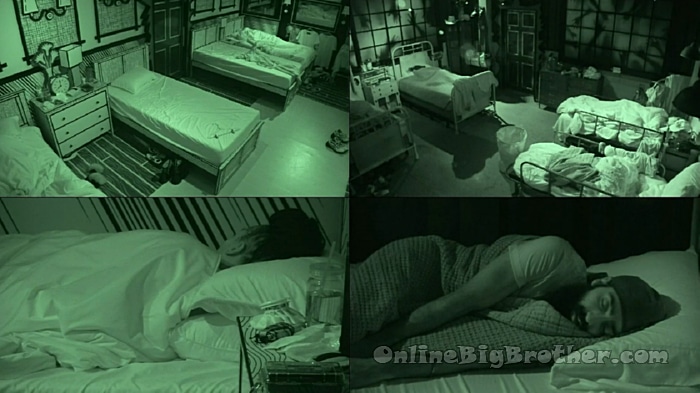 3:00 am – 9:00 am Zzzzz
If you like these spoilers and read this blog regularly please consider a donation to keep the madness going. We accept donations via paypal How to support OBB