Quick Big Brother Spoilers
Head of Household: Bowie
Nominees:
POV Players:
POV Winner:
Veto Ceremony:
Havenots: ?
Lock your ranks in before midnight
The situation Cirie and Felicia going up. There's a lot of talk about Blue going up if veto is played.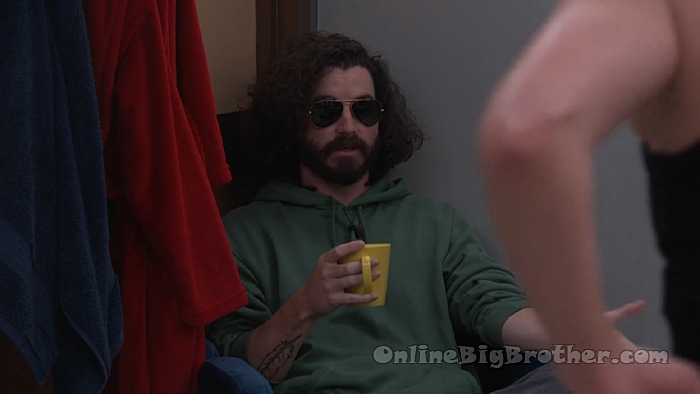 9:00 am Houseguest waking up. Cameron and Bowie
Cameron – Cirie is going to make you think. Cory is going to try and put Blue in your head HARD
Bowie – He's already started
Cam – America is going to try and put Blue in your head
Cam – Blue is going to push for Cory and America … HARD
Cam – Me, Matt and Jag are are going to be like 'let's have fun'
Bowie – it's definitely going to be Cirie and Felicia. Next week could be a double
Cam doesn't doesn't think the double will be until they're 7 based on him and Cory's best bet.
Bowie – I don't care about jury votes really. I want to get through as many weeks as I can here.
Cam – you know that I work with you. You are my person. If I was going to do anything the best thing for me and YOu. Number one Cirie and Felicia that's easy. That is the best call for all of us. If I was ever going to contemplate anything you know who the one person is going to be?
Bowie – Cory
Cam – Yeah, That might be a backdoor.
Cam – we know who has the votes. It's ME, YOU, Matt and Jag. It's done.
Cam – if we want to send him home this week we don't need anyone's permission.
Cam – If we really want to pull a trigger
Bowie – When I pick a team I stick to a team. I don't want us to f** around and turn on each other.
Bowie – I know you are all great competitors..
Cam – No it's the four of us. We are together. I had all the power last week and I decided not to put up Cory. I was that close.
Bowie – Cory was implying Cory and Blue.
Cam thinks that is funny says Blue would be the second one he would vote out after Cory.
Bowie – I know that
Cam – that means I'm going good
Cam – it will be an easy week to go Felicia and Cirie and take out Felicia. If we really wanted to take out a competitor to make our road easier it would be Cory.
Bowie – Not Cirie? She's more dangerous than Felicia
Cam – on a competitor level we can put her out next week. We have the votes we can do whatever we want to do.
Bowie – I still think they're team is HUGE and there's only 3 left.
Bowie – how about me winning. Isn't that funny.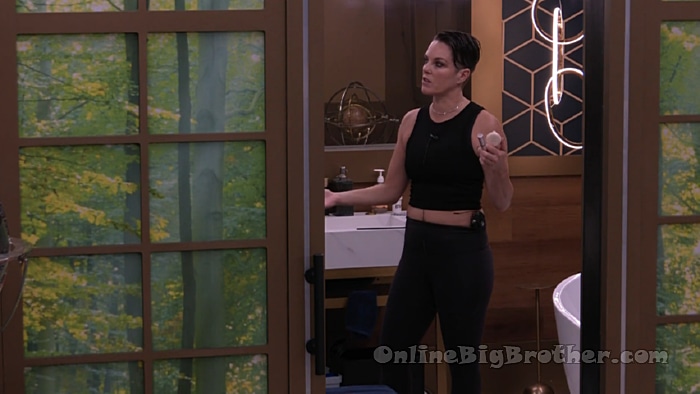 Bowie says Cirie and Felicia are less likely to win next week.
Cam – less likely to win anything
Bowie – well Felicia nearly did. You know what? I was thinking last night I was so frazzled the whole way through. I was so pissed at the MEME thing. Got to the last I was in the tie breaker. I was like What the hell why Am I here? then I didn't realize I could do the calculations on the board. I panicked and put a number. I was thinking about it last night I could have easily done the calculations and gone under to be safe.
Cam – there's not going to be another one of those where Felicia gets lucky.
Bowie – The fact she wasn't happy when I won (Cirie)
Cam – I've played this game with Cirie but at the end of the day. Hell I remember being in those rooms when she would talk sh1t with IZZY about you. I remember being in those rooms whenever they would f*** us over and she would sit right there and not say a word. She's just as guilty as everyone else out there.
Bowie – even when Felicia would have a go at me like attacking me in the room Cirie was just sitting there nodding in the background. I said to her you were just sitting their nodding. She was like 'yeah I know.. '
Bowie – I could have thrown Cirie under the bus but I didn't..
Cam – she nodded because when you are not around she's in complete agreement and Piling on every time. It's disgusting
Cam – Cirie is a person that has everyone's secrets except mine. Cause I don't tell her sh1t
Bowie brings up that someone told Cirie that the live feeds show everything that happen on the season and Cirie was worried. "She goes ohh.. ohh.. "
Bowie – I was like what have you been saying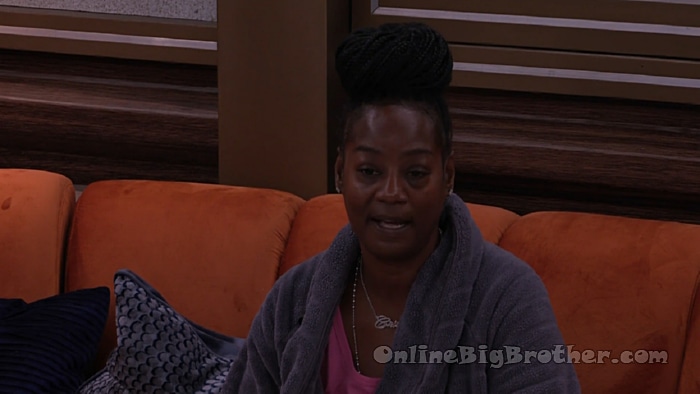 9:40 am Cirie hat in hand and Bowie
Cirie – if you make it to the end it's fine for me I anticipate that I want to vote for somebody that I had a real relationship from the beginning. You're not bad for my game.
Cirie – I know you had a lot of conversations to have.. Nobody wants to be on the block. I never suggested to anyone ohh put up Bowie jane.
Cirie – moving forward in this game. I'm open to trusting, or even working.. you know what I'm saying I am never against you I have never been against you. I don't know what else more to add to that.
Bowie says she doesn't want Cirie gone but might have to use her as a Pawn. "No one will vote you out'
Cirie – MEME was a pawn.. that's what scares me.
Bowie says she thinks she wants' to put up Felicia.
Cirie – I've never thrown your name out there as a pawn. (LOL)
Cirie – I've never mentioned your name in a negative way. (LOL)
Bowie – The numbers are so small now.

They HUG IT OUT
Bowie – don't freak out this is getting to the pointy part of the game.
Cirie – I won't freak out.. you do what you need to do.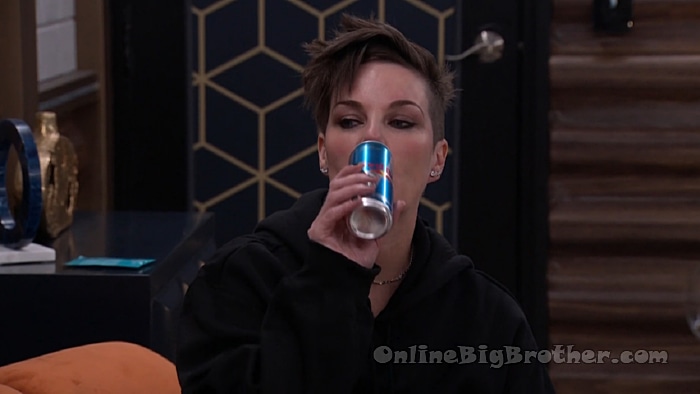 9:56 am Felicia hat in hand and Bowie
Felicia says she doesn't want to go up on the block. They chat about what MEME said on her way out last night.
Bowie say with MEME – we couldn't see her game because there was no game. That is what I told her in my goodbye message.
Felicia – I've always said we had our red hiccup but beside that I always felt like you and I connected from the very beginning. (LOL)
Felicia – I've always tried to stay genuine with you.
Bowie – YEAH YEAH YEAH
Felicia – keep in mind that next week you can't play.
Felicia goes on about how Cory is throwing all the competitions.
Bowie says during the HOH last night she didn't realize she can use the board to do calculations so she panicked and put down a number.
Felicia says Cory wants to wait until final 5 to start winning HOH's "I love America and Cory to death but if we aren't too careful"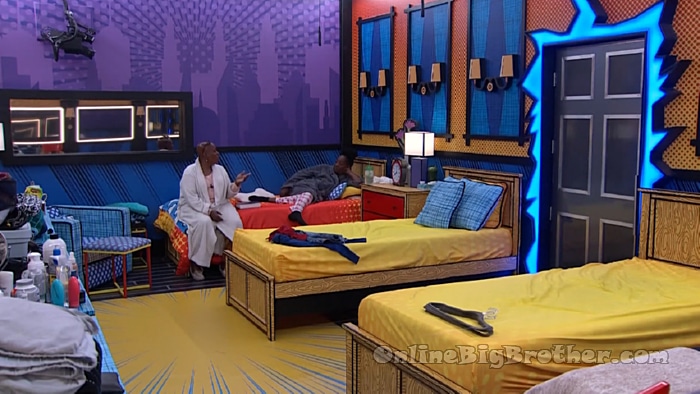 10:06 am Cirie and Felicia whispering away about their conversation with Bowie.
Cirie says if she's up against Blue they plan to send home Blue. If it's Cirie and Felicia they want to send out Felicia.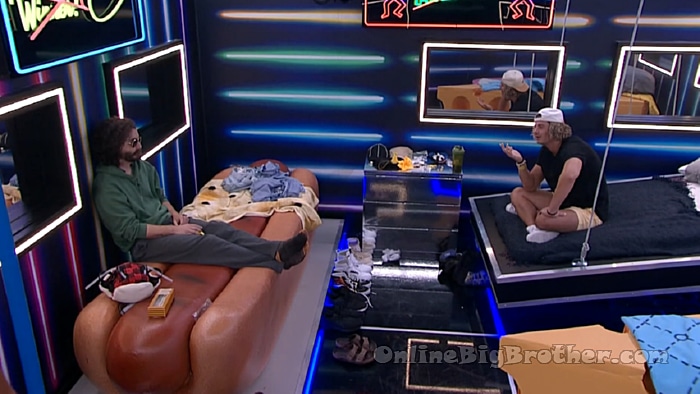 10:20 am Cameron pushing for a Cory backdoor
10:23 pm – 10:50 am Bowie and Cory
Cory – this might stress you out. It's been a chaotic 24 hours umm.. I don't know if you catch this.. 48 hours ago there was 5 people in this house that I trusted 100%, You, Matt, Jag, America, and Cameron. Now I feel like there's four people I trust 100%
Cory – Cameron has been going to Matt and Jag if they wanted to backdoor me. Before the HOH.
Cory – he's been coming to me and America saying how Matt and Jag are massive threats, they are closer to each other, we should be really careful around them.
Bowie – how do you know?
Cory – Matt and Jag told me.
Cory – yesterday we were in the scary room the 5 of us.
Cory thinks Cameron is going to push to be him up. "the thing that has become very obvious to me. Cam and Blue are VERY close"
Bowie – YEAH, I've noticed that
Cory – they're in the bathroom for three hours while all of us are talking in the scary room. For HOURS
Bowie – what are they talking about?
COry says during the Zombie week, Jared, Blue and Cam got really close.
Cory adds that matt and jag convinced Cameron not to backdoor him last week otherwise he would have been.
Cory says next week if Blue wins HOH him and America and put up Bowie as the replacement.
Cory – if blue wins hoh and I win the veto you are in a lot of trouble
Bowie – Yeah
Cory goes through scenarios one is to put up Felicia and Cirie. Tell CAm and Blue the plan is to backdoor Cory but it really is to back door Blue. "He'll take down Cirie or Felicia thinking you'll put up me but you'll put up Blue"
Bowie – that could be a good option
Cory goes on about Cameron and Blue
Bowie tells him she's leaning towards going to Felicia and Cirie route.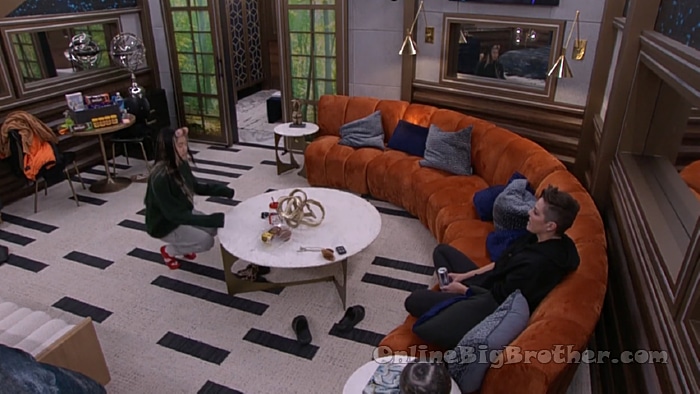 11:00 am Blue and Bowie
Blue doesn't believe what MEME said about Bowie when she was evicted. Blue says Corey and America are scheming "He's using everyone and I think he threw this comp.. this was his comp to win"
Blue – is there anything that worries you about next week because you can't play?
Blue says it's dangerous to keep Cory.
Bowie – then America is fine on her own
Blue – yeah
Feeds flip.
Kitchen crew is doing a mock veto draw.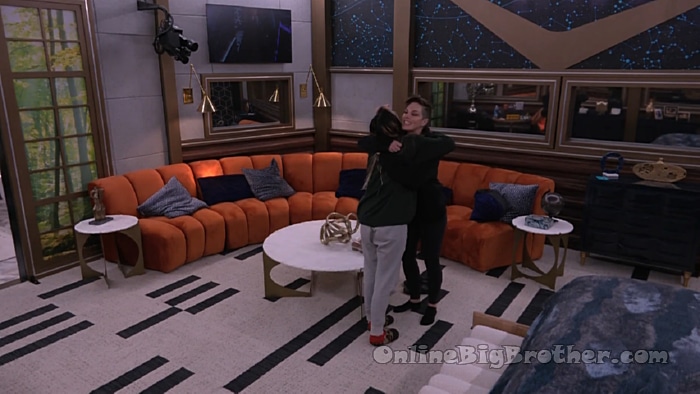 Feeds flip back to Bowie and Blue. Bowie is telling Blue she's good this week.
Bowie called to the Diary room. As she walks down "This is my second redbull"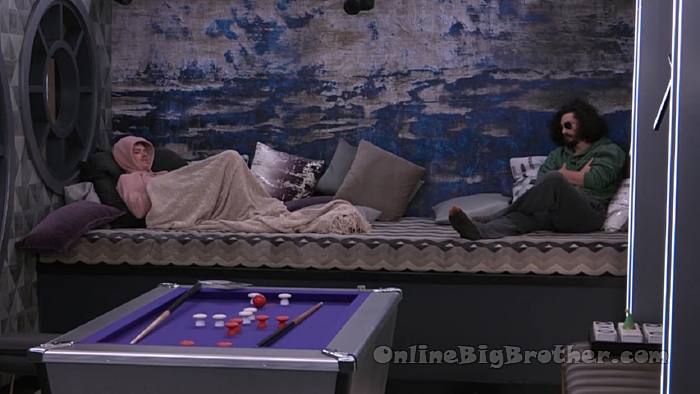 11:34 am Cory and Cameron
They talk about the HOH competition. Cory mentions how crazy it is that they are final 9 and 70 days in. (The best BB seasons are the short BB seasons, I would rather 2 short seasons at 70 days then one long one)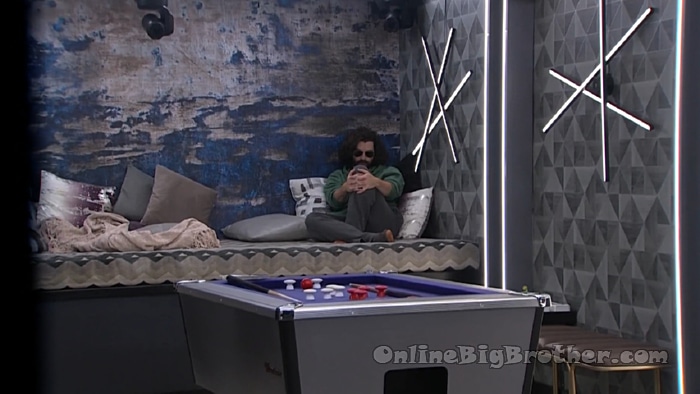 Cory leaves to grab his sunglasses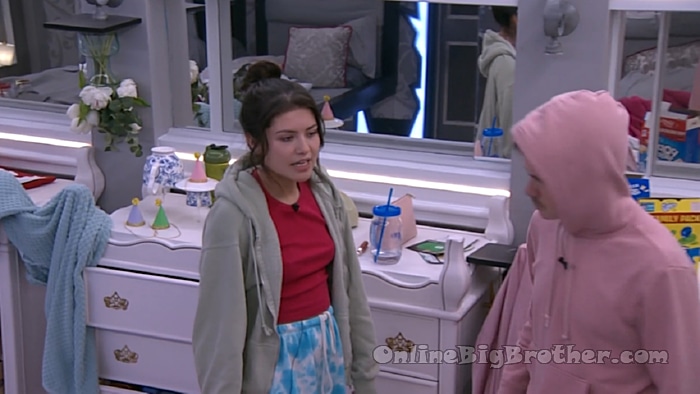 11:37 am Cory and AMERICA
Cory gives her a quick rundown of his talk with Bowie. Cory thinks if they all push for Cameron Bowie will do it otherwise Bowie is going Felicia and Cirie.
America – if we all push for that she said she's down?
Cory – she seemed opened.
America – It's me, jag and Matt that haven't talked to her. Cam has set up camp up there.
Cory – I'm going up there to talk to him.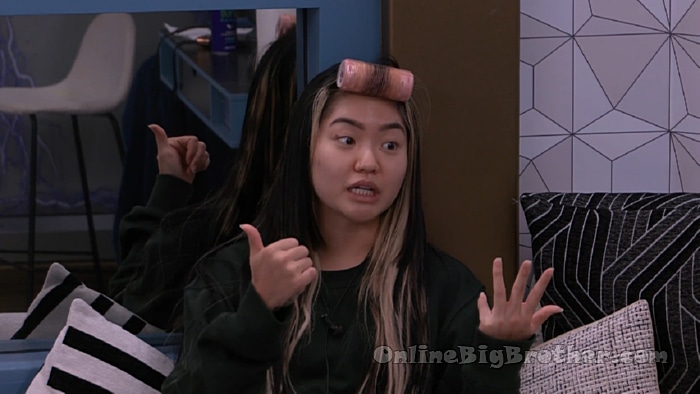 11:58 am Blue and Matt
Blue says Bowie has to be working with Cory and America "why else wouldn't you put them up"
Blue now says the reason Bowie isn't putting up Cory/America is that she feels protected "She feels protected with me, You and Jag and Cameron, Cory and America.
Matt – yeah
Blue wants Matt and Jag to go to Bowie and be like "I don't know if you put up Felicia and Cirie you're not as protected as you think you are" (LOL)
They agree if noms stay the same it will be Felicia leaving.
Blue keeps pushing for Matt to get Jag to push for Cory and America noms.
Blue – Cory is a national champion he knows how to convince people and he convinced Bowie somehow.
Matt – Felicia was not happy.
Blue – I just told Cirie, You need to calm her down.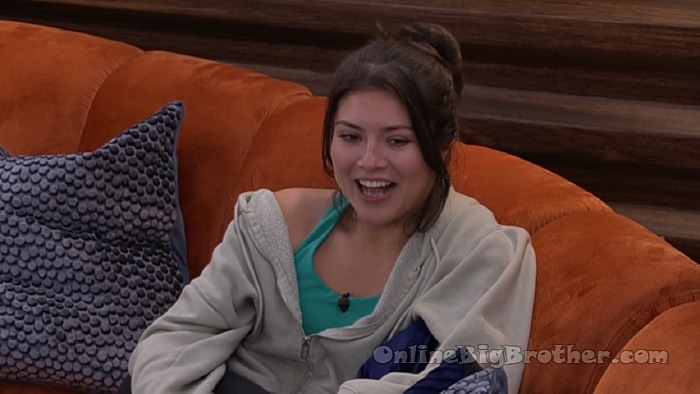 12:15 pm Bowie and America
Bowie – I'm exhausted.. I'm on my second red bull
America – there's two options right.. Cam is trying to pit us against each other. He's been saying the duo's have to go.. implying Matt/Jag are a duo.
America says last week he was trying to backdoor Cory "He feels like it's him, Matt and Jag as a Trio and Me, Cory, Cam as a trio"
Bowie – double trios
America goes on about how Cameron and Blue are close. "Final two stuff"
Bowie says Cirie and Felicia never liked her for some reason.
Bowie says she's not caring about jury votes she's wanting to get as far as she can. Right now there's two people that don't like her. (Cirie and Felicia)
America says Cirie's noms would be her and Cory. Felicia would try to do a big move and put up Matt and Jag.
Bowie points out that everyone thinks Felicia is going to do poorly in comps but she's actually does well in the mental ones. "She's pretty smart"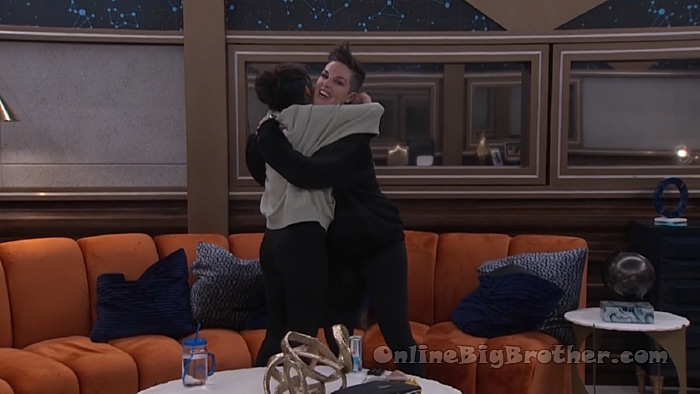 They hug.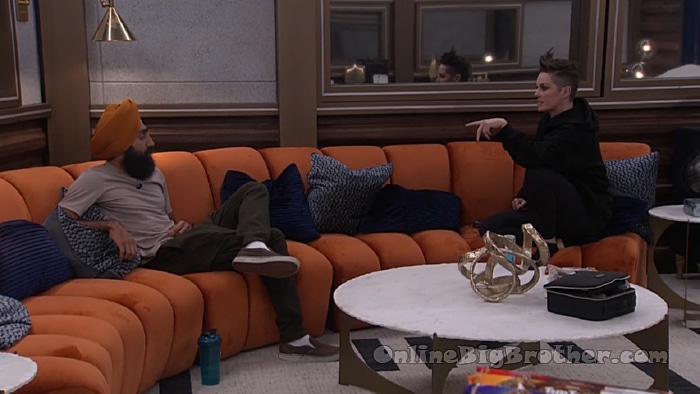 12:45 pm Bowie and Jag
Bowie – people are pushing the cory/America or the blue thing
Jag – Blue/cam thing
Bowie – that is exactly what you said would happen.. that is perfect but not for this week.
Jag – how are you doing?
Bowie – Fine, I still want to do Cirie and Felicia.
Jag – here's the thing.. Cory and America are trying to pull me and Matt. They are saying it has to be Blue and Cam. they won't get off our a$$es
Jag – Cam was downstairs just now talking to me saying it has to be Cory and America. Literally .. he was saying let's blow this b1tch up drop a grenade.
Bowie – he didn't say that to me.
jag – He said ohh it will be as easy as us going up to Bowie and say lets do this and she'll f***ing do it.
Bowie – No you do your own thing
Jag – Cory and America are a pair. Cam and Blue are now pulling me and Matt to put up Cory and America which is scary why the f** would cam want to do that? Remember when we were in this room saying let them take shots? So now suddenly he's on team blue wants to take a shot at Cory.
Jag – Cam and Blue are teaming up
Bowie – right..
Jag – it's f**Ing scary
Jag – Cory and America we know has to go eventually to. THey're not wrong when they say Cam and Blue are teaming up.
Jag – either cam or Blue have to go this week.
Jag says if Blue leaves this week. Cam wins next week goes after Cory. If Cam leaves this week and Blue wins HOH next she'll go after Cory.
Jag – we take a shot at Cory he leaves this week now Blues and Cam's number one target are gone.
Jag says if Cory leaves Matt, Jag and her are all possible targets the following week.
Bowie says Blue is more scary to her than Cam. "She's prepared to LIE LIE LIE LIE"
Jag – worst case scenario is probably cory going home
Bowie – we don't want Cory out.
Jag – best case Scenario is either Blue or Cam going home
Bowie – I feel more comfortable with Blue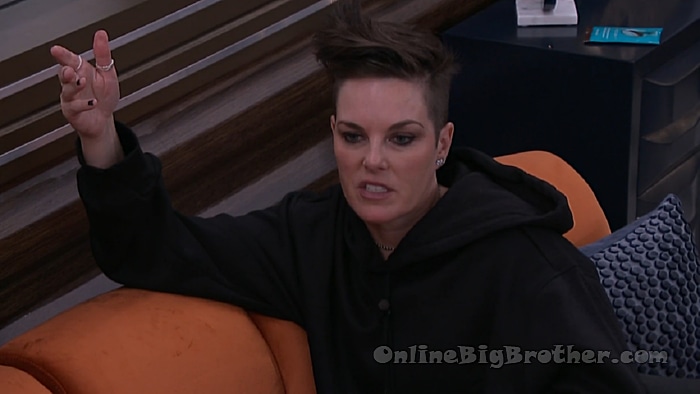 Jag says Cam is pitting people against each other
Bowie – Yeah I don't like that
Jag says he thinks the best play is Felicia and Cirie for now and they see how the veto plays out.
Jag – Cam is HEAVY on the cory train, So is Blue and everyone else
Bowie – the entire house is saying they want Cory America. Except for Cory and America.
Jag – no me, Not you, not Matt, not Cory and America which is technically the majority
Bowie says Cirie is still controlled the house through other people
Jag goes on about the Cory and America in the game right now is good for them.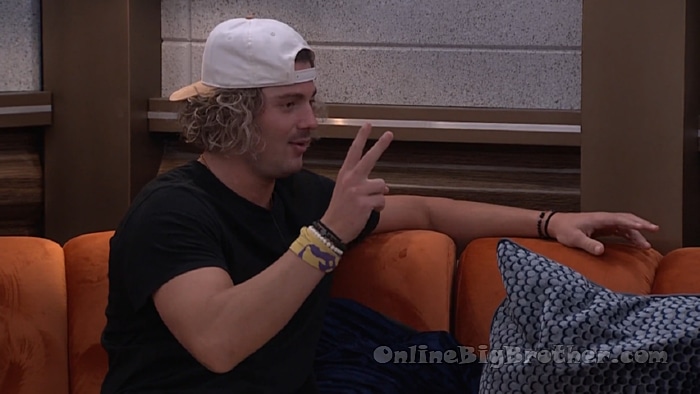 1:02 pm Matt and Bowie
Matt says there's two stories have you put up Cory/America or Blue/Cameron 'Everyone outside of cory/america want you to put up Cory and America
Matt doesn't think putting Blue and Cameron up is smart.
Matt – Cam is getting worried
Bowie – he's going to dig his own grave
Matt – putting u9p Cirie and Felicia is best.
Bowie – I agree
Matt – I can make sure Cirie and Felicia pick me to win the veto. We win it
Matt says if Cory is gone Cam will go after him and Jag if Cory stays Cam goes after him.
Matt says Cameron and Blue are working together. Cameron said if he wins veto he won't use it because he's worried Blue is going up.
Bowie points out that Cameron isn't in as good shape as everyone thinks "He hasn't worked out once"
MaTt continues to push for them to take out Blue and Cameron first.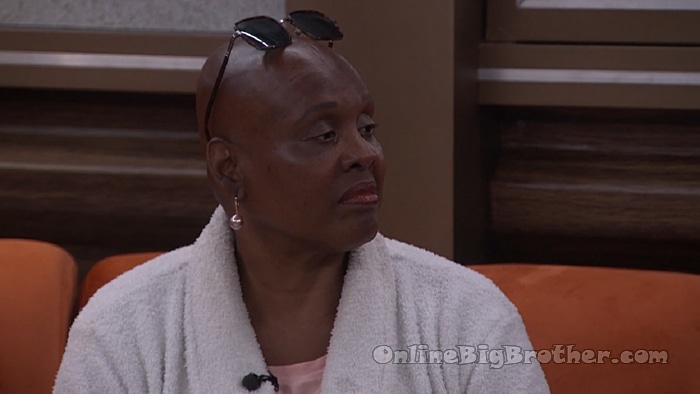 1:22 pm Bowie and Felicia
Bowie tells her she's going up
Felicia – I keep landing on the block I guess I"m the easy target
Felicia goes on about her gut telling her she's going to be nominated. "You know me I go with my GUT"
Felicia reminds her she has a couple of good options when Veto gets played.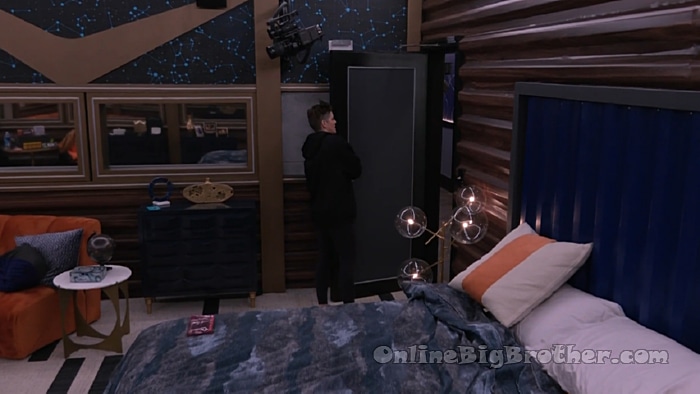 Bowie Jane breathes out heavy look out the door "Anyone else?"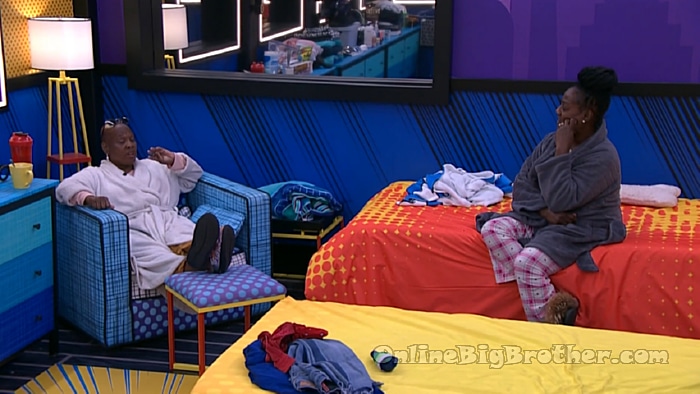 1:27 pm Felicia and Cirie
Fe – "it's me and you, She actually told me"
Fe – they are all in on this. the whole damn house. Matt and Jag are there talking
Felicia goes on about Cory and America going up to the HOH pushing for the two of them to go up.
Cirie- this doesn't make sense
Fe – so they're not the two that go up.
Felicia adds that Cory/America are making it look like they are fighting for them but in reality they're getting them nominated.
Fe – America ain't going up there to tell her to put up BLUE
Cirie thinks maybe the other side is starting to break up. "This could be it cause Bowie Jane gonna tell it to whomever said what to whom"
Feeds flip..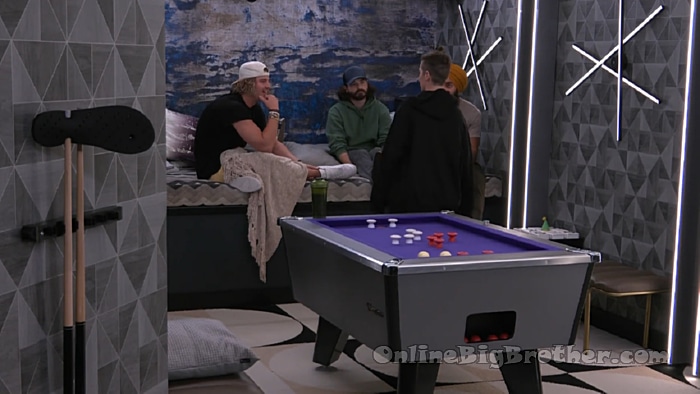 1:30 pm Matt, Jag, Cam, Bowie
Cam – They would tell you to leave
Bowie – Yeah
Cam – f** you
Jag – are you f**ing
Cam – they use to just tell her to leave.. 'okay Bowie go away'
Jag – they would tell you that sh1t?
Cam- It's f**ed up
Bowie – it was more like I walk into a room and all the conversations would stop…
Cam – have you talked to everybody?
Bowie – yeah
Cam – then lets hang out
Bowie – I need to get dressed. I look like sh1t
Cam – no you don't
Bowie – I Doooo
Feeds cut.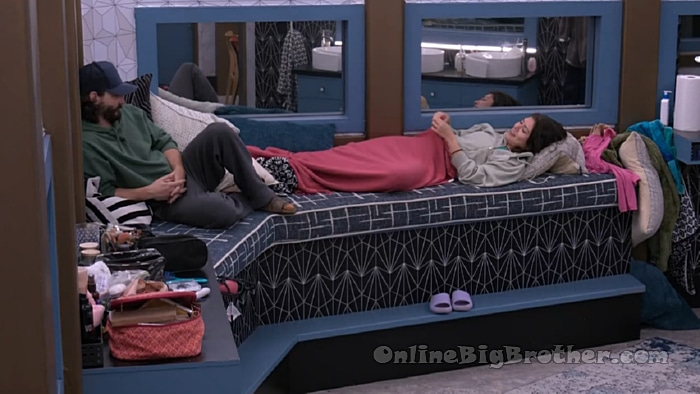 2:11 pm Feeds return to Cameron and America chit chatting
2:50 pm waiting for noms
2:57 pm Matt and Cory
Cory – I don't know exactly what America said to Cirie and Felicia. America was like I told Cirie and Felicia umm.. that we don't want them on the block. That was me, her you and I think Jag. I don't know exactly why she said that. It's fine I guess.. Right?
Cory – I guess it's good that Cirie and Felicia think we are fighting for them. I just don't know if that throws Bowie under the bus.
Matt – Yeah.. What did America tell them?
Cory – I think it was like We don't want you on the bloc. So who does that leave? You might want to figure out exactly what she said. I just want to warn you. I told her that probably wasn't smart. Again I don't know exactly what she said. It might get a bit messy.
Matt – She included all of us..
3:30 pm Chilling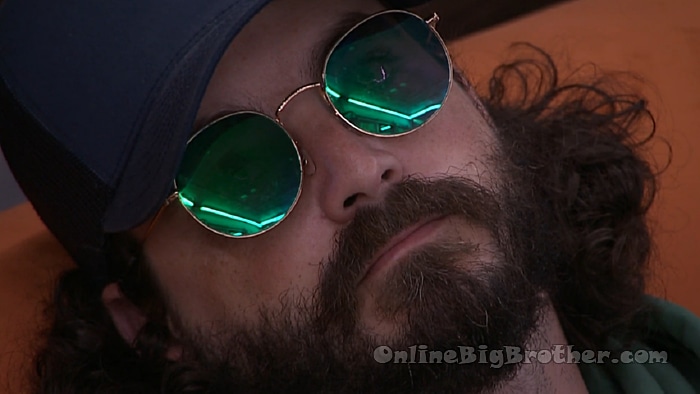 4:00 pm Chilling
4:25 pm Feeds go to pound
If you've enjoyed our updates this season and want to leave a tip you can do so through PayPal.
You don't even need a Paypal account to contribute. Any amount is greatly appreciated!