Quick Big Brother Spoilers
Head of Household: Bowie
Nominees: Cirie and Felicia
POV Players: Bowie, Felicia, Cirie, America, Matt and Jag. Host it Cory
POV Winner: Jag
Veto Ceremony:
Havenots: ?
Lock your ranks in before midnight
The situation Nothing new since last night.Veto is being used Cameron going up.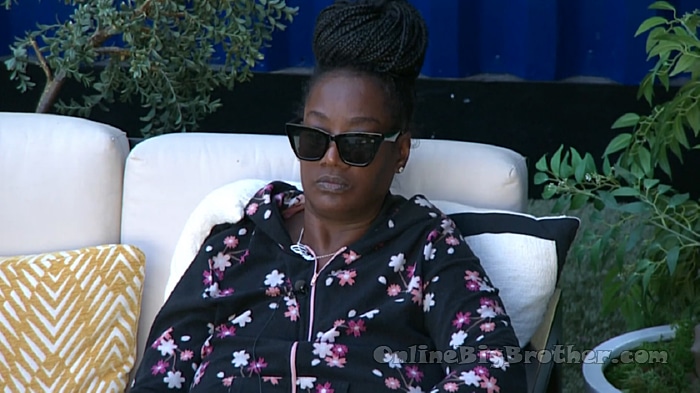 9:50 am Houseguests waking up. Cirie has been complaining about being sore from the Veto competition.
Cirie – I don't want to talk first thing in the morning.. Leave me alone..
Mat joins her. THey talk about how nice the day is.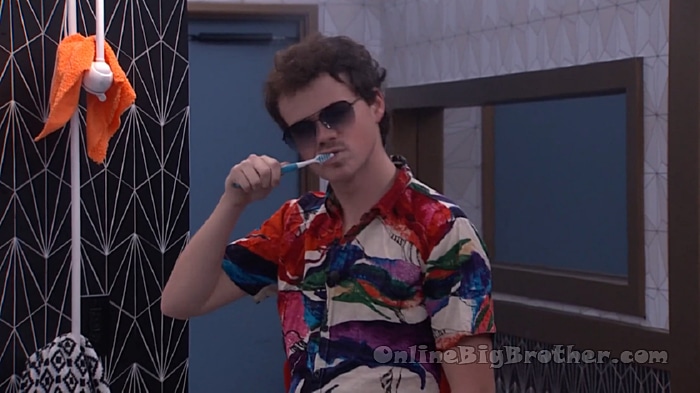 Cameron flips to Cory brushing his teeth.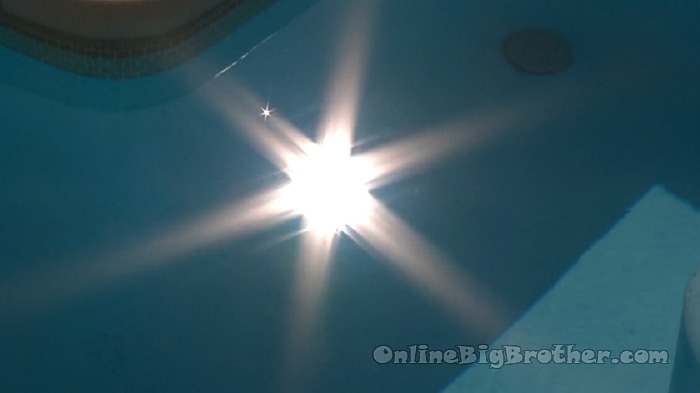 Cameron flips again to the POOL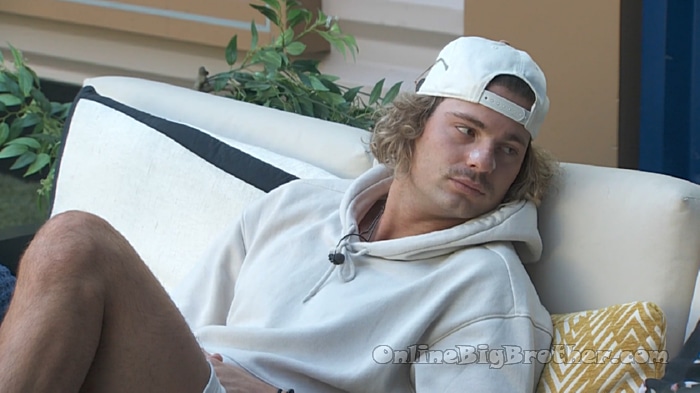 And a third time back on Cirie and MAtt
Cirie says next week will be slip n slide. "I feel like I have to prove it.. In regular life in normal life I'm a smart person"
They talk about their zing.
Matt- it was funny they chose Survivor to roast you. They could have gone harder on Blue.
Bowie walks into the backyard.
Matt -they could have gone harder on her.
After some chit chat. Bowie leaves.
Matt says he's had some good talks with Bowie. He adds that Cameron has been swarming Bowie.
Cirie – telling her not to change the noms
Matt – you know why he's saying that? He's getting the feeling it's going to be him. All week he was campaigning for it to be Cory. Now he's like you know what I don't want to pressure Bowie.
America and Felicia join them.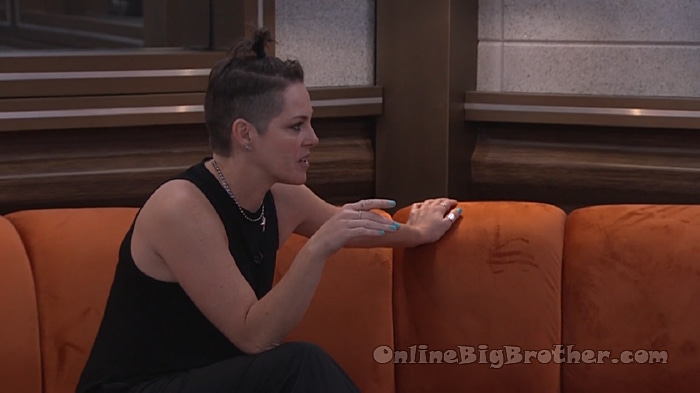 10:10 am Jag and Bowie
Bowie – what do you think about this.. you can start telling people you are going to use the veto but you don't know who you'll use it on. You think that's a good idea?
Jag – yeah.. I was thinking about this the comment we were talking about We tell Blue that Cam was targeting you. I actually don't think we should do that. The reason why initially I was thinking we should however. I think if we do that Blue will question, Why didn't you tell me.
Bowie – He's unbeatable really
Jag – he's won 7 comps
Jag is going to try and persuade Cory and America to not tell Blue that Cam was targeting her.
Jag – they're going to say Cameron was targeting Blue ask Jag, Ask Bowie, ASk Matt.. I'm going to say no. truly Cam wasn't targeting BLue I'm nopt going to get caught up in that lie it makes us look worse.
Bowie – he wanted Cory this week and Blue next week.
Jag – if that's true we should have pulled Blue in that moment.
Jag says the mommas know he'll use the veto.
Bowie – He was totally giving it to me in the morning. He said what's good for my game is good for you game. I laughed out loud. I said you know that's going to be edited pretty bad.
Bowie – He goes I don't care. I said. It sounded weird.
Jag – that's not true in any way. Literally what's good for his game..
Bowie – People are saying that you will take me to final 2 because you think you can beat me. I said. You know I don't even care final 2 is a good spot. And he goes YEAH 75000 is a good amount of money.
Bowie – I was like.. It's one thing for me to say it but for you to then say it. Dude you are so cocky
Jag – he has mentioned you as a easy pawn. He apparently said that to Cory and America. You else is he saying that to in the house.
Jag – the order of operations is Blue then Cory.
Bowie – next week could be risky.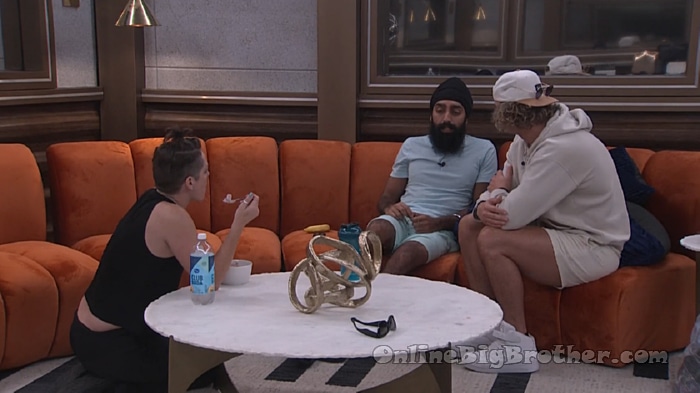 Matt joins them. They fill him in that they're pushing the breaks on the plan to tell Blue Cameron was targeting her.
Jag – at the end of the day she needs to think we were down with backdooring Cory.
Jag – he's a big competitor, He's throwing people under the bus
Matt – he's a wild card
They proceed to talk for a solid 30 minutes about the plan this week to backdoor cam and what they are going to say to Blue and Cam.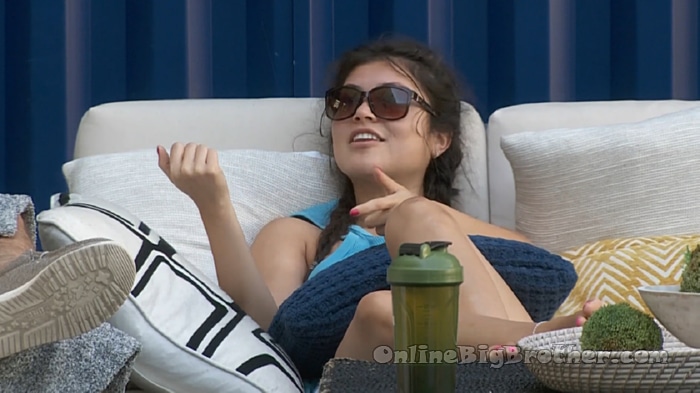 10:27 am Cameron and America
Cam – I've always wanted to work with you
America – just me though. Last week you were telling me something different
cam – how else was I supposed to phrase it. I had all the power last week and chose against it.
Cam says everyone in the house wanted Cory up last week but then decided against it. "I told you that flat out"
Cam says it's a joke that everyone is putting him and Blue together.
America says it looks like they are working together now.
Cam goes on about how Big Brother has not been "A fun f***ing road" for him. "I still have trust issues with every single person in this house. Including one person I want to work with but I can't because she's with the guy everyone is after in the house now I'm getting painted as the guy going after him"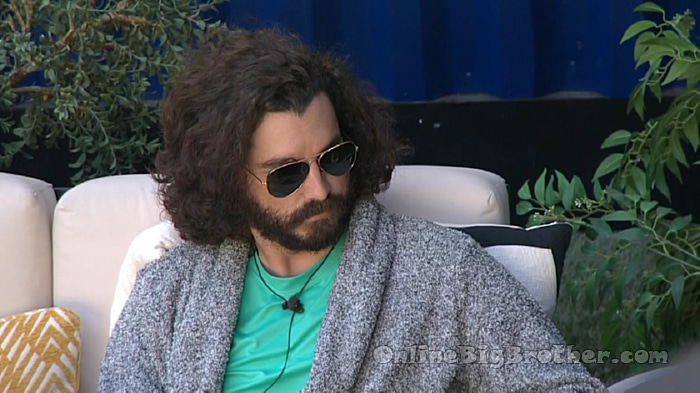 Cam – none of this sh1t is black and white. I know you little but I at least know your emotions. I can tell when you are feeling something, I can tell when you are pissed I can tell when you are upset, I can tell when you are nervous and I can tell when you are faking it. (Jeepers)
America – Okay Sure. C'mon.
Cam – I'm not your f***Ing enemy. iF you want to come after me just do it on the open field come out and say it. We'll fight lets go.. F***ing go for it. But I am not, will and and AM NOT going after you. Don't want to.
America – I've heard this before Cam.
Cam – what do you want out of this game. You want Showmance, Notoriety. You want to be able to look people in the eye and say I played my own f***ing game. You think you have a shot to win in the final 2.
Cam – I want to work with you
America calls him out for suggesting something stupid. He's insinuating she cut Cory.
Cam – I'LL leave if we get heated I won't do this.
Cam – I can't work with the both of you.
America – why can't you work with both of us.
Cam – He's going after me, You're coming after me. I'm not going after you.
America – you've been working with us that last four weeks
cam – what changed?
America – you changed up
America – you want to work with me and not involve cory I get it.
Cameron presses the point that the WHOLE HOUSE wanted Cory out last week.
America – I thought we were good CAm I thought we were fine. We could finally work together. Izzy wouldn't be gone without us. Especially Him, We've been behind you backing you up.
Cam – if you think I am gunning after him and going hard why did I go after Izzy?
Cam – I felt like she was coming after me.
America – nothing else?
Cam – I was her number one target. i had to do what I had to do.
Cam points out to her that the same two people that are going to her telling her he's targeting Cory are the same people that are coming to him saying America/Cory are targeting him.
Cam – I don't know how many times i Have to prove myself to you
America – well they're not wrong. I said I don't trust Cam so I'm sure you heard that.
Cire joins them eventually America leaves.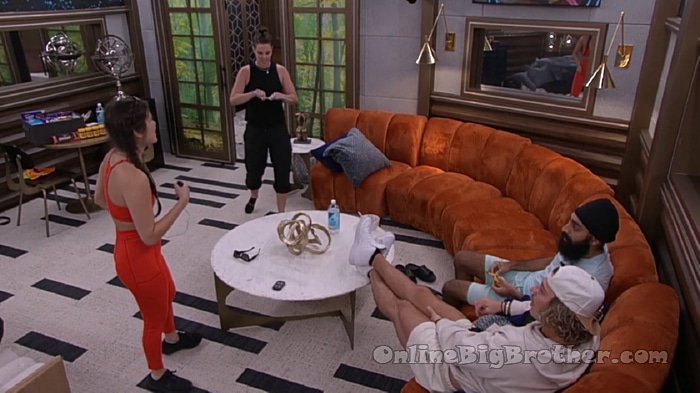 11:00 am America, Jag, Matt and Bowie
America – I just talked to CAM he's telling me everyone is coming after Cory.. Everyone is telling him.
Jag – he's saying DON't use the veto
America – he's saying this is happening to me again everyone is blaming me America.
America goes on about how Cam is saying that the house is coming after Cory.
Jag – he wants her to come to me and beg me not to use it because if it's true everyone is going after Cory.
America says Cameron has been insinuating that Matt and Jag are the two pushing hard for Cory to go.
Matt – that is funny..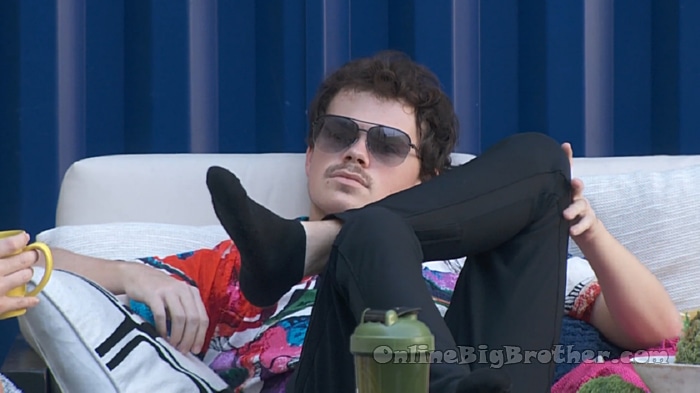 11:20 am Cory and Cam
Cam says he was never coming after him.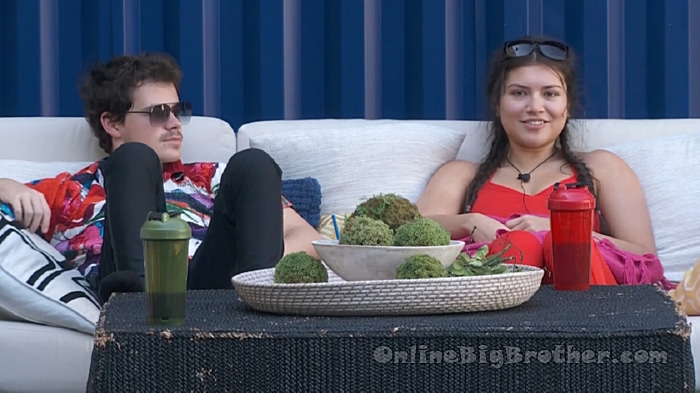 11:23 am Cory, Cam, America and Cirie..
Chitz about air fryers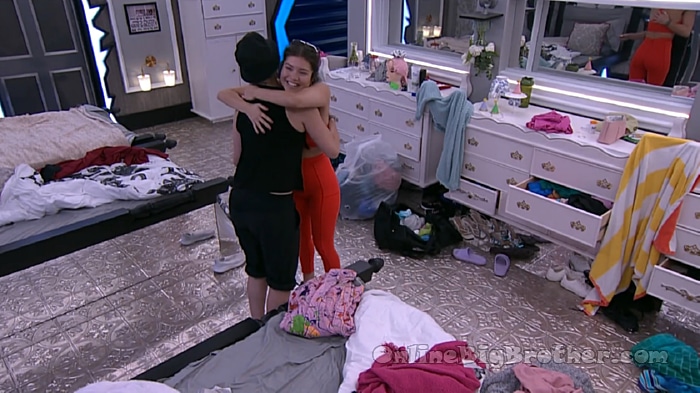 11:30 am America and Bowie
Bowie says she's putting up Cameron one million percent.
America says for a second after she talked to Cameron she was second guessing herself. Thinking "Are people lying"
America – I know he's lying, he said every single person in this house wants Cory out. He said there's two people that don't want him gone it's Bowie and HImself
America – in his head he warps it. I'm not buying it.
Bowie – No it's bullsh1t
They confirm they have the 3 votes to get Cam out.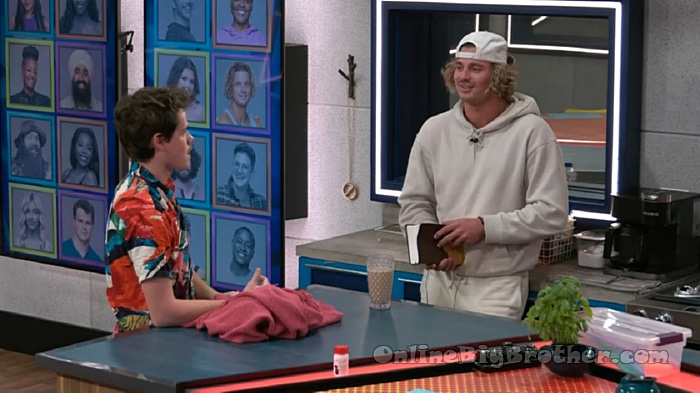 11:40 am Matt and Cory
Talking about Cam being nervous.
Cory – he's terrified
Matt – he knows if the veto is used he's going up.
Cory – he keeps throwing Blue under the bus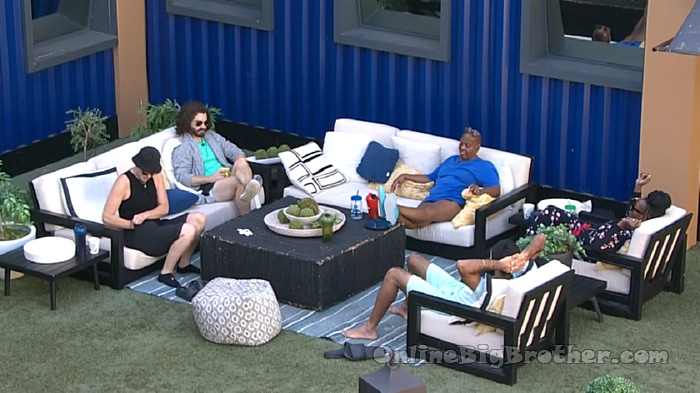 11:46 am chit chats about being remembered.
If you like these spoilers and read this blog regularly please consider a donation to keep the madness going. We accept donations via paypal How to support OBB