Quick Big Brother Spoilers
Head of Household: Bowie
Nominees: Cirie and Felicia
POV Players: Bowie, Felicia, Cirie, America, Matt and Jag. Host it Cory
POV Winner: Jag
Veto Ceremony:
Havenots: ?
Lock your ranks in before midnight
The situation Nothing new since last night. Veto is being used Cameron going up.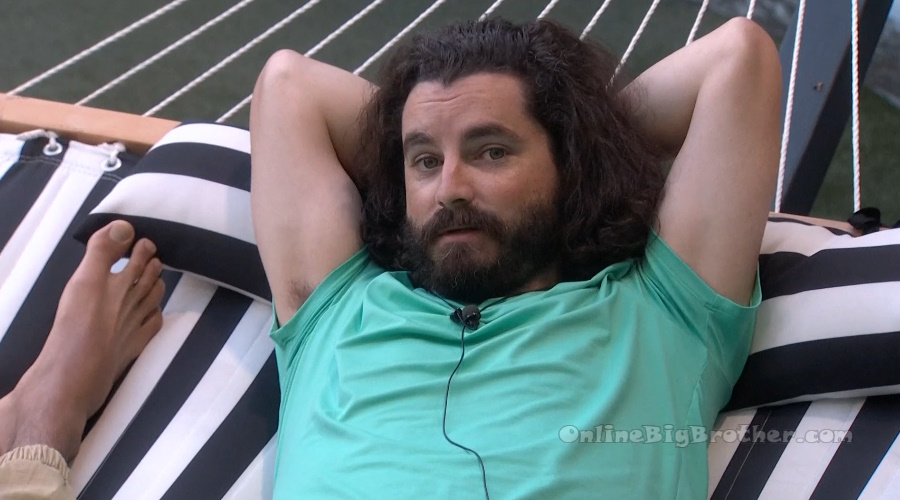 6:06pm Hammock – Cam and Jag.
Cam – What's up? Jag – just been chatting.. I am leaning towards using it but figuring that out. Cam – that makes me very nervous. Jag – talked to like Bowie about it. I was sort of leaning towards.. talked to Blue too. And she was like why do you need to use it? But with the whole thing that she is going to try and get Bowie to… or see if Bowie will put up Cory. Otherwise she was like maybe don't use it. Those were the options really. Cam – Bowie believes you're going to use it and she all but hinted that I am the replacement. Jag – Bowie did? Cam – in not so many words. She is trying to get no blood on her hands. Its impossible, no HOH, that's not how this works. By putting me up, what does it solve? If we want to all keep each other around. It doesn't make sense to me? Jag – she said she wanted to put you up? Cam – she never said that.. I know that's what she's thinking because it would make everyone happy. She has always said she wanted to keep me safe. This would be the thing that would not be safe for me. She said so don't you trust Blue? And I said no. With my life, no. I would hope that you wouldn't trust Blue with my life either. Jag – because in that scenario Blue would become the 3rd vote huh? Or whoever comes off. Cam – it would be 4 – 2. I mean you guys are clean of it, if I just go to jury right now. You guys would be pretty good. Like you're not pissing anyone off and everything is alright. But with three moving forward I want to do everything I can to keep that together. I know I made good points with me and Blue versus Cory/America. You're going to piss off the same amount of people using it or not using it. I just don't have a good feeling right now man. At this point the only I can ask you to do is to not use it. Because if you do use it, its going to force Bowie to make a decision and she is going to make a decision for the house and the house is going to want me regardless of what you and Matt say. Even Blue would agree with it as long as its not her on the line. Jag – F**k. Cam – they feel the heat. She (America) hasn't looked at me all day. I am that shield. It just feels like a repeat. I don't know what else to ask you. I can't trust Blue with that vote. Jag – are you sure that's what Bowie is going to do? Cam – no, I am not sure of anything but that is THE option for her. She is afraid of pissing off America. Why? I don't f**king know. Its one person. She puts me up, I go home and no one is mad. Again I am the easy target. Jag – she wants you up and gone? Cam – I don't think she wants that. This isn't her thing. She is just going to do whatever is the best thing for the house. I am not her target but I makes sense for the house. Bowie is trying to come out of this thing unscathed. She ain't going to put up Cory. She damn sure isn't going to put up America. If she is going to put up Blue we can at least control what we want. I am a f**king warrior weapon, I want to fight with the team. Let me stay. Jag – I just have a lot to figure out I guess.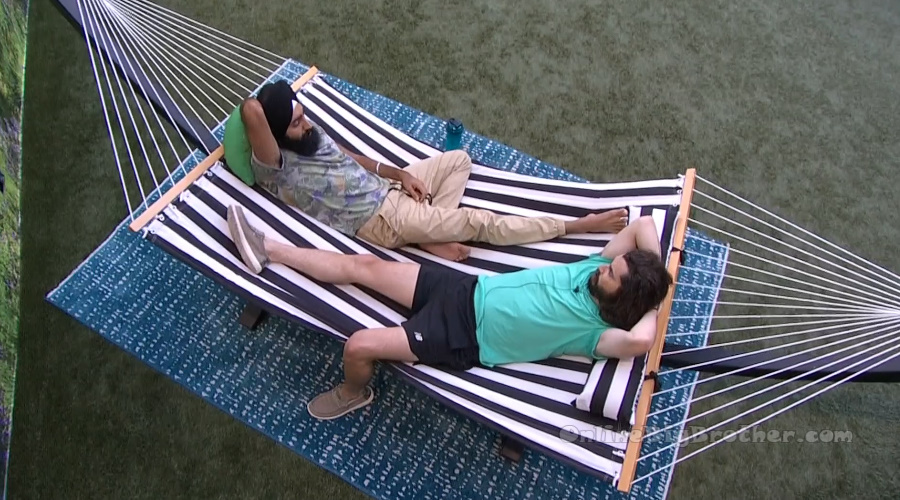 6:26pm Kitchen – Jag, Cirie and Bowie.
Bowie – you should walk around with that veto hanging around your neck. Jag – No what the f**k. Everyone would hate me. I would hate me. Bowie – no, just the head of household robe walking around. But now that I'm up there I am like I am not wearing that I'll like like a d**k head. He (Cam) is going to be pissed but I don't care. He shouldn't have played such a d**khead game. He has played so dirty. Jag – yeah but he won't be too mad. Even out there he was getting closer to the acceptance stage of it. Cirie – he is past denial. Past the bargaining. He ain't past the bargaining. Jag – he still has some bargaining in him. But what's after bargaining? Bowie – he is going to work the schmoozing next. Jag – I feel bad but not that bad.
6:55pm Comic Bedroom – Felicia, Jag and Matt
They're talking about how they think the next HOH competition will be the Slip n' Slide HOH comp. They talk about different strategies and how some times there is chance to fill up to the the HOH, safety or cash.
7:25pm Backyard Hammock – Cory and America.
Cory – I kept telling Blue I am the biggest problem for your game and you're the biggest problem for my game, could we just figure this sh*t out? I don't want to do another meeting with the five of us where we bullsh*t each other. Can we just actually be okay with each other for like one or two weeks and then we're in the final 6? America – and what did she say? Cory – of course the thing that she was bullsh*ting me about till the end of time .. that was so stupid .. I didn't even tell Matt and Jag I want to get close to Cam obviously to cover my own a$$ but I couldn't tell you and America what I was doing because then you guys wouldn't act normally. America – I don't get it. Cory – She was like I needed Cameron to trust me and if you were acting suspiciously then it would have been obvious that I would have been working with you. She was making two arguments .. I was ratting you out to protect myself.. which I understand that and the other part of it which is f**king bullsh*t is I would have told you because I want to work with you but I thought you wouldn't act as naturally. I was like going forward I am down for all the dastardly schemes, the nefarious strategies but you can't f**king try to backdoor me as the strategy.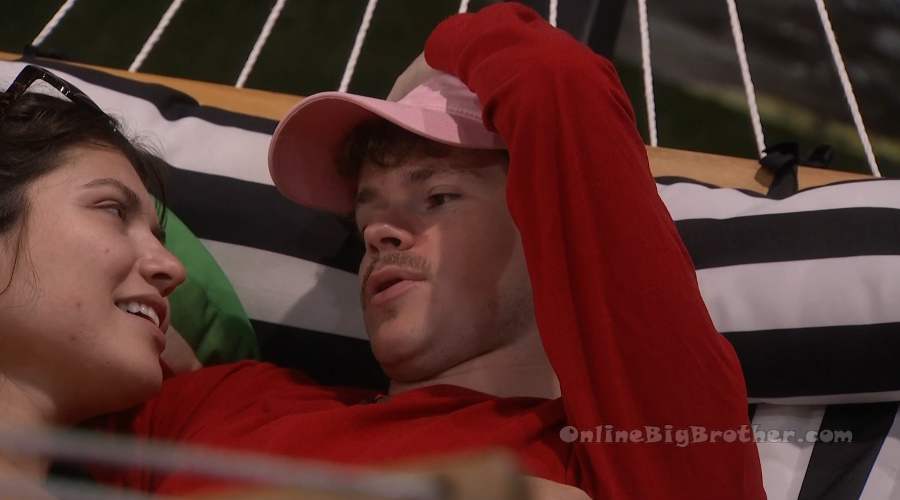 7:40pm HOH room – Matt and Cameron.
Cam – if we're really a three, why aren't we making a decision together because when I had that damn f**king power of veto, we talked about it for days! Matt – I know. Cam – and we came to a decision together against everything I wanted to do. Matt – Bowie should have taken it, f**k. That's why I wanted to do it now, this week. Cam – I don't trust that she'll do it. If we give her the reigns on this thing, Cory and America have already gotten in her ear. Felicia tells you that she watches behaviours. I know energy. I knew when America was mad at me. I know when Jag is being weird. I know when she (Bowie) doesn't trust what I am talking about. I know when Cory and America are pissed because they're not getting their way. I know what's going on. And if he uses that thing.. Matt – he's probably working with them. Cam – yes. I am telling you.. now all I can do when we leave this conversation all I can do is make sure she doesn't think that. If he (Jag) uses it, she is going to take that opportunity to take the shot for them. Matt – that's not good. Why would Bowie want to work with Cory and America though? Cam – she is playing both of them. She doesn't care what you guys think. If she wants to f**k around, we will let her know what's going on. The decision doesn't lie with Bowie. The decision lies with Jag. If he doesn't use it, we get to control the next couple weeks because its going to be me and Blue versus Cory and America and I am personally going to f**K them up! Matt – I know, we all are. Cam – I'll do it, I don't give a sh*t! So if mayhem is what you want then turn me the f**k lose! Don't give her the ability to take a shot at me for them. Matt – I know, I know. I know. Cam – I just don't know what he is thinking. If we were a team we would be discussing this right now. Matt – I'll tell Jag that me you and him should meet tonight. Cam – yeah.
8pm Backyard workouts..
8:15pm Big Brother tells the House Guests to check the storage room. All the house guests go running.
Matt in the middle of a set when there's a alcohol delivery… #BB25 @bigbspoilers pic.twitter.com/ljRQpsq6Hf

— Dawg (@DawgsBigBrother) October 9, 2023
8:30pm – 9:10pm Backyard – Cory, Cirie, Cam, Felicia, America
Felicia – I am sweating like a cow. Sh*t I got to take this robe off. Cirie – why not like a wh*re in church. Why a cow? Felicia – what's a wh*re in church? Cirie – you've never heard that before? Felicia – no! I took my bra off .. I am really trying to be a little more professional. Cirie – shoutout to all the hoes. Big Brother calls Felicia to the storage room. When she goes she finds another bottle of wine.
Jag, Blue, Matt and Bowie all hide their wine up in the HOH fridge so that the others won't drink it.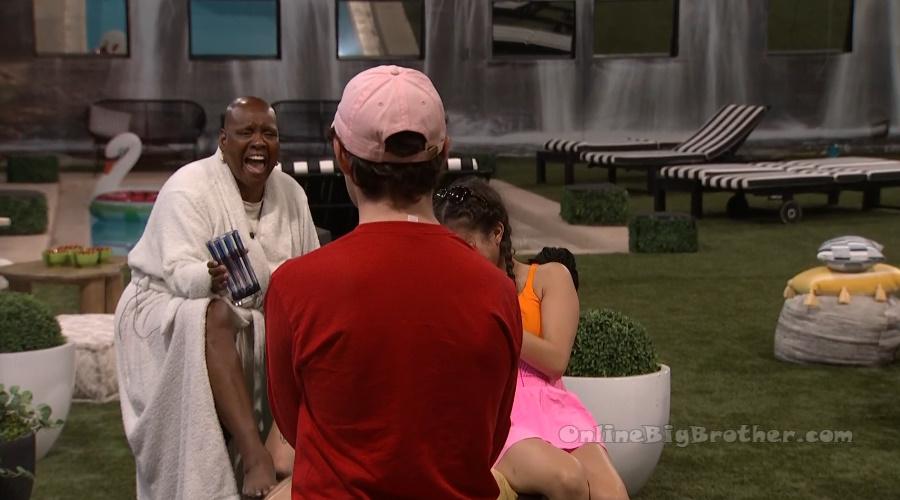 9:22pm Bedroom – Matt and Cory.
Cory – And I only didn't tell you because I didn't want you to act any differently …Like what the f**k are you talking about. But I basically to me the only thing I am scared of is you winning HOH next week. And I know you're scared of me winning HOH.. if we're fine with each other. If we're chill, I think what you and Jag say to Blue is like the way we move forward together because Cory and America are a pair and if they win HOH we need to be safe. If you win, we keep them safe and we guarantee final five. If Blue is chill, we are f**king golden! Matt – its just who is she going to put up if she does win? Cory – Felicia & Bowie. Matt – you're right. Cirie keeps talking about not wanting to be here. Matt – I think this is hard on her because she feels alone. This is harder than survivor. Cory – I am trying to talk to Cirie more.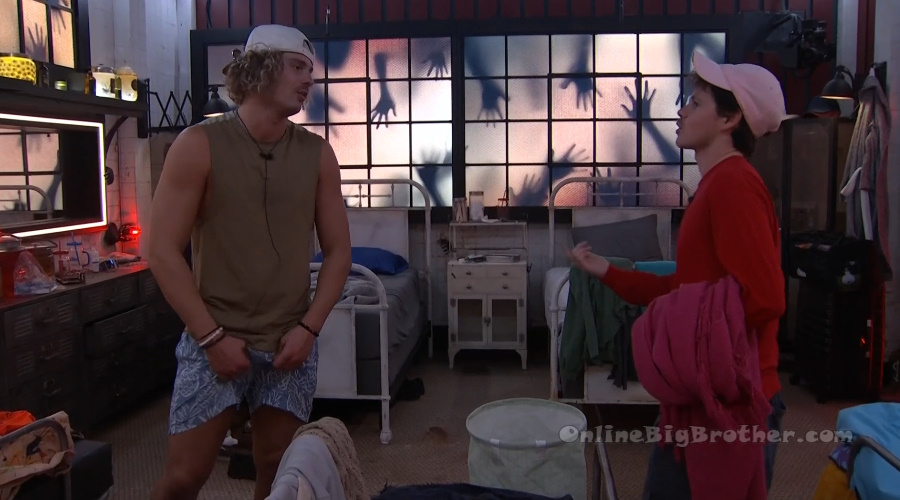 9:30pm Backyard – Felicia and Cameron. (Cam sucking up to Felicia knowing she's likely coming off the block and will be voting.)
Cam – I respect the sh*t out of you. Whenever I've said that I love you, I literally meant it. Regardless of the opinions that people have of me and how I come off as cocky arrogant or whatever I have a humongous heart. And I loved you since day one. You are an extremely incredible competitor and I can't tell you how much I respect the fact that you're here and I admire everything that you've done in your life. Regardless of how anything goes down.. with any person in this house I would say this. I cannot tell you how honored I am to be here with you. Felicia – well thank you. Cam – period. Felicia – thank you, I really appreciate that. You're the person everyone is chasing and I meant that. Cam – won't be chasing for long. Felicia – you don't know that.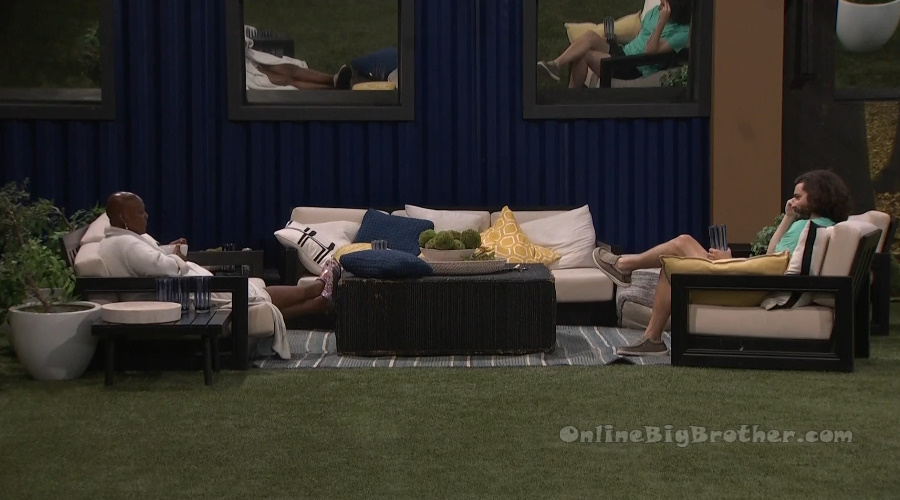 10:25pm 11:45pm Backyard Hammock – America and Cameron.
Cameron – I don't dislike you America please know that. America – okay. Cam – I am going to try and get an edge in this game somehow. I am the f**king number one enemy. What do I do besides play this game with whatever I've got available to play with? It is clear that the entire house has been bum rushing me since day one. What am I to do? So don't take any of this sh*t personal because it is clear that you are on the correct side of this thing which is not with me. If I am getting angled to leave this motherf**ker got it. None of it at all has been personal. I am trying everything I can to not leave this game. I at least made it to this point which was against every single odd. America – I know, you've had to win so many competitions. Cam – I don't want the compliments. I am saying I am trying everything that I can. I did want to work with you guys. America – I know and the two people that really want to work with you.. Cam – so now we know that the two people that you both trust are now angling for me what happens next? Because we are f**king working together and they are playing the sh*t out of me. Now what do we do? Now what do you do? America – is that what is happening? Cam – now what does Cory do? Cam – clearly I would not given any of them any of this information if I thought it was going to go straight to the people that I was going to try and angle against. So if they have that in them.. then what do I do? What do you do when I am gone? I won't be here for everyone's aiming point anymore. It is going to get f**king nasty!! America – I know. Listen, and I am all here for it. My thing was I know Cam is a big competitor .. he wins a lot of competitions, why not have him here with us. He can help us out. But if you are going to target us, why would I keep you? Cam – have you heard anything I said right now? America – yes I have. Cam – I am targeting you because I have been told that you were targeting me. America – but Cam I am targeting you because I am told that you're targeting me!! Cam – how many times are we going to go around this?! This is what I've been hearing for weeks. They're lining you up next once I am gone. America – what was your end game with Matt and Jag? What final three? You know they're strong competitors. How the f**k were you going to get to the end? Cam – The same way that Cory was telling her that I didn't want to work with a duo. So I know that Cory was up there throwing my name out there this week. Got it. I get it. Its hard to work with a duo, they're going to take each other. How many times are we going to do this? America – every single week I guess. Its tradition. I'll think about it. Its a lot of information to process. I want to believe you. Cam – you say that every time and I've been proven right. America – it works out until I start hearing things again. They head inside.
10:45pm – 12am HOH room – Bowie, Matt, Jag and Blue.
They cheers and drink the wine they saved from earlier. They reminisce about past events and competitions from the season. Cam crashes their HOH wine party.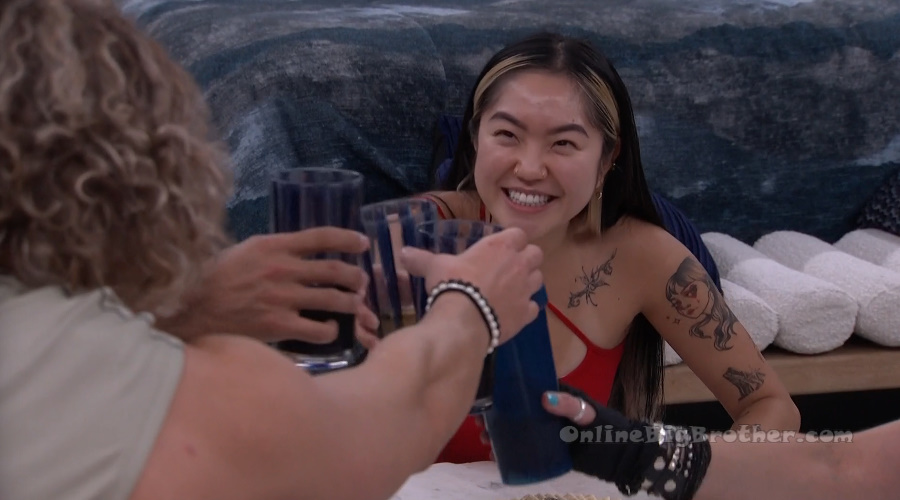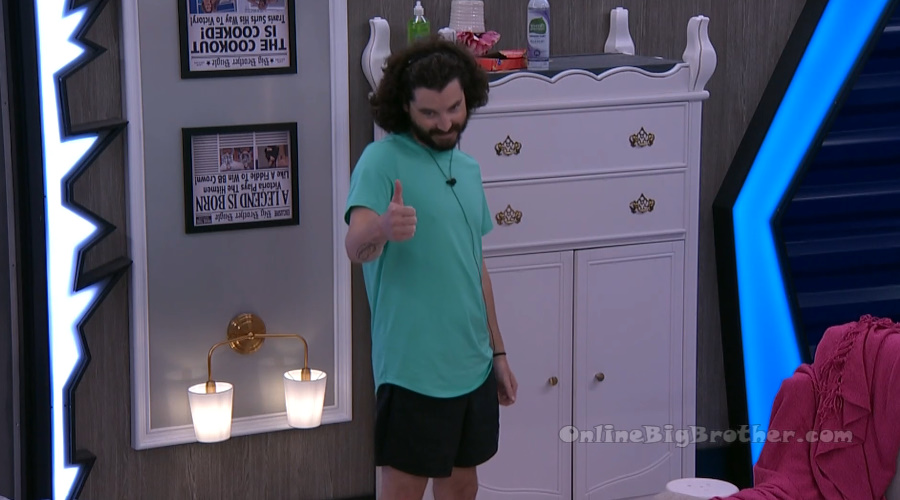 11:52pm – 12:15am Bedroom – Cory and America.
America – I told him that he should talk to you because I was drunk for half of it. Cory – I know why were you doing that? America – doing what? Cory – Talking to him drunk. What happened, tell me? America – he is basically blaming everything on Matt and Jag. He said that he has an alliance with them. Just the three of them. They also have an alliance with Bowie. And they have an alliance with Blue. So they have 3, 4, 4. And they've basically been saying that we're coming after him. Or not they want to pin other people against us. They want other people to go after us so that they're clean. That's what makes me upset because it does sound like they were talking sh*t about us .. to unnecessary stuff. Cory – okay lets be honest .. this is sh*t that pissed me off for a while now. The plan was them telling everyone they wanted to backdoor me. America – its stupid. Cory – so like that doesn't surprise me, that annoys me but we knew that you know?! If we keep Cameron, against Matt and Jag.. its over. AND we don't have the votes. Like who would we keep Cameron!? The votes are .. we need two… we need two of these people. America – I know. Cory – Felicia, Matt, Jag, Blue. We need two of them.. Impossible! You know?!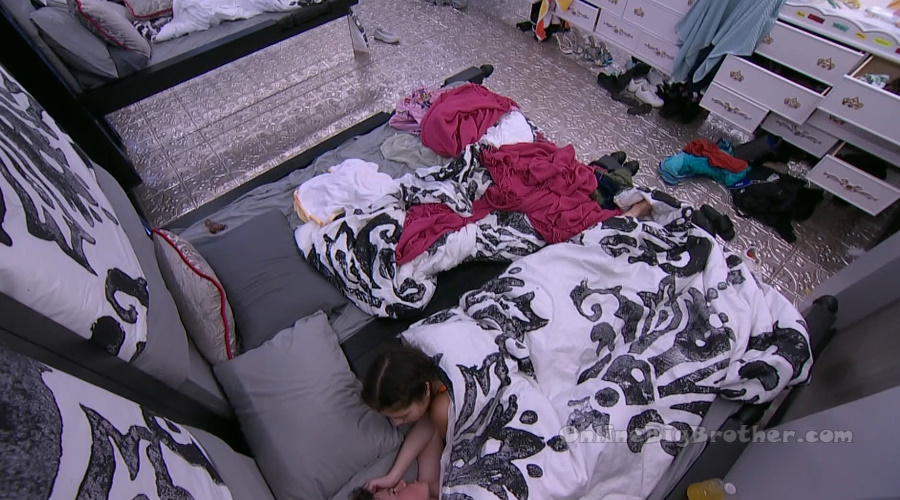 12:43pm – 1am Quad cam on Cirie snoring..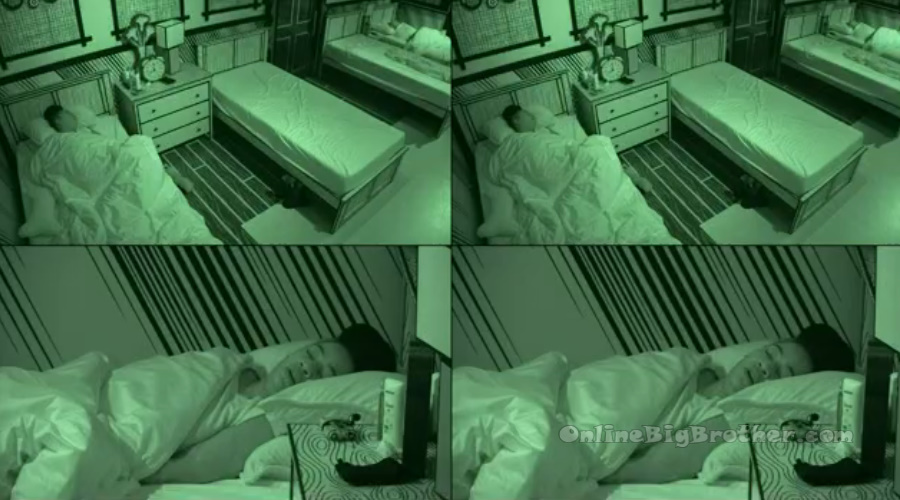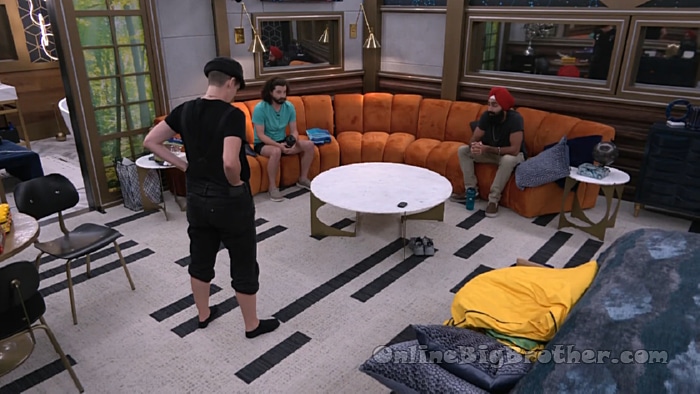 2:25 am Cam, Jag and Bowie
Cam been camped up in HOH for hours now trying to get Cory on the block. Bowie tells him she doesn't want to put Cory or America up that would be bad for her game.
Cam tells her he's not close to Blue.
Cam – good night I'm sorry"
Cam leaves.
Jag and Bowie
Bowie – He's got alliances everywhere.
Bowie is adamant that it's not a blindside on Cam . Cam knows he's in trouble.
Bowie goes on about how it's not a blindside to Cameron "I don't feel bad at all"
Jag – I almost went home on his HOH.
Jag adds the only reason he stayed was because of the super power.
Bowie – All the bullshit
Matt joins them.
Bowie – Matt was pressuring us so bad..
Jag – he said Shoot it to me straight are you going to use it.
Blue joins them. They chat until close to 4am. Mostly about Cameron annoys them with his arrogance.
5:00 am Zzzz
Show your support 🙂 Without your support this site and these spoilers wouldn't be possible.
Please consider a donation to keep the madness going.