Quick Big Brother Spoilers
Head of Household: Bowie
Nominees: Cirie and Felicia
POV Players: Bowie, Felicia, Cirie, America, Matt and Jag. Host it Cory
POV Winner: Jag
Veto Ceremony:
Havenots: ?
Lock your ranks in before midnight
Sounds like the veto will be used on Felicia and Cameron will go up.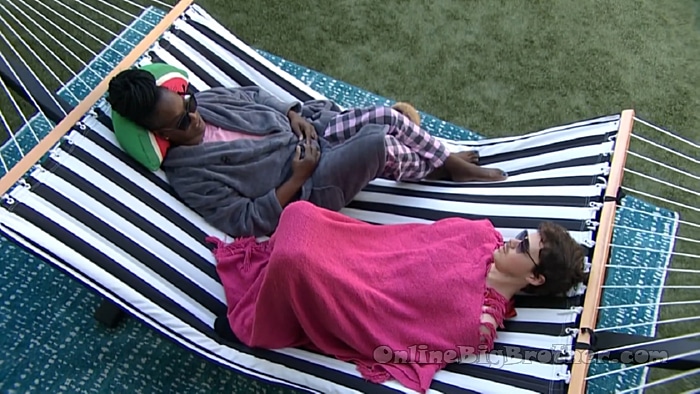 9:37 am Cirie and Cory
talking about Cam going up and getting evicted.
Cirie doesn't plan on there being anything crazy happening with the vote this week.
Cirie – I just don't want to be the perpetual pawn.
Cory – pawns are going to stop existing at some point
Cory – Sealed the girlfriend deal
Cirie – OKAY
Cory – not bad right? Yeah yeah.. Something positive from inside the Big brother House
Cirie goes on about how everyone has lied in this game.
Cirie – In real life I'm a boss in here all my brain cells turn to mush. I don't know what that is. Why haven't I won an HOH yet? What is happening here.
Feeds flip.
9:46 am America and Blue
America – I told him I was open to working with you. I told him I knew he was a good competitor why wouldn't I want him on my side instead of against. I told him the line has been drawn whatever.. I wanted you on my side Cam but I can't trust you.
America – He's going to be going up and he will be going home. He said if there's any way I can get the votes for him you know.. There's nothing I can do to get four votes Cam. I would love to believe you but it's already been so many times we've had the same conversations.
America – he was like I trusted the wrong people they betrayed me again I thought I was part of a team and they went back on their word.
Blue – it literally is all him
America – He was like it's Cory.. He was like I'll be in the jury house I'll see Cory next then I'll see you. I was like Whatever. He was like They're after you the pitch was you need me here to cover your a$$
Blue – He's scrambling. He literally went from Me and BLue are super close to the next sentence being how about she goes up to the next sentence all in the same breath the next sentence being If I go up Blue doesn't have my back I don't trust her.
Blue – I went from Bestie to I should go on the block to I don't trust her Vote.
America – that might have been earlier last night he didn't mention you.
Blue says the only person they have to worry about is Bowie and "she can't even play"
America – A cirie and Felicia final 2 would be crazy.
Blue – at that point they would deserve it.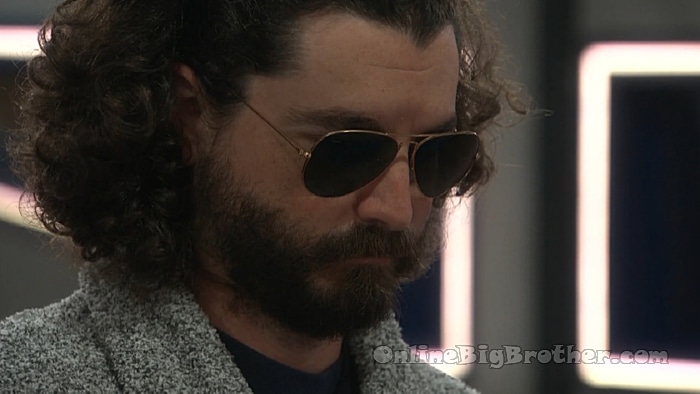 9:48 am Cam's quiet today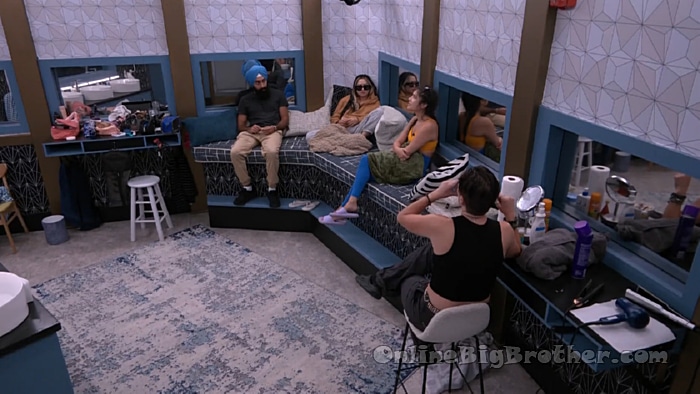 10:00 am BOwie, Jag, Blue and America
They're talking about Camerons attempts to get rid of Cory. America gives them tidbits from her talk with Cam last night.
BOwie – this was his biggest mistake not voting Cory out last week. He's going to never forget that.
Jag – that wouldn't have mattered.
Bowie – in his head it will that will drive him crazy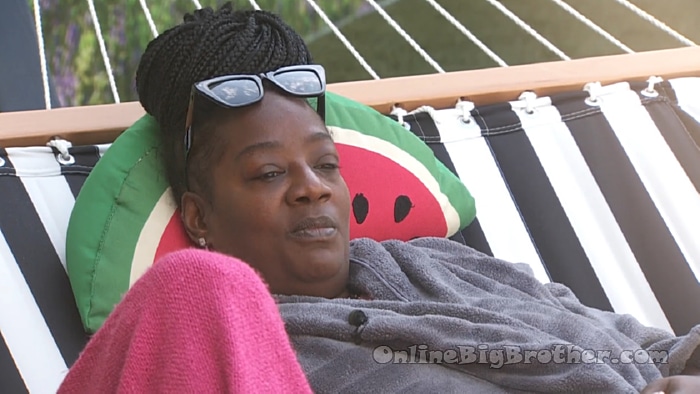 10:10 am Cory and Cirie
Cirie saying that Jared and Blue were together all the time even during the day. Cory and America separated during the day and did their own thing.
Cory says he heard there was a final 3 between her and Jared, Blue.
Cirie says Jared tried hard to set that up.
Cirie goes on about not being Tight with Blue. "I need to feel something. Even Felicia as much as she gets on my nerves I feel something with her we've connected we've talked. Blue is hard for me to connect with her on anything outside you were connected to Jared and I was connected to Jared"
Cory says if he's on the block he's going home.
Cory – people perceive me as well ..we have to get Cory out he was stirring some sh1t
Cirie – Yeah you stirred up some sh1t There's people here nobody is going to be able to beat.
Cory – How the hell do I end up on the block next to one of them? I don't know how.
Cirie – We got to win.
COry – that's what I'm saying
Cirie – I don't want to put you up, I don't want to put up America. I don't want to do that. A chance of that would be bad for me.
Cory – the second either of us win I'm down to talk SO openly
Cirie – me too.
Cory – we see the same path. Next week if I walk out here and see a slip n slide. We have to figure out another week.
Cory – A really important thing in this game is not having all these alliances but having solidarity.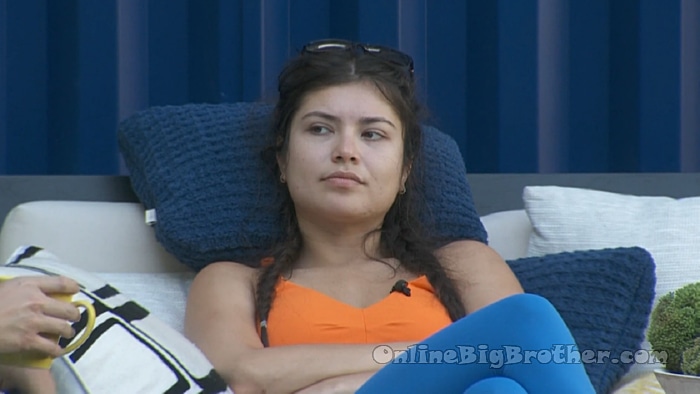 10:30 am Cameron and America
Cameron says the jury house will be like a vacation.
America – it is, in here it's work.
Cameron – I'll work out… I'll tan. I don't do any of that stuff in here. I never really wanted to. That's not game. That's just doing stuff. I can't be working and do that.
Cameron – I talked to Jag last night. I said, just tell the f***ing truth. Dead silence. You can say a lot of things about me America but when faced with the opportunity to toe the line and be brave stare someone in the eyes and tell them the f***ing hard truth even if it's going to hurt. Me to. I will do that every time.
Cameron – I don't deal with cowards. If you have the F***ing sack to do something like that own it.
Cameron – maybe I'm just….
America – built different
Cam – I have a standard for myself that I won't cross.
Cam asks her if Bowie is in on the plan to Backdoor him. America says she doesn't really know points out that Bowie is saying she's putting Cameron up.
America – what's she saying to you?
CAm – I'll go on the block. She's trying to get the least amount of blood on her hands as possible. I will go on the block because I won't be mad at her.
Cameron goes on about not being close to Blue.
Feeds flip. When we're back America is doing laundry.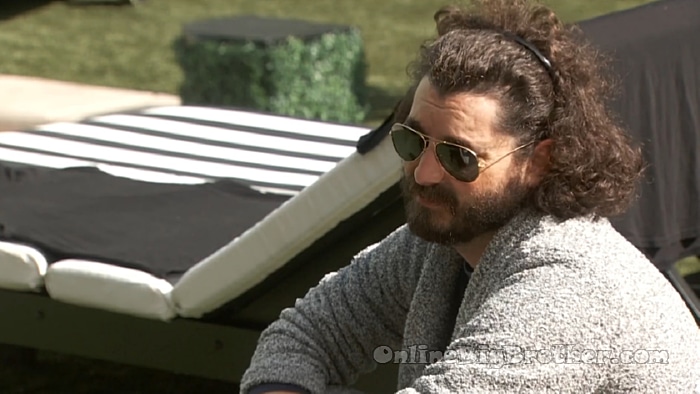 10:48 am Cameron and Matt
Cameron asks when the backdoor plan start.
Matt says last night. "everyone was going to Bowie"
Cameron – it f***ing hurts knowing that she was the one that got turned against me. It f***ing hurts man. I'm the one that is going to look like a f**Ing idiot talking about fugitives. I'm the one that looks like the dumb a$$ having gotten close to Blue because I Was told to. This one is going to hurt a little but I understand it it's game. It sucks
Cameron says he gave Jag and Bowie the opportunity to tell him what was going on and they couldn't tell him the truth. Only Matt told him the truth.
Cameron – this one feels personal
Matt – I don't think it's personal
Cameron – It's easy to say from the outside. I'm the guy that separates Game and personal. Enthought after all this I will see this as a game move I f**Ing love you all. This move feels intentional as if it's been shaped for awhile.
Matt – it wasn't shaped for awhile.
Cam – America knew that I was talking about Cory long before yesterday brother so you can't tell me that one that was made intentional. The Alliance that I put all my Money into last week and told you guys I had your back on everything Went against me. Long Before the backdoor option and the veto was played. The two of you. That hurts man.
Matt – Mmmmmmm
Cam – it's okay
Matt – yeah.. it's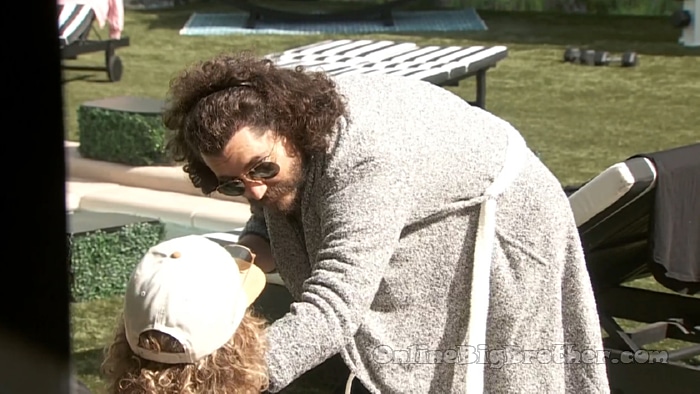 Cameron – I love you man
Matt – I feel the same way..
FEeds cut.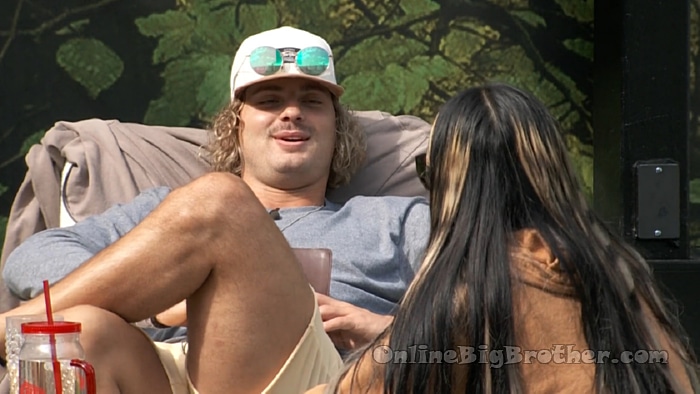 10:58 am Matt and Blue
Matt says Cam was pulling on his heart strings. "he's good at talking"
Matt – he feels betrayed…
Blue says Cameron did it to himself.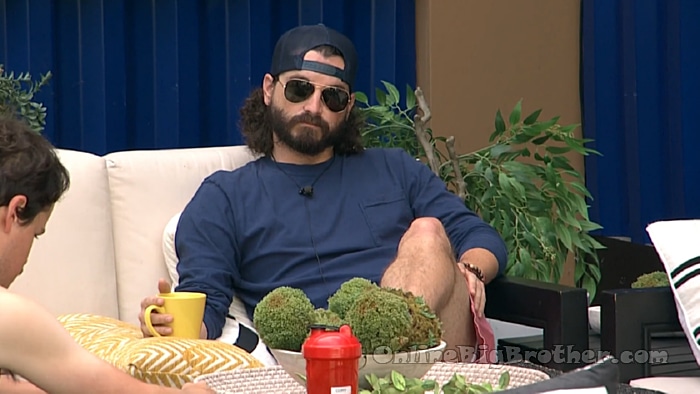 11:05 am Cameron and Cory
Cam – we've got time to talk.
Cory – all day
Cam – we have a few days.
Cameron – you know what's going on..
Cory – Yup, I heard from America. I'm skeptical I have a ton of questions
Cameron – I'll answer every one of them I have nothing to lose.
Cory – yeah we'll talk
11:08 am Feeds go to pound
Without your support this site and these spoilers wouldn't be possible.
Please consider a donation to keep the madness going.